New Course Offerings
Check Out These Courses!
Tax Help Colorado :: Gain practical experience while providing service to the community. 
Gain practical experience while providing service to the community. Learn to prepare income taxes with the following courses:
ACC132 Individual Income Tax Preparation – Prepares the student for preparation of federal and state income tax returns for individuals. Emphasis is placed on form preparation with the use of tax software.

ACC133 (Lab) Practical Application – Allows the student to prepare actual federal and state income tax returns for individuals in the real-time environment.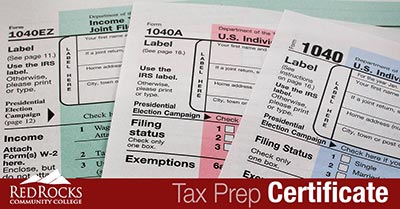 Leadership Certificate :: Leadership can happen anywhere at any time. 
The Leadership Certificate at Red Rocks Community College exemplifies the trend of developing leaders everywhere in society and business.   Industry experts acknowledge that leadership can happen anywhere at any time.  This certificate program offers a dynamic learning experience that helps student realize their leadership potential with innovative coursework that students apply in a hands-on environment.
Click here for flyer.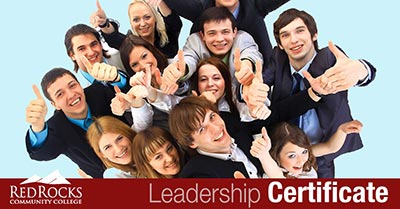 Small Business Certificate
Thinking of starting your own business, or looking for ways to improve your current operations?  Explore your entrepreneurial potential with courses from the Small Business Certificate program.  Several options to choose from:  Click here for flyer.
Weekend format – each class meets over one weekend allowing students to complete the entire certificate in one semester
Hybrid weekdays – combine the online flexibility with classroom interaction in this blended format option
Mix/Match – choose some courses in the weekend format and others in the hybrid format to meet your personal needs.
Featured Courses:
ACC 138 PAYROLL AND SALES TAX
Become acquainted with laws pertaining to payroll and sales taxes including record keeping rules in this hands on class. A computerized payroll simulation gives students the real-world experience to chart a roadmap to navigate these topics.

ACC 226 COST ACCOUNTING
This course prepares students for workplace processes and procedures with focus on; direct cost systems, budgeting, planning, and cost of control. Prerequisite: ACC 122.

BUS 192 SERVICE LEARNING / CIVIL RIGHTS ROAD TRIP
Combine business principles with community involvement in this unique course experience.
MAN 224 LEADERSHIP
Take the leadership challenge by recognizing how leadership can be acquired as an effective skill in this hybrid course (combined classroom sessions and online). Apply the course to your business electives requirement or to the leadership certificate.
MAN 230 CORPORATE SOCIAL RESPONSIBILITY
Examines the concept of corporate responsibility and the extent to which an organization's resources should be used to identify and respond to social problems. Included In the course will be topics of corporate and social responsibility, and the concept of servant leadership, and how this applies to business and management principles. Prerequisite: BUS 115 suggested.
MAN 275 ALIGNING TECHNOLOGY WITH BUSINESS STRATEGY
This course recognizes that every business leader must be aware about how information technology works at the enterprise level.
MAR 240 INTERNATIONAL MARKETING
Get a global marketing perspective in this online course. For students transferring to Regis University, this course fulfills the "Global Issues" core requirement on the Regis degree plan.