New Course Offerings
Check Out These Courses!
Leadership Certificate :: Leadership can happen anywhere at any time. 
The Leadership Certificate at Red Rocks Community College exemplifies the trend of developing leaders everywhere in society and business.   Industry experts acknowledge that leadership can happen anywhere at any time.  This certificate program offers a dynamic learning experience that helps student realize their leadership potential with innovative coursework that students apply in a hands-on environment.
Click here for flyer.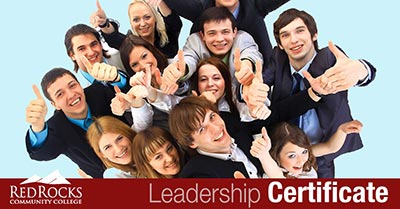 Tax Help Colorado :: Gain practical experience while providing service to the community. 
Gain practical experience while providing service to the community. Learn to prepare income taxes with the following courses:
ACC132 Individual Income Tax Preparation – Prepares the student for preparation of federal and state income tax returns for individuals. Emphasis is placed on form preparation with the use of tax software.  Fridays, September 18-December4,2015  11-1 pm

ACC133 (Lab) Practical Application – Allows the student to prepare actual federal and state income tax returns for individuals in the real-time environment.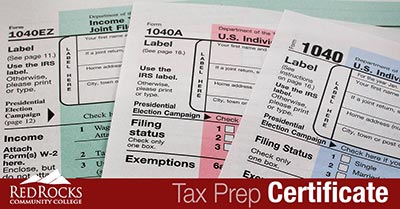 Small Business Certificate
Thinking of starting your own business, or looking for ways to improve your current operations?  Explore your entrepreneurial potential with courses from the Small Business Certificate program.  Several options to choose from:  Click here for flyer.
Weekend format – each class meets over one weekend allowing students to complete the entire certificate in one semester
Hybrid weekdays – combine the online flexibility with classroom interaction in this blended format option
Mix/Match – choose some courses in the weekend format and others in the hybrid format to meet your personal needs.
Featured Courses:
ACC 138 PAYROLL AND SALES TAX
Become acquainted with laws pertaining to payroll and sales taxes including record keeping rules in this hands on class. A computerized payroll simulation gives students the real-world experience to chart a roadmap to navigate these topics.

ACC 226 COST ACCOUNTING
This course prepares students for workplace processes and procedures with focus on; direct cost systems, budgeting, planning, and cost of control. Prerequisite: ACC 122.

MAN150 CHANGE THROUGH CHALLENGE
The philosophy of this course is simple; key life disciplines essential for success in education, career, and life can be developed through the transformative power of marathon training.  Course curriculum is focused on a full spectrum of strategies and methods to succeed in business and overcome the inevitable difficulties you may face in business.
MAN 224 LEADERSHIP - 12 week online course
Take the leadership challenge by recognizing how leadership can be acquired as an effective skill in this hybrid course (combined classroom sessions and online). Apply the course to your business electives requirement or to the leadership certificate.
MAN 200 HUMAN RESOURCE MANAGEMENT
Understanding human capital (employees) is critical to the success of a business.  RRCC's Human Resources Management course is taught by a former HR Manager who incorporates real-world situations into an online learning format.  Late start:  October - December
REAL ESTATE
With two foundational courses, REE201 Real Estate Brokers I and REE202 Real Estate Brokers II, students learn the industry ins and outs of gaining customer confidence and trust when selling property. 
WORKPLACE READINESS CERTIFICATE - MAR106 MARKETING YOUR IMAGE and BUS118 BUSINESS SURVIVAL SKILLS
Complete this certificate in one semester with two 7-week courses, MAR106 Marketing Your Image and BUS118 Business Survival Skills.  this certificate blends essential information about soft skills required to be an effective employee while also providing you with insight about how to move through the culture of the business. http://Workplace Readiness Certificate