New Course Offerings
Check Out These FEATURED Courses for the Spring 2017 Semester
---
MAN215 470 – Organizational Behavior
Change, chaos, culture, effectiveness, and efficiency . . . a new blend of organization is emerging to address our changing social and business needs.  Join us to capture a sound understanding of how and why people interact the way they do in organizations. Online 7 weeks 1/17-3/7/17 
ACC121-040 and ACC122-040
Accounting Principles offered in a hybrid format - classes meet only once a month. 
MAR155 SOCIAL MEDIA - NEW COURSE!  Offered ONLINE!
You use it everyday (social media).  You think you're a whiz at posting interesting ideas.  Now learn how to transfer that skill into a business application of social media.  Businesses are the new horizon of social media and knowing how to create a social media strategy for your business can set you apart or create a new career direction.
MAN210 ALIGNING TECHNOLOGY WITH BUSINESS STRATEGY
This course has been designed to benefit both Business students and Information Technology students.  The class will bridge the gap so often seen in the business world between the business side of the house and the IT side of the house. 
BUS175 Non-Profit Business - CIVIL RIGHTS ROAD TRIP
Spend your Fridays participating in Service Learning projects throughout the Denver Metro area.  Follow this with 12 days visiting various Civil Rights sights throughout the South while experiencing diverse cultural activities.  Class meets Friday, beginning January 27, 2017.  Times and locations will vary according to the weekly service learning project. 
REAL ESTATE
With two foundational courses, REE201 Real Estate Brokers I and REE202 Real Estate Brokers II, students learn the industry ins and outs of gaining customer confidence and trust when selling property. 
View Real Estate Broker Certificate Flyer
WORKPLACE READINESS CERTIFICATE - MAR106 MARKETING YOUR IMAGE and BUS118 BUSINESS SURVIVAL SKILLS
Complete this certificate in one semester with two 7-week courses, MAR106 Marketing Your Image and BUS118 Business Survival Skills. This certificate blends essential information about soft skills required to be an effective employee while also providing you with insight about how to move through the culture of the business. View the Workplace Readiness Certificate on the RRCC Catalog.
Leadership Certificate :: Leadership can happen anywhere at any time. 
The Leadership Certificate at Red Rocks Community College exemplifies the trend of developing leaders everywhere in society and business. Industry experts acknowledge that leadership can happen anywhere at any time. This certificate program offers a dynamic learning experience that helps student realize their leadership potential with innovative coursework that students apply in a hands-on environment.
Click here for Leadership Certificate flyer.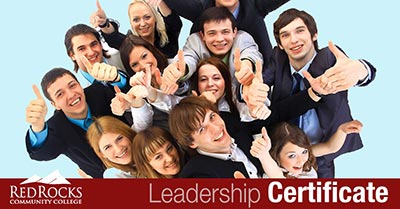 Tax Help Colorado : Gain practical experience while providing service to the community. Take the ACC132 boot camp class Late September - December, 2016!
Gain practical experience while providing service to the community. Earn your individual Tax Preparer Certificate after you complete both courses.
Learn to prepare income taxes with the following courses:
---
ACC132 Individual Income Tax Preparation
Prepares the student for preparation of federal and state income tax returns for individuals. Emphasis is placed on form preparation with the use of tax software. Fridays, September 16- December 2, 2016.
ACC133 (Lab) Practical Application
Allows the student to prepare actual federal and state income tax returns for individuals in the real-time environment.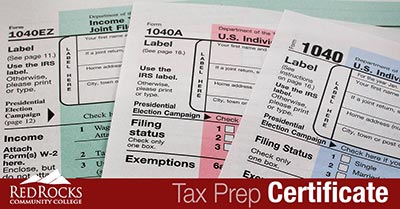 Small Business Certificate
Thinking of starting your own business, or looking for ways to improve your current operations? Explore your entrepreneurial potential with courses from the Small Business Certificate program. Weekend format; complete the whole certificate in one semester.  View or download the Small Business Certificate flyer.