New Course Offerings
Check Out These FEATURED Courses for the FALL 2017 Semester
---
MAN212 - NEGOTIATION & CONFLICT
Stuck in a negotiation?  Baffled about how to work your way out of a difficult work situation?  This course practices principles for successfully navigating common workplace conflicts.  
ACC121-640 - ACCOUNTING PRINCIPLES I
Want to take Accounting Principles I and only have to attend class once a week?. This is the hybrid course and section for you!  Class meets only once a wekk on Saturday mornings at 9:00 - 11:30 am and leaves the rest of the weekend for you to do as you please.
MAR155 SOCIAL MEDIA - NEW COURSE!  Offered ONLINE!
You use it everyday (social media).  You think you're a whiz at posting interesting ideas.  Now learn how to transfer that skill into a business application of social media.  Businesses are the new horizon of social media and knowing how to create a social media strategy for your business can set you apart or create a new career direction.
MAN150 - CHANGE THROUGH CHALLENGE
The philosophy of this course is simple; key life disciplines essential for success in education, career, and life can be developed through the transformative power of marathon training.  course curriculum is focused on a full spectrum of strategies and methods to succeed in business and overcome the inevitable difficulties you may face in business. 
NON-PROFIT PATHWAY CERTIFICATE
RRCC now has a certificate program providing foundational knowledge to connect your passion to a purpose-driven career in the non-profit sector.  This semester's featured non-profit courses are:  BUS175-040 Intro to Non-Profit Organizations, which is a 7-week hybrid course (classroom and online).  Complete the semester in the remaining 7 weeks with BUS176-240 Non-Profit Program Design, Evaluation, and Decision-making.  Courses are taught by seasoned, non-profit professionals.   
REAL ESTATE
With two foundational courses, REE201 Real Estate Brokers I and REE202 Real Estate Brokers II, students learn the industry ins and outs of gaining customer confidence and trust when selling property. 
View Real Estate Broker Certificate Flyer
WORKPLACE READINESS CERTIFICATE - MAR106 MARKETING YOUR IMAGE and BUS118 BUSINESS SURVIVAL SKILLS
Complete this certificate in one semester with two 7-week courses, MAR106 Marketing Your Image and BUS118 Business Survival Skills. This certificate blends essential information about soft skills required to be an effective employee while also providing you with insight about how to move through the culture of the business. View the Workplace Readiness Certificate on the RRCC Catalog.
MAN224 LEADERSHIP - 7 week online course
Take the leadership Challenge by recognizing how leadership can be acquired as an effective skill in this online course.  Leadership can happen anywhere at any time, and employers are looking for people who stand out in all types of business situations.  Develop your leadership potential in this 7-week journey of a professional and personal exploration of your leadership potential. 
---
ACC131-001 Income Tax
Studies of basic concepts of federal income taxation of individuals, sole proprietorships and LLCs.  This hybrid course is offered on Monday nights at 6-7:30 pm.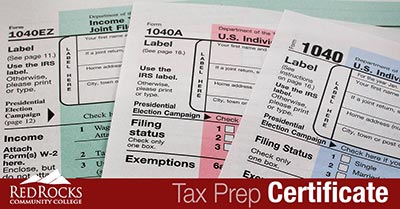 Small Business Certificate
Thinking of starting your own business, or looking for ways to improve your current operations? Explore your entrepreneurial potential with courses from the Small Business Certificate program. Weekend format; complete the whole certificate in one semester.  View or download the Small Business Certificate flyer.