Engineering Preparatory Program at Red Rocks Community College
Join STEM Scholars and become involved in opportunities to experience success in engineering! 
RRCC is committed to providing support to students studying STEM (science, technology, engineering and math) with the goal of transferring into engineering at a four-year institution. The college has received a $500k grant from the National Science Foundation to provide mentoring, research experiences, and learning support to student success in STEM.
Become part of a community of STEM students who share the goal of transferring into an engineering program. Join STEM Scholars - apply now!
The STEM Scholars program provides information, resources and mentoring about transfer advising, scholarships, internships, and more. Interested in a paid STEM Summer Research position? RRCC STEM Scholars have the opportunity to do research in engineering labs. Applications for Summer 2016 will be open in January 2016.
Congratulations to Harvey Scholars
Five students in the Engineering Preparatory Program were selected as the inaugural recipients of scholarships from the Harvey Family Foundation. The Harvey Family Foundation has granted scholarships to assist Red Rocks students on their pathway to being our country's next great engineers. Harvey Scholars at Red Rocks are full-time students committed to completing their engineering degree at Colorado School of Mines.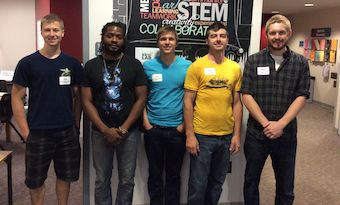 Start your Engineering Pathway at Red Rocks!
Red Rocks students transfer to many different engineering institutions. Students who plan to transfer to the Colorado School of Mines should consult the transfer agreement course matrix. Interested in CU-Boulder or other engineering programs? Explore transfer options here.
Learn more about engineering at:
www.discovere.org/discover-engineering
www.engineeringchallenges.org/
www.careercornerstone.org/engineering/engineering.htm
Any opinions, findings, and conclusions or recommendations expressed in this material are those of the author(s) and do not necessarily reflect the views of the National Science Foundation. NSF DUE # 143-126

Red Rocks Community College prohibits all forms of discrimination and harassment including those that violate federal and state law, or the State Board for Community Colleges and Occupational Education Board Policies 3-120 or 4-120.  The College does not discriminate on the basis of sex/gender, race, color, age, creed, national or ethnic origin, physical or mental disability, veteran status, pregnancy status, religion, genetic information, gender identity, or sexual orientation in its employment practices or educational programs and activities.  RRCC will take appropriate steps to ensure that the lack of English language skills will not be a barrier to admission and participation in vocational education programs.

The College has designated the HR Director as its Affirmative Action Officer/Equal Opportunity Coordinator/Title IX Coordinator with the responsibility to coordinate its civil rights compliance activities and grievance procedures. For information, contact Human Resources at 13300 W 6th Ave., Lakewood, CO  80228, 303.914.6298.