Engineering Transfer Program at Red Rocks Community College
Join Engineering Transfer Program - a transfer mentoring program
Become part of a community of STEM students who share the goal of transferring into an engineering program. Join now on the D2L site (click here for instructions).
Benefits to joining Engineering Transfer Program on D2L:
Transfer advising to various engineering programs
Information about internships, scholarships and research opportunities
Participate in networking with professional engineers and field trips to industries and universities
Announcements about engineering events either on campus or at the universities
Get support for STEM courses through group study, workshops and more
Meet other students who share your academic goals
STEM Scholars - Specialized program to support low-income and/or first-generation students in STEM
The STEM Scholars program is funded by the National Science Foundation to support nontraditional students in summer research experiences. To be eligible, students must be either low-income (as defined by the U.S. Department of Education), or be the first in their family to earn a baccalaureate degree. Students must also be either a U.S. citizen or permanent resident.  As part of the program, STEM Scholars are eligible to apply for a paid STEM Summer Research position. For more information, please contact Director of RISE Liz Cox.
Congratulations to Harvey Scholars
Five students in the Engineering Preparatory Program were selected as the inaugural recipients of scholarships from the Harvey Family Foundation. The Harvey Family Foundation has granted scholarships to assist Red Rocks students on their pathway to being our country's next great engineers. Harvey Scholars at Red Rocks are full-time students committed to completing their engineering degree at Colorado School of Mines. The next round for Harvey Scholarships will be in Spring 2016.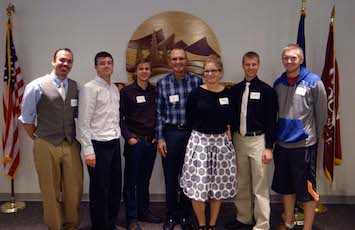 Start your Engineering Pathway at Red Rocks!
Red Rocks students transfer to many different engineering institutions. Students who plan to transfer to the Colorado School of Mines should consult the transfer agreement course matrix. Interested in CU-Boulder or other engineering programs? Explore transfer options here.
Learn more about engineering at:
www.discovere.org/discover-engineering
www.engineeringchallenges.org/
www.careercornerstone.org/engineering/engineering.htm