Student Health Clinic
Medical Services:
Annual Physical Exams and Program Physicals for signature
Multiple sick visits or consultations as needed
Evaluation and Treatment of Common Illnesses
STI Testing and Counseling
Women's Health including Birth Control Counseling and Pregnancy Testing ($)
Dermatology (skin) Evaluations: acne, moles, rashes, bites, infections, etc.
Preventative Healthcare:  diet/exercise counseling and smoking/tobacco cessation
In - Office Procedures:  stitches, toe nail removal, wart removal, etc. ($)
Vaccinations:  
Lab work ($)
Behavioral Health Services:
Brief counseling to help with stress, depression, and other life challenges is provided by a licensed therapist from Jefferson Center for Mental Health. 
Students may qualify for up to six sessions at no charge, or may be referred to community resources. 
This clinic does not prescribe medications for mental health diagnoses.
Visit www.rrcc.edu/behavioral-health-services for additional information.
Prescriptions:
Prescriptions for non-controlled medications may be given as determined by a provider. 
Prescriptions must be filled at an outside pharmacy of your choice.
Prescriptions for controlled substances will NOT be provided under ANY circumstances:   Narcotics, sleep aids (Lunesta or Ambien), ADHD medicines, anti-anxiety, or mental health medications.
Payment for Procedures, Vaccines, and Tests:
While the cost of the office visit is covered, you will be charged for certain in-office procedures, tests, medications, and vaccines in order to cover the cost of materials. 
All external laboratory tests (including those needed to make a diagnosis during an exam) must be paid for by the patient. 
This clinic does not take insurance of any kind.
Scheduling:
To schedule an appointment please call 303-914-6655 or visit the clinic in person.
Walk-in appointments are available on a first come first served basis.
Urgent and Emergent Situations:
We will triage urgent patients within our scope of medical practice. Patients may be transferred to the nearest emergency department or urgent care as determined by the provider. 
If you are experiencing a life threatening situation or illness, please call 911.
Clinic Staff:
Click here to see our current staff listing.
Health and Wellness Magazine: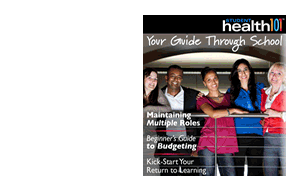 Student Health 101 is a FREE online health and wellness magazine that RRCC has purchased for YOU! For new readers of SH 101 we recommend reading the Orientation Issue first.
Issues are updated the 1st of every month and can be accessed here.
Parents can access a shorter version of the monthly Student Health 101 magazine at Parent's Perspective.