Transfer Representative Visits
Red Rocks collaborates with many colleges to support students seeking transferability to four year schools.
2015 College Visits/Transfer Fair Information
February 2015-4 year College Visit calendar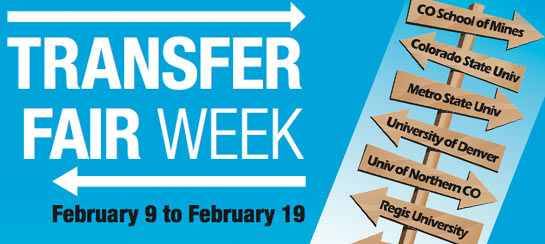 For two days more than 20 colleges and universities will be on campus to meet with you! Stop by a table on the Bridge Feb 17th and Feb 18th to meet with representatives from four-year schools to learn about programs, requirements, and possible places you may want to transfer. Look for the Transfer Passports at each table to help you remember the great schools you visited. Then stop by the Red Student Success cart for details on how to be entered into a drawing for a 3 credit scholarship at RRCC!
Tuesday Feb. 17 • 4:00pm – 6:00pm Wednesday Feb. 18 • 10:00am – 1:00pm 
NEW THIS YEAR! Students can participate in workshops including steps to transfer, transferring with financial aid, transfer applications, and more.  There will also be faculty panels where you can hear from experts who have taught at 4 Year colleges and universities to share tips for transfer success. Meet with students who have already transferred to gain insight on the transfer process. Interested in Engineering and Health Care programs? Then don't miss our sessions specifically geared to transfer in those majors. Increase your chances to win a 3 credit scholarship by attending more workshops.
Click here to view more information about this in our brochure.

Transfer Days and Open Houses offered at other colleges
Test Drive your transfer options by attending a transfer day or open house at your chosen 4 year college or university.
View a schedule of other upcoming open houses at other colleges.