Transfer Representative Visits
Red Rocks collaborates with many colleges to support students seeking transferability to four year schools.
2015 College Visits/Transfer Fair Information
January 2015 4 year College Visit calendar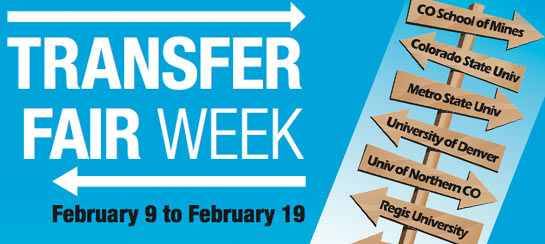 For two days over 20 colleges and universities will be on campus to meet with you! Stop by a table on the Bridge Feb 17th and Feb 18th to meet with representatives from four-year schools to learn about programs, requirements, and possible places you may want to transfer.
Tuesday Feb. 17 • 4:00pm – 6:00pm Wednesday Feb. 18 • 10:00am – 1:00pm 
Click here to view more information about this in our brochure.

Transfer Days and Open Houses offered at other colleges
Test Drive your transfer options by attending a transfer day or open house at your chosen 4 year college or university.
View a schedule of other upcoming open houses at other colleges.
CU Skaggs School of Pharmacy Open House
CU Post-Baccalaureate Health Professions Info Session