Student Information
Student Rights & Responsibilities
---
Accommodations Process
Students who have not worked with our office before can schedule an initial meeting by contacting 303-914-6733 or access@rrcc.edu. The meeting can take place in person, on Zoom, or by phone.
Accessibility Services is located in Suite 1182 at the Lakewood Campus.  Appointments can also be arranged at the Arvada campus if needed.
Please reference the guide below if you need more information about the transition to college from high school for students with disabilities.
Getting Ready for an Initial Meeting
Before attending your initial meeting, please fill out the forms below.
Disability Information
If available, we ask that you provide our office with any disability information (documentation) you feel is helpful for our staff to determine accommodations. If you do not already have an IEP, 504, or other document from your provider(s), a Disability Information Form can be completed by your provider. Please print out the form and give it to your provider, or email it and have the provider follow the instructions on the top of the form.
If you suspect you have a disability or have never been formally diagnosed with a disability, we invite you to connect with our office for more information.
---
Semester Process
Once you have had your initial meeting, a Semester Request Form must be completed every semester. For help filling out the request form, please stop by the office, email access@rrcc.edu, or call 303-914-6733 or 720-336-3893 (VP) so that we may assist you.
Accommodations Letters are emailed to the student and their instructor(s) throughout the week prior to the first day of the semester. After the requested semester starts, Accommodations Letters will be sent out within 5 business days. Letters will be sent out in the order that SRFs are received.
---
Accommodation Guides
Some accommodations in a student's Accommodations Letter require further steps or discussion. These include Extended Deadlines, Flexible Attendance, Use of a Calculator (during exams), and Use of Memory Aids (during exams). Please refer to our Accommodation Guides (pdf).
How do accommodations for testing work?
Instructors: Submit the Accommodated Testing Form Stack

 online 

or

deliver the 

Accommodated Testing Form

 (pdf)

 with the test material(s) to Accessibility Services for processing at least 24 hours in advance.

Students: If you choose to take a proctored test outside of class (i.e., in the Assessment Center or Accessibility Services), make sure to notify your instructor and schedule a test appointment with the Assessment Center by contacting 303-914-6727 or assessment.center@rrcc.edu.

If you are approved to test in Accessibility Services, please schedule a test appointment by visiting the office or contacting access@rrcc.edu or 303-914-6733.
---
Book Requests
The alternative format process generally takes one to three weeks from the date the request is received. Please be sure to request your books two to three weeks prior to the beginning of the new semester or as soon as you have registered for classes.
Students must have been approved for alternative media/materials during the initial meeting
A Semester Request Form must be submitted requesting Alternate Format as an accommodation
A book agreement form has to be signed every semester prior to beginning of the semester
Students must own a physical copy of the textbook
Proof of purchase or ownership is required
These requirements have to be met before the alternative format will be issued
If you meet these requirements and would like to get a jump start on your books, please complete a Semester Request Form and request books in alternate format. You may also contact access@rrcc.edu or 303-914-6735 for any questions.
Textbook Information
For any information you may need about your textbooks, you may visit the bookstore textbook finder.
Alternatively, students can log into The Rock, then click on the "Student" tab. On the top left corner of the main content screen students will see the Student Schedule for the current semester or given the option to change to a later semester. Once on the correct semester, click the "Order Your Textbooks" link. This process will automatically pull up all the books required for each course students are enrolled in.
---
Workforce Recruitment Program (WRP) - NOW CLOSED FOR FALL 2023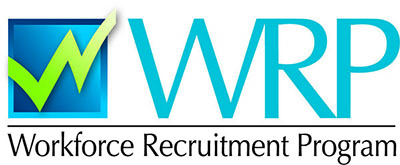 Starting Fall 2023, Accessibility Services is partnering with the Career Success Center to pilot the Workforce Recruitment Program (WRP). WRP is a program for students and recent graduates with disabilities to find internships and jobs in the Federal Government.
Participating students have the opportunity to...
Get access to Federal Government jobs and internships nationwide
Strengthen their resume and interview skills
Expand their knowledge of Federal Government employment, including the Schedule A hiring authority for people with disabilities
Explore career opportunities and take advantage of the career and disability services at RRCC during the WRP application process
Please direct any questions to Christina Reyes at christina.reyes@rrcc.edu or 303-914-6733.
---
Service Animals
---
What other supports does Accessibility Services provide?
Our office has a number of additional supports for students during their studies at Red Rocks Community College. All of the support offered by Accessibility Services is individualized and based on the student's specific needs as a result of their disability. Examples include:
Regular check-ins with a staff member
Strategies for time management, note-taking, and studying
Tips for self-advocacy (i.e., knowing your needs and communicating them to others)
Referrals to other on-campus resources
Other Resources
Veteran Services: If you, a parent, or your spouse have served in the military, please visit or contact Veteran Services at veteran.services@rrcc.edu or 303-914-6127 to see if you are eligible for benefits.
TRiO Student Support Services: You may be eligible for TRiO as a disabled student, first-generation college student, and/or income eligible college student. TRiO is a supportive academic community that provides several services, including individualized tutoring, financial literacy education and scholarship searches, financial aid completion assistance, and cultural and community events. You can connect with them at rrcc.triosss@rrcc.edu or 303-914-6764.