Become an Apprentice - Information for Students
Why Become an Apprentice?
Today, real-world experience is invaluable -- even better if you are compensated for that experience.  That's what apprenticeships are all about.
Apprenticeships combine a relevant educational curriculum with on-the-job training to enable students to garner invaluable hands-on experience.  Importantly, this experience is accompanied by dedicated journey workers who will guide and mentor you throughout your apprenticeship.  And, as you progress, your wages do as well.  Lastly, after mastering the pre-defined skillsets, you are granted a federally backed credential that looks great on a resume.
At Red Rocks Community College (RRCC), the Registered Cybersecurity Apprenticeship jump starts that opportunity for anyone with an interest in desktop support, IT, networking or cybersecurity.  We have forged relationships with regional employer partners in a variety of fields including defense and aerospace, technology, communications, healthcare, and more.
So what are you waiting for?  Build a Secure Future Today.  Whether desktop support, IT, networking or security is your interest, the Cybersecurity Apprenticeship is a great way to get started!  Contact us for more information.
What Is an Apprenticeship?
Today's job market is more competitive than ever.  An apprenticeship is the perfect way to transition from education to experience -- and to make you immediately marketable.  RRCC works with regional companies to provide paid employment opportunities while still in school that build your skills and experience.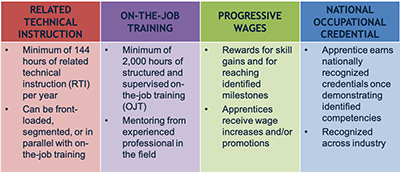 Why wait?  Secure your future today. Contact us.
Why Cybersecurity?
Be part of the revolution. Cybersecurity is one of the top 6 fastest growing and highest paying careers according to the Bureau of Labor Statistics. A 350% increase in attacks year-over-year means that companies and organizations need to secure their data, information, and online presence like never before.
Make a difference and secure your future. Our country and the companies and industries that make up our economy need your help. There will be more than 3.5 million unfilled cybersecurity jobs by 2021 and, in today's market, that spells opportunity.
Not only are technology jobs in high demand, they are well compensated. Salaries start at $45,000 to $50,000 annually in desktop support and IT entry level jobs to well over $100,000 in more experienced networking and research disciplines related to online security. While we can't guarantee these salaries, they're out there. Contact us to get started.
Snapshot of a Successful Apprenticeship Student
Requirements include:
18 years of age or older
A high school diploma or equivalent
Physically able and interested in performing the job duties
Able to pass a background check
Demonstrates motivation, ambition, and a willingness to take direction
Demonstrates trustworthiness
RRCC Cybersecurity Certificates, Degrees, and Related Programs
RRCC has many computer technology degrees and certificates that provide the basis for your Cybersecurity Support Technician apprenticeship.  
Getting Started
Check out information on these key areas:
Come Hang with Us!
Learn more about the Cybersecurity Apprenticeship. 
Contact us to get started and to be added to regular email communications on upcoming events, resources, and helpful announcements about the apprenticeship.