Red Rocks Community College Peer Counseling Program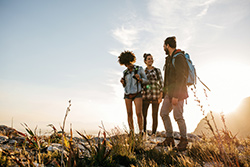 The Peer Counseling Program (PCP) is a component of the RRCC Behavioral Health Services (BHS). PCP interns and volunteers, referred to as Peer Coaches, are extensively and thoroughly trained in recognizing and describing mental health concerns and will assist their peers in locating appropriate resources either on campus or in the community. Peer Coaches will be able to enhance the education, skill- building, and personal growth relevant to furthering fellow students' well-being, coping, and resilience. Peer Coaches will also disseminate information about the services provided by the BHS and decrease the stigma associated with seeking counseling. As student leaders reaching out to other students, Peer Coaches serve as positive role models for the campus community.
How do I get set up with a Peer Coach?
Peer Coaches will be available for drop –in appointments during designated hours (to be determined after Peer Coaches are selected) at the Peer Counseling Program Office in Rm 2282, which is located on the second floor of the library across the bridge, and students may also schedule to meet with a Peer Coach by calling the Peer Counseling Program Office at 303.914.6185 or sending an email to peercounseling@rrcc.edu.
How do I become a Peer Coach?
The RRCC Peer Counseling Program is seeking energetic, compassionate, and reliable students with good social skills and sound judgment who are committed to educating others about mental health resources and learning to support peers who need help with life issues. If you or someone you know is interested, or you believe someone you know might be a good fit for this program, please contact either Katey Parsons, RRCC Behavioral Health Counselor, at 303.914.6316 or Amy Buckingham, Lead Psychology Instructor, at 303.914.6270.
Interested students must complete all sessions of the Peer Counseling training course, and receive an "A" in the class, prior to submitting an application. This course is offered in both the Fall and Spring semesters and questions regarding the course can be directed to Amy Buckingham, Lead Psychology Instructor.  Peer Coaches at RRCC are selected from qualified applicants and serve for a period of at least one semester
For more information, please contact :
Amy A. Buckingham, MA
Red Rocks Community College
Psychology Dept. Lead/Faculty
Amy.Buckingham@rrcc.edu
Ph. 303.914.6270

OR

Katey Parsons, M.Ed., LPC
Jefferson Center for Mental Health
Red Rocks Community College
Behavioral Health Counselor
Katey.parsons@rrcc.edu
Ph. 303.914.6316

Peer Counseling Program Office
Room 2282, located on the second floor of the Library, over the bridge
peercounseling@rrcc.edu
Ph. 303.914.6185