Nonprofit Pathway Courses
Fall 2018 courses ENROLLING NOW!
Introduction to Nonprofit Organizations BUS 175 - Explores the evolution and role of the nonprofit sector in modern society, and provides an overview of the most important and unique elements of nonprofit work.  Course content provides an understanding of, and practical experience with, the key issues and challenges facing nonprofit organizations. Topics include: governance, ethics, legal issues, advocacy, strategic and financial management, diversity and cultural competency, and the role of volunteers.
3 Credits, Hybrid Course, Arvada Campus
Wednesdays, 5:30pm-9:00pm
8/20/2018 – 10/10/2018
Program Design, Evaluation & Decision Making BUS 176 - Introduces the analytical, critical thinking, and problem-solving skills required for program design, evaluation, and data-driven decision-making. This course includes major concepts in program design and evaluation such as the steps of evaluation, logic modeling, evaluation planning, stakeholders, ethical considerations, cultural humility, probable issues, evaluation approaches, nuts and bolts of program design and implementation, reporting and use.  This course has a service-learning designation.
3 Credits, Hybrid Course, Arvada Campus
Wednesdays, 5:30pm-9:00pm
10/11/2018-12/11/2018
---
Spring 2019 courses
Building Financial Support for Nonprofit Organizations BUS 277 - Student will explore the many ways nonprofits earn revenue to support their mission-driven programs and activities benefiting our communities from private and public grant opportunities, donations from individuals and corporations, local and national foundation support and social enterprises. Students will learn about the types of campaigns a nonprofit may implement, the systems and processes used to track gifts, and how to make successful asks of board members, the community and those supporting your mission. At the end of this course, students will be able to identify and evaluate the right fundraising campaigns to meet the needs of our diverse nonprofit field. This course has a Service-Learning designation.
Nonprofit Financial Management BUS 278  - Examines the accounting and finance concepts required to utilize nonprofit financial resources and reports as management tools for decision making, strategic planning, and development. Topics include capturing financial transactions, interpreting standard financial reports, budgeting, managing cash flow, and using financial reports as a fundraising tool.
Nonprofit Pathway Course Timeline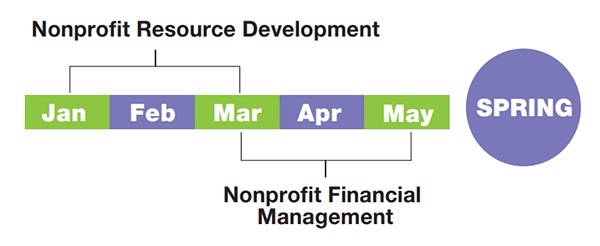 ---
Course Format/Location/Cost
Hybrid/Accelerated: Generally courses are held weekly on Wednesdays from 5:30-9 in the classroom and additional time online each week.

Each course is half a semester long (8 weeks per course versus traditional 15 week semester).  This allows a student to complete the certificate in one year, focusing on one class at a time.
Accelerated/Hybrid courses are held at the Arvada Campus.   
Tuition varies based on the number of credits taken per semester.  Average program cost is under $3,000.  All tuition rates are based on Colorado resident tuition rates.