Nonprofit Pathway Courses - Spring 2018
Spring 2018 courses (Enrollment begins November 6, 2017)
Building Financial Support for Nonprofit Organizations BUS 277 (3 credit) - Student will explore the many ways nonprofits earn revenue to support their mission-driven programs and activities benefiting our communities from private and public grant opportunities, donations from individuals and corporations, local and national foundation support and social enterprises. Students will learn about the types of campaigns a nonprofit may implement, the systems and processes used to track gifts, and how to make successful asks of board members, the community and those supporting your mission. At the end of this course, students will be able to identify and evaluate the right fundraising campaigns to meet the needs of our diverse nonprofit field. This course has a Service-Learning designation.
Nonprofit Financial Management BUS 278 (3 credit) - Examines the accounting and finance concepts required to utilize nonprofit financial resources and reports as management tools for decision making, strategic planning, and development. Topics include capturing financial transactions, interpreting standard financial reports, budgeting, managing cash flow, and using financial reports as a fundraising tool.
Introduction to Nonprofit Organizations BUS 175 (3 credit) - 15 week course.  Lakewood Campus, Fridays 9am -11:45am.  Explores the historical background, development, and purposes of nonprofit agencies. Expands awareness of the scope and breadth of the nonprofit sector in the United States, and examines the inner workings of nonprofit organizations as the foundation for further study. At the end of the course, students will be able to identify and interpret key theories, issues, debates and challenges as experienced by practitioners in the nonprofit world.
---
Nonprofit Pathway Course Timeline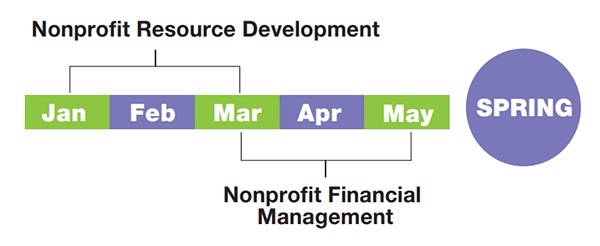 ---
Course Format/Location/Cost*
Hybrid/Accelerated: Generally courses are held weekly on Wednesdays from 5:30-9 in the classroom and additional time online each week.

Each course is half a semester long (8 weeks per course versus traditional 15 week semester).  This allows a student to complete the certificate in one year, focusing on one class at a time.
Accelerated/Hybrid courses are held at the Arvada Campus.   
Tuition varies based on the number of credits taken per semester.  All tuition rates are approximate and based on Colorado resident tuition rates.

$615 - 3 credits
$1078 - 6 credits
Total certificate cost is $3,000
* Some courses may have sections offered in a traditional format on the Lakewood campus.  Check the semester schedule for availability.