Claro 2014 Edition
Claro Compendium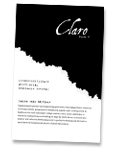 Click here to jump down to Online-Only Content
Within you will find project websites, presentations, videos, audio, and more, showcasing innovative modes of academic exploration.
I
The State and Statements of Art
The pieces in this chapter speculate on the state and statements made by and of various art works, our attitudes toward them, and the potential meanings inherent within the works as they stand.
Rust Never Sleeps: The Importance of Impermanence
Ariel Youngblood
In this visual analysis essay, a photograph of a derelict statue becomes a study of the tension between artifice and decay.
The Knowledge Network: Peeling Back the Palimpsest
Lauren A. Smith
Lonnie Hanzon's installation in the main entrance to Red Rocks Community College is the subject of this visual analysis, which highlights the piece's intricacy and symbolic elements.
And You Are Afraid of Me
Maria Hatcher
Hatcher explains how Thomas Williams's oil painting encapsulates the experience of the injustice against black males throughout America's history.
II
Art as Advertisement
The two pieces in this chapter illustrate art's ability to convey messages both political and social.
The CDC: Taking a Bite out of Popular Culture
Gianna Dejulio
DeJulio shows how the CDC has effectively appropriated the zombie craze in recent advertisements to urge people toward emergency preparedness.
Fracking PSA
Evan Spaanstra
By combining an older piece of art with a contemporary message, Spaanstra hopes to convince his audience to support fracking as an important step toward energy independence.
III
Visualizing History
This chapter visually depicts the course and contextual causality of a variety of movements and moments in history.
The Great African Genocide
Nathan Mills
Mills exposes the atrocities of the Rwandan genocide and its roots in the 19th-century Belgian colonization.
Denmark Reacts 1940 - 1945: Non-Violent Resistance to Fight the Violent Nazi Invasion
Lisa Casady
Casady details the ways in which Denmark responded to the Nazi occupation, which included helping the majority of Danish Jews escape to Sweden.
The Race to the Final Frontier
Kendryn Gates
Gates explores the Soviet-versus-American competition that fueled the space-race through iconic imagery and analysis of some of the era's prominent missions.
Second-Wave Feminism
Danielle Smith
Smith catalogs the major developments and importance of second-wave feminism, including the first legal contraception pill, the 1968 Miss America protest, and Roe vs. Wade.
IV
Contested Identities
This chapter examines the effects of marginalization and the struggles to self-define various subcultures and minority groups.
Fitting the Princess Mold
Mikayla Klas
This essay questions the limiting, traditional conception of princesses and the connected narrative of good-versus-evil that pits the princess against the female villain character. The accompanying comic, "Princess Material," reenvisions these stereotypes with its own twist on happily ever after.
Empowerment of Women
Natalia Aramovich
This piece showcases the socio-political and economic changes women experienced in the 1920s via poetic verse and black-and-white imagery from the era. It highlights the empowering changes for women and the advances in societal norms.
Player Two
Alexis Ramirez
The heroine of this comic is lauded for saving the entire population of a planet, that is, until she's discovered to be female. Without referencing it directly, this comic confronts the misogyny of the social-media attacks on feminist-blogger Anita Sarkeesian.

Gypsy Culture in Modern America: A Look into the Extravagant Lifestyle of an American Co-Culture
Joseph Cardello
Cardello's analysis of the television show, My Big Fat American Gypsy Wedding, discusses how the Romanies see themselves and want to be seen by the gorger, or outsider.
V
Marked
This chapter studies the visible and invisible ways we are marked by accidents, abuse, and even science.
Silentium Raptus
Hilarie Nelson
Nelson seeks to raise awareness of the sexual abuse of males, while arguing that our popular conception of females as the only real victims leads to less men reporting sexual abuse and seeking help.
Scars: Along Our Bodies and Within Our Minds
Xandra Armenta, Claudia Banuelos, Hannah Hernandez, Korie Quint,
Paul Songer, Samantha Vitez
This project explores the ways we're marked by life, and how these marks reveal the human experience along the spectrum from comedy to tragedy.
The Evolution of Humanity's Power to Evolve
Ethan Plaehn
Using multiple genres, Plaehn explores both sides of the controversy over the genetic engineering of human DNA, arguing that change is inevitable, but that we should carefully consider the direction that such modification takes.
VI
Reaching for Health
In this chapter, Physician Assistant students present their rural-health outreach proposals.
Characterization of Healthcare Need and Potential Solutions in a Population of Community-College Students in Southeastern Colorado
Grant Nichols, Jasmine Wells, Craig Wood, Crystal Zitterkopf
This paper discusses the need and feasibility of a health clinic at two rural Southeastern Colorado community colleges.
Behavioral-Health Access for Huerfano County, Colorado
Kristen  Munks, Nick Orchard, Kristina Searls
This proposal discusses the barriers to behavioral healthcare in rural Colorado, including lack of access to care, the associated stigma, and a lack of anonymity in rural areas, and proposes some unexpected and low-cost solutions.
VII
Ethical Eats
This chapter examines the health and ethical considerations of our culture's consumption habits.
Eating More: Are We Supporting the Economy or Making it Worse?
Dakota Sorensen
Sorenson argues that our government should focus more on obesity prevention rather than treatment, as the latter is much more costly than the former.
Trick or Treat?
Rachel Rockenfeller
Rockenfeller presents the multiple contradictory opinions surrounding GMO foods and urges consumers to avoid them until more studies are done to ascertain their safety.
Ethically Sourced Ingredients Ease the Food Conscience
Hannah Thomas
Chipotle's practice of using ethically sourced meat impresses Thomas almost as much as its delicious flavor. This piece illustrates how Chipotle isn't just a restaurant, but a business bridging ethics and profitability through their ingredient sourcing.
VIII
Plants, Projectiles, and Waterworks
In this chapter we examine water-quality assurance and plant operations; water at work within modern agriculture; and construction and experimentation with potato projectiles.
Unearthed: The What to Why of Aquaponic Gardening
Lauren A. Smith
Smith argues that nature has already shown us the best way to grow: mimic the Earth's own symbiotic ecosystems.
Jar Tests
Nicole Bratsos
This report analyzes a raw-water sample from Golden, Colorado's Visitor Center by simulating full-scale plant operations with jar tests to determine the optimal chemical dosage for settling and removal of floc.
Analysis of Total- and Free-Chlorine
Scott Thomas
Quality Assurance/Quality Control processes were used to test the free- and total-chlorine residuals in tap-water samples to make sure they did not exceed the EPA's maximum residual-disinfectant level for chlorine.
Physics 211 Semester Project: The Potato Cannon
Robert Coleman, Tyler Haga, Jake Sawaya
Using kinematic modeling and data analysis, this project examines the best design for a potato cannon and chronicles the results.
IX
Warnings from the Past to the Future
This chapter draws awareness to an array of issues spanning the local and global landscape, in the hope that our current generation will take the steps necessary to fix them.
Think Before You Borrow
Jordan Reeh
With so many students drowning in debt due to the ever-increasing cost of college, Reeh warns students to fund their education wisely and gives information on how to do so.
The Biggest Irony of Democratic India: Child Labor
Prakriti Jha
Jha's lyrical essay argues that children should be in school, not the junk yard, by carefully analyzing a photograph. Please also visit our website to watch her video on the same topic.
Generation of Hope: A Look at Today's North Korea
Emily Johnson
This multi-genre project discusses the human-rights violations in North Korea—including modern-day death camps—that are often overshadowed by the nuclear crisis.
X
Online-Only Content
In this chapter, we display the online-only, multi-modal content. Within you will find project websites, presentations, videos, audio, and more, showcasing innovative modes of academic exploration.
American Indian Culture Assimilation & Activism
Rebecca Rivera
Rivera's website presents the culture and history of Native Americans, focusing specifically on the issue of forced assimilation.
Driverless Cars: Does the Rapid Progression of Technology Threaten Our Economic Future?
Rita Erickson
This Prezi explores the many complicated ethical and financial issues surrounding the production and use of autonomous vehicles.
China
Josh Adams
Adams reminisces about his study-abroad trip to China, and what it revealed about China's rich cultural, architectural, and financial past, present, and future.
Metamorphosis
Brian Carlson
Carlson's video affirms the positive relationship between nature and self-actualization.
Adventures in the Digital Atmosphere
Hannah Terrell
Terrell traces her personal technological history, asserting that our devices broaden our ability to create and to experience life more fully.
The Road to Get Up and Go
Sydney Holder
Here, Holder presents a mural she painted at a Pediatric Orthopedic Clinic and through it, discusses the nature of art to inspire and heal.
Not Giving Up
Vina Le
Le's video provides a personal look at the courage it takes for an artist to perform, especially when the performance doesn't go according to plan.
The Biggest Irony of Indian Democracy: Child Labor
Prakriti Jha
Jha's video argues that children should be in school, not the junk yard. Please also see Jha's essay on the same topic in chapter 9.
Disappearing Giants
Tori Malek
Malek's video brings acute awareness to the plight of Asian and African Rhinos.