Claro 2015 Edition
Claro Compendium
Scroll down to click on video links.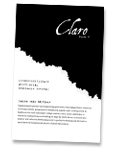 Service in Action
The submissions in this chapter showcase the benefits of community involvement and including service in academic curricula.
A Practical Plan for a Schoolyard Garden
cindy smith 3—6
With careful attention to detail, this proposal describes the process for the collaborative creation of an educational garden.
Service-Learning Project: Creation of a Recruitment Flyer for CASA
†nick siler, steve jahnke, seth branson, and jeff leitheiser 7—18
These students were tasked with creating a technical document for a real-world client. To meet their client's needs and reach the widest possible audience, they conducted research and used an editable template that the client can easily adjust over time.
II
Erotic Literature and Human Sexuality
The pieces in this chapter consider the intersection between psychology and literature.
The Blurred Line between Gay Space and Society
nicole callinicos 21—25
The author visited a gay nightclub in Denver to challenge her own stereotypical thinking about such places. What she found prompted reflection on the history of gay spaces, and began a deconstruction of the separation between these spaces and straight spaces.
Storm Sex
†natalia amovich 27—29
This artwork and associated artist's statement explore the striking similarity between the literary narrative arc and the traditionally conceived sexual-response cycle, with relevant allusions to poems and stories along both plots.
Drag Queens Coloring Book
†michaela macasinag 31—37
In an attempt to reflect the colorful nature of Drag Queens, and their unique gender presentation, Macasinag created a Drag-Queen coloring book, which offers artists the same freedom that Drag does: to create their own vivid vision.
To Snap or Not to Snap: Sexy Selfies
kara Walton 39-41
After deciding to take some erotic photographs of herself, Walton examines the consequences of different celebrities' nude-picture leaks, and explores the potential pitfalls and benefits of taking sexy selfies.
Free the Vag Anthem
†claire snyder and madison smith
This rap song and video exposes the problems with heterosexual normative sexual behavior: ignoring female pleasure. To view their video, please visit our website at www.rrcc.edu/claro or go to https://www.youtube.com/watch?v=HwrqmbIVUEA.
III
Re-imagining the Past
This chapter explores re-interpretations of key historic events from unexpected points of view.
The Little Rock Nine
kaci Johnson 45—51
Little Rock Central High School explains what it was like in the aftermath of Brown v. Board of Education, as the brave Little Rock Nine became the faces of the tumultuous de-segregation process.
A Revolutionary Story
cory kennedy 53—57
In a library in the small rural town of Granma, in the Sierra Maestra mountains, a librarian who played a key role in the Cuban Revolution leads story time.
A Life Well-Lived
james silvester 59—61
This piece offers a first-person reflection on Nelson Mandela's experiences during his 90th birthday celebration in London.
Voices
richard aipperspach 63—65
The Khmer Rouge rule of Cambodia, and the torture and murder of its citizens, are detailed in this account given by a school that was turned into a secret prison.
IV
Public-Service Announcements
This chapter examines the power of public communication and activism.
College Tuition: What's the Price on Your Future?
†marika fama 69—70
To raise awareness of the high cost of college tuition, Fama created a pathos-heavy PSA.
Water to Beer
amanda Crosby 71—74
Colorado loves its beer, but do Coloradans know how much water goes into making the tasty beverage? Crosby explains the strain beer-making can place on a region's water supply.
Mars
athena landy 75—76
In answer to an astrobiology essay question, Landy considers the pros and the cons of colonizing Mars.
Shark Conservation
†cara mcdearmont
This video urges the public to reconsider practices that endanger sharks, such as eating shark-fin soup. To view this video, please visit our website at www.rrcc.edu/claro or go to https://www.youtube.com/watch?v=31ZT1Iuj7oU&feature=youtu.be.
Gift from Romania
†heidi schmidt
The author reflects on her time volunteering in Romania, living a life stripped to its barest essentials, which she counts among the richest gifts she's ever received. To view this video, please visit our website at www.rrcc.edu/claro orgo to https://www.wevideo.com/hub/#media/ci/536446918.
V
Creative Reworkings of Shakespeare
The Bard gets remixed in a visual artwork, a short story, and an original song.
Tattered Quill
†william bubeck 79—82
This artist's creation points out the similarity between Shakespeare and Hamlet, and his related artist's statement discusses the likely autobiographical content of Hamlet.
Hamlet, Prince of New York
ryan Sheldon 83—98
This revision of Hamlet, which places the eponymous character in a mafia-movie scenario in New York City, shows us something's rotten in the Big Apple.
Romeo's Song
†dan duvarney 99—102
Using perfect Shakespearean iambic pentameter and steeped in music theory, DuVarney has written a song to update Romeo and Juliet for today's listening audiences. To listen to the audio, please visit our website at www.rrcc.edu/claro.
VI
Multimodal Arguments
Multi-part, multi-genre projects that reach beyond the typical research paper format.
Dying on a Prayer
†michelle Christensen 105—120
Disturbed by the consequences of faith-based healing, this project attempts to convince the public of the dangers of granting legal immunity to those who withhold necessary medical treatment from children.
The MMORPG Effect: A Look at the Positive Effects of Collective Online Gaming
†donny Davidson 121—137
Davidson defends his time spent playing World of Warcraft as far from wasted, and details the social and educational benefits of playing massive multi-player online games in his well-researched project.
Tiny Frontiers: Pioneers of a New American Dream
†talina smith 139—163
This multi-part project examines all sides of the tiny-house trend—from avid support to skepticism—and leaves readers to decide the issue for themselves.
VII
Our Multiple Selves
This chapter studies ways we are created and create ourselves.
The Wild, Wild Mind
†joshua fern 167—172
In response to the article by Betty Flowers, "Madman, Architect, Carpenter, Judge: Roles and the Writing Process," Fern illustrates the writer's struggle by getting creative, composing with multiple voices in a purposefully chaotic array of fonts, colors, and layout choices.
Let Me Speak for Myself
†sara Cassese 173—175
In response to the same article, Cassese portrays her inner writer selves in an enhanced photographic image.
Inanna and Dumuzi
benjamin schramm 177—180
This ancient Mesopotamian myth gets a modern remakein the form of a mom losing her child at the grocery store: both stories reveal the pain and the personal growth that can come from separation.
Shoes: A Love Story
†jenni foxworth
This video traces the author's personal economics and evolution through her consumption of shoes over the years. To view the video, visit our website at www.rrcc.edu/claro or go to https://www.wevideo.com/hub/#view/534718507.
VIII
Textual Analysis
These projects examine the finer literary nuances of a film and a book-turned-film.
Film Journal #5: Sound at it Applies to The Conversation
nicholas quinones 183—185
While Coppola deserves accolades for his legendary directorial skills, Quinones touts the true talent behind the success of The Conversation: the sound designer, Walter Murch.
The Fault in Our Stars:A Web-Based Literary Analysis
†derek chavez, shira daves, amanda hartnett, amelia jones,ryne mills, faith owen, joe rivich, noah rouzaud,seth scadden, maggie smidt, alex smith,hunter vance, and sara vigil 187—189
Amanda Hardman's Introduction to Literature class created an interactive website for Golden High School students to study the famous book, The Fault In Our Stars. To explore their website more fully, please visit our website at www.rrcc.edu/claro or go to http://zunal.com/webquest.php?w=304252.
IX
Physician Assistant Program
In their proposal, Physician-Assistant students discuss the traumatic-brain-injury epidemic and propose a fall-prevention program for the elderly.
Traumatic-Brain-Injury Prevention in the Elderly: A Fall-Risk Program
ashley englandann nimesgernerick irelandjake Hopkins 193—211