The Many Faces of Criminal Justice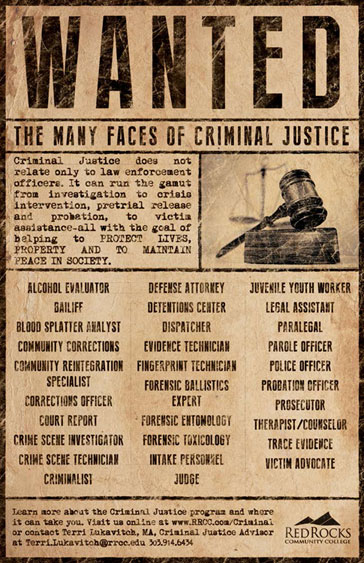 Click below on a career for more information:
ALCOHOL EVALUATOR: Individual who evaluates a persons relationship to alcohol (and/ or drugs). (DRUG EVALUATOR)
BAILIFF: An officer of the court who serves as a messenger for the judge and an usher for the courtroom. Sometimes armed for security.
BLOOD SPATTER ANALYST: Analysts provide an extremely important service in specific areas of law enforcement, particularly those departments that deal with homicide and violent crime. Although the term "blood spatter" may evoke some provocative images, blood spatter analysis is a specialty rooted in details, sometimes involving very little blood at all. Bloodstain pattern analysts examine blood that is left behind at crime scenes in whatever quantity. It could be a trace amount in the form of a trail or print, or it could involve a large loss of blood.
An analyst uses several different techniques to collect the evidence from the scene for later processing at a lab. Most blood spatter analysts begin with a certificate or degree in criminal justice, particularly forensic science. Specific classes include biology, anatomy, criminology, constitutional law, and statistical analysis. Once hired, analysts attend classes or workshops to continually update their skills and knowledge. Blood spatter analysts use math, physics, biology, and a knowledge of how blood behaves in certain conditions to help recreate the crime. Many bloodstain pattern analysts work in local and state crime laboratories that are associated with law enforcement agencies. Many agencies require blood spatter analysts to perform additional forensic science duties.
COMMUNITY CORRECTIONS: An individual who works with offenders on probation or parole in the community, some of whom are living in halfway houses. Several different settings are possible for employment in community corrections. Different levels of education are required from certificate to higher degrees.
COMMUNITY REINTEGRATION SPECIALIST: An individual who works with those who have served their sentence in prison and are trying to come back into the community. Convicts need help in finding employment, housing, and staying out of legal trouble. The Denver Women's Facility is one example of an employment site for this type of work.
CORRECTIONS OFFICER: One who is in charge of maintaining persons in a prison facility. The Colorado Department of Corrections also operates community based facilities as well as all security levels of prisons.
COURT REPORTER: A stenographer who records and transcribes on a stenograph verbatim all statements and testimony in court.
CRIME SCENE INVESTIGATOR: Crime scene investigators are law enforcement professionals who work in conjunction with police or agency detectives to process and document evidence that is found at the scene of a crime. These individuals might also work in a lab analyzing that evidence. According to the Bureau of Labor Statistics, job opportunities for forensic technicians are expected to grow at a much faster than average rate for the next decade. The majority of CSE work is found in urban or suburban areas. The majority of positions in the field require, minimally, a bachelor's degree. A degree in psychology, criminology, social or physical sciences, or forensics will make an applicant more competitive. In order to be eligible for jobs such as lab director or CSE supervisor, a master's degree or doctorate, with several years experience in forensic science is needed.
CRIME SCENE TECHNICIAN: Criminalist who utilizes forensic chemistry/criminalistics to find clues and gather evidence left at the scene of a crime. Some positions require strong science background (biology, chemistry, physics) but not all.
CRIMINAL PROFILING:  Profiling rests, somewhere between law enforcement and forensic psychology. As a science, it is still a relatively new field. The common goal of profiling is to help investigators examine evidence from crime scenes and victim and witness reports to develop an offender description. The description can include psychological variables such as personality traits, psychopathologies and behavior patterns, as well as demographic variables such as age, race or geographic location. Investigators might use profiling to narrow down a field of suspects or figure out how to interrogate a suspect already in custody. In recent years, many psychologists-together with criminologists and law enforcement officials-have begun using psychology's statistical and research methods to bring more science into the art of profiling
CRIMINALIST: A criminalist is a person that studies criminal behavior, whereas a criminologist is a person that studies crimes as a whole. If this perks your interest, you will probably enjoy reading the criminalist job description. It is hard to formulate an exact criminalist job description because there are so many different things you can do in this career. As a whole, you will be working on research projects in the criminal justice system. Common job duties at that time will include:
Work with criminologists
Testify in court
Evaluate criminal psychology
Assess criminal behavior
Enhance the criminal justice system
Enhance criminal investigations
Study gang activity
Reduce crime rates
Analyze the effects of arrests on criminals
Criminalists usually work in an office, but that office could be located almost anywhere. You might find yourself working with any number of employers, depending on what the demand for criminalists is in your area. Here is a look at some of the employers you might work under:
Law offices
Detention centers
Crime labs
Investigation firms
Government offices
Law enforcement offices
Private companies
Your job duties as a criminalist will largely depend on the industry you work in. Different specialties yield different pay rates as well, so you might want to research your options carefully before going to work.
DEFENSE ATTORNEY: An attorney who presents an argument in support of justification of the accused.
DETENTIONS OFFICER: One who is in charge of maintaining persons in a jail (detention facility) either adults or juveniles. May also include workender, weekender, and work release clients.
DISPATCHER: Someone who dispatches or sends information with promptness and speed. Information such as incoming 911 emergency calls. Dispatchers work with law enforcement agencies, fire departments, ambulance services and other first line response programs.
EVIDENCE TECHNICIAN:  The evidence tech is responsible for collecting, transporting, organizing, and recording physical evidence for local, state, and federal law enforcement agencies. This job is close to that of the crime scene technician. The minor difference is that a crime scene tech is more concerned with organizing and maintaining the integrity of the evidence collected. The evidence technician is responsible for the following when it comes to physical evidence:
Receiving and classifying physical evidence
Storing and safeguarding evidence
Tracking the movement of physical evidence
Transporting evidence to labs for testing and court
Testifying in court about the evidence
Coordinating the destruction of obsolete physical evidence
Maintaining accurate record of evidence
Communicating with vendors, crime labs, law enforcement, and the general public
FINGERPRINT TECHNICIAN: Fingerprint Technicians work for law enforcement agencies, such as city and state police departments, and the Federal Bureau of Investigation. They take, classify and identify fingerprints and also work with prints submitted by officers and other law enforcement agencies. Their work is essential not only for identifying criminal suspects but also for identifying victims of crimes, as well as accident or disaster victims.
Fingerprint technicians take fingerprints and handprints of criminal suspects using automated and manual methods. They also may be responsible for photographing suspects. Additionally, fingerprint technicians take prints of citizens applying for liquor licenses or conceal-and-carry weapon permits and those applying for law enforcement positions.
These technicians search, compare and identify prints using manual methods and the nationwide Automated Fingerprint Identification System (AFIS), as well as other automated systems. They compare prints and verify the identity of suspects and other individuals. They determine quality and acceptability of submitted prints. Accuracy is essential because errors have a negative impact on investigations and prosecution, and also can result in wrongful convictions. A fingerprint technician may be called upon to testify in court regarding fingerprinting matters.
Fingerprint technicians, like many other law enforcement employees, usually must work rotating shifts, as well as weekends and holidays. Applicants are required to have a high school diploma or equivalent, and usually some criminal justice experience or education. Agencies may do most of the training on the job, but some require a post-secondary course in fingerprinting.
FORENSIC BALLISTICS EXPERT: Forensic ballistics analysis is a specialty within forensic science. Like most forensic investigators, forensic ballistics experts perform the bulk of their investigative work in a laboratory. The evidence they analyze, however, is collected in the field.
Forensic ballistics experts specialize in looking at anything that has to do with firearms, from identification of a specific round or weapon to determining the trajectory of a bullet. Ballistics experts can identify the caliber of a round and, with the help of national databases, can learn where the bullet was manufactured and possibly even the gun that fired it.
Additionally, forensic ballistics experts may be involved in crime scene mapping. With computer aided design programs, photogrammetry and laser measuring tools, ballistics experts can determine the location from which a round was fired or the direction it traveled, making the search for physical evidence easier. These crime scene maps can be used to create diagrams for police reports or courtroom presentations. The job of a forensic ballistics expert often includes:
Collecting evidence
Performing gunshot residue analysis
Photographing crime scenes
Analyzing firearms evidence
Identifying the caliber of bullets
Identifying the type of firearm used
Firing test rounds
Writing reports
Providing courtroom testimony
Ballistic experts can expect to work standard business hours, but they may be called to a crime scene at any hour. Often, the scenes they investigate are grisly, due to the nature of the crimes they respond to. Most work for large police or sheriff's offices or a state or federal crime lab. With experience, though, ballistics experts can earn lucrative salaries working as consultants or contractors in the private sector. Many work for attorneys or private investigative firms.
Typically ballistics experts have a bachelor's degree or relevant comparable experience in the natural sciences. Specifically, a strong understanding of physics is necessary. In addition they must undergo extensive training and maintain a strong working knowledge of all areas related to ballistics, such as types of firearms, types of bullets, muzzle velocities and gunshot residue, to name just a few.
FORENSIC ENTOMOLOGY: Forensic entomology charts how insects can ruin or obscure evidence at a crime scene, rather than support it. Forensic entomologists establish a timeline for the crime that includes time of death, which is always a critical component of recreating the scene and circumstances of the crime. Examining the different types of insects present on (or in) a body can also help establish whether the body was moved and where particular events occurred.
Forensic entomology is a highly specialized niche among the forensic sciences in the criminal justice profession, and despite a documented history that dates back to 13th century China there is still much to learn in the field. It may someday be possible to recreate much more comprehensive accounts of crimes and better contribute to solving them.
FORENSIC TOXICOLOGY: Forensic toxicology is a discipline of forensic science concerned with the study of toxic substances or poisons, of which there are many thousands. Toxicology encompasses theoretical considerations, methods and procedures from many disciplines including analytical chemistry, biochemistry, epidemiology, pharmacodynamics, pathology, and physiology.
Currently, forensic toxicology is the study of alcohol, drugs (licit and illicit) and poisons, including their chemical composition, preparations and identification. It includes knowledge about the absorption, distribution and elimination characteristics of such substances in the body, as well as the manner in which the body responds to their presence and the factors which determine drug safety and effectiveness. To understand drug action one must know where and how the effects occur in the body.
Toxicology is the study of the toxic or harmful effects of chemicals. It is concerned with how toxins act when their harmful effects occur, and what the symptoms and treatments are for poisoning. It also involves the identification of the substances involved.
INTAKE PERSONNEL: An individual who does intake paperwork for prisons, jails, pretrial release etc. for defendants or sentenced offenders. 
INVESTIGATOR: Someone who observes and studies something by close examination and systematic inquiry to find out facts about a certain crime. May be employed by district attorneys, defense counsel, law enforcement agencies or the private sector.
JUDGE: A public official who listens to, decides on, and imposes penalties in the court room. Is an attorney.
JUVENILE YOUTH WORKER: One who works with juveniles (10-18 years old) who are involved with the Criminal Justice System, from diversion through parole reintegration. Numerous work settings for working with juveniles with educational requirements of 30 college credits in Criminal Justice to doctorate degrees.
LEGAL ASSISTANT: An individual who assists Attorneys (Legal secretary).
PARALEGAL: A paraprofessional who assists Attorneys (Legal research).
PAROLE OFFICER: An officer appointed to investigate, report on, and supervise the conduct of individuals on conditional release from prison who are serving an intermediate or unexpired sentence (parole). This officer carries a gun.
POLICE OFFICER: A member of a police force who is trained and entrusted by the government with maintenance of order (peace keeping), enforcement of laws, and community service (public service). Officers also work to prevent and detect crime. Must attend a Police Officer Standards of Training (POST) certified police academy. RRCC has one here on campus.
PRETRIAL SERVICES OFFICER: Responsible for many investigative and procedural duties related to supervision of a criminal defendant awaiting a trial. The officer's job is to determine whether the defendant poses a threat to himself or others while awaiting trial and if they are likely to appear for their appointed court dates. While the defendant is out on bond in their pretrial status the officer supervises them and makes sure they are following the conditions set by the judge for their release. The defendant is not convicted and in pre trial (adjudication) status.
PROBATION OFFICER: An officer appointed to investigate, report on, and supervise the conduct of convicted offenders on probation in the community. Requires a bachelors degree in criminal justice or another area that deals with people i.e., sociology, education, psychology etc.
PROSECUTOR: A person who institutes an official prosecution before a court, prosecuting attorney. Works for the District Attorney.
THERAPIST/COUNSELOR: A person trained in methods of treatment and rehabilitation. Professional guidance of an individual by using various psychological methods. Works in a variety of settings with juveniles or adults. Utilizes many types of treatment from art, music, recreation, or Wilderness Programs. A bachelors degree or higher required.
TRACE EVIDENCE:  Fibers, hair, soil, wood, gunshot residue, paint, pollen are only a few examples of trace evidence that may be transferred between people, objects or the environment during a crime. Investigators can potentially link a suspect and a victim to a mutual location through trace evidence. For example, a fiber sample obtained from a suspect's person can be identified through scientific analysis as originating from a garment worn by the victim. The analysis of the fiber evidence can help establish if the victim and suspect were in the same area.
Trace evidence examiners would greatly benefit from advancements in this forensic discipline. To increase the value of trace evidence, National Institute of Justice seeks to fund research to improve and enhance the ability of the forensic science community to identify, analyze and interpret evidence. Areas of interest include:
The development of new tools and techniques to detect, collect and preserve evidence from crime scenes.
Instruments that decrease the time and labor needed for trace evidence analysis.
New approaches and enhancement of current approaches to interpreting trace evidence data.
VICTIM ADVOCATE: One who pleads the cause of, guides, and supports victims. Victim advocates work in many different settings such as; hospitals, police departments, sheriff's departments, district attorney's offices, community programs, youth programs, incarceration facilities (jails, prisons, halfway houses etc.), and battered women's shelters and programs. Sexual Assault programs are also victim assistance as is child abuse and many other prevention and intervention areas. An example of a program would be Rape Awareness and Prevention (RAAP) in Denver. There are many different community settings that an advocate may work in. Some employment can be secured with the certificate such as crisis line work, others require the AAS degree or a four year degree with emphasis on victim assistance. See Terri Lukavitch for information.
---
This list is not all inclusive of all the employment opportunities in the Criminal Justice field. Please contact the Criminal Justice faculty for more information. Last updated June 2013.
Christopher Zaleski, all areas: 303.914.6463