Communicate with Others
What should I talk about?
Communication can take a number of different forms and can be in a formal or informal setting. What you talk about may be, in part, a result of the specific situation. Gathering information from children and their families as well as your colleagues can benefit you in many ways. You will want to confirm what you already know, find out about what you don't know, as well as discuss expectations, concerns, and goals for the child's growth and learning.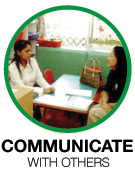 What should I talk about?
What I already know
What I am still curious about
Expectations
Concerns
Goals for the future and next steps
Further questions:
Related resources available for this topic
STAGES OF THE TEACHING SPIRAL:
Observe and Collect Data
Analyze the Collected Information
Reflect on the Data
Communicate with Others
Take Action