Stina French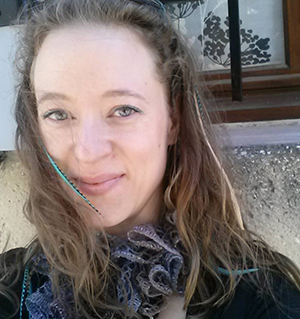 I was "edumacated" at Virginia Tech, where I taught Composition and Women's Studies before moving to the San Francisco Bay Area. The pendulum swung out and back and has now landed me somewhere in the middle, which is a good place to be. (Just ask Icarus.) My academic interests include poetry in all its forms; graphic novels; The Essay/Creative NonFiction; narratives of sexuality and gender; composition theory; and student-produced video projects.
As your instructor, I seek to incite, to enthuse, to inspire- to unpin your butterflies. I want you to know that what we're doing together in the classroom is dangerously beautiful and beautifully dangerous. Words are the raw stuff of power, and if you won't wield them, someone else will. I believe that I learn more from my students than they probably ever learn from me. I'm ok with that.
I have a few selves I inhabit besides English Instructor. I am a "turner and burner," to use a North Carolinian term for a potter. I suppose my love for making mud pies never wore off. I am also a "burner," to use a Californian term for someone who attends Burning Man. This yearly festival of radical self-expression and anarchic community is my Christmas and Easter rolled into one, and I'll gladly share the good word with you if you'd like. I memorizes poetry because it keeps me from panicking. It's also easier to pack than a towel.