Contact Information
Jeremy Cox
Faculty, Fine Woodworking Program
Office: Rm. 2812, Lakewood Campus
Office Telephone: 303.914.6514
Thom Lapadat
Shop Coordinator
Office: Rm. 2829, Lakewood Campus
Adam Johnson
Program Coordinator, The MiLL
Office Telephone: 719.258.0974
Lakewood Campus:
The Wood Shop
Building 10, Room 2829
13300 W. 6th Ave.
Lakewood, CO 80228
The MiLL:
4450 Foreign Trade Zone Blvd.
Colorado Springs, CO 80925-1200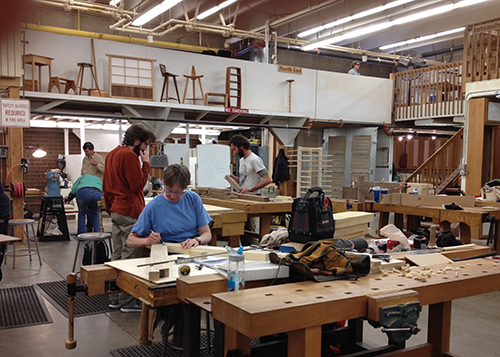 Students' works in progress at the Fine Woodworking facility at Red Rocks Community College.
About Red Rocks Community College: We are a two-year college with two beautiful campuses located in Lakewood and Arvada. With the help of our supportive learning community of faculty and staff, we offer flexible online, weekend, self-paced, accelerated and traditional classes that transfer easily to any four-year college in Colorado. RRCC is a community college that provides degrees and certificates for new or returning students, and concurrent enrollment for high school students since 1969.