Fine Woodworking Degree & Certificates
Red Rocks Community College's Fine Woodworking department offers certificates and a degree to fit your goals, whether pursuing a career or fine-tuning your expertise.
What are your options?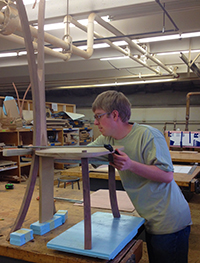 Fine Woodworking Associate of Applied Science Degree
This 60-credit hour AAS degree focuses on skill & design development essential to building fine furniture. It is comprised chiefly of woodworking courses, and includes 15 credits from General Education courses.

Fine Woodworking Certificates
We offer over a dozen certification programs that focus students on building technical expertise in several woodworking disciplines. Each certificate requires students to follow a set of courses in a specific progression to strategically strengthen their expertise as makers of furniture, cabinets, turned objects, or stringed instruments.

Apply for certificates before the semester begins through the 'census date,' which is usually the second week of classes.

Undergraduate certificate in Woodworking Intensive
Fine Woodworking Plan of Study
For high school students desiring college level woodworking courses, Red Rocks Community College offers Colorado-approved Career & Technical Education (CTE) curriculum paths. 
Plans of Study and Course Sequencing Guides
Plans of Study are rigorous, articulated academic "road maps" to your career goals, commencing in ninth grade and leading to certificates, licensure, degrees and beyond. View all RRCC CTE Program Plans of Study
Course Sequencing Guides are suggested scheduling guidelines developed by RRCC programs which help you to complete your certificate or degree in a timely manner. View all RRCC CTE Course Sequencing Guides
Gainful Employment Information
The US Department of Education requires colleges to disclose a variety of information for any financial aid eligible program that "prepares students for gainful employment in a recognized occupation." The information provided here is the best available to us but represents one year's data only. However, we hope that this information is helpful to our current students and to prospective students as they make their career and educational choices.
About Red Rocks Community College: We are a two-year college with two beautiful campuses located in Lakewood and Arvada. With the help of our supportive learning community of faculty and staff, we offer flexible online, weekend, self-paced, accelerated and traditional classes that transfer easily to any four-year college in Colorado. RRCC is a community college that provides degrees and certificates for new or returning students, and concurrent enrollment for high school students since 1969.