Fine Furniture Program
Develop fine woodworking design and construction skills and realize your own original furniture concepts by pursuing a path in fine furniture making.
Our fine furniture-making programs are designed for people yearning to design, build, and custom furniture with enduring quality. Courses integrate old world, traditional methods with modern technology, materials, and design.
Our Fine Furniture making program helps you progress from beginning woodworker to advanced fine furniture crafts-person. 
We offer classes to develop students' proficiency with hand tools and power equipment, communicate their designs with working drawings for simple tables and stools as well as original student concepts, and strengthen their skills in joinery, construction and finishing.  Students can strengthen their skills with more advanced courses in designing and building tables, free-standing cabinets and dressers, and chairs that involve more sophisticated designs and joinery.
Fundamentals of Woodworking - FIW 100

Introduction to Woodworking -

FIW

101

Elements of Design -

FIW

104

Furniture & Object Design –

FIW

204

Furniture I: Table making -

FIW

201

Furniture II: Carcass Construction -

FIW

202

Furniture III: Chair Construction -

FIW

203

Workbench Construction -

FIW

207

Bending and Laminations -

FIW

210 /

CRN

22247

Contemporary Furniture Making -

FIW

212

Advanced Contemporary

 Furniture Making -

FIW

213

Woodworking Lab -

FIW

219

Japanese Design -*

Special Topic

Workbench Construction –

FIW

207

Wooden

Handplane Making & Restoration –*

Special Topic

Router Mortising Jig –*

Special Topic
You may take classes individually or as part of a certificate or degree program.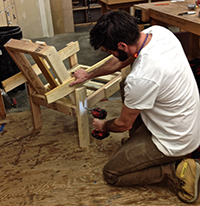 Certificate and Career options for furniture makers
Whether you take classes individually or as part of a certificate or degree program, our fine furniture studies prepare you to work independently or be employed in fields such as custom studio furniture and commercial furniture making. (Credit hours are noted below)
Woodworking Fundamentals (7)
Joiner (21)
Fine Furniture Craftsman (26)
Artisan (34)
Contemporary Furniture Fundamentals (19)
Contemporary Furniture Craftsman (35 )
Fine Woodworking Associate of Applied Sciences Degree (60)
Post Degree Advanced Craftsman Certificate (60)