Current students
ANNOUNCEMENTS
 
SPRING 2021 REGISTRATION: 2020-21 Honors students enroll in HNR 102
Returning Honors students enroll HNR 289 if you are ready for your capstone
These courses will be taught as hybrid sections. We will have some on-campus dates, check D2L or banner for schedule
See below for more course options!
STEM EXPO will be virtual, Dec 2-3, 2020.
---
Honors Student guide
Prospective and current honors students can learn more about the program, including courses, procedures and FAQs, in the following Honors Guide:
Advising plan: Please schedule your Year 1 Honors Advising Session with the Director by November 15, 2020 
Forms
Fall 2021 Honors Retreat Information
Honors Fall retreat is scheduled for next Fall: tentative dates are September 17-19, 2021 at YMCA of the Rockies in Estes Park. All Honors students and faculty are invited to participate at no cost. More details to be provided soon! 
---
SPRING 2021 REGISTRATION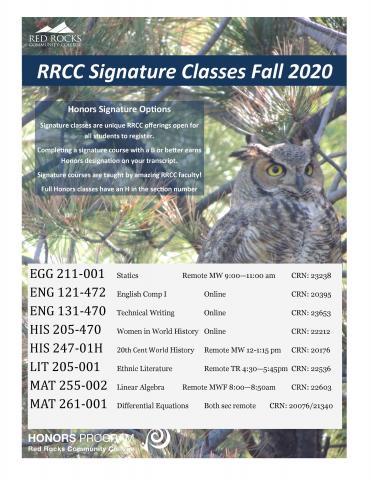 ---
Current honors class profiles and schedule Spring 2021
HNR 102 Honors Colloquium - required for all returning Honors students
HNR 289 Honors Capstone - required for all second year, graduating Honors students
HIS 247-01H Contemporary World History (Honors)        Faculty: Toni Nicholas   CRN 31371
Signature Courses for SPRING
Students may complete required or additional honors courses through the signature course option. Signature courses are upper-level courses, taught using high impact practices, that are generally unique to RRCC and taught by our top faculty. These courses will be identified each semester. To earn Honors credit, the student needs to earn a B or better.  The Honors designation will then be added to the student transcript.
BIO 112-801 Gen College Biology II MW 1:30—3:00pm CRN: 31279
BIO 224-040 Genetics TR 10:00—1:00pm CRN: 33169
CHE 212-041 Organic Chemistry II MW 5:30—9:30pm CRN: 30152
ENG 122-471 English Composition II Online CRN: 30188
ENG 231-801 Literary Magazine T 1:30—2:45pm CRN: 30729
EGG 211-041 Statics MW 9:00—11:00 am CRN: 33264
EGG 211-041 Dynamics MW 2:00—2:50 pm CRN: 33848
HIS 205-801 Women in World History R 1:30—2:45pm CRN: 31264
HIS 247-81H 20th Cent World History R 10:30—11:45pm CRN: 31371
MAT 220-801 Intro Proofs and Reasoning TR 1:30—2:45pm CRN: 31882
MAT 261-802 Differential Equations MWF 9:00—9:50 am CRN: 30116
MAT 275-001 Math of Machine Learning MWF 8:00—8:50 am CRN: 33142
PHO 121-040 Photo-Image Capture I MW 2:45-4:45 CRN 33508
PHO 161-040 Digital capture processing MW 10:15-12:15 CRN 33507
---
Colorado Space Grant Consortium - RRCC is part of NASA Space Grant Program through the Colorado Space Grant Consortium (COSGC) which provides Colorado students access to space through innovative courses, real-world hands-on satellite programs, and interactive outreach programs.
Space Grant Teams Meet
Fridays, 1:00 pm Virtually
IDEA Lab - The IDEA Lab provides opportunities, tools, and mentoring through real-world projects. 3-D printers, electronics, soldering, whiteboards and more! 
Engineering Club
Space Grant Club
Women in STEM club
Biology Club
---
Honors Contract Projects
In some non-honors courses, Honors students can arrange to do Honors contract projects. Check out some of the work that has been done. What is your creative project idea?