Honors Service Learning
An important part of the Honors Program is participation and immersion in interdisciplinary project work. Service learning is an excellent way to connect curriculum and community involvement. 
Rock the Mask for RRCC
Mask kit pickup FRIDAY 5/22 between 12-1, near main entrance (west parking lot)
RRCC is committed to combating the spread of COVID-19 and keeping its community safe. In an effort to make sure we are doing all we can for the students, faculty and staff at RRCC, we are launching the Rock the Mask for RRCC Project. The project has some funding support from donors, Trefny Honors, the IDEA Lab and the RRCC Foundation to help us reach our goal of sewing 5000 masks for our campus community by August 1.
We are looking for volunteers to help us reach our goal. Several campus programs and departments are already hard at work. Trefny Honors and the Theater Arts & Dance department are putting their sewing skills to the test. But we need your help! Please fill out the following form if you are interested in helping out – either with sewing, funding or providing materials. After signing up, you will receive sewing and delivery instructions.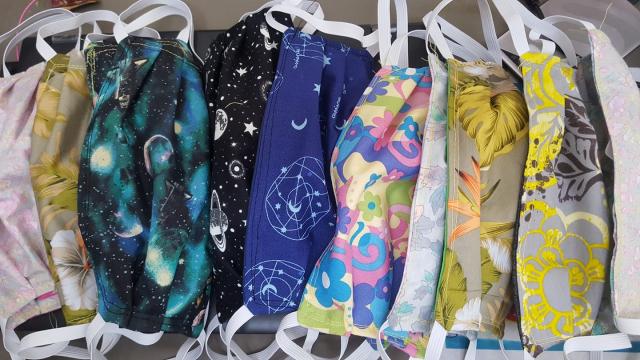 ---
Campus Pollinator Pathway Project
Trefny Honors is leading a new multi-phase project. Facets of this effort are woven into the HNR courses and the Honors option sections. Our Stewardship action project is focused on native plantsd and pollinator abundance and includes an ongoing assessment and mapping of invasive species on the campus grounds. The students participated in an introductory project with our partners, the Sierra Club and Jefferson Conservation District, to learn about invasive species and proper removal techniques. We visted two sites along Clear Creek that have projects in different stages of development. The students have now started the campus survey and assessment. We are removing teasel (Dipsacus fullonum), an invasive thistle-like plant that can be found around campus. Students are learning about native plants and water-wise landscaping through the Denver Botanic Gardens and the Sierra Club Water Quality Committee.
Project components:
teaching garden and planning the landscaping reintroducing native plants
conducting the campus assessment of invasive species and determining a plan for removal

implementing the invasive species removal and monitoring

restoration of habitat for the native pollinator species

monitoring of campus biodiversity

monitoring pollinator and floral abundance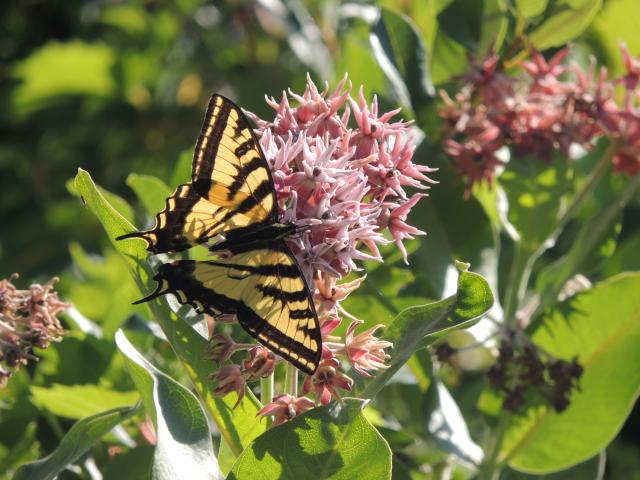 2018-2019 HNR 102/202 Honors Colloquium classes focus on the wicked problem of the Future of Water.  HNR 102 began field work at the West Lake site in partnership with the Sierra Club, Jefferson Conservation District and Wheatridge Parks. SCI 105 H learned about water sampling and started the construction of the first phase of the outdoor classroom on native plants. All classes are participating in invasive species mapping, removal and monitoring. Manual removal of invasive plant species is preferred over chemical application due to the presencce of endangered species on the site. Chemical application has a long term impact on water quality as well.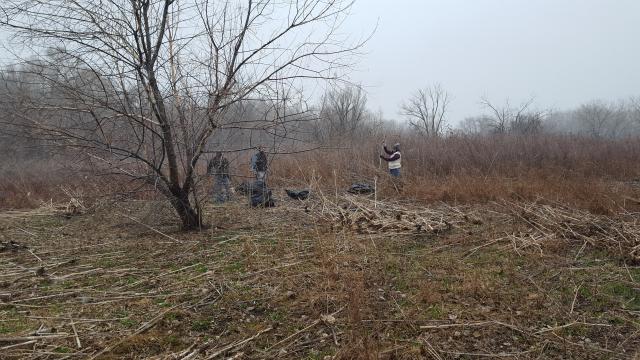 PHASE 1: Invasive Species and Ecosystem Health
Learning about what plants are invasive to our area and learning the best remediation techniques. 
Poster presentation about the project
Learn more about Native Plants in Colorado (video)
Videos coming soon:
How to remove teasel
Native pollinators
Native Spring Wildflowers
We are removing Dipsacus fillonum, or common teasel. Teasel is native to Europe and was introduced in the early 1700's to card wool. The plant is biennial, has purple or white flowers and grows from 3-6 feet tall, flowering in late summer. The dried plant is shown below. Each seed head contains many seeds.It is listed as a B List noxious weed in Colorado.
PHASE 2: Campus Pollinator Pathways
Restoring an area of campus through removal of invasive plants and planting native flowering plants.
Interpretive signs will be placed to help vistors understand the importance of native plants for a healthy ecosytem.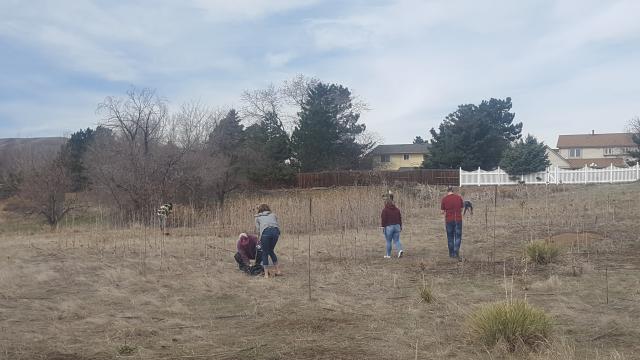 Students removing teasel seed heads and new plants on the north side of campus.
As teasel plants are removed, the native plant garden area will be expanded to include more native flowering plants.
Video of invasive removal techniques for teasel
Campus biodiversity will be monitored through a variety of methods, including quadrat and line transect surveying, camera traps and pollitator tracking.
Learn more about camera traps (video)
PHASE 3: Ecosystem health and Urban Agriculture Education
Setting up a citizen science effort to monitor pollinators, invasive plants and campus biodiversity.
Installing example garden areas to teach about organic gardening, native plants and small scale food growing.
Want to learn more about native plants, pollinators and citizen science?
The Xerces Society - all about pollinators and conservation
budburst project - citizen science project
EDDMapSWest - Invasive species citizen science