News and Events
RRCC Community Fall BioBlitz
September - November, 2020
Online Training & Orientation Available 
RRCC has an ongoing project to document campus biodiversity and engage city residents in the nature around them. 
Questions? Barb Sobhani will have office hours for any questions about BioBlitz. 
Email barbra.sobhani@rrcc.edu for more information.
Search projects on iNaturalist for Red Rocks Community College Biodiversity Project
 
Watch for more on these Fall events:
RRCC Team Pika!
Art Tour
Campus BioBlitz
Astronomy Night
---
FALL 2020 HONORS HOT TOPICS SPEAKER SERIES
No more on campus events this semester - Virtual Speaker Series starts in September.
WEDNESDAYS at 3PM
Tune in to WebeX or watch on Facebook Live. Email for WebEx Link
Check out the archive of talks on Radio Red Rocks
---
STEM EXPO FALL 2020, DEC 2-3
Virtual Symposium - more information to come soon
---
FALL 2019 STEM EXPO WINNERS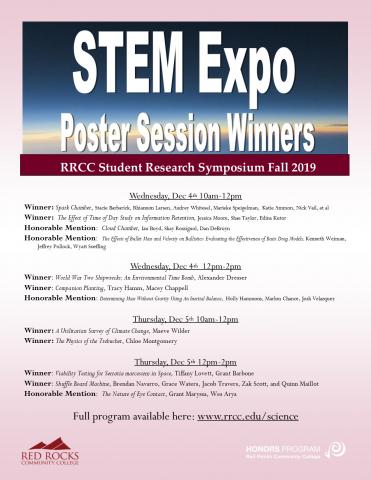 EARTH DAY EXPO
Monday April 22 from 11am-3pm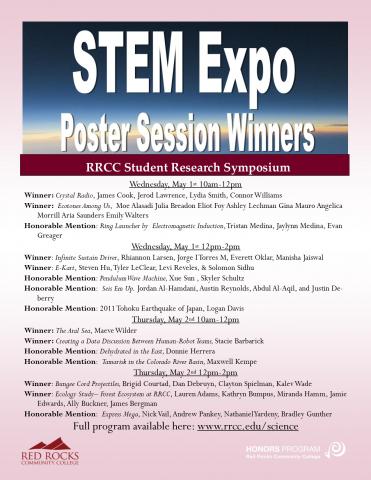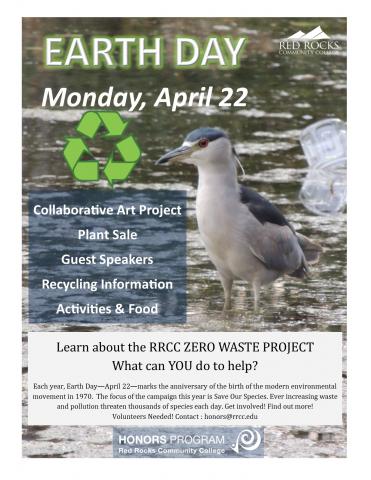 ---
SPRING 2019 HONORS HOT TOPICS SPEAKER SERIES
Schedule:
Feb. 7: Barbra Sobhani, Space: The Final Frontier, Undergraduate Research at RRCC
Feb. 14: Stacie Barbarick, Finding Your Passion
Feb. 21: Dr. Kelly Circle, Five Supreme Court Cases You Should Know By Name
Feb. 28: Dr. Frances Wardle, Boys and Early Childhood Education, Book signing
Mar. 7: John Orth, Passion, success, and the dangerous concept of talent
Mar. 14: Danea Fidler, The Basics of Combining Art & Science Through Creature Design
Mar. 21: World Water Day Guest Speaker, Art Hirsch
Apr. 4: John O'Neill, Electronics Design: 11 Ways to Fail
Apr. 11: Berndt Savig, The Sculpting process
Apr. 18: Lynnette Hoerner, Celestial Navigation and Culture
Apr. 25: Panel Discussion on Human Trafficking: Debunking the Myths
May 2: STEM EXPO: NASA RockSat-X Team
May 9: David-Matthew Barnes, The Creative Life
FALL 2018 Speaker Series
---

---
STEM EXPO November 28 - 29, 2018
---
STEM EXPO April 25-26, 2018
Poster and art presentations both days between 10-12pm and 1-3pm on the Bridge.
Student talks both days in the Grays and Torreys Peak room.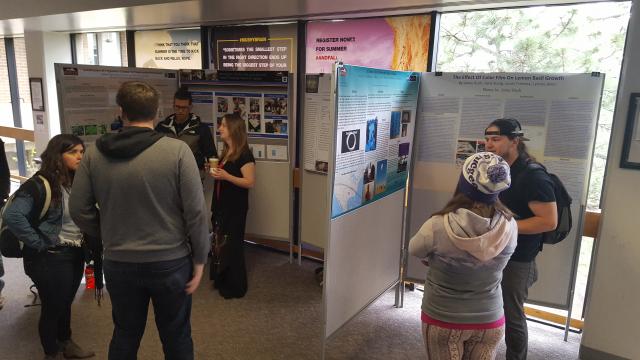 ---
Spring 2018 Honors Hot Topics Speaker Series - Wednesdays @ 3pm in Grays Peak
2/7 Barbra Sobhani, Searching for Aliens

2/21 Dr. Shane Spivey, Gravitational waves and LIGO

3/7 Dr. Lynne Albert, CRISPR and the ethics of gene editing (special location - The Den)

3/14 Special Justice Week Speaker

3/21 Adam Forland, Tessellation of the plane and the Einstein Problem 

4/4 John Curchin, Meteorites—Touring the Solar System

4/18 Lynnette Hoerner, Navigating the Night Sky

4/26 Brandon English, Homeopathy is Bull$h!t! - Special Thursday talk

5/2 Summer Waters, What's up with Water in Colorado

5/8 Torrey Udall, Protecting Our Winters
---
World Water Day March 22
Visit our table on the bridge to learn more about how we can reduce floods, droughts and water pollution by using the solutions we already have in nature. Find out more at worldwaterday.org
---
Clean Water Access and Environmental Justice - Panel Discussion
Thursday, March 15, 2018 12:00pm - 1:30pm Grays Peak
Panelists include: Anna Lundin, Senior Project Manager with HDR, Inc., Blake Mayberry, RRCC Faculty, Nicole Dickinson, RRCC Trefny Honors student
---
Water Issues on the Front Range - Panel Discussion
Thursday, November 16th, 12-1:30 pm
Panelists: Amy Beatie, Colorado Water Trust, David Dani, Colorado Safe Drinking Water Program, Jim Tallent, Littleton Wastewater Treatment Manager, Summer Waters, RRCC Water Quality Program Director