News and Events
APPLICATION FOR FALL 2018 ADMISSION is now closed
Regular admission period for Fall 2018: May 4 - September 7
SPACE GRANT PROJECTS UNDERWAY!
Meetings on Friday at 1pm in 2670 (AST lab)
HONORS STUDENTS & FACULTY POTLUCK 
Friday, December 7 at 11am in 2533
---
FALL 2018 HONORS HOT TOPICS SPEAKER SERIES
Schedule:
W 8/29 Barbra Sobhani, "Impact of Climate Change in the West"
R 9/6 RRCC Student Research Showcase
W 9/12 Dr. Blake Mayberry, "Urban Growth in Colorado - Facts, Fictions, and Futures"
R 9/20 Mike McMahon, "Harvey, Irma, Maria, Debbie, Marcia, and Yasi:  A Dysfunctional Cyclone Family"
W 9/26 Dr. John Trefny, "Research @ Mines"
R 10/4 Dr. Carlos Medina, "Cosmic Rays and Multimessenger particles: A Window beyond the Galaxy"
W 10/10 Dr. Katy Barnhart
R 10/18 Dr. Brandon English, "How we make drugs: pharmaceutical development and clinical trials"
W 10/24 RockSat-X Team. "Project O.S.C.A.R: Space debris removal" - rescheduled for 11/28
R 11/1 Panel discussion - "Trade, tariffs and treaties"
R 11/8 David-Matthew Barnes "Balancing the Creative Life"
R 11/15 Berndt Savig, "A Passion for Sculpting"
W 11/28 STEM EXPO Special: RockSat-X Team. "Project O.S.C.A.R: Space debris removal"
R 11/29 STEM EXPO Special: Front Range Pika Project, Denver ZOO
R 12/6 Kelly Jo Eldridge, "Shakespeare's Heartbeat - Utilizing the Power of Theatre to Work with Children on the Autistic Spectrum"
---
TRAVEL TO COSTA RICA with Honors!
---

---
STEM EXPO November 28 - 29, 2018
---
STEM EXPO April 25-26, 2018
Poster and art presentations both days between 10-12pm and 1-3pm on the Bridge.
Student talks both days in the Grays and Torreys Peak room.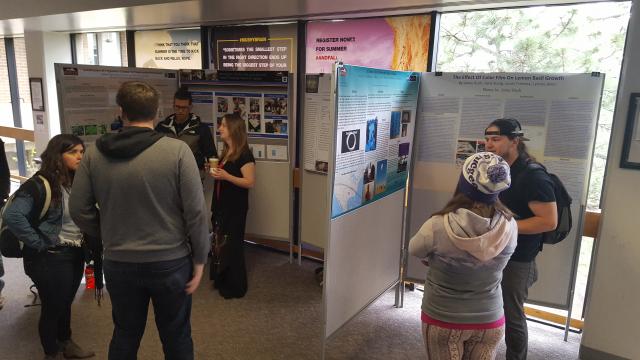 ---
Spring 2018 Honors Hot Topics Speaker Series - Wednesdays @ 3pm in Grays Peak
2/7 Barbra Sobhani, Searching for Aliens

2/21 Dr. Shane Spivey, Gravitational waves and LIGO

3/7 Dr. Lynne Albert, CRISPR and the ethics of gene editing (special location - The Den)

3/14 Special Justice Week Speaker

3/21 Adam Forland, Tessellation of the plane and the Einstein Problem 

4/4 John Curchin, Meteorites—Touring the Solar System

4/18 Lynnette Hoerner, Navigating the Night Sky

4/26 Brandon English, Homeopathy is Bull$h!t! - Special Thursday talk

5/2 Summer Waters, What's up with Water in Colorado

5/8 Torrey Udall, Protecting Our Winters
---
World Water Day March 22
Visit our table on the bridge to learn more about how we can reduce floods, droughts and water pollution by using the solutions we already have in nature. Find out more at worldwaterday.org
---
Clean Water Access and Environmental Justice - Panel Discussion
Thursday, March 15, 2018 12:00pm - 1:30pm Grays Peak
Panelists include: Anna Lundin, Senior Project Manager with HDR, Inc., Blake Mayberry, RRCC Faculty, Nicole Dickinson, RRCC Trefny Honors student
---
Water Issues on the Front Range - Panel Discussion
Thursday, November 16th, 12-1:30 pm
Panelists: Amy Beatie, Colorado Water Trust, David Dani, Colorado Safe Drinking Water Program, Jim Tallent, Littleton Wastewater Treatment Manager, Summer Waters, RRCC Water Quality Program Director