National Community College Conference
on Service Learning & Community Engagement
Service Learning for the Public Good
Friday, May 18 - Saturday, May 19, 2018
Red Rocks Community College
13300 W. 6th Ave, Lakewood, CO 80228
Questions or Comments? Contact Us!
This dynamic and relevant event is an opportunity for community college faculty, staff, and administrators to network and learn about promising practices in the field of service learning and community engagement. The National Community College Conference on Service Learning and Community Engagement at Red Rocks Community College will feature nationally known speakers, local community-based panels, interactive workshops, roundtable sessions, and extensive networking time.
Our conference theme, Service Learning for the Public Good, speaks to the importance of the work that community colleges do every day: reaching and teaching diverse populations; offering opportunities to convene around important local, regional, and national issues; helping students succeed academically and in their chosen careers; and working hand-in-hand with local organizations to build reciprocity in community partnerships. At a time of change in our national and international spheres, we invite you to join our conversation. How can we ensure service learning benefits the public good, whether in curricular or co-curricular settings? Conference participants will discover and share the value of service learning in giving students real-world experience that helps to build their academic skills and commitment to their local communities.


The Call for Proposals for concurrent sessions has closed. Individuals who submitted proposals will be notified of their status by early January.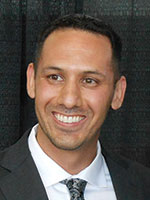 Opening Speaker: Paul Hernandez
The Red Rocks Conference planning committee is excited to announce that the opening speaker will be Paul Hernandez, PhD, author of The Pedagogy of Real Talk and a senior community college leader. Dr. Hernandez is a nationally recognized speaker and leader in college access and success, community outreach, and pedagogy for educators working with underserved and underprepared students and those at risk of dropping out of school. Additionally, he is an award-winning scholar and administrator through his diverse work in higher education, K-12, and with nonprofit organizations.
Other speakers will be announced in early 2018. 

In addition to plenary and concurrent sessions, the conference offers three preconference workshops designed specifically for community college faculty, staff, and administrators.
An Introduction to Service Learning and Community Engagement

Preparing for the 2020 Carnegie Community Engagement Classification
How to Build and Institutionalize a Service Learning Center

Online registration will open in January 2018. The conference rates include breakfast, lunch, and breaks each day. Individual rates are as follows:  
College faculty/staff/administrators: $325
Community partners: $200
Students: $100
Preconference workshops: $75


Schedule times and sessions are tentative and subject to change.
Friday, May 18:
8:00 am-5:00 pm Registration
8:00-9:00 am Breakfast
9:00 am-12:00 noon Preconference workshops
12:30-2:00 pm Opening session / lunch / speaker Paul Hernandez
2:00-2:30 pm Break and book signing
2:30-3:30 pm Concurrent sessions A
3:30-4:00 pm Break
4:00-5:00 pm Concurrent sessions B
5:00-6:30 pm Reception / student poster session
Saturday, May 19:
8:00 am-4:00 pm Registration
8:00-9:00 am Breakfast
9:00-10:00 am Concurrent sessions C
10:00-10:30 am Break
10:30-11:45 am Concurrent sessions D (2 sets of 30-minute roundtables)
12:00 noon-1:30 pm Plenary session / lunch / panel of Colorado students and partners
2:00-3:00 pm Concurrent sessions E
3:00-3:15 pm Break 
3:15-4:00 pm Closing session / reflection

Located in suburban Denver, the Red Rocks Community College campus offers a relaxed environment in which to learn from and network with colleagues from across the country. Easy access from Denver International Airport and a setting in the foothills of the Rocky Mountains makes this the ideal place to reflect on the academic year and plan new service learning opportunities for your students and community partners.
PLEASE NOTE: RRCC is at 5,600 ft in elevation. Please be aware how to avoid altitude sickness.
RRCC is approximately 35 miles from Denver International Airport. The campus and nearby hotels are accessible by rental car, taxi, Super Shuttle, ridesharing services, and Denver's light rail system (take the A line from the airport to Union Station, then transfer to the W line to the Red Rocks Community College or Federal Center stations).
Please visit RTD Denver for more information on public transportation and the light rail system.

Hampton Inn: Denver West Federal Center
137 Union Blvd, Lakewood, CO 80228
The official conference hotel is the Hampton Inn Denver West Federal Center, just over a mile from the Red Rocks campus. Shuttles will be available each morning and afternoon between the Hampton Inn and RRCC. Reserve your room at the special conference rate of $134 per night by April 13, 2018. Come early or stay late and enjoy Colorado!


Book by April 13, 2018, to reserve your room!
Other nearby hotels include: 
Sheraton Denver West | Residence Inn Denver West/Golden | Home2 Suites by Hilton Denver West Federal Center 


RRCC is hosting this conference in collaboration with Campus Compact of the Mountain West, Arapahoe Community College, Blue Mountain Community College, Casper College, College of the Canyons, and Pikes Peak Community College.

For More Information