PeaceJam at Red Rocks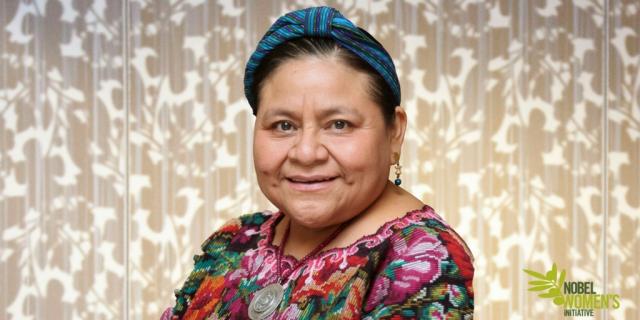 PeaceJam's 2019 Youth Leadership Conference features Nobel Peace Laureate, Rigoberta Menchu Tum. 
Hosted by Red Rocks Community College!
In 1996, Guatemala's 36-year civil war ended with a peace accord. Menchú Tum fought to have the Guatemalan political and military establishment tried in court, and ran for President of Guatemala in 2007 and 2011. She also established WINAQ, the first official indigenous-led political party in national history. Rigoberta Menchú Tum has joined her sister Nobel Peace Laureates to form the Nobel Women's Initiative, to shine the light on women and children's rights around the world.
Menchú Tum has been a member of PeaceJam since 1996.
---
Upcoming Events & Opportunities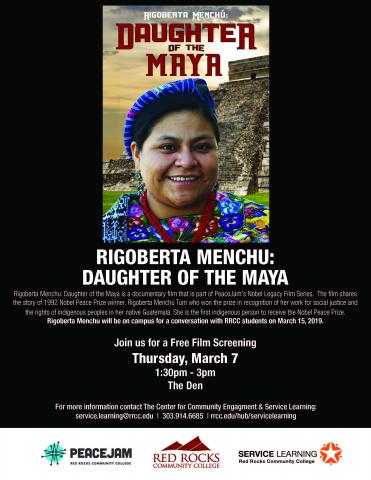 ---
Lunch and Student Dialogue with Rigoberta Menchu Tum
March 15, 2019
Community Room, Lakewood Campus
Time 11:30-1:30
Free for all RRCC Students
RRCC Faculty and Staff are invited to join the Dialogue at 12:30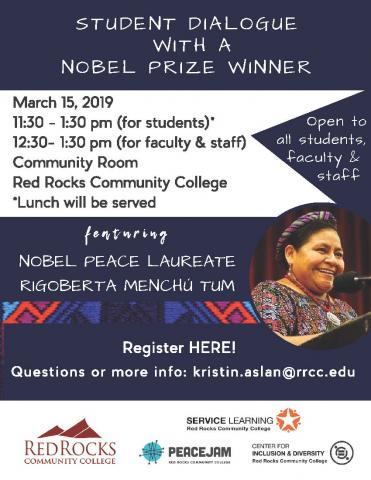 Please Register HERE
---
Calling all 18-24 year old RRCC Students! 
Be a mentor for the Youth Leadership Conference We Walk Together!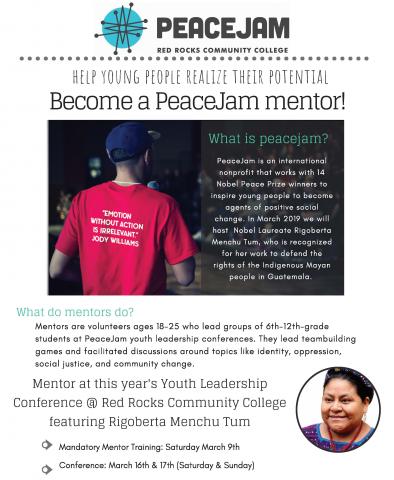 ---
Volunteer at the Youth Conference March 16 & 17 
Everyone Welcome! Find a shift and sign up HERE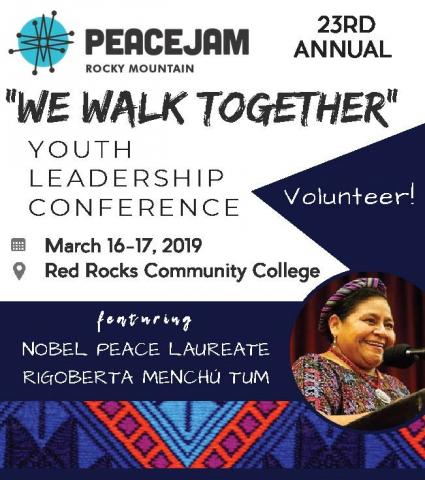 ---
About PeaceJam
PeaceJam is a global nonprofit based nearby in Arvada, Colorado.  PeaceJam works with 15 Nobel Peace Prize winners who share their stories, passion, and example with young people around the world. Through programs and events, the Laureates' examples inspire young people to take action and become change makers in their own lives and communities.  
How PeaceJam Works
For over 23 years, PeaceJam's 14  Nobel Laureates have impacted the lives of over 1.3 million youth in 39 countries through PeaceJam's award-winning service-learning curricula, which uses the stories of our member Laureates to inspire youth to take action for peace.  The capstone to Peacejam's year-round programming in every region worldwide is the annual youth leadership conference, where a Nobel Peace Laureate joins students for a transformative weekend of education, inspiration, and action. Every PeaceJam conference includes a local service-learning component, social change workshops, team building with other youth, and leadership skills development. The conferences are facilitated by college-aged "mentors" who lead student groups of middle and high schoolers. Each conference also features a "student dialogue" between college students and the Laureate, and a speech from the Laureate that is open to the public. 
Why RRCC Collaborates with PeaceJam
RRCC shares in PeaceJam's vision of supporting individuals in becoming engaged leaders in their own lives, their communities, and the world. Our partnership with PeaceJam provides RRCC new opportunities to live our mission, vision, and values.
For Students
Start a PeaceJam Club on campus
Mentor at the Annual Youth Conference
Internship opportunities with an international nonprofit
Service-learning projects outside of coursework
For Faculty & Staff
Service-learning projects connected to curriculum
Materials and resources on the Nobel Laureates
Collaboration opportunities across departments and divisions
For the Campus
Host a Nobel Laureate
Events inspired by the stories of Nobel Laureates
Host the Youth Leadership Conference
Engage students in a dialogue with a Nobel Laureates