Students
Why take a Service Learning course?
Find out why students and faculty are excited about learning and making a positive difference in the community! 

Pictured above are faculty and students during the Civil Rights Road Trip. A course that linked history, business and sociology to engage students in the study of our democracy and society. The course culminated in a cross-country trip of study and service.
In service learning, students achieve educational standards by tackling real-life problems in their community.
Some specific benefits include:
Enriches student learning of subject matter by integrating classroom concepts with real-world problems and issues
Engages students in active learning
Increases awareness of community and current societal issues
Broadens perspectives of diversity issues and reduces negative stereotypes
Develops civic responsibility through active community involvement
Improves interpersonal skills, self-awareness, and leadership
Allows faculty to be innovative and creative in their teaching approach
Enriches and enlivens teaching and learning by extending learning beyond the classroom
Supports the college's vision of "engagement with our community
Supports the work of agencies which are often understaffed and under-budgeted
Fosters an ethic of service and civic participation in students who will be tomorrow's volunteers and civic leader
Anthony's Accounting 131/133 - Tax Prep course engaged him in about 30 hours of classroom study where he learned how to prepare personal tax returns. Then, he applied his learning to prepare tax returns for low-income families through a statewide program called Tax Help Colorado. 
Many individuals and families miss out on tax-credits they are entitled to because they aren't familiar with the tax laws and process. Anthony and his classmates prepared taxes for over 304 community members and were able to secure more than $560,000 in refunds for local families.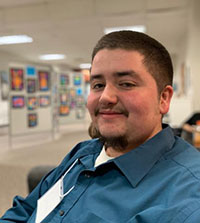 " After learning how to prepare taxes
in class, it was great to get real life
experience by helping people."
---
Civic Engagement Opportunities
Resources on Virtual Volunteering
---
Jefferson High School Mentor Project
Red Rocks Community College students are supporting and coaching high school students as they complete a capstone project to meet graduation requirements. Mentoring support includes activities such as: brainstorming topics, guidance around time management, project outlining, organization, conducting research, and more. RRCC Student Mentors work with high school students at Jefferson High School in Edgewater.