About Us
Our work
The Idea Institute accelerates diverse talent for innovation.  We design, pilot and launch innovations in education, connect faculty, staff and students with strategic partners, develop original projects, and expand the reach and impact of Red Rocks Community College's programs.
Our team partners with K-12, community colleges, universities, business, industry and community to design and pilot innovative educational programs and to accelerate diverse talent for innovation. 
Our history
Since 2010, the Idea Institute has been supporting innovation in education for equity and student success through training and facilitation, partnerships in innovation, and new programming. We act as a multiplier for creating change on campus, in the community and for adult learners around the world. Throughout our work, we apply a designer mindset to find new ways to improve equity, innovation and excellence in higher education.
The Idea Institute houses the Idea Lab where faculty, students, staff and community develop, incubate, and pilot new ideas in STEAM, education, and innovation.
The Idea Institute seeks to create changemakers — at Red Rocks Community College, in Colorado, in higher education and in educational communities around the world!
Our impact
The Idea Institute uses strategic design, workshops, technology, storytelling and other tools to engage faculty, students and staff on a growing list of themes, including innovation in marginalized communities, projects in social innovation, and much more.
Select Past Projects
Developing faculty as transformative agents of change for sustainability
The Sustainability Fellows program for educators from Jeffco Public Schools, RRCC and Colorado School of Mines created new educational programming and initiatives around sustainability, including STEM and Sustainability at Warren Tech and a joint collaboration of Red Rocks and Colorado School of Mines around aquaponics and engineering.
Engineering by Doing
We facilitated a collaboration of Engineering, Design and Society at the Colorado School of Mines, RRCC and Mines Engineering faculty, the RRCC Engineering Club and student veterans at Red Rocks to design and pilot the IDEA class, EGT 140 Introduction to Design and Engineering Applications, a project-based and hands-on approach to engineering. EGT 140 is now part of an engineering series to prepare students for transfer.
Select Facilitation and Trainings
Faculty Innovation Fellows work to innovate their classes by integrating with the Idea Lab, such as Creative Writing faculty member Sara Fall. Sara connects technology, writing and the design process to create new ways to introduce her students to the creative writing process.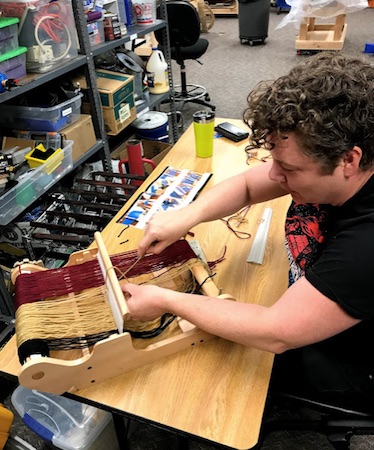 The Idea Institute supports faculty to explore new ways of engaging students to be active learners. Thanks to support from an Innovation Grant of the Colorado Community College System, faculty participated in a Project-Based Learning Workhop, April 2018, facilitated by WPI's Center for Project-Based Learning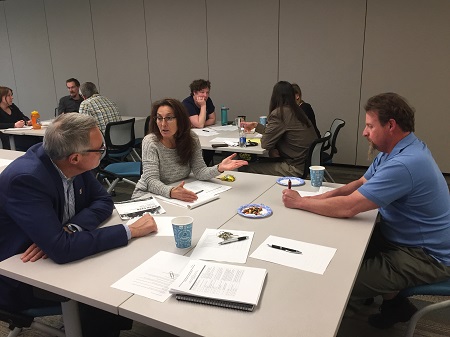 Through design-thinking, the Idea Institute facilitated a workshop for RRCC STEM faculty, Summer 2014, to discover ways to support community college students in STEM, contributing in part to a NSF grant to Engage and Retain Low-Income/First-Generation Community College Students in STEM and Engineering.