IDEA Projects
Our Projects
IDEA actively supports projects and pilots that break down silos and encourage interdisciplinary and project-based education. Our projects seek to create spaces and opportunities to expand learning for the 21st century. 
Interdisciplinary Collaborations
With Innovation Grant support from the Colorado Community College System, this project seeks to expand faculty engagement in learning by doing as a strategy to increase student persistence and retention by creating spaces and opportunities for faculty and students to collaborate through the following:
Faculty Innovation Fellows support innovation in learning by doing by creating interdisciplinary projects
An ecosystem of design, build, and collaboration spaces to fuel creativity and collaboration
Connect to career pathways by integrating design, technical and professional skills necessary for success in the 21st century workforce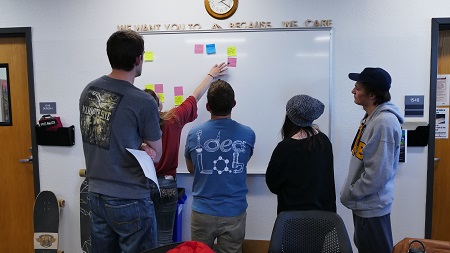 K-12 Exploring Innovation
Our work supports expanding STEAM, design, innovation and making into our local school district and the broader community. This project is currently supported by Xcel Energy. 
We are facilitating a collaboration with Engineering @ Red Rocks Community College and STEM @ Jeffco Public Schools to implement Engineering by Doing into K-12 through several initiatives, including concurrent enrollment, a Teacher Fellow Program, Exploring Innovation workshops, and the RRCC High School Innovation Challenge.
Join the RRCC High School Innovation Challenge 2018-2019! See the challenge guidelines here.
Idea Lab supporting STEAM through the Inventor's Fair in Jeffco at the annual Jeffco Fair and Festival