Center for Engagement and Innovation
The Center for Engagement and Innovation is a presidential initiative to seed and support innovation across campus that prepares students for the future of work while building talent pipelines for the communities that the college serves.
The Center provides students with opportunities for connecting their learning to the real world through high impact practices. Partnerships with business, community and universities provide our students with authentic challenges with real world impact. 
Current Initiatives:
Building an Engineering Academy
The Engineering Academy will strengthen our engineering transfer program through advanced engineering courses and signature experiences in innovation, research, and professional development. Partnerships with business, government, community and universities provide engineering students with real world learning opportunities.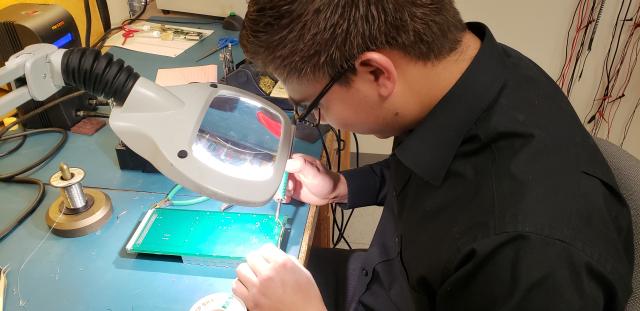 IDEA Challenge: Real World Problem-Solving
The IDEA Challenge prepares students with the mindsets and skills needed to thrive in the changing economy of the future by supporting them to work on real world problems provided by business, industry, communities or the public sector. By participating in the IDEA Challenge, students receive guidance, mentoring, and connections to resources as they "apprentice with a problem" and generate solutions to business and community needs.
Through the IDEA Challenge, RRCC students gain experience in generating ideas, building a team, and problem-solving while competing for scholarships. Students will also be able to develop connections to the broader Colorado innovation and entrepreneurship ecosystem.
Community Engagement
Community Engagement develops Red Rocks students as agents of change by engaging them in projects to improve our local community. Community Engagement houses service-learning, community-based research, civic engagement and volunteerism to connect students to community partners through curricular and co-curricular opportunities.  Community Engaged Learning supports faculty development around service-learning as a high impact practice and other innovative pedagogies in collaboration with the Center for Teaching and Learning. 
Opportunities for students include:
Partnerships
Get involved with IDEA at RRCC! We welcome alumni, individuals or organizations who want to engage with us through partnerships, mentoring, workshop facilitation as well as in-kind or monetary donations. Partner with us today!
Partnership possibilities include:
Provide a design challenge or community project
Become a mentor
Host a site visit
Sponsor an event, challenge, hackathon, etc.
Serve as a competition judge
Donate equipment or materials
Some past examples:
RRCC's IDEA Lab partners with businesses to provide real world problem solving.  Our student innovators are working with local business Garver on a Bureau of Reclamation funded project to improve water filtration systems through a pilot project on campus.
Industry mentors support teams of RRCC students in the NSF/AACC Community College Innovation Challenge, leading to a top 10 finish each year while also taking first and second place nationally.
With support from Xcel Energy Foundation we created the High School Innovation Challenge where RRCC students and industry mentors support high school teams to design sustainable solutions related to local food, water, energy or environmental problems.
Contact Info
Director | Liz Cox | 303.914.6230 | liz.cox@rrcc.edu
Assistant | Danea Fidler | danea.fidler@rrcc.edu