Application Process
The International Student Services & Programs office is here to welcome and support students of all backgrounds and immigration statuses. Whether you complete an international student application or not, you are always welcome to utilize our support services.  This page is to help you determine if, due to your legal status in the USA, you will need to complete the international student application and/or provide any supplemental documents with your application.
Is this the right page for me to apply to RRCC?
This page is your first step to becoming an RRCC student if you are:
A current or aspiring non-immigrant visa holder (for example: F, M, J visa holder)

Undocumented, ASSET eligible, a DACA recipient, a "Dreamer" (Please skip to the section below on undocumented students)

Unsure of your immigration status OR how your status relates to higher education in the USA
Please use the general admissions page if you are:
A green card holder

Have been granted refugee or asylee status

Are a FAFSA eligible non-citizen. Please review the list of FAFSA eligible non-citizens here
How do I submit my application?
Review the application options below and download the PDF application that suits your situation. If you are unable to access the PDF documents, you may e-mail us at international@rrcc.edu and we can e-mail you the application directly. We are currently not in the office due to COVID-19 related closures and are unable to do application pick-ups or mail-out applications. Once our office opens again this fall, we will be available for applications to be picked-up, dropped-off, and mailed.

You can digitally complete and sign the PDF application or print the PDF to write-in your responses. Once you have completed your application please scan the document for e-mail submission.

E-mail your completed application as well as all required accompanying documents listed on page 1 of your application to international@rrcc.edu.
Please note that we are unable to process incomplete applications. Furthermore, using the incorrect application may cause delays in processing your application. It can take at least 4 business days to process an application.
International Student Application
This application is intended for the following individuals:
Individuals who are seeking a student visa (F-1/M-1 status) specifically to study in the USA.

F-1 international students who are already in the USA and plan to transfer to Red Rocks Community College.

F-1 International students who have applied to Red Rocks before but are not currently a student here – please include your Red Rocks Community College student ID number in your application
Download the New International Student Application 2020-2021 here
If you are being sponsored by anyone other than yourself - including parents and family members, please also complete this Financial declaration document
Download the Financial Declaration & Affidavit of Support here.
RRCC Global Online
This application is for international students who are planning to study at Red Rocks Community College online from outside of the United States.
 
ANY international student who is currently living outside of the USA is welcome to apply for RRCC Global Online. Examples of students who are good candidates for an online education at RRCC include:
    Students who would otherwise travel to the US to study but can longer travel to the US due to visa issuance restrictions, Covid-19, economic downturns affecting funding.
    Students who need a proven track record at a US college in order to increase their chances of transfer to higher ranking college or university.
    Students who need to improve their English language skills before they can apply to US colleges and universities.
    Budget minded students and sponsors, who appreciate the ability to decrease costs by studying online for one semester or a whole associate's degree, before the students travels to the US to transfer to a four year college.
    Students who would want to gain experience in learning in a US classroom environment before committing to attend college in the US.
    Students who would like to earn a certificate or technical degree from a US institution without travelling to the United States.
Students are welcome to begin studies with RRCC Global Online while applying for an F-1 student status to study at RRCC in-person at a later date.
International Visiting Student Application
This application is for international students who already have F-1 status, are attending a SEVIS approved college or university, and are planning to take one or more courses as a visiting student at Red Rocks Community College.
This application will last for the duration you have permission from your institution to study at RRCC and needs to be completed again when that time frame expires or when your information needs to be updated.
Download the International Visiting Student Applications 2020-2021 here.
International Student Continuing Education Application
This application is for students who wish to:
Take our non-credit English as a Second Language courses on a continuing education basis.

International students who will not be F-1/M-1 and will be non-degree seeking, whether you plan to take regular college classes or ESL classes. This includes but is not limited to: F-2 and M-2 visa holders (dependents of F-1/M-1 international students), as well as J visas (like Au Pairs or J-1 dependents).
Download the Continuing Education Application here.
For students who are Undocumented, ASSET eligible, DACA recipients, Dreamers, or have a complicated legal status:
Red Rocks Community College has outlined a process so that every student in your situation has a clear path of how they can access support services here and no one falls through the cracks. The following steps will help you understand your options as a student here and support you in applying for any opportunities for which you may qualify.
E-mail international@rrcc.edu to set up a call to go over your personal situation.
By meeting with International Student Services we can get a sense of your situation and what you may qualify for. Based on what we determine during our discussion we would lay out your next steps and connect you to the appropriate departments to help you, including the following steps below. We will remain your point of contact regarding admissions up until you have successfully enrolled in classes. After that you are welcome to stay in touch for additional support or ride off into the sunset on your new educational journey.
Completing the student application that applies to your situation

Meeting with our residency specialist who would determine if you qualify for resident tuition.

Completing an affidavit and working with our College Opportunity Fund specialist who will evaluate if you qualify for the COF stipend.

Filling out a specific scholarship application with Financial Aid for students who are not able to complete the FAFSA.

Giving you information on the RRCC Foundation Scholarship application and deadlines so you will have access to additional scholarship funds for your studies.
Upon review of this page, if you are unclear about which application to use or have questions about your specific situation please e-mail us here
We would like to advise you on your situation personally. While you are waiting for a response from us, if you are just trying to figure out some basics about your status you are welcome to review this chart. It highlights the guidelines about studying in the United States depending on a person's non-immigrant classification.
 
Admission Requirements for Students on an F1 Visa
The admission process is simple and requires a non-refundable $75 fee, which can be paid here Send us the following documents at least six weeks before classes begin. Classes typically begin the mid-August, mid-January, and the first week of June. An additional non-refundable $75 fee will be required for each subsequent I-20 request.
REQUIRED FOR ALL APPLICATIONS:
Completed International Student Admission Application, including the International Student Statement of Financial Support, signed and dated.
Financial Statement
Copy of your passport identification page(s). Include passports for all dependents.
Payment of application fee at https://commerce.cashnet.com/RRCCINTPAY
What is a Financial Statement
Current bank statement or official bank letter from student's, student's relative, or private/company sponsor's bank account English. These must be current and issued no more than 3 months prior to the application submission.
If you are being sponsored by someone other than yourself, in addition to the financial statement please include:
Affidavit of Support for Living Expenses and/ or Tuition, Books, and Health Insurance (if being supported wholly or partially by a private or company sponsor)
If you are being sponsored by your Government please include:
Original and current Letter of Government Sponsorship (if your education expenses will be paid by your government).
A Financial Statement Must Prove Ability to Cover the Following Expenses:
Students from other countries are expected to be able to pay for all of their expenses for their entire course of study. While students may qualify for scholarships, federal financial aid is not available to international students. The U.S. government does not allow F-1 or M-1students to work off-campus and on-campus job opportunities are limited, so student employment cannot be relied upon for financial support. You are required to certify that you will have adequate financial support for your program of study at Red Rocks Community College. Your I-20 can only be issued after we have received sufficient documentation of available funds and payment of the application fee.
Estimated expenses for an international student for the current school year (Fall and Spring semesters).
*based upon 12 credit hours per semester- the minimum requirement *
** student will pay a $500 international student orientation fee their first semester at RRCC **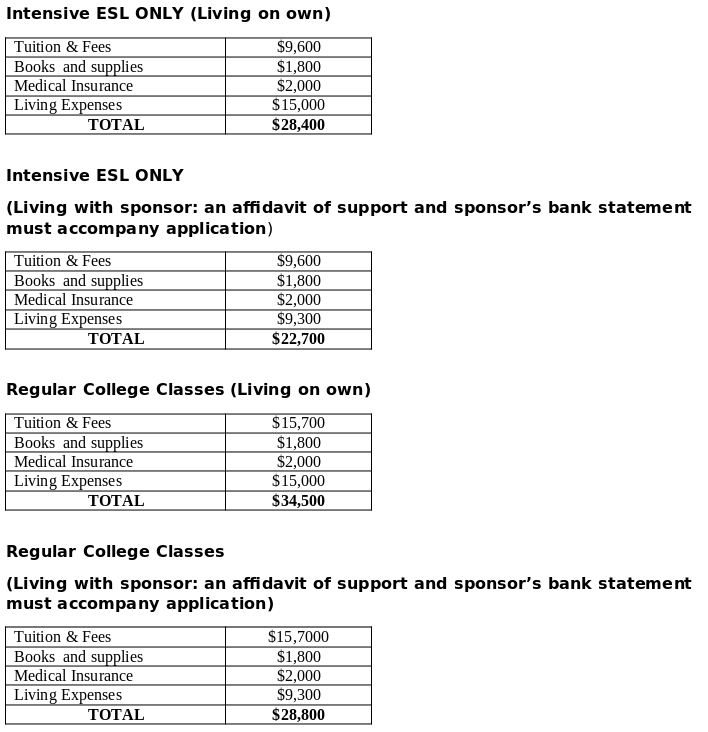 If you are transferring your I-20 from another U.S. school:
Copy of your current I-20
F-1 visa
I-94
Unofficial transcripts.
A completed RRCC transfer-in form indicating your transfer release date, this will be given to you upon acceptance to RRCC
Visiting International Students:
Copy of your current I-20
F-1 visa
I-94
Unofficial transcripts.
Permission from you current school's DSO
Visa Application Process
Apply to Red Rocks Community College with complete application and financial support documents
Wait for acceptance letter and I-20 from RRCC
Make a visa interview appointment with your closest U.S. embassy or consulate
To apply for an F-1 visa, you will need:
Form I-20
Acceptance letter from Red Rocks Community College
Completed application Form DS-156, together with a Form DS-158. Both forms must be completed and signed. Some applicants will also be required to complete and sign Form DS-157.
Visa application fee receipt
Passport valid for at least six months after your proposed date of entry into the United States
One (1) 2" x 2" photograph. Click here for information about the required photo format.
Wondering where you can go as an F-1 student after completing your studies at Red Rocks?