Faculty - Marti Wedewer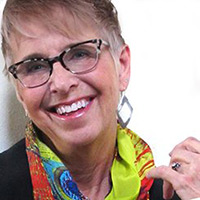 Marti Wedewer is a graphic designer, digital fine artist, college professor and corporate trainer. Her specialties are beginning and advanced Illustrator, Photoshop, InDesign, though she also teaches layout and design skills, conceptual thinking, typography, proofreading, color theory, and advanced digital illustration.
Marti has been teaching Adobe software for 17+ years, first in a design school setting, and presently at Red Rocks College and as a freelance corporate trainer. She writes all of her own curriculum and has studied and practiced a variety of teaching strategies and methods as well as a smattering of essential psychology and counseling skills.
Marti has worked for years in the design and advertising industry, partnered in an interactive multimedia company, and presently is running her freelance design business, BrioCreative. The synergy of her strong design background plus her teaching education and experience bring extraordinary depth to the classes she teaches—real world advice from a working professional is a valuable commodity.
Take a look at some of Marti Wedewer's work: