Not your typical day at the beach… RRCC takes third place in Sand in the City!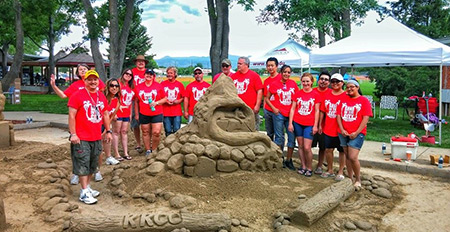 Red Rocks team places third in Arvada's Sand in the City competition
Red Rocks Community College recently participated – and took home third place – in Sand in the City®, a sand sculpting contest and festival hosted by the Arvada Chamber of Commerce on June 27th in Ralston Park near Arvada West High School.
The Red Rocks team of 20 included RRCC staff, students, and their friends and family.  The team competed against eight other local teams to build their sculpture--a rocky hillside with a fox in a den, complete with river, rock, log, and wildlife landscaping.  Some of the team had previous experience working with sand from last year's contest, while others learned technique at a 'Sand 101' hands-on training.  In addition, the teams were assigned an architect to help design and guide the project. 
Approximately 200 tons of sand were deposited and divided into piles the day before the contest.  Teams were allowed to make initial preparations from 8-10 a.m. before the official timed contest began at 10 a.m.  The first three hours were spent shoveling sand into wooden forms, pouring water, stirring the mixture, and using weighted tools to pack it down.  Teamwork was key as members took turns with the physical labor of preparing the sand for sculpting.  Next, team members sculpted the design using devices ranging from carving tools to gardening tools to kitchen utensils to Popsicle sticks to carve out the details.  
Shortly after the "tools down!" call at 4 p.m., the judging began.  Arvada Mayor Marc Williams and Colorado Senator Rachel Zenzinger were among the elected officials who cast their votes for the winners.  First place went to 4BR for their characters from The LEGOS Movie and second place went to Water World for their hippos and wishing well.
The festival was open to the public on Saturday and Sunday, and included live music, children's activities, food vendors, and retail booths.
The Red Rocks group had a great time…and a few of the team are already thinking about a sculpture theme for next year!