RRCC Dean Volunteers in D.C. at National American Legion Auxiliary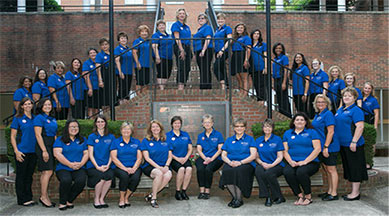 Red Rocks Community College
News Release
More information: Kim Rein
303.914.6260
kim.rein@rrcc.edu
www.rrcc.edu               
RRCC Dean Kelly Circle Volunteers in Washington, D.C. at National American Legion Auxiliary:: Girls Patriotism and Government Leadership Conference
Lakewood – Red Rocks Community College dean Kelly Circle is one of 30 American Legion Auxiliary volunteers who has the honor of joining 98 young women attending the 68th American Legion Auxiliary Girls Nation in Washington, D.C., July 19-26. Two outstanding citizens, known as "senators," are selected at the 49 Girls State sessions held across the country to represent their state at ALA Girls Nation. This premier leadership conference is designed to provide practical insight into the workings of government, to instill a sense of pride and loyalty in America and to create friendships and memories that last a lifetime.
Circle was chosen to be a part of this year's ALA Girls Nation staff because of her exemplary service to her community and the American Legion Auxiliary. "I am so honored to be a part of ALA Girls Nation," said Circle. "To see these bright, young women actively learning about our political process makes me proud to be an ALA member and gives me great hope for the future of our country."
Key components of the ALA Girls Nation program include mock senate sessions with caucusing and bill debates and campaigns to elect party officials, an ALA Girls Nation president and a vice president.
In addition to their legislative forums, the senators hear distinguished guest speakers and visit the White House with the opportunity to meet President Obama, tour other memorials in the Washington, D.C. area, and lay a wreath at the Tomb of the Unknown Soldier at Arlington National Cemetery. Toward the end of the week, they visit Capitol Hill to meet with their respective senators and representatives.
"The ALA Girls Nation experience is a once-in-a-lifetime opportunity for these young women," said Trish Ward, ALA Girls Nation national chairman. "After attending their local ALA Girls State program and then Girls Nation, they come back to their communities filled with patriotism and pride." Ward, along with Circle and other ALA volunteer leaders, will attend the conference and encourage the young senators to continue their community service by becoming members of the American Legion Auxiliary as well as leaders in their communities and government.
American Legion Auxiliary members have dedicated themselves for nearly a century to meeting the needs of our nation's veterans, military and their families both here and abroad. They volunteer millions of hours yearly, with a value of nearly $2 billion. As part of the world's largest women's patriotic service organization, Auxiliary volunteers across the country also step up to honor veterans and military through annual scholarships and with ALA Girls State programs, teaching high school juniors to be leaders grounded in patriotism and Americanism. To learn more about the Auxiliary's mission or to volunteer, donate or join, visit www.ALAforVeterans.org or contact Stacy Poca, 317-250-4960; spoca@ALAforVeterans.org