The RRCC Foundation Announced as 2014 Scholarship Provider of the Year!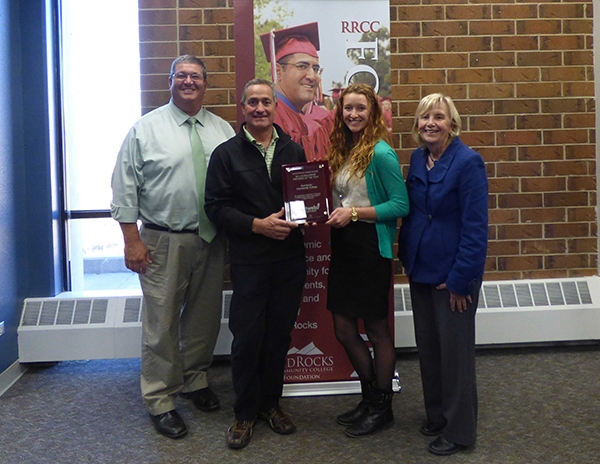 Lakewood, CO— The RRCC Foundation has been recognized as the 2014 Scholarship Provider of the Year (SPOY) in the College and University category by the National Scholarship Providers Association (NSPA).
"Needless to say we are beyond excited about this," said Ron Slinger, Executive Director. "This is a tremendous recognition of the strong leadership the Foundation Board provides, the tremendous collaboration and support we have from President Haney and the College, the great work of our staff, our amazing Foundation scholars and most importantly the amazing support we receive from our donors."
This prestigious award recognizes scholarship providers who demonstrate exceptional leadership, efficiency and impact in their support of higher education.  There are two eligible categories, College and University Providers – those within a post-secondary educational institution that provide scholarships for study at the institution and Independent Providers which are scholarship organizations run by a private or public foundation, unaffiliated with a specific college or university. Organizations must be current members of NSPA and in good standing to be considered for the award.
"This year's winners demonstrate that scholarships are about engaging and mentoring students to become successful graduates. Along with scholarships, these programs involve student support, accountability, and foster a sense of community with students which provides a track record for success," commented Amy Weinstein, Executive Director of the NSPA.
Since 1993, the RRCC Foundation's Scholarship Program has provided over 3,900 scholarships to help students realize their dreams of going to college. The RRCC Foundation offers a wide variety of scholarships based on both need and merit. An applicant's grades, academic and professional goals, financial need, community service, and special circumstances are all evaluated in the awarding process. The minimum requirements to apply for the RRCC Foundation Scholarship Program are Colorado residency, a 2.0 or higher GPA, and the ability to be at least a half-time student when receiving the award.
The Red Rocks Community College Foundation is a 501(c)(3) nonprofit organization committed to supporting the students, faculty, and staff at the college in their pursuit of excellence. The Foundation was established in 1993 with the vision of helping students of all income levels have access to higher education. Since its inception, the Foundation has given more than $4.4 million dollars in scholarships to RRCC students and $3.7 million for other RRCC programs. The Foundation also provides mini-grants to faculty and staff, awards for outstanding faculty, and support for other worthwhile initiatives. 

About Red Rocks Community College:  Established in 1969, Red Rocks Community College delivers high-quality, affordable education programs leading to two-year degrees or professional certificates. The college serves over 14,000 students per year online and at two campus locations in Lakewood and Arvada.  www.rrcc.edu.
Thursday, November 20, 2014