$972,892 HRSA Grant to Enhance Red Rocks Physician Assistant Program
More information: Kimberly Rein, 303-914-6260
kim.rein@rrcc.edu
November 25, 2015
$972,892 HRSA Grant to Enhance Red Rocks Physician Assistant Program
Arvada, CO—A five-year grant from the Health Resources and Service Administration will enhance the RRCC Physician Assistant Program to train providers to use Patient-Centered Medical Home (PCMH) principles. PCMH has become a widely proposed model to strengthen primary care while reducing overall health care costs.
"The RRCC Physician Assistant program has been a foundational health careers program here at Red Rocks since 1998," RRCC President Michele Haney commented. "This grant from HRSA will strengthen the quality of Colorado's health care providers for years to come."
Colorado was an early adopter of PCMH, and the grant will help fuel its expansion through training activities targeted at primary care providers with a focus on increasing the adoption of PCMH in rural and underserved communities.
Thanks to the grant, 160 physician assistants will learn to apply PCMH in their practice during the five-year period. Training with them will be 54 primary care providers who work in rural and/or medically underserved communities. 12 senior primary care medical residents will be trained to supervise physician assistants in a PCMH practice so that the project can continue to improve Colorado health care providers.
"This project is unique in that it involves multiple levels of medical training; the RRCC PA student, established primary care providers in Colorado, and senior primary care physician residents," said Tana Smith, MD, Medical Director of the RRCC PA Program. "The project has potential benefit for providers and their patients."
The grant aims to not only address a critical need to strengthen the primary care workforce by supporting enhanced training for future primary care providers, but also has a focus in transforming health care systems by providing training to current primary care providers.
About RRCC Physician Assistant Program: The RRCC PA program's mission is to train clinically competent and compassionate physician assistants to provide primary care to the medically underserved.
Each year the RRCC PA program graduates about 32 physician assistants, each of whom, on average, will see 5,000 patients per year. Primary care physician assistants can perform approximately 80-90% of the same patient care tasks as their supervising physicians, including evaluation of patients, physical exams, ordering and interpreting diagnostic tests, routine office procedures, prescribing medications, patient education, and follow up.
The RRCC Physician Assistant program currently offers courses leading to a certificate in PA Studies and prepares the student for the Physician Assistant National Certifying Exam (PANCE), which is administered by the National Commission for the Certification of Physician Assistants (NCCPA). Upon passage of the PANCE, graduates are eligible for licensure in any state. The program has been granted the status of "Accreditation-Continued" by the Accreditation Review Commission on Education for the Physician Assistant (ARC-PA). For additional information about the program visit http://www.rrcc.edu/physician-assistant.
About Red Rocks Community College: Established in 1969, Red Rocks Community College delivers high-quality, affordable education programs leading to two-year degrees or professional certificates. The college serves over 14,000 students per year online and at two campus locations in Lakewood and Arvada. www.rrcc.edu.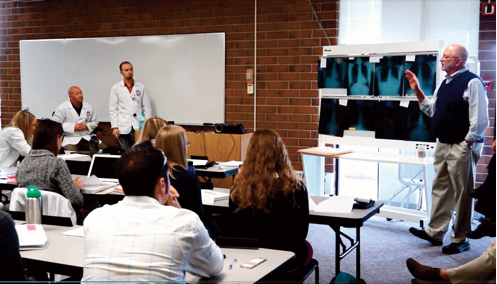 RRCC Physician Assistant students in the classroom. Thanks to the grant, 160 physician assistants will learn to apply PCMH in their practice during the five-year period.
# # #
Wednesday, November 25, 2015