Arvada/Wheat Ridge Service Organizations Recognize Teens for Overcoming Adversity
More information: Kimberly Rein, 303-914-6260
kim.rein@rrcc.edu
www.rrcc.edu
April 21, 2017
Arvada/Wheat Ridge Service Organizations Recognize Teens for Overcoming Adversity
Students receive scholarships to Red Rocks Community College
LAKEWOOD, CO – More than 100 teenagers who have overcome various forms of adversity were recognized by the Arvada Wheat Ridge Service Ambassadors for Youth (AWRSAY) at a ceremony in April at Wheat Ridge High School.  Scholarship awards to Red Rocks Community College and recognition certificates were presented by the students' nominators and school principals. In addition, Congressman Ed Perlmutter has arranged to have the names of the youth printed in the Congressional Record. The program was narrated by Ron Sloan, retired Director of the Colorado Bureau of Investigation.
"Seeing the proud expressions on the faces of these young people as they were publicly recognized for their achievements caused a swell in all of our throats," said Duane Youse, one of the AWRSAY Founders. "The members feel a sense of accomplishment for giving these teens a life-long memory to build upon."
AWRSAY is a coalition of service clubs, businesses, the cities of Arvada and Wheat Ridge, the Jefferson County School District, and Red Rocks Community College. The mission of the program, which is in its 16th year, is to provide ongoing recognition, as well as educational and leadership opportunities for Arvada and Wheat Ridge teens who have overcome adversity. AWRSAY aims to raise the self-esteem of middle and high school teens, develop opportunities through creative collaborations for these teens to build leadership skills, and to reward them through scholarships and other lifelong learning options.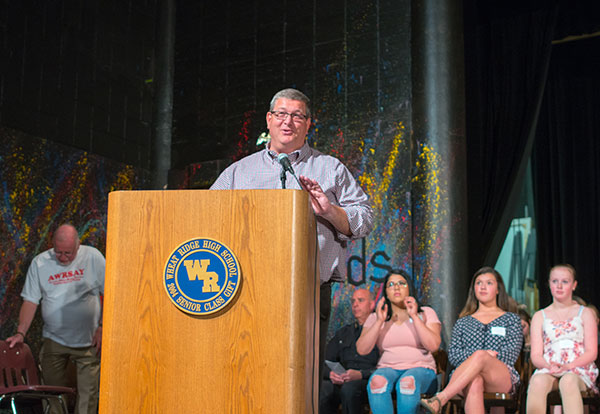 About Red Rocks Community College: Established in 1969, Red Rocks Community College delivers high-quality, affordable education programs leading to two-year degrees or professional certificates. RRCC serves over 10,000 students per year online and at campus locations in Lakewood and Arvada.