College breaks ground for Health Sciences at Arvada expansion
Lakewood, CO—Red Rocks Community College broke ground today on a $22.5 million expansion to its Arvada location.  The new state-of-the-art construction—next to the existing structure at 5420 Miller Street­—will triple the size and capacity of the Arvada location. The Health Sciences at Arvada will house all of the college's health professions programs in one place. Construction will be completed in summer of 2016 in time for fall semester.
The Health Sciences at Arvada will expand access to current high-demand degree and certificate programs while adding new programs and transfer opportunities. This effort will transform the Arvada location into a full-service campus that will accelerate the number of graduates in health occupations such as Physician Assistant, Medical Assistant, Nurse Aide, and Diagnostic Medical Sonography.
"Red Rocks produces highly qualified health care professionals who meet the growing needs of the Denver Metro Area, and the Health Sciences at Arvada is a tremendous boost to that good work," said Dr. Michele Haney, President, Red Rocks Community College.
The event was kicked off with comments by RRCC's Associate VP Janet Steinkamp, Foundation Director Ron Slinger, and Dr. Michele Haney, and included a speaker line up of the President of the Colorado Community College System, Dr. Nancy McCallin; Arvada Mayor Marc Williams, and Community First Foundation CEO Marla Williams.  The 100+ guests included Arvada City Council, Jefferson County School Board, Community First Foundation board members and staff, RRCC Foundation board and advisory council, current and past RRCC staff and administrators, and RRCC students.
In addition to supporting full transfer degree programs of Associate of Arts and Associate of Science, the Arvada location offers certificates in health professions and continuing education options. Innovative new programs planned for the Health Sciences at Arvada include Integrated Nursing Pathway and Social Work Transfer Pathway, partnerships with local four-year colleges that will allow underserved students a direct pathway to earn a bachelor's degree in needed health careers.
The new Arvada Campus will also provide full student success services including financial aid, advising, admissions, food service, bookstore, and other services. The project is the largest building campaign in the history of RRCC and will have a lasting economic impact on the community for generations to come.
According to Economic Modeling Specialists Inc. (EMSI), the economic impact of Red Rocks Community College and its students is huge, amounting to more than $187 million annually. Taxpayers see a rate of return of 7.3 percent on their investment in the college, and for every dollar students invest, they receive a cumulative $2.70 in higher future income over the course of their working careers. In May, Jefferson County Economic Development Corporation awarded RRCC the Genesis Award for Economic Developer of the Year. This award honors an organization that has significantly contributed to sustained economic vitality in Jefferson County through creative leadership, innovation, facilitations, and collaboration both within and outside of Jefferson County. RRCC was nominated by the City of Lakewood and the Arvada Economic Development Association.
To date, $19.9 million of the $22.5 million has been raised. The expansion is being made possible by generous contributions from the state, college reserves, and Foundation funds, plus $1 million each from Community First Foundation and the City of Arvada, and other sizable contributions from community organizations.
To view more photos, visit our Facebook page:  https://www.facebook.com/media/set/?set=a.10153430888128187.1073741893.266227128186&type=3
About Red Rocks Community College: Established in 1969, Red Rocks Community College delivers high-quality, affordable education programs leading to two-year degrees or professional certificates. The college serves over 14,000 students per year online and at two campus locations in Lakewood and Arvada. www.rrcc.edu.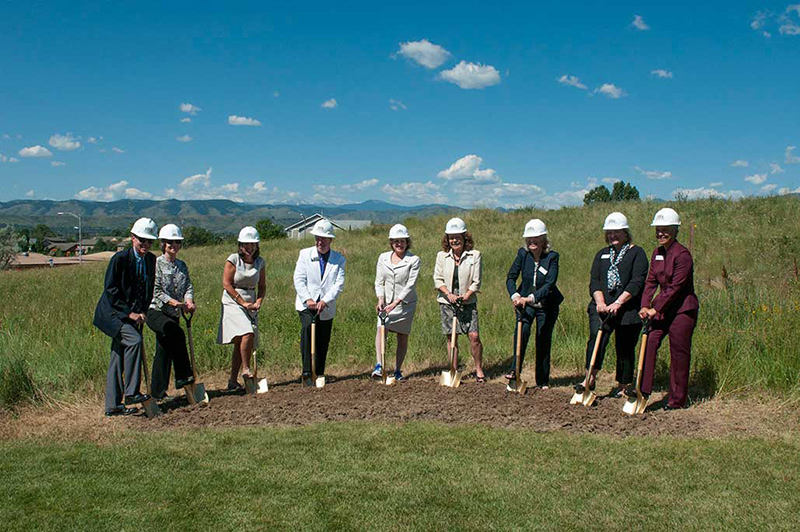 RRCC staff, Arvada Mayor Marc Williams, Community First Foundation board members and staff,
and donors break ground at the site of the new Campus expansion in Arvada.