Handmade Blankets Donated to RRCC Students Experiencing Housing Insecurity
FOR IMMEDIATE RELEASE
More information:
Wren Barnes
Director, Marketing and Communication
303-914-6260
Wren.Barnes@rrcc.edu
www.rrcc.edu
July 31, 2020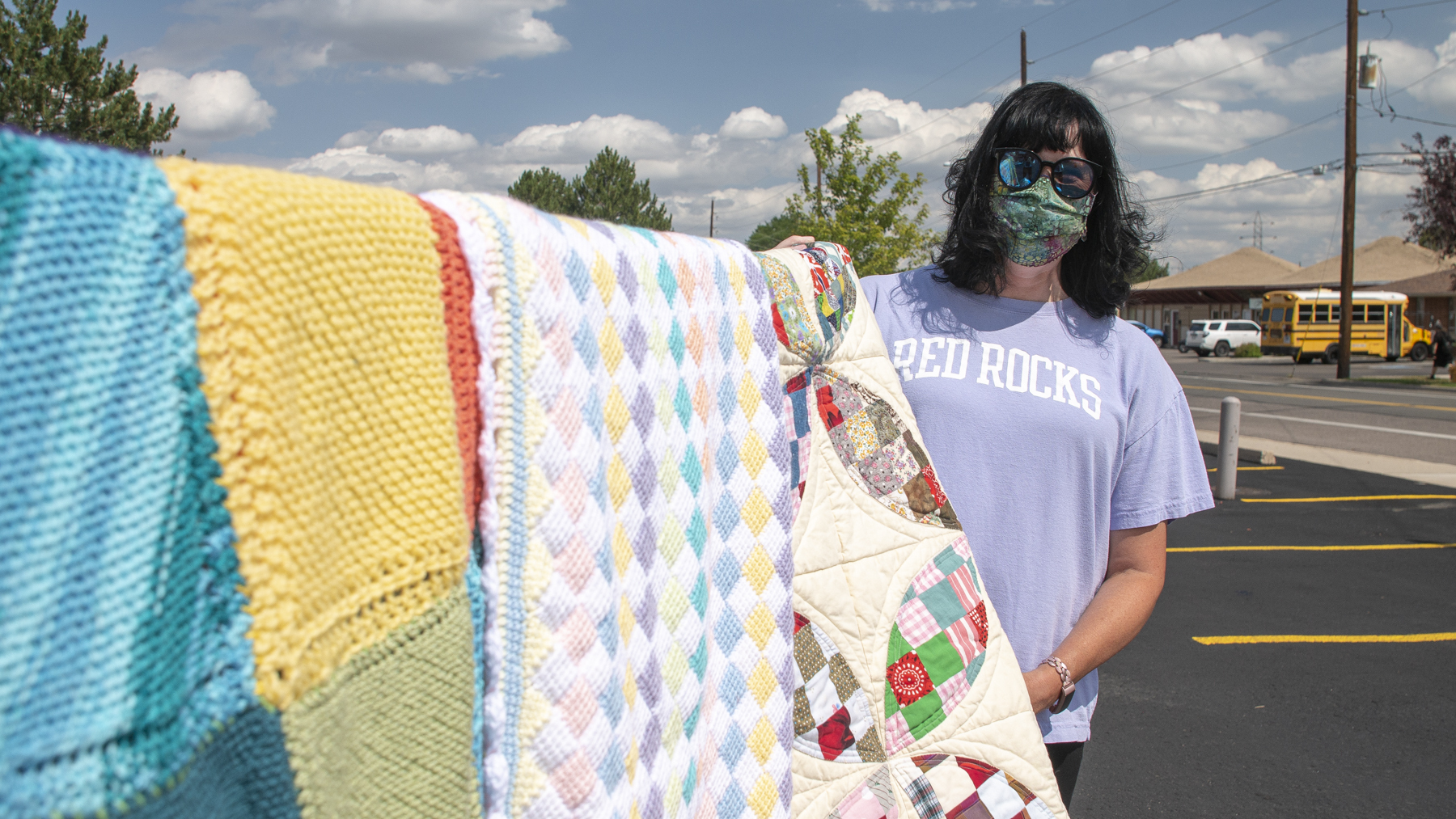 51 Handmade Blankets Donated to RRCC Students Experiencing Housing Insecurity
Knitting4Peace Partners with RRCC to Deliver a Virtual Hug in the Form of Handmade Blankets
LAKEWOOD, CO - Red Rocks Community College (RRCC) collaborated with the Denver nonprofit organization Knitting4Peace to make and give 51 blankets and quilts to students who will be moving into new housing coordinated by RRCC and The Action Center in Jefferson County.
Kelly Jo Eldredge, Department Chair of Theatre Arts & Dance and coordinator of the Knitting4Peace Peace Pod at Red Rocks Community College, wrote to K4P in April:
"Red Rocks Community College is partnering with The Action Center in Jefferson County to open a shelter specifically for students who are experiencing housing insecurity. The new shelter will house 6-12 students a semester. Our Peace Pod members thought it would be great if we could offer a handmade blanket to each student entering the shelter, and then they could take it with them when they leave. I would be happy to collect any blanket donations between now and the start of fall classes (mid-August), and then we can present them to the shelter at that time. Any number will help us jump start our inventory. Thank you again for supporting this cause! I think it will be such a wonderful gift to students who are experiencing housing insecurity."
Mary Ellen Garrett, Executive Director of Knitting4Peace says the response from their supporters went beyond expectations: "We sent out an appeal to our local volunteers who make requested items, and wow; people are so generous! We asked for 15 blankets or quilts, and we received 51! We'll be helping provide a blanket or quilt handmade with love to each new resident as they move into this new housing for Red Rocks Community College students. We're excited this project is on schedule to open this fall, and we're very glad to offer our support."
Since its founding in 2006, Denver-based Knitting4Peace has delivered requested handmade items to more than 179,284 people living in communities across the United States and 82 countries around the world. For more information on Knitting4Peace, visit their website: https://www.knitting4peace.org/
If you are interested in joining the RRCC Knitting4Peace Pod, email Kelly.Eldredge@rrcc.edu. Knitters and crocheters of all experience levels are welcome.
More about Red Rocks Community College:  Established in 1969, Red Rocks Community College delivers high-quality, affordable education programs leading to degrees or professional certificates. The college serves over 10,000 students per year online and at campus locations in Lakewood and Arvada.  www.rrcc.edu.
Photo Credit: Polina Sarana
Featured in Photo: Kelly Jo Eldredge
Wednesday, August 5, 2020