Red Rocks Community College Presents "Damage" Art Exhibit Haunting imagery reflects society's "most" and "least" wanted
More information: Kimberly Rein, 303-914-6260
kim.rein@rrcc.edu
www.rrcc.edu
Red Rocks Community College Presents "Damage" Art Exhibit
Haunting imagery reflects society's "most" and "least" wanted
LAKEWOOD, CO – Red Rocks Community College is currently hosting an art exhibit by Denver artist Sharon Brown. "Damage" features psychologically charged paintings created mostly from photographs. The work, on display in the mezzanine near the library at RRCC's Lakewood campus, will run from now until February 2018. 
Sharon Brown was a sociology major in college and grew up surrounded by psychiatrists in her family. As a result, she uses her paintings to convey subtle psychological and social tensions. She sees the way ordinary people reveal themselves, try to conceal themselves (often at the same time) and reflect on culturally induced values.
According to the artist, the "Damage" series came about at the intersection of donated canvases, sociology and portraiture. While trying to decide how to use the canvases, Brown came upon small black and white pictures of a couple who had been charged with child abuse. The woman's face transfixed her. It was a portrait of a broken, hopeless person, bruised about her eyes and neck from her husband's attacks. A "50 Most Wanted" poster was another source of material. Brown's interest in all things psychological led her to paint "invisible" felons that appear in the newspaper on a daily basis - the "Most" wanted and least wanted in society. Brown thought, "Damage cuts both ways: those who inflict damage are themselves damaged by life's circumstances. Their faces, now blown up in size and in color, reveal what is being concealed. That is the artist's job."
More about Red Rocks Community College:  Established in 1969, Red Rocks Community College delivers high-quality, affordable education programs leading to two-year degrees or professional certificates. The college serves over 13,000 students per year online and at campus locations in Lakewood and Arvada. www.rrcc.edu.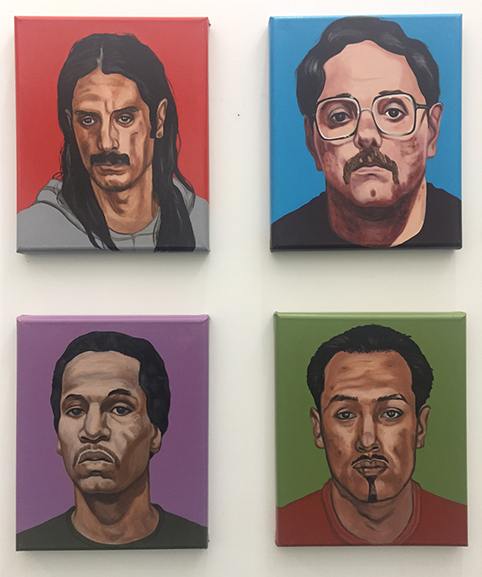 Friday, February 10, 2017