Red Rocks Community College Receives Economic Development Award
Lakewood, CO —The Jefferson Economic Development Corporation recently awarded RRCC the Genesis Award for "Economic Developer of the Year."  This award honors an organization that has significantly contributed to sustained economic vitality in Jefferson County through creative leadership, innovation, facilitations, and collaboration both within and outside of Jefferson County.  RRCC was nominated by the City of Lakewood and the Arvada Economic Development Association.

The economic impact of Red Rocks Community College and its students is huge, with a total impact on the community amounting to more than $187 million annually. Taxpayers see a rate of return of 7.3 percent on their investment in the college, and for every dollar students invest, they receive a cumulative $2.70 in higher future income over the course of their working careers.

Through this, Red Rock's graduates help expand the county's economic base with their higher incomes, and the businesses that employ them become more productive through the students' increased skills.  Red Rocks is a national leader in community college education and constantly receives recognition for its achievements in leadership and student accomplishments. The college's small classroom sizes, low tuition rates and nationally acclaimed scholarship program are helping enrich students' lives and increase their lifetime incomes.

In a recent study, RRCC was ranked number one in first year graduate incomes among all 13 community colleges in Colorado. When compared against all four-year universities in Colorado, Red Rocks ranked third.  This is important because 85 percent of RRCC students are Jefferson County residents and most of them remain and get jobs locally.  Many of them also go on to receive continued education or transfer to universities, such as Colorado School of Mines.  Red Rocks transfers more students to Mines than any other college in the nation.

About Red Rocks Community College: Established in 1969, Red Rocks Community College delivers high-quality, affordable education programs leading to two-year degrees or professional certificates. The college serves over 14,000 students per year online and at two campus locations in Lakewood and Arvada. www.rrcc.edu.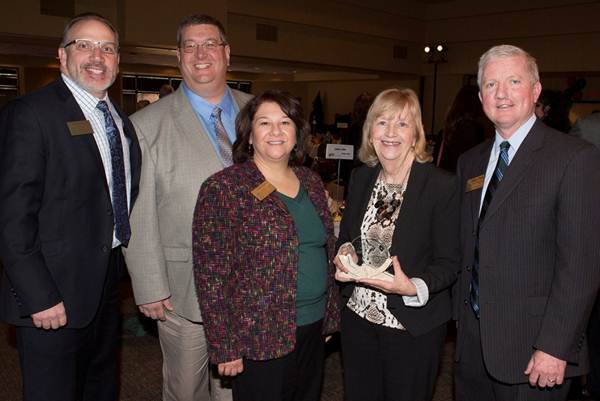 RRCC Foundation Director Ron Slinger and RRCC President Dr. Michele Haney with
County Commissioners (Left to Right) Don Rosier, Libby Szabo and Casey Tighe