Red Rocks PTK Honor Society Earns International Recognition
More information: Kimberly Rein, 303.914.6260
kim.rein@rrcc.edu
May 5, 2017
Red Rocks PTK Honor Society Earns International Recognition
LAKEWOOD, CO – Red Rocks Community College's Phi Theta Kappa honor society chapter, Alpha Kappa Sigma, was recognized at the International Convention in Nashville last month with three major awards. Chapter officers Natasha Albrecht, Deitra Sandy, and Sean Ross; and Advisor Carolyn Mattern were present at the 99th annual convention of the International Honor Society for two-year colleges. The chapter's awards included:
Distinguished College Project.  The chapter was recognized for creating a series of student forums designed to allow students opportunities to discuss current topics in a safe, respectful environment. Topics presented by college faculty and community members ranged from Equity vs. Equality, Urban Farming, Neutrinos at the Edge of Earth, Immigration and Refugees to Political Geography and Potatoes on Mars.
Distinguished Honors in Action Project.  Extensive research by chapter members on the question of sexual rights and responsibilities led to the creation of a Sexual Assault Awareness project.  Activities included Bystander Training, awareness activities, lectures on healthy relationships and information on Title IX and its importance to students.  Students also created informative videos that will be included in the college's on-line new student orientation.
Beta Alpha Continued Excellence Award.  The Red Rocks Chapter was one of only 10 chapters, from among nearly 1,300 world-wide, to receive this award.  A chapter must be named a Distinguished Chapter three years consecutively in order to be recognized.
Additionally, chapter member Torri Demos received the Distinguished Chapter Member award for her contributions to the chapter's projects and activities throughout the year.
More about Phi Theta Kappa:  Phi Theta Kappa is the largest honor society in American higher education with more than 2.5 million members and nearly 1,300 chapters located in 50 United States, U.S. territories, Canada, and Germany.  In 1929, the American Association of Community Colleges recognized Phi Theta Kappa as the official honor society for two-year colleges.
More about Red Rocks Community College:  Established in 1969, Red Rocks Community College delivers high-quality, affordable education programs leading to two-year degrees or professional certificates. The college serves over 10,000 students per year online and at campus locations in Lakewood and Arvada. www.rrcc.edu.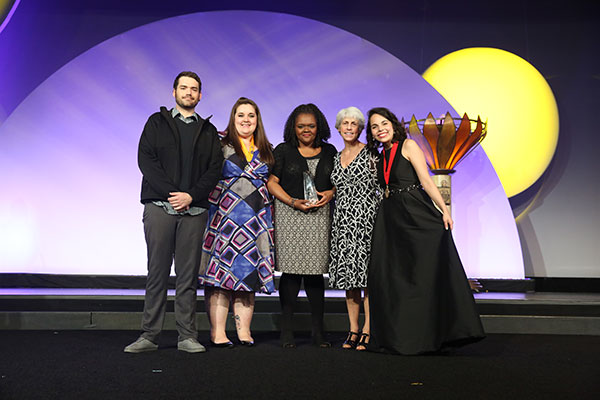 Left to right: chapter officers Sean Ross, Natasha Albrecht, Deitra Sandy;
chapter advisor Carolyn Mattern, International Officer Alexa Green