Red Rocks team in finals for NSF Community College Innovation Challenge
More information: Kimberly Rein
303-914-6260
kim.rein@rrcc.edu
April 16, 2015
Red Rocks team in finals for NSF Community College Innovation Challenge
Ten teams of solution-based researchers head to nation's capital for Innovation Boot Camp
Lakewood, CO—The National Science Foundation today announced that a team from Red Rocks Community College is one of 10 finalists in its nation-wide Community College Innovation Challenge (CCIC). The CCIC is a contest in which community college students were asked to propose innovative science, technology, engineering and mathematics (STEM)-based solutions to perplexing, real-world problems. 
The RRCC team is building a network-based, mobile medical dispensation device that quickly, accurately, and securely administers medicine.  This device will bring greater accountability to the process of drug tracking within emergency medical disaster relief scenarios.  RRCC ran the competition through their IDEA Lab, a design-thinking center for solving community problems. "We want students to become innovators in the IDEA Lab and make their ideas tangible," said Director of Red Rocks Innovations in STEM Education Liz Cox.
"The project has been both challenging and rewarding because it allows us to problem-solve and exchange ideas with each other, while working toward a common goal," said student team member Keya Lea Horiuchi.  "Our community partner, Applied Trust, has been incredibly supportive.  I'm really thankful for this experience and am looking forward to continuing into the second phase."  The other team members are Red Rocks computer science students Scotty Hall, Nathan Tiedt and Kaia Chapman. 
The device would simplify the job of medical teams, while it brings them into compliance with current medical standards and laws.  According to the RRCC team, by focusing their engineering efforts on proven, simple components, their solution can be manufactured at an extremely low cost.  This results in a product that is easily maintained in the field.  Most importantly, it protects doctors while allowing them to focus on the task of saving lives, while also making the nation's infrastructure security more efficient, accountable and secure.  
"As a mentor, it was fulfilling to see the students experience the joy of learning science and technology and then putting it into a real life project," said faculty advisor Dr. Helena Martellaro, a computer science instructor at RRCC.  
For their efforts and great ideas, all 10 finalist teams will head to the NSF this summer for an Innovation Boot Camp June 15-18 co-hosted by NSF and the American Association of Community Colleges.  This intensive professional workshop will provide the community college innovators with immersion in the thinking, skills, and tools that help transform innovation into entrepreneurship.  At the Camp, students will network, interact with experts, and receive coaching and mentoring, as well as guidance during sessions and activities that will help them further validate, refine, develop, and potentially implement their novel solutions to real-world problems.  Innovation Boot Camp participants will also exhibit their projects at a reception on Capitol Hill, hosted by U.S. Representative David Price from North Carolina on June 17.  
For more information on the team and their project visit http://fosslounge.org/about-us/.  To learn more about RRCC's STEM education and IDEA lab, and view a video of the project visit http://www.rrcc.edu/idea-lab.
About Red Rocks Community College:  Established in 1969, Red Rocks Community College delivers high-quality, affordable education programs leading to two-year degrees or professional certificates. The college serves over 14,000 students per year online and at two campus locations in Lakewood and Arvada.  www.rrcc.edu.
About the Community College Innovation Challenge:  Today more than 40 percent of U.S. undergraduates are enrolled at community colleges.  Groups underrepresented in STEM as well as first-generation college students make up a significant portion of students on community-college campuses. NSF-funded projects at community colleges support STEM students transferring to four-year colleges, as well as receiving education and training to become part of the high-tech workforce--in fields as diverse as biotechnology, cybersecurity and advanced manufacturing.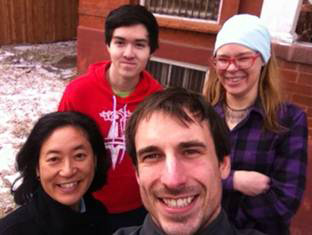 NSF Challenge Team Members (clockwise from front/center--
Nathan Tiedt, Keya Lea Horiuchi, Scotty Hall, and Kaia Chapman)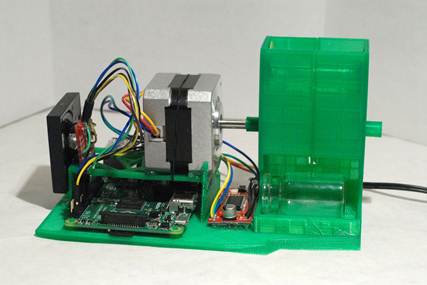 RRCC's student project:  Mobile medical disaster relief dispensation unit.