RRCC Approved to Offer Bachelor's Degree in Water Quality
More information: Kimberly Rein, 303-914-6260
kim.rein@rrcc.edu
www.rrcc.edu
RRCC Approved to Offer Bachelor's Degree in Water Quality
First community college in Colorado to offer BAS degree
LAKEWOOD, CO – Starting this fall Red Rocks Community College will offer students a learning opportunity not available at any other two- or four-year higher learning institution in Colorado. The college has been approved by the Higher Learning Commission to offer a bachelor of applied science degree in water quality management technology – the only degree of its kind in the state.  
"We choose to create a bachelor of applied science in this field because of the growing need in our state," said Chelsea Campbell, lead faculty for the program.  "From a career standpoint, the water quality industry is stable, reliable, and always emerging with new ideas to meet challenges."
The water quality management technology program is ideal for individuals interested in the applications, regulations, and technologies of water. The bachelor of applied science degree will educate students about water quality management fields and apply those fields in real-world situations.  
RRCC's water quality program works closely with many industry partners to ensure graduates are ready for the workforce. The students will experience hands-on training through internships, distribution training lab, wet lab, and workshop. Internships allow students to experience the water industry through the eyes of career professionals and learn first-hand how to tackle water themes.  
The program is affordable and also flexible - classes are offered in a variety of modalities including online, traditional classroom, and hybrid.
The degree approval followed a two-year process of review and approval from the State Board of Community Colleges and Occupational Education last year. Red Rocks Community College staff had been working on meeting the requirements for the program since the summer of 2014.
More about Red Rocks Community College:  Established in 1969, Red Rocks Community College delivers high-quality, affordable education programs leading to two-year degrees or professional certificates. The college serves over 13,000 students per year online and at campus locations in Lakewood and Arvada. The Arvada campus will open its 50,000 square foot expansion in August of 2016, adding new programs and tripling capacity for enrollment and workforce training.  www.rrcc.edu.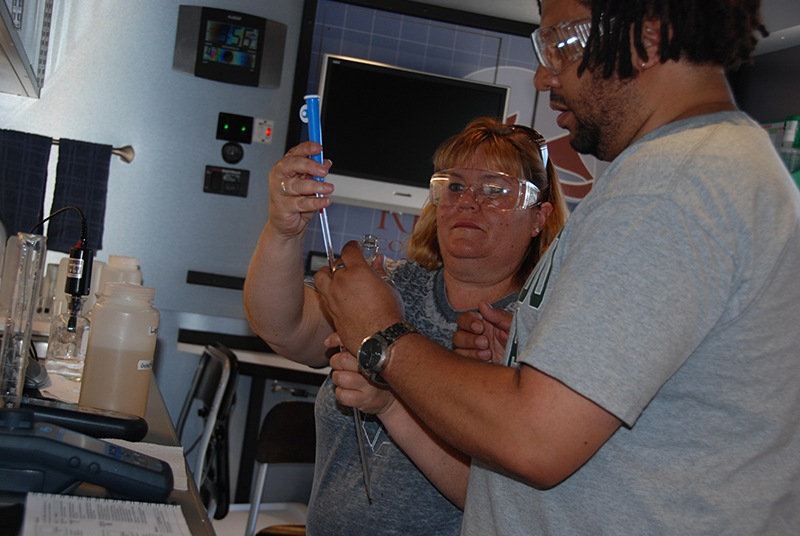 Water quality students test samples in a mobile lab. Red Rocks will offer a bachelor's degree in water quality management technology starting this fall.