RRCC Foundation names Dr. Merri Mattison 2015-2017 Student Voice Endowed Teaching Chair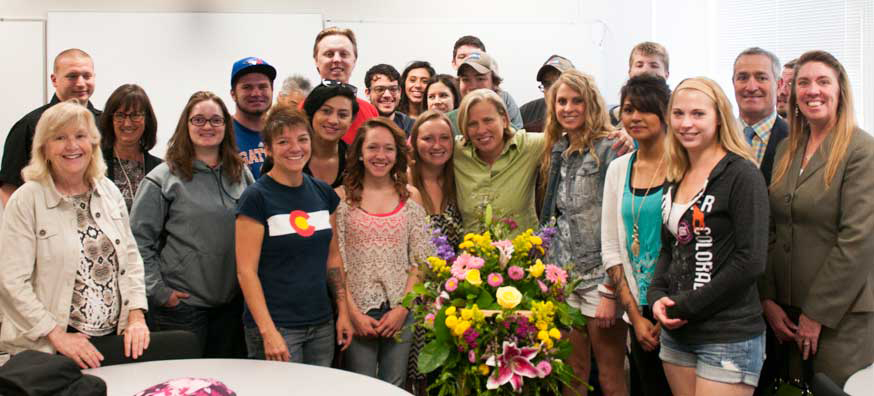 More information: Kimberly Rein
303.914.6260
kim.rein@rrcc.edu
April 30, 2015
Red Rocks Community College Foundation names Dr. Merri Mattison
2015-2017 Student Voice Endowed Teaching Chair
Lakewood, CO—Red Rocks Community College Foundation is proud to award the 2015-2017 Student Voice Endowed Teaching Chair to Sociology faculty member, Merri Mattison, Ph.D. As the 21st Endowed Teaching Chair, Dr. Mattison joins an exclusive group of faculty recognized for their excellence in teaching and commitment to Colorado students. The 21 Endowed Teaching Chair faculty members are unique among their peers in the Colorado Community College System, as this premier program is the only one of its kind at a Colorado Community College.
"Merri is such a phenomenal faculty member," said Dr. Michele Haney, President of Red Rocks Community College. "We are so lucky that she is part of the Red Rocks family."
It is easy to see why Merri Mattison was awarded. Dr. Mattison's approach to teaching and learning is first and foremost built on respect. She works to find ways to connect individually with each of her students. "On the first day of class I tell my students that I want to be one of the reasons why they succeed," says Dr. Mattison. "It is crucial that they know that I am available for them, and willing to take the extra time needed to help them succeed." She strives to create an open and safe learning environment where questions are welcomed and respectful discourse encouraged.
Students benefit from her approach. "Professor Mattison serves as a model educator of what Red Rocks Community College needs in order to be successful in preparing students to be the professionals and leaders of tomorrow," wrote one former student. During her academic career Dr. Mattison mentored countless students, one of whom is Tim Gatza. Gatza started at a community college and is now a successful attorney in Illinois. According to Gatza, "I don't know if I will ever truly be able to thank Merri for the impact she has had on me, but I hope that the way I choose to live my life each day somehow begins the repayment."
As the 2015-2017 Endowed Teaching Chair, Dr. Mattison receives a three-year salary enhancement of $5,000 per year and $2,500 per year for professional development. This highly selective award was initiated in 2001 when the Mike Leprino Family Foundation and Coors Brewing Company endowed the first two Teaching Chairs. It has continued through service commitments by the RRCC community and the RRCC Foundation's Board of Directors.
Stina French of the English Department and Amy Buckingham of the Psychology Department are also being honored as finalists. As finalists, each receives $2,500 in professional development funding to encourage their hard work and dedication to teaching RRCC Students.
The Red Rocks Community College Foundation is a 501(c)(3) nonprofit organization committed to supporting the students, faculty, and staff at the college in their pursuit of excellence. The Foundation was established in 1993 with the vision of helping students of all income levels have access to higher education. Since its inception, the Foundation has given more than $4 million dollars in scholarships to RRCC students and $3.7 million for other RRCC programs. The Foundation also provides mini-grants to faculty and staff, awards for outstanding faculty, and support for other worthwhile initiatives. 

About Red Rocks Community College:  Established in 1969, Red Rocks Community College delivers high-quality, affordable education programs leading to two-year degrees or professional certificates. The college serves over 14,000 students per year online and at two campus locations in Lakewood and Arvada.  www.rrcc.edu.
# # #