RRCC to Host Sustainability Celebration in Honor of Earth Day
Kimberly Rein
Director, Marketing & Communications
Red Rocks Community College
303.914.6260  |  kim.rein@rrcc.edu
RRCC to Host a Sustainability Celebration in Honor of Earth Day
Free event is open to the public
LAKEWOOD, CO – Red Rocks Community College will host a Sustainability Celebration on Monday, April 27 from 3 to 8 p.m. at the Lakewood campus. The festivities will include a vendor fair, exhibits, lectures, workshops, and other educational activities to expand our community's knowledge on preserving the environment. This event will also support the Girl Scouts as they earn their Junior Journey Badges and seek funds/donations of high efficiency light bulbs to donate to "A Little Help," a non-profit that helps elderly in need.
Presentations in the Den:
          3:00 pm                            GRID Alternatives, Beth Copanas
          3:30 pm                            RRCC Dance Department, Danielle Heller
          4:00 pm                            RRCC's IDEA Lab, Jeremy Beard
          4:30 pm                            CLEAResult, Margaret Rogers
          5:00 pm                            RRCC Welcomes the Girl Scouts of Colorado
          5:30 pm                            Denver Office of Sustainability, Jessica Fisher
          6:00 pm                            Passive Solar Todd Collins
          6:30 pm                            Environmental Restoration, Blake Mayberry, RRCC Geology Dept.
          7:00 pm                            Laurie Dameron

Workshop (classroom 1690):
4:00 pm - GRID Alternatives Volunteer Orientation
 
Exhibits in the Great Hall
RRCC Chemistry Department-Biofuel and Fuel Cell Cars
IDEA Lab
Denver Tool Library
Recycle Bicycles
Growhaus
GRID Alternatives
Colorado Green Building Guild
US Green Building Council-Colorado
Walk Denver
CSU civil and environmental Engineering
Volunteers for Outdoor Colorado
Golden Solar Homes Tour
RTD
Denver Master Composters
Energy Career Opportunities Club
Conservation Colorado
Organic Gardening Club
Girl Scouts
 
If you are interested in speaking, exhibiting or hosting a workshop, contact mariah.rossel@rrcc.edu or maria.ferguson@rrcc.edu.
 
Need accessibility? Contact the Office of Accessibility Services at 303.914.6733 or access@rrcc.edu at least one week prior to the event to request disability accommodations.

More about Red Rocks Community College:  Established in 1969, Red Rocks Community College delivers high-quality, affordable education programs leading to two-year degrees or professional certificates. The college serves over 14,000 students per year online and at campus locations in Lakewood and Arvada.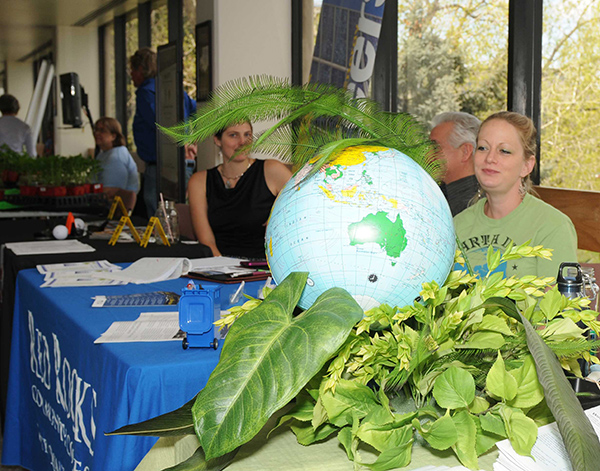 Yarrow Spitzfaden, career coach for RRCC's water quality management program, staffs an exhibit at a past sustainability event.
Wednesday, April 15, 2015