RRCC to participate today in 9NEWS live video panel on education and jobs
More information: Kimberly Rein, 303-914-6260
kim.rein@rrcc.edu
www.rrcc.edu
November 4, 2015
RRCC to participate today in 9NEWS live video panel on education and jobs
Lakewood, CO – 9NEWS is hosting a live video panel today from 12 p.m. to 12:30 p.m. with representatives from the Colorado Community College System to answer questions about programs, degrees, certificates, financial aid, credit transfers, and opportunities for job seekers to find a path for a career through community and technical colleges in Colorado. RRCC advisor Joanna Liebelt will be participating as our college's representative.
The stream will be shared on the 9NEWS Facebook page and can be accessed by this link: http://www.9news.com/story/news/local/jobs/2015/11/03/9jobs-live-video-panel-colorado-community-college-system/75097858/ and also through the RRCC Facebook page (accessed on www.rrcc.edu).  It will be archived and available to anyone who wants to watch it.
Misty Montano, 9NEWS Digital Content Manager, will host the video panel through Facebook Mentions, a new app for individuals with a verified profile or page. This app allows people to live stream directly through Facebook. Those who watch the live stream can comment on the stream to ask questions and interact with the panel.
On Thursday, 9NEWS has invited employers to participate in a #9Jobs social conversation both on Facebook and Twitter. Employers will be encourage to post links to job openings on the 9NEWS Facebook page and on Twitter using #9Jobs and to promote opportunities they have for employees.
On Friday, a #9Jobs line will be available during the morning newscasts for the community to call and speak with members of the Colorado Department of Labor about jobs and training. Call 303-698-0999 from 6:45 a.m. to 8 a.m. or ask your questions through a Q & A on the 9NEWS Facebook page.
Also on Friday, 9NEWS invites those who are looking for a job to use the 9NEWS Facebook page and #9Jobs hashtag on Twitter as a forum to promote themselves. 
About Red Rocks Community College:  Established in 1969, Red Rocks Community College delivers high-quality, affordable education programs leading to two-year degrees or professional certificates. The college serves over 14,000 students per year online and at two campus locations in Lakewood and Arvada.  www.rrcc.edu.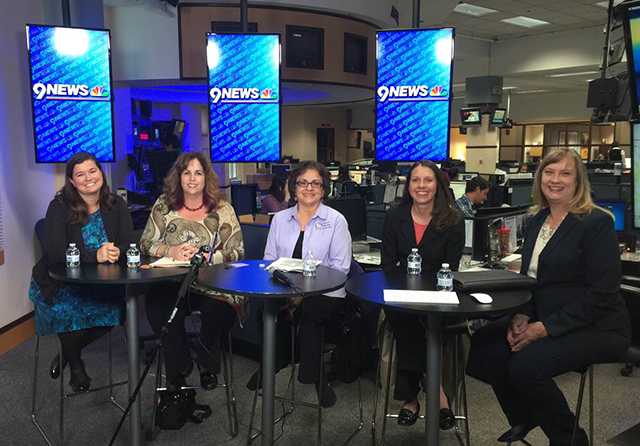 RRCC Advisor Joanna Liebelt (fourth from left) represented the college at the 9News live stream
Wednesday, November 4, 2015