RRCC President Dr. Michele Haney wins Jeffco Schools Award
More information: Kimberly Rein, 303-914-6260
kim.rein@rrcc.edu
www.rrcc.edu
May 6, 2016
RRCC President Dr. Michele Haney wins Jeffco Schools Award
Honored with Lifetime Achievement in Education at Foundation luncheon
LAKEWOOD, CO – Dr. Michele Haney, president of Red Rocks Community College, received the Norma Anderson Lifetime Achievement in Education Award by the Jeffco Schools Foundation, honoring her contributions to the community. Dr. Haney was recognized at the Foundation's Love our Schools annual luncheon last week, which attracted nearly 400 people, including Congressman Ed Perlmutter and other elected officials.
"Dr. Haney is so deserving of this recognition," said Foundation Executive Director Denise Delgado. "She has been a decades-long supporter of the Jeffco Schools District and Foundation." 
Dr. Michele Haney assumed duties as the ninth president of Red Rocks Community College in January 2008. Prior to becoming president of RRCC, Dr. Haney had been president of Morgan Community College since 2003 and has served in vice president roles at Front Range Community College.  Dr. Haney, who believes the most important part of the college's name is "Community," serves on the Jefferson Success Pathway Advisory Board and supports Warren Tech with numerous partnerships for college credit and scholarships. The college continues to support the foundation's newest initiative, Beyond Jeffco, as a partner with the Department of Higher Education's Colorado Scholarship Initiative, and is the flagship sponsor of Jeffco Schools Foundation's Hero Awards, providing full-ride scholarships to ensure completion of post-secondary pathways.
Dr. Haney currently sits on the boards of Jeffco Economic Development Council, The West Chamber, Community Reach Center, Innovator Educators, Lutheran Foundation, Presidential Advisory Board for Phi Theta Kappa, and Campus Compact of the Mountain West. Among her awards are the Shirley B. Gordon Award from the National Office of Phi Theta Kappa, Leader Among Leaders from the American Association of Women in Community Colleges, Woman of the Year for the City of Westminster, Outstanding Women in Jefferson County, and Outstanding Women in Business for Denver.  
More about Red Rocks Community College:  Established in 1969, Red Rocks Community College delivers high-quality, affordable education programs leading to two-year degrees or professional certificates. The college serves over 14,000 students per year online and at campus locations in Lakewood and Arvada. www.rrcc.edu.
To learn more about the Jeffco Schools Foundation visit http://www.jeffcoschoolsfoundation.org.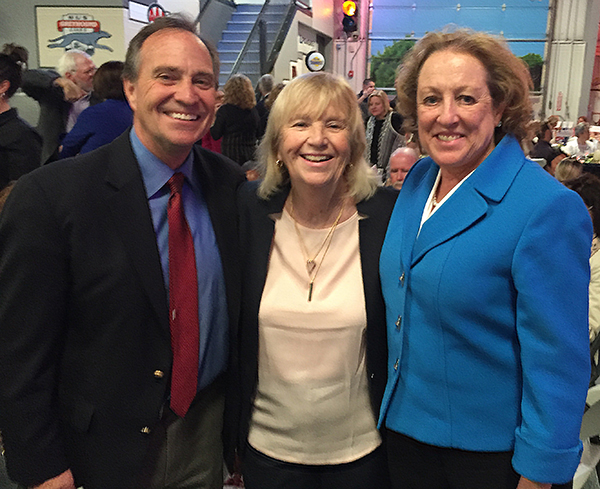 Congressman Ed Perlmutter and Colorado Community College System president Nancy McCallin celebrate Dr. Michele Haney's Lifetime Achievement in Education Award at the Jeffco Schools Foundation annual luncheon.
# # #