RRCC Recognizes Outstanding Students and Faculty at Commencement 2015
More information: Kim Rein, 303-914-6260
kim.rein@rrcc.edu
May 20, 2015
RRCC Recognizes Outstanding Students and Faculty at Commencement 2015
LAKEWOOD, CO – Red Rocks Community College (RRCC) celebrated the achievements of students and faculty at their 45th annual commencement ceremony on Saturday, May 16. Over 1,600 degrees and certificates were awarded to graduates from summer 2014, fall 2014 and spring 2015. RRCC granted Associate of Science, Associate of Arts, Associate of Applied Science, and Associate of General Studies degrees, plus certificates in dozens of fields at the ceremony which took place at the Lakewood campus's outdoor pavilion. 
The ceremony began with a processional lead by Ciorcal Cairde Irish Pipes and Drums and posting of colors by local Boy Scouts of America Troop 484. Opening remarks were delivered by Dr. Nigel Middleton, Senior Vice President for Strategic Enterprises and Professor of Engineering at Colorado School of Mines, followed by a welcome by RRCC President Dr. Michele Haney. Former SBCCOE chair Dr. John Trefny received an honorary degree from Red Rocks Community College for his service to the institution.
In addition to the graduates, also honored at this year's ceremony were: 
Outstanding Faculty of the Year (selected by faculty): Sally Stablein, Sociology
Full-Time Instructor of the Year (selected by students): Dr. John Witwer, Physician Assistant Program   
Part-Time Instructor of the Year (selected by students): Kari Schoenwald, Physician Assistant Program     
Outstanding Graduate (selected by staff): Araceli Herrera               
For a slide show of the 2015 commencement ceremony, visit https://www.facebook.com/rrccedu.
More about Red Rocks Community College:  Established in 1969, Red Rocks Community College delivers high-quality, affordable education programs leading to two-year degrees or professional certificates. The college serves over 14,000 students per year online and at campus locations in Lakewood and Arvada.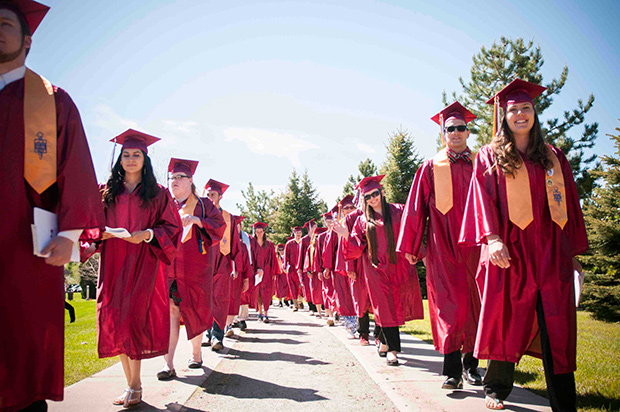 Red Rocks Community College celebrated their
45
th
 annual commencement on May 16, awarding more than 1,600 degrees and certificates