RRCC Red Rocks Community College Foundation Receives Grant to Create Opportunities for Students in STEM
More information: Kimberly Rein, 303-914-6260
kim.rein@rrcc.edu
Red Rocks Community College Foundation Receives Grant to Create Opportunities for Students in STEM
Lakewood, CO —Red Rocks Community College Foundation is proud to announce it has received a $15,000 grant from the Xcel Energy Foundation. The grant creates STEM-X, an initiative to increase engagement of STEM students in real world opportunities to gain practical skills and prepare for careers in STEM. STEM-X will help students to engage their future science, technology, engineering, and mathematics careers in meaningful ways.
"Building a culture of engagement in hands-on and career-building experiences at RRCC will be highly beneficial for transfer students," says Liz Cox, Director of Red Rocks Innovations in STEM Engagement. "We know, both from research and our own work with STEM students, that engaged students are more successful in the classroom, take on leadership roles in the college, are more likely to persist, and transfer into STEM degrees at four-year institutions." The long-term outcome of STEM-X is to increase the STEM workforce with highly skilled and diverse individuals.
The STEM-X program will engage STEM students with three new activities. The fall semester will begin with STEM-X Orientation. At this introduction, STEM students will explore career interests, projects, related internships, undergraduate research and courses at RRCC. STEM-X Orientation will also feature hands-on opportunities in the IDEA Lab, a collaboration space where students and faculty come together on design projects.
During the fall and spring semesters, STEM students will access STEM-X Workshops, where they will develop employability skills, ranging from teamwork and collaboration to practical skills in soldering, programming and 3D printing. The STEM-X Workshops will also help participants connect to campus and industry mentors.
Toward the end of the spring semester, STEM-X students will share their knowledge and skills through the STEM-X Symposium. The STEM-X Symposium will showcase student's experiences from the past year and highlight upcoming summer internships and research.
"Red Rocks Community College is a great institution of higher learning," said Preston Gibson, Area Manager, Xcel Energy Community Relations. "It is always a pleasure to support programs that enable students to develop STEM skills which will lead them to well-paying jobs when they graduate." Gibson is a longtime proponent of quality education and has served on Red Rocks President's Advisory Council for almost 10 years.
In addition to the grant, Xcel Energy employees support the RRCC Foundation as volunteer scholarship reviewers.
"I struggled in high school but I knew further education was essential. Finding a place like the IDEA Lab and getting to work on projects has really helped me gain confidence in STEM," said Agustin Aguilera, a Red Rocks student involved in pre-engineering programs. "The teachers at Red Rocks have mentored me to get engaged and take advantage of the many opportunities, from internships to research." Agustin plans to transfer to the Colorado School of Mines on Red Rocks' Guaranteed Transfer pathway.
About Red Rocks Innovations in STEM Education (RISE): The mission of RISE is to launch innovations in self-directed learning through authentic experiences with real world outcomes. RISE founded the IDEA Lab to provide opportunities, resources, and collaboration space for students to develop new skills and explore careers through real world projects.  http://www.rrcc.edu/rise
About Red Rocks Community College:  Established in 1969, Red Rocks Community College delivers high-quality, affordable education programs leading to two-year degrees or professional certificates. The college serves over 14,000 students per year online and at two campus locations in Lakewood and Arvada.  The 55,000 square-foot expansion of the Arvada campus will open on August 16, adding new programs and tripling capacity for enrollment and workforce training.  www.rrcc.edu.
Agustin Aguilera is Vice-President of the RRCC Engineering Club and is currently working on a National Science Foundation Challenge project with the IDEA Lab. High-achieving students like Agustin come to Red Rocks to take advantage of unique programs like STEM-X and Red Rocks' Guaranteed Transfer pathway to the Colorado School of Mines.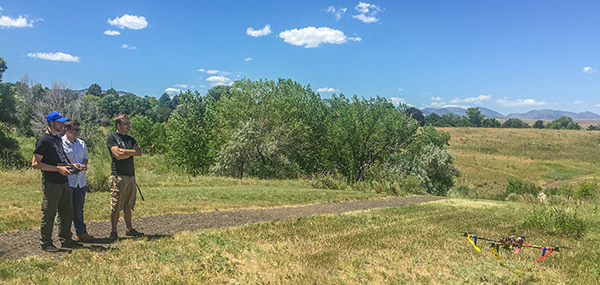 Students participating at Red Rocks Community College's IDEA Lab work on projects like this drone. STEM-X students will have full access to the IDEA Lab equipment and instructors.
# # #