RRCC Theatre Arts and Dance Earns Recognition Nationally and Abroad
More information: Kimberly Rein, 303-914-6260
kim.rein@rrcc.edu
www.rrcc.edu
RRCC Theatre Arts and Dance Earns Recognition Nationally and Abroad
LAKEWOOD, CO – Students and Instructors in the Red Rocks Community College (RRCC) Theatre Arts and Dance Department have received recent recognition from several organizations.
Seven RRCC student performers have been nominated for Kennedy Center American College Theatre Festival (KCACTF) awards through their performances this year. They will compete in the regional finals in Denver at Metropolitan State University in February. These students are: Ashley Duke (SubUrbia), Adam Lundy (The Importance of Being Earnest), Madison Miller (The Importance of Being Earnest), Hilarie Nelson (Cinderella), Leodis Smith (Cinderella), Jon Trujillo (SubUrbia), and Madison Young (SubUrbia).
In addition, Nathan Ernst was recognized by KCACTF earlier this year with an award for his set design of SubUrbia. He will also attend regionals in February.
The entire cast and crew of The Importance of Being Earnest received an award for Strong Ensemble and Best Unity from KCACTF.  Staff member Kelli Krieschel also received an award from KCACTF for her costume designs for Cinderella.
RRCC student Brandon Kehiayan successfully pitched an idea for an original television series to Disney XD. After the first round, Brandon was given the opportunity to pitch his idea to network executives. They responded by providing him financing to film a test pilot, which he did recently (casting some of his classmates). Brandon is very active in the Theatre Arts and Dance Department, having performed last summer in SubUrbia. He is also a member of the RRCC Film Making Club. His series is called My Twin from Dimension 22.
Program Director David-Matthew Barnes' screenplay Boxcar was named a quarter finalist in the Shore Scripts Screenplay Competition in London recently. The one-act play version of the script received a world premiere here at RRCC over the summer and was directed by student Madison Young. In addition, the pilot episode of David-Matthew's original television series Ambrosia is currently a semi-finalist in the FilmMakers' TV Script Writing Competition in Los Angeles. He was also honored to serve as the national judge for the Oregon Book Awards and Fellowships in Young Adult Literature last month.
Finally, instructor and Theatre Lab Coordinator, Kelly Jo Eldredge, was nationally selected by the Association of Writers & Writing Programs to be a Writer to Writer Mentee. In the program, Kelly Jo will be partnered with an established playwright, who will serve as personal mentor. View AWP's official announcement here: (https://www.awpwriter.org/community_calendar/mentorship_program_menteebios) includes a shout out to RRCC.
About RRCC Theatre Arts and Dance Program

Red Rocks Community College has the only fully developed two-year Theatre Arts program in performance, production, and theatre technology in Colorado. The program offers courses leading to an Associate of Arts in Theatre Arts or Dance, and an Associate of Applied Science in Theatre Technology. It also offers six unique certificates in technical theatre. In addition, the Theatre Arts and Dance Department engages in numerous partnership projects, both on campus and within the community.
For more information and reservations contact Kelly Jo Eldredge at 303-914-6458 or theatre@rrcc.edu. 
Need accessibility? Contact Accessibility Services at 303-914-6733 or access@rrcc.edu at least one week prior to the event to request disability accommodations.
More about Red Rocks Community College: Established in 1969, Red Rocks Community College delivers high-quality, affordable education programs leading to two-year degrees or professional certificates. The college serves over 14,000 students per year online and at campus locations in Lakewood and Arvada.  www.rrcc.edu.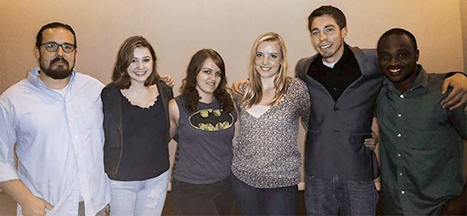 From left to right: Nathan Ernst, Madison Young, Ashley Duke, Hilarie Nelson, Jon Trujillo, Leodis Smith
# # #
Sunday, December 13, 2015