RRCC's student team took first place at NSF's Innovation Challenge
More information: Kimberly Rein, 303.914.6260
kim.rein@rrcc.edu
June 30, 2015

Red Rocks Team Places First in NSF Community College Innovation Challenge
Computer Science Students Develop Mobile Medical Disaster Relief Dispensation Unit
LAKEWOOD, CO -The National Science Foundation (NSF) announced last week that the Red Rocks Community College student team placed first in their national Community College Innovation Challenge.
The top-ranked teams were decided after 10 finalist teams participated in a rigorous Innovation Boot Camp in mid-June in Washington D.C., sponsored by NSF and the American Association of Community Colleges (AACC). The boot camp included a visit to the U.S. Capitol where teams displayed their innovations, met with lawmakers and staff, and conducted live demonstrations enabling attendees to explore and interact with teams' approaches to addressing real-world problems.
Four computer science students from Red Rocks Community College--Keya Lea Horiuchi, Scotty Hall, Nathan Tiedt, and Kaia Chapman--placed first in the challenge with their innovative Mobile Medical Disaster Relief Dispensation Unit.  When responding to a disaster, medical teams often have no way of tracking the medicine they need to dispense, making the process disorganized and mistakes easy. The Red Rocks team created a secure, portable device to quickly administer medicine to those in need, while simultaneously recording where and by whom the medicine was dispensed.  The device is made from 3-D printed parts, and incorporates a motor, Radio Frequency Identification (RFID) tracker, and Raspberry Pi computer chip to efficiently track the dispensation of medicine within a disaster area. A doctor would use it by swiping an RFID tag; if the device recognizes the tag, it uses its motor to dispense medicine. The machine records the transaction and wirelessly backs it up to a central location. By allowing medical teams to easily and accurately monitor drug administration, the device would make disaster relief quicker and safer.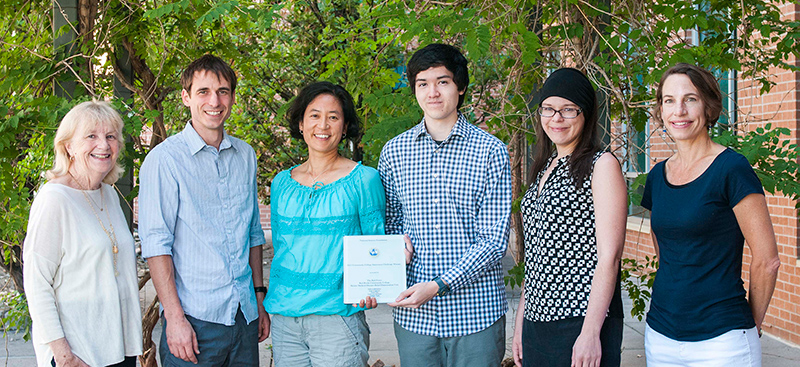 From left to right: RRCC President Michele Haney, students Nathan Tiedt, Keya Lea Horiuchi, Scotty Hall and Kaia Champan,
and Liz Cox, Director of Red Rocks Innovations in STEM Education
"This year NSF embarked on one of its most innovative competitions," said Susan Singer, director of NSF's Division of Undergraduate Education. "We invited students at community colleges around the U.S. to identify perplexing problems and propose creative STEM-based solutions in potentially impactful areas.  And they rose to this challenge."
Students proposed solutions in areas such as big data, infrastructure security, sustainability, and broadening participation in STEM. Teams offered a broad range of projects and detailed creative approaches with tremendous potential for solving some of America's most daunting challenges.
Ivy Tech Biotech from Ivy Tech Community College of Indiana in South Bend placed second with its "Betadataquantadata," a hand-held, lay person-operated biosensor for coliphage, a virus that indicates the presence of E. coli.
Other winning teams and their projects included:
Amphibian Pathogens, Inver Hills Community College (Minn.)
Reliable food in urban environments, Tulsa Community College (Okla.)
Optical characterization of lagoon pollutants, Indian River State College (Fla.)
Improving biofuel production, Sheridan Community College (Wyo.)
Real-time accident detection on highways, Henry Ford College (Mich.)
Environmentally friendly pigment synthesis, Snow College (Utah)
Open science framework to improve water health, Piedmont Virginia Community College (Va.)
Aquaponic "living laboratory", Tulsa Community College (Okla.)
For more information on the Red Rocks team and their project visit http://fosslounge.org/about-us/.  To learn more about RRCC's STEM education and IDEA lab, and view a video of the project visit http://www.rrcc.edu/idea-lab.
About Red Rocks Community College:  Established in 1969, Red Rocks Community College delivers high-quality, affordable education programs leading to two-year degrees or professional certificates. The college serves over 14,000 students per year online and at two campus locations in Lakewood and Arvada.  www.rrcc.edu.
About the Community College Innovation Challenge:  Today more than 40 percent of U.S. undergraduates are enrolled at community colleges. Groups underrepresented in STEM as well as first-generation college students make up a significant portion of students on community-college campuses. NSF-funded projects at community colleges support STEM students transferring to four-year colleges, as well as receiving education and training to become part of the high-tech workforce--in fields as diverse as biotechnology, cybersecurity and advanced manufacturing.