RRCC Presents Art Show: The Things We Do
More information: Kimberly Rein, 303-914-6260
kim.rein@rrcc.edu
www.rrcc.edu
January 14, 2015
RRCC Presents Art Show:  The Things We Do
Exhibit Showcases Photography in Unusual Circumstances
LAKEWOOD, CO - The Things We Do, a group exhibition of photographs, will be on display at the Susan K. Arndt Gallery at Red Rocks Community College until February 20, 2015.  This exhibit features an interesting mix of ideas, placing photography in unusual circumstances from kites being flown to photos plastered on buildings and sets being built to reconstruct the past and its well-known characters.  All of the artists in the show draw on the history of photography as an inspiration for conveying ideas that are current and relevant.
"While the work may remind us of what has been, it is firmly rooted in the contemporary art world," said Deborah Dell, RRCC art instructor and curator of the exhibit.  "The show represents a variety of work that is at once playful, poetic, thoughtful, and beautiful."
The artists featured in the show are Mark Sink, Kristen Hatgi Sink, Melanie Walker, and Sally Stockhold, who are well known for their work in the Front Range and beyond, along with up and coming artist Suzanne Martens.
The community is invited to an opening reception on January 21, 2015 from 5-7pm.  The gallery is open Monday-Friday, 7am-10pm and weekends 7am-6pm. The gallery is located in the basement of the west wing at Red Rocks Community College, 13300 West 6th Ave, Lakewood, CO.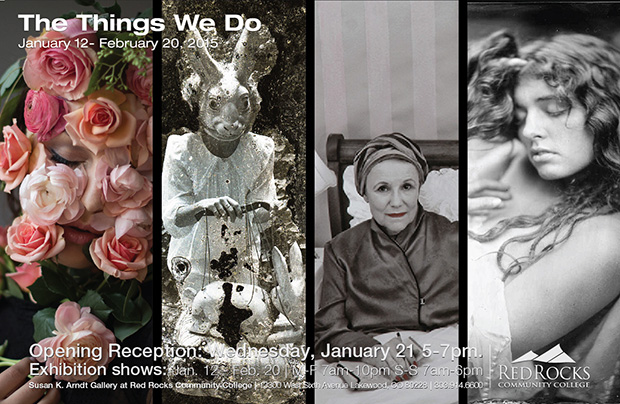 More about Red Rocks Community College:  Established in 1969, Red Rocks Community College delivers high-quality, affordable education programs leading to two-year degrees or professional certificates. The college serves over 15,000 students per year online and at campus locations in Lakewood and Arvada.  www.rrcc.edu.
Wednesday, January 14, 2015