Partners & Collaboration
Partnering with Rural Colorado to Increase Health Care Access
Building Rural Colorado's Primary Care Workforce is a collaborative effort between Red Rocks Community College Physician's Assistant Program, Colorado Counties Incorporated, Colorado Municipal League, and the Special districts Association who together make up the Colorado Collaboration for Rural Healthcare Access (CCRHA). CCRHA was formed in 2010 in response to the existing and projected shortages of primary care providers in Colorado, felt acutely in rural areas of the state.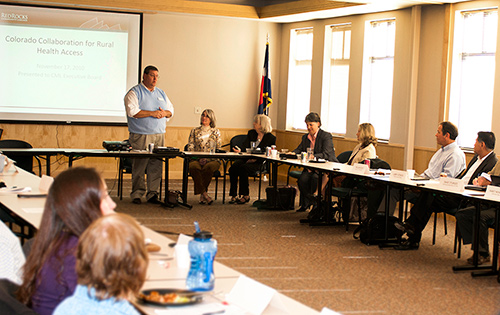 Ron Slinger, Executive Director of the Red Rocks Community College Foundation, speaks about the Collaboration for Rural Healthcare Access at the Colorado Municipal League Members Board Meeting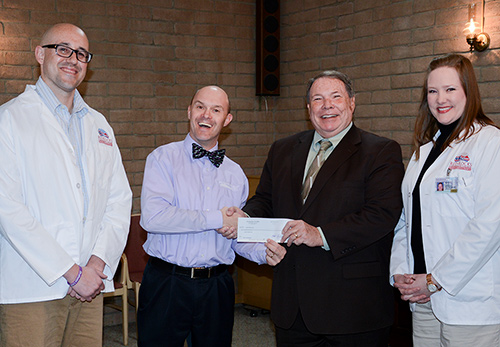 John Marrin (center right), President of Lamar Community College (LCC) accepts Rural Healthcare Scholarship check from Matt Guy (center left), Director of the Southeast Area Health Education Center as part of the Colorado Collaboration for Rural Healthcare Access. The scholarship will be given to a student at LCC who will be pursuing a degree in a healthcare field. RRCC PA students Aston Redstone (far left) and Michelle Hills (far right) are completing clinical rotations at Prowers Medical Center and High Plains Community Health Center.
Project Coordinator, Erika Iverson delivers outreach in rural areas of the state Photo: La Junta, CO radio KTHN – KBLJ show This, That & The Other Live Broadcasting

Colorado Collaboration for Rural Healthcare Access Partners
Colorado Municipal League
Colorado Counties Incorporated
Special District Association of Colorado
Partners
Colorado Rural Health Center
University of Colorado Physician Assistant Program
Colorado Community Health Network
Southwestern Colorado Area Health Education Center
Southeastern Colorado Area Health Education Center
Centennial Area Health Education Center
San Luis Valley Area Health Education Center
Western Colorado Area Health Education Center