News from the President

February 2019
R&R Lounge | Student Rec Center
Red Rocks Community College is constantly exploring innovative ideas and solutions to help our students and staff grow and succeed. We know that college life can be exhausting, so the Student Rec Center and the Student Success team implemented a new service to help our students and staff feel recharged. On January 30th, the Rest & Relaxation (R&R) Lounge opened at our Lakewood Campus. It is located near the Student Rec Center. The R&R Lounge provides a dark, quiet atmosphere that offers foam mats and pillows, giant bean bag chairs, and lounge chairs.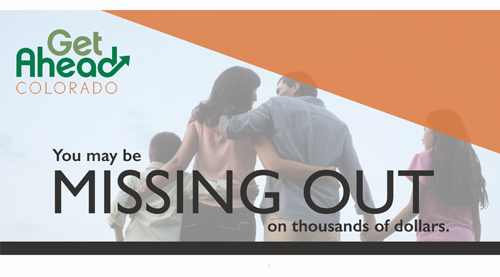 Get Ahead Colorado | Free Tax Preparation
Red Rocks Community College has partnered with Piton Foundation in aiding the community with Get Ahead Colorado. This free service provides tax preparation for families who make less than $55,000 a year. The Get Ahead Colorado Services will be offered every Saturday at Red Rocks Community College from 9:00 am – 3:00 pm March 16.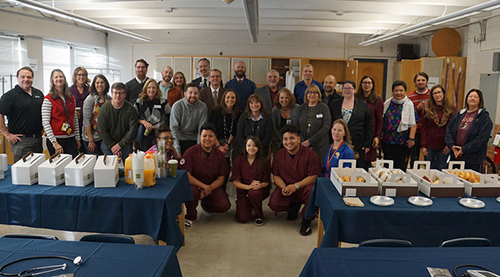 Ribbon Cutting | Wheat Ridge High School
Recently, Wheat Ridge High School and the Red Rocks Community College Nurse Aide program have partnered to offer the CNA program to Wheat Ridge High School students. These are concurrent enrollment students who will earn their CNA certificates from RRCC in May. Students are enrolled in both NUA 101 and NUA 170 and complete their clinical rotations at Vivage Senior Living, which provides dedicated service to individuals needing post-acute rehabilitation or long-term care. After completion, students are eligible to take the Colorado State Board of Nursing Nurse Aide certification exam.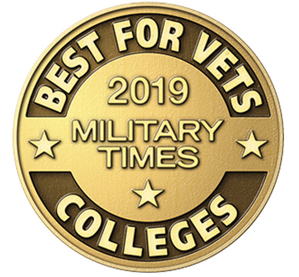 Military Times | Best for Vets College 2019
Military Times surveys hundreds of colleges across the country each year and ranks them in the areas of university culture, academic quality, outcomes, policies, student support, costs, and financial aid. This year, RRCC is ranked 16th among all two-year colleges in the United States.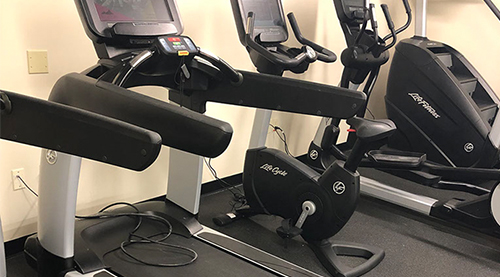 Arvada Campus | Fitness Center
The Arvada Campus Fitness Center opened on February 18. The Fitness Center is located in the 5400 Building. Amenities include resistance training, dumbbells, kettlebells, and cardio machines. The hours are 7:00 am to 8:30 am, 11:00 am to 1:00 pm, and 4:00 pm to 7:00 pm Monday through Friday.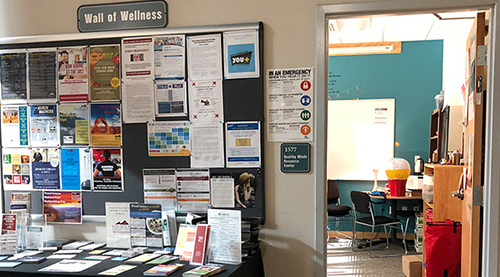 HMRC | Room 1577
The Healthy Minds Resource Center is the new home to the existing Peer Counseling Program. The Healthy Minds Resource Center promotes the emotional well-being of students by providing peer support through private peer-to-peer coaching, stress relief activities, campus and community resources, and a safe non-judgmental space that is focused on mental health and emotional well-being. The Healthy Minds Resource Center came about in response to student surveys and focus groups aimed at improving the Peer Counseling Program and services it offers. The Peer Counseling Program will continue to perform the role it has in the past, but will now be housed within this Resource Center.
 
January 2019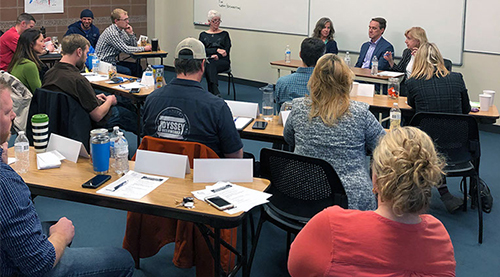 Bootcamp | Arvada Chamber
The Red Rocks Community College Arvada Campus is now hosting a management training program. Aimed at local business owners who want to become better leaders, the program is held One day a month for 10 months. They are from various disciplines: retail, real estate, commercial, non-profit and faith-based. On January 10, 2019, Dr. Michele Haney, was one of three speakers asked to be on a panel to talk about "Strategic thinking, planning and leadership." To share her insight and mentorship for those local business owners.
 

Program | Cyber Security
Red Rocks Community College has a Cyber Security team whose mission is to advance learning with hands-on cyber security competitions. These competitions allow members to test their skills in real-world scenarios. On January 26, 2019 our Cyber Security team participated in the Rocky Mountain Collegiate Cyber Defense Competition (RMCCDC) qualifying event, where they finished in first place. They competed against, CU Boulder, CSU, Colorado School of Mines, University of New Mexico, US Air Force Academy, Pikes Peak Community College, LDS Business College (Salt Lake City), Utah Valley University, University of Wyoming, and Regis University. They move on to the regional event at Regis University in March!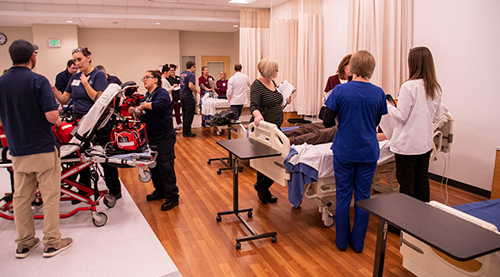 Collaborations | Across Campus
The Physicians Assistant Program and our Nursing Program team up throughout the semester for real-life scenario training, including well checks, sick visits, emergency room visits, and crisis situations. Law Enforcement and Emergency Medical Services team up for scenario training, including situations which may result in the use of pepper spray, accidents, assaults, and first responder training. Our Theatre and IDEA lab team up for performances. In preparation for the upcoming theatre production She Kills Monsters, our theatre technology students and staff worked with members of the IDEA lab, to create the 3D printed dragon that will be used in the play.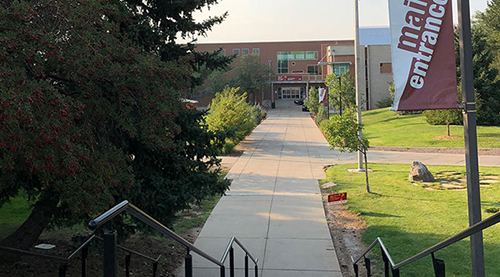 HLC | Update
In response to the recent HLC visit, we have received wonderful news that Red Rocks Community College met every core component and every criterion WITHOUT any concerns. Thank you to all of those that worked on the committee to prepare us for the visit.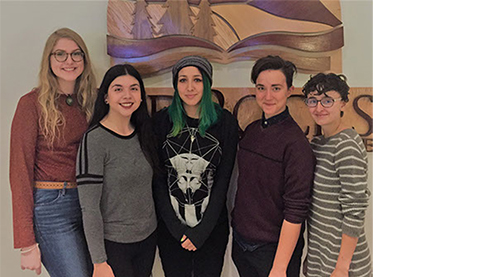 Theatre Arts | Regionals
A number of Theatre Arts and Dance students have been chosen to participate in the regional Kennedy Center American College Theatre Festival to be held at the University of Oregon in Eugene in February. The students were selected by festival respondents based on their performances and technical work connected to the fall production of The House of Yes, written by Wendy MacLeod and directed by David-Matthew Barnes.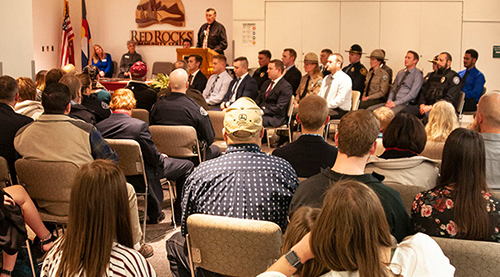 LEA | Graduation
The Law Enforcement Academy held a graduation ceremony on December 11. Congratulations to all of the cadets that went through the program, were hired on to Colorado Law Enforcement agencies, and have begun their career protecting and serving the citizens of Colorado. The Red Rocks Community College Law Enforcement Academy is an intensive instructional program that satisfies the Colorado Peace Officer Standards and Training Board (POST) certification requirements.* Colorado Law requires that candidates for peace officer and parole positions be POST certified before they work as a law enforcement officer. Our graduates have gone on to join police departments, sheriff's offices, and state agencies.
 
December 2018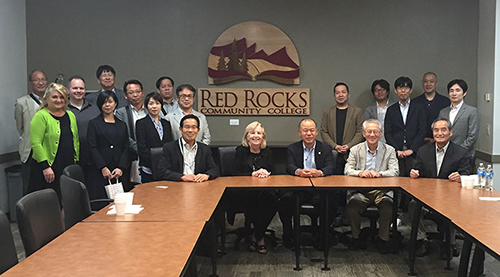 Sister College | Developing Exchanges
On Monday, September 24, 2018, we welcomed guests from the Tsukuba Business College in Japan. The purpose of the visit was to explore the possibility of creating a sister college relationship with RRCC in the hope of developing student and faculty exchanges. While at RRCC, they enjoyed presentations from Linda Yazdani (International Exchanges), Joseph Murdock (Cyber Security), Wendy Bird (Business and Service Learning), and Delia Ochoa (AutoCAD). Tsukuba Business College is located north east of Tokyo. The college specializes in Bridal Business, Integrated Business, Information Systems, Game Processing, Medical Office Assisting, and Visual Design.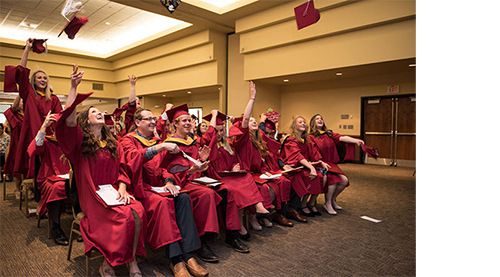 PA Graduation | Class of 2018
Congratulations to the new graduates of our Physician Assistant Program. Their graduation ceremony was held on September 7th at the Arvada Center for the Arts.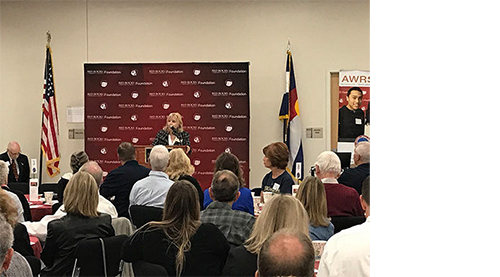 9th Annual | Get it Done Breakfast
Thank you to everyone who attended the AWRSAY's 9th Annual Get it Done Breakfast, which was held Friday, September 28th at the Arvada Campus. AWRSAY stands for Arvada Wheat Ridge Service Ambassadors for Youth. This volunteer-driven organization provides support to students in the Arvada/Wheat Ridge area who have overcome a major life obstacle or adversity. They provide grants for students in grades 6-11 to help further their education/life, as well as provide scholarships for high schools seniors to attend RRCC.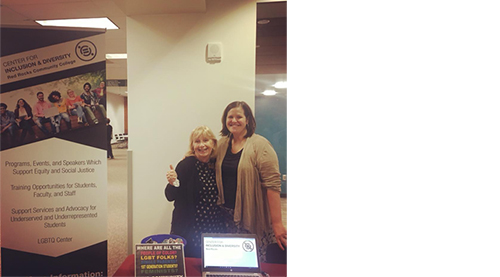 LGBTQ Center | Ranked #4
Congratulations to our Inclusion and Diversity department. Ranked #4 By Best of the Best Community Colleges for being LGBTQ friendly. The LGBTQ Center at RRCC is a space for LGBTQIA+ community members and allies to come together to share resources, support, and discussion about topics relevant to the community.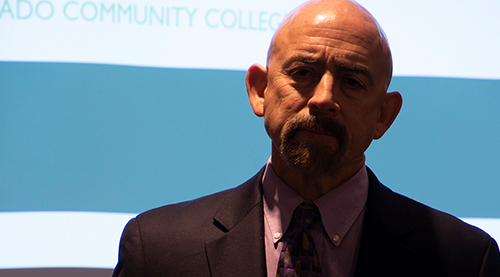 Dr. Joe Garcia | Development Day
We were honored to have Dr. Joe Garcia join us as a guest speaker on the RRCC Lakewood campus on October 16th. Joe is the new president of the Colorado Community College System, as well as the former Lt. Governor of Colorado. As part of the All-College Development Day, Joe shared with the audience of RRCC faulty and staff personal stories about the obstacles he overcame as a student and how higher education played a key role in his path to success.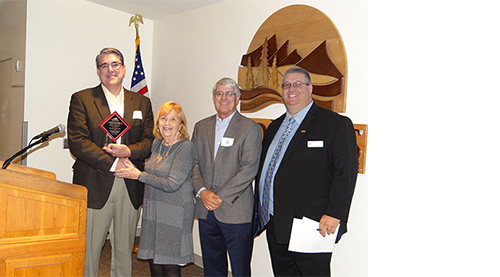 Dan Thoren | Donor Lunch
Dan Thoren, of Barber-Nichols Inc, was presented the Champions of Education Award by President Haney, BOD President Tom Menk, and Ron Slinger at the RRCC Donor Luncheon on October 12th.