News from the President

December 2020

English Faculty Member Writes Notable Essay
English faculty member Kevin Kelley's essay, "Po-tay-to Po-tah-to," is now a Best American Essays 2020 Notable Essay. It was also nominated for a Pushcart 2021 Prize. Kevin's writing can be found in The Massachusetts Review, Entropy, Potomac Review, High Country News, Eastern Iowa Review, Santa Ana River Review, and elsewhere. Read more here.
Kevin J. Kelley grew up in the high desert of Southwestern Idaho. He is often strolling his two dogs, exploring Colorado with his wife, hiking, and trying out new recipes in the kitchen. Kevin's frequent road-tripping has taken him coast-to-coast and to nearly every state. He arrived at Red Rocks in Fall 2018, and has loved it ever since. In addition to teaching English and Literature courses, Kevin is the Writing Across the Curriculum (WAC) director and a Radio Red Rocks morning producer.
Evolving to Meet Digital Educational Demands
Our Rocky Mountain Education Center (RMEC) continues to evolve digitally to meet our clients' demands for our Occupational Safety and Health Administration (OSHA) compliance and technical workplace training. Faced with a client that could not bring their participants together in groups due to pandemic controls, RMEC built a 16-week correspondence course, Leadership for A Diverse Workforce, in less than six weeks. The training program includes a student workbook and six hours of original video content. Within two weeks of program launch, RMEC has 145 registrations in the new course, with the client committing to 400 registrations.
In addition, RMEC's instructors have successfully built digital classrooms offering synchronously 21 different courses with more underway to reach the goal that all of RMEC's occupational safety and health course offerings will be available in a digital format in the near future. For a complete list of our classes, click here.
Red Rocks Alumni Update: Bill Inman
At the age of 23, in May 1981, Bill Inman had a critical, traumatic brain injury in a car accident while a physics major at CU Boulder. As a result of the accident, he was unable to walk because his whole right side and a few muscles on his left side were seriously or partially paralyzed, his short-term memory was severely impaired, and his soft palate was paralyzed, leaving him unable to speak. After almost four decades of slow, but steady progress, he can talk, feed and dress himself, and walk with a walker and a cane.
Bill started going to college again in 1984, taking only one course a semester because that was all the time he had for schooling with all of his therapy. His dad once told him, "you work as hard as an Olympic athlete." He earned an Associate of Science degree from Red Rocks Community College in 1992 and a Bachelor's degree in Social Sciences from Colorado Christian University in 2010. His short-term memory became much better during that time because he studied a lot.
Bill has inspired countless people within our learning community, including Tyler Casias, a Student Success Navigator at our Arvada campus. Tyler said, "Every day I get to meet amazing people from all walks of life but it isn't very often that you meet someone who makes you reflect on the blessings we take for granted. It's humbling to realize that even though Bill faced tremendous challenges, he still strived for and accomplished the goals he had set for himself, just like the rest of try to do, all while having to relearn how to live and function in the world. Way to go, Bill. Keep it up!"
Marketing & Communications Department Wins Three National Awards
Congratulations to our National Council of Marketing and Public Relations (NCMPR) Medallion Award Finalists for their outstanding work in our Marketing and Communications Department.
Lindsey Moulton won GOLD in Logo Design for the new Fox logo.
Polina Sarana won SILVER in the Short Video Series for our "You Are Welcome Here" and "We Are the Unity in Community" campaigns.
Laura Campbell won BRONZE in the Novelty Advertising for the 50th Anniversary calendar.
Watch the awards ceremony here
Plans for a Space, Cyber, and Engineering Talent Development Center
RRCC's Cybersecurity and Engineering programs were invited to present at the Colorado Space Coalition, part of the Metro Denver Economic Development Corporation. The presentation was around RRCC's plans to develop a Space, Cyber and Engineering Talent Development Center to support the growing aerospace economy in Colorado.
November 2020

Creating Connections Through the Pandemic
This semester, English department faculty Sara Fall and Amy Braziller have been recording a weekly radio show called Pandemic Tales. Each week, they interview a member of the RRCC community (faculty, staff, students) to learn a little bit more about them and how they are doing. "We have learned lots of cool things. Most importantly, this show has enabled us to feel a sense of community each week, realizing that we are all going through these times together and separately," said Amy.
If you are curious about how RRCC colleagues and students are surviving the pandemic, tune in live on Thursdays, from 12:30 - 1:00 p.m. here or check out the archives here. "We hope listening brings you the same sense of connection Sara and I get to experience each week," Amy said.

RRCC Employee Surprised with Furniture & Down-Payment Assistance
Crystal Jones, a Red Rocks Administrative Assistant in the Advising department, got the surprise of a lifetime thanks to the assistance of Habitat for Humanity of Metro Denver, Warrick Dunn, a former NFL player and founder of Warrick Dunn Charities, and Aaron's Furniture. At the surprise new home celebration, representatives for Aaron's announced the company had provided furnishings for the home and Dunn presented Crystal with a down-payment assistance check. "I wasn't expecting this at all," said Crystal. "Walking in I figured maybe there was a couple of things, but it's fully furnished."
The surprise event marked the 183rd home celebration nationwide by Warrick Dunn Charities, which aims to help single parents achieve first-time homeownership. Dunn, who played as a running back in the NFL between 1997 and 2003, started the charity in honor of his mother Betty Smothers, who was killed when he was 18-years-old. "Her dream was really to own her own home," Dunn said. "I've been living out this dream and this program now for 23 years and I've actually used it for therapy."
Click here to see the full story.

RRCC Presents Collaborative Production of New Play Ravening
The Red Rocks Community College (RRCC) Theatre Arts and Dance Department presented the virtual production of the new play Ravening, written by RRCC instructor Colette Mazunik. The original play touches on psychological connections to the pandemic and performances were live streamed on November 12, 13, and 14, 2020. You can watch the performance here.
Playwriting instructor Colette Mazunik was inspired to write the play after observing RRCC students over the course of a few weeks in the setting of improvised rehearsals. As a result, Ravening was developed collaboratively. In addition to Mazunik, the show was coordinated by a directing team comprised of El Armstrong, Leigh Miller, Penny Benson, and Kelly Jo Eldredge, who also serves as the department chair. Thematically, the play explores many connections that can be drawn to the current pandemic, through a depicted psychological experiment that goes terribly wrong.

RRCC Alumni Helps New York City Hospital
Nathan Cameron, RRCC Physician Assistant (PA) program graduate, Class of 2011, has been an emergency practicing PA in the Denver area for the last nine years. Upon hearing of the desperation and need in New York City during the early stages of the COVID-19 pandemic, Nathan left his family and community behind for three months to help. Working 12-hour shifts, six days a week, Nathan took care of some of the sickest patients in Harlem, truly making a difference. Beyond COVID patients, he states that he saw "some of the gnarliest trauma he'd ever seen," and notes that he's most happy to be home safe with his wife and four kids.

Students & Community Partners See Benefits of National Apprenticeship Week
Red Rocks Community College (RRCC), as demonstrated by our Childcare Development Specialist and Cyber Security federally registered programs, recognizes that robust apprenticeship programs provide tangible value to both job creators and apprentices, with the potential to increase productivity, improve diversity and inclusion, and reduce recruitment and training costs while providing a pathway to prosperous careers for job seekers.
For example, the partnership between Alliance for Kids' and Childcare Innovation's (CCI) Child Development Specialist Apprenticeship program at RRCC allows us to offer professional development opportunities and resources to support the early care and education workforce. "Through this program, apprentices continue to build the skills and knowledge in the implementation of developmentally appropriate practice and effective early care leadership," said Erica Evans, Professional Development Specialist, Alliance for Kids, El Paso County's Early Childhood Council.
While our Cybersecurity Apprenticeship Program is relatively new at RRCC, we are already seeing the benefits and focus it gives to our students. The resources associated with the program help them select an interesting and appropriate area of study in our Cyber and Computer Technology degree programs where they feel confident they will have employment opportunities once they finish. "That's super-important in today's climate," said MaryAnn Tillman, Cyber Security Apprenticeship Program Coordinator. For more information, click here.
October 2020

2020 Swede Johnson/Coors Endowed Teaching Chair
Congratulations to Sally Cirincione, this year's Endowed Teaching Chair winner! Sally is a faculty member and program lead in RRCC's Outdoor Education Program. She has been working in the field of leadership education for more than 15 years and is extremely passionate about helping people learn and grow through experiential activities. Her true passion is in facilitating participants through experiences that promote individual challenge and self-discovery.
Sally has worked in numerous areas within the outdoor recreation industry including as an instructor for the National Outdoor Leadership School (NOLS), a guide in wilderness therapy, ropes course director and facilitator, ski/snowboard instructor, outdoor education instructor, event coordinator for the cities/towns of Crested Butte and Gunnison, and executive educational consultant, among others. She has served as a volunteer for several different organizations including the Western State Mountain Search and Rescue Team, Safe Ride, Gunnison Trails, and the Rotary Club.
Click here to see Sally receive the award and give an acceptance speech.

Introducing the 2020 RMWQAA Scholarship Winner
Congratulations to Greg Ching, the RMWQAA Scholarship Winner of 2020. Greg is a non-traditional student midway through a Bachelors of Applied Science in Water Quality Management at Red Rocks Community College. He has both Colorado Wastewater "D" and Water "D" plant operator licenses. He was inspired to study water after his mountain home basement flooded in the 2013 Front Range flood.
Always curious about the environment, Greg took his first wastewater plant tour in Newark, California for a Boy Scout Environmental Science merit badge. Escaping Silicon Valley traffic in 1996, Greg began a 20-year solar electric & thermal, geothermal, and super-insulated retrofit of a 1976 home on well and septic. He worked on reducing his carbon footprint, even modifying a 2005 Prius to be a plug-in electric vehicle.
Greg is searching for an opening in the smart water field, preferably involving potable re-use. Greg served on the staff of MileHiGreen and Denver Green Streets online publications, contributing to the "Street Scene" column and other articles. Outside of his professional life, he has volunteered as a rural firefighter, participated in six Earthwatch Institute international expeditions, constructed haunted houses, hosted living room house concerts, and designed portable greenhouses.

Community Room Relocation Project Wins a Best Projects Award
The RRCC Community Room Relocation Project has won a Best Projects Award from ENR (Engineering News-Record) Mountain States in the Higher Education/Research category. The competition spanned across a seven-state region that includes Utah, Idaho, Montana, Colorado, Wyoming, North Dakota and South Dakota. A panel of 11 judges from all areas of the industry selected winners and merit awards from the 138 total entries this year.
Our project will be highlighted in the October 12/19th Best Projects issue of the ENR Mountain States publication. The Denver ENR Best Projects Awards Banquet and Ceremony on October 26th at 11:00 a.m. will be a virtual event due to COVID. RRCC is honored to celebrate these great award-winning projects and network with other attendees. Click here to see all of the 2020 Best Projects winners.

Law Enforcement Academies Launch Initiative to Re-think Police Training
Red Rocks Community College's Law Enforcement Academy along with other Colorado Community College System (CCCS) academies around Colorado are launching a new initiative to re-examine training and consider adding lessons on implicit bias and social justice. "We need to ask people from the community whether we are appropriately training and equipping the law enforcement officers who are going to work in their communities," said Joe Garcia, CCCS President.
A steering committee made up of government and community leaders will guide the discussion of what needs to change. Omar Montgomery is a Black community leader and a member of the committee. "We need to instill trust in our communities and this is a good start to making it happen," Montgomery said.
Garcia hopes that changes can be made to have a new law enforcement curriculum in place by next fall. He said it is important to move quickly. "But, we want to do it comprehensively," Garcia said. "We don't just want to tinker around the edges." Click here to view the full article on 9news.com.
September 2020
Student Life Food Banks are Open on Arvada and Lakewood Campuses
The Arvada location will allow both drop-in visits and appointments:
Mondays and Thursdays, 9:00 a.m. - 5:00 p.m.
The Lakewood location is accepting appointments utilizing Navigate, which is in student's "The Rock" dashboard. Please schedule appointments 24 hours prior to arrival to allow enough time for your order to be prepared. When arriving for your appointment, enter through the east pull-through lanes from Arbutus Drive; the food bank pick-up area will be clearly marked.
Appointments through Navigate are preferred, but drop-in appointments in Lakewood will be accepted as time allows. For questions or help scheduling an appointment for the food bank or any other Student Life Department services, contact mark.squire@rrcc.edu, sara.oviatt@rrcc.edu, or mika.matzen@rrcc.edu
The Lakewood location is open:
Thursdays: 10:00 a.m. - 4:00 p.m. and Fridays: 9:00 a.m. - 3:00 p.m.

MedAssistantEDU.com Editor's Pick Red Rocks Community College as One of the Best
Red Rocks Community College's (RRCC) Associate of Applied Science (AAS) degree in Medical Assisting has been selected as one the of best programs in the United States by the MedAssistantEDU.org team made up of healthcare industry professionals. RRCC easily earned our place on the list because we feature highly qualified faculty, flexible course schedules, one of the lowest tuitions in Colorado, and outstanding career and academic services for our students.
Click here to see the Top Picks for the Best Medical Assistant Programs of 2020-21!

Red Rocks Alumni Update: Jennie Fluerant
Jennie Fluerant began her journey to America with a dream to be a part of the change she would like to see for her community of Ouanaminth, and ultimately her country of Haiti. After graduating from Red Rocks Community College, she transferred to MSU. During her first year at MSU, Jennie pursued internship opportunities for her degree program and has been hired as an intern with Barr Milton Watershed Association. Her work includes hosting events with Colorado State Park, Barr Lake, and the Association which educate the public about the importance of protecting our water supply.
Jennie has trained in the importance of cleaning up after pets; performed a study of different brands of fertilizer, reporting which are phosphorus free; and is part of a team who performs some testing and maintenance at four lakes in the north area, including Barr Lake. This internship helps Jennie put into practice the things she is studying related to water quality and the environment. It also allows her to earn credits toward her degree.
Park Ranger and Manager of Barr Lake State Park, Michelle Seubert, has provided an incredible amount of guidance to Jennie. Michelle immediately recognized the value of Jennie's knowledge and supports Jennie in her pursuit to use her skills and passion for clean water and healthy environments. She is pictured above with Jennie on her first day at work at Barr Lake State Park. Watch Jennie's Interview here

National Council of Marketing and Public Relations Selects Three Red Rocks Finalists
Congratulations to our National Council of Marketing and Public Relations (NCMPR) Medallion Award Finalists for their outstanding work in our Marketing and Communications Department.
Laura Campbell's 50th anniversary calendar is a finalist in the Novelty Advertising category. Lindsey Moulton's new fox logo is a finalist in the Logo Design category. Polina Sarana's video series featuring our "You Are Welcome Here" and "We Are the Unity in Community" campaigns is also a finalist in the Video Shorts category. These awards recognize outstanding achievement in design and communication at community and technical colleges in each of NCMPR's seven districts. Gold, Silver and Bronze winners will be announced during the virtual awards ceremony to be held next month.

Student Life Produces New Cooking Show Series: "Modest Meals in Minutes"
RRCC's Student Life Department has launched "Modest Meals in Minutes", a cooking show using items that can be found in our non-need-based food bank with additional ingredients which can be purchased for less than $5 at a local grocery store. Upcoming recipes include Thai peanut noodles and bacon-wrapped mac-n-cheese cups. Watch the show's host, Student Life Specialist Matzen, make vegetarian black bean and corn chili in Episode 1: https://youtu.be/axfcA8lxaFM
Viewers can also find all the latest Student Life information in The Daily Dispatch. https://www.rrcc.edu/student-life)

RRCC Student at Work, Buck Adams is Co-Founder of Art for Redemption
Former Red Rocks student, Buck Adams, a veteran, social entrepreneur, and formerly incarcerated individual at the Arkansas Valley Correction Facility has established Art for Redemption™ to harnesses the talent, creativity, and human ingenuity of those inside the prison walls. While at the Correctional Facility, Adams began working with Defy Colorado, an independent nonprofit organization helping individuals with criminal histories create legal business ventures to bring his idea to life.
Adams created Art for Redemption™ with the vision to bridge the gap between prison culture and society, by allowing those behind prison walls to have a voice in the artistic community. The overall goal is to create a massive online community that can become the country's largest marketplace for artwork sourced from inside prisons where inmates are creating beautiful and unique pieces of art. Through this art, Art for Redemption™ is bridging the gap between incarcerated individuals and the world outside.
August 2020

RRCC Commitment to Excellence Award Recipients
The second annual Commitment to Excellence Awards celebrating community college professionals committed to improving the overall community college experience in our state was hosted on March 11, 2020 at the Governor's residence at the Boettcher Mansion. The awards were presented by the Colorado Community College System Chancellor Joe Garcia and RRCC President Michele Haney. Congratulations to the RRCC Commitment to Excellence Award recipients, Jeffrey Kaplan, Kelly Worden, Bob Miller, and Jennifer Eaves!

First-in-Nation Community College Collaboration Aligns Colorado & California Aerospace Hubs
First-in-Nation Community College Collaboration Aligns Colorado & California Aerospace Hubs It's a partnership that spans time zones — and will have students reaching for space. Red Rocks Community College and El Camino College in California have announced a first-in-the nation community college collaboration to create the "Space, Cyber & Supply Talent Development Center" (SCSTDC). The partnership bridges two different aerospace hubs and maximizes opportunities for partnerships with stakeholders that share economic and workforce development goals in STEM and the aerospace industry. Both colleges have shown strong results in aligning classes with jobs and helping people obtain workplace relevant experience. Read more here.

RRCC Awarded Grant to Help Low Income, First Generation, and Students with Disabilities Succeed in College
The U.S. Department of Education announced that Red Rocks Community College will receive a five-year federal Student Support Services grant of $261,888 annually to help more students succeed in and graduate from college. For more than 50 years, the TRiO Student Support Services program has made important contributions to individuals and society as a whole by providing a broad range of services to help students succeed. This vital program can and does make all the difference.
For more information, click here.

Out with the Old, In with the New - Mascot
The new and improved official fox mascot logo was recently revealed to the RRCC community. We hope you will start seeing our new mascot in more and more places this year. If you would like to help us share our new fox with the world, please submit a request via the FORMSTACK on the marketing-communications web page.

RRCC Collaborates on Documentary Because of George
A documentary film, "Because of George," is being developed in collaboration with the Red Rocks Community College Theatre Arts and Dance and Visual, Audio, and Media Arts Departments and Black, Indigenous and People of Color (BIPOC) artists. The aim of the collaboration is to inspire change, add voices to the conversion and learn from each other. RRCC students and staff are assisting filmmaker/director Dina Gilmore and producer/music director Magenta Freeman on the project

Knitting4Peace (K4P) Partners with RRCC to Deliver Handmade Blankets to RRCC Students Experiencing Housing Insecurity
Knitting4Peace (K4P) Partners with RRCC to Deliver Handmade Blankets to RRCC Students Experiencing Housing Insecurity. We asked for 15 blankets or quilts for a special need, and received 51! The joyful handoff of this donation took place at The Action Center, in Lakewood Colorado, with Kelly Jo Eldredge of Red Rocks Community College Peace Pod, K4P Board Chair Julie Meyers and K4P Executive Director Mary Ellen Garrett. Thank you to all who stepped forward to make and donate these beautiful items, which will warm and welcome college students as they move into a new shelter being opened for students experiencing housing insecurity. Read more here.
July 2020

Advisor Jenni Hadden Named Outstanding Educator
Each year, the University of Colorado Boulder recognizes hard-working community college professionals who go above and beyond to support transfer students in their educational advancement. The 2020 Red Rocks Community College (RRCC) Outstanding Educator Award winner is Jennifer (Jenni) Hadden. Hadden is the Science, Technology, Engineering, Math (STEM) Pathway Advisor on the RRCC Lakewood campus.

Angela King to Lead Red Rocks Community College Foundation
RRCC has found our new Executive Director of Institutional Advancement at Red Rocks Community College. Angela King succeeds Ron Slinger in overseeing the College's Foundation and championing the College's mission and its commitment to students, learning, and excellence. King has been working on behalf of community college students for the past 12 years, most recently as Associate Director at Front Range Community College's Foundation. We are proud to have her join our Fox Family!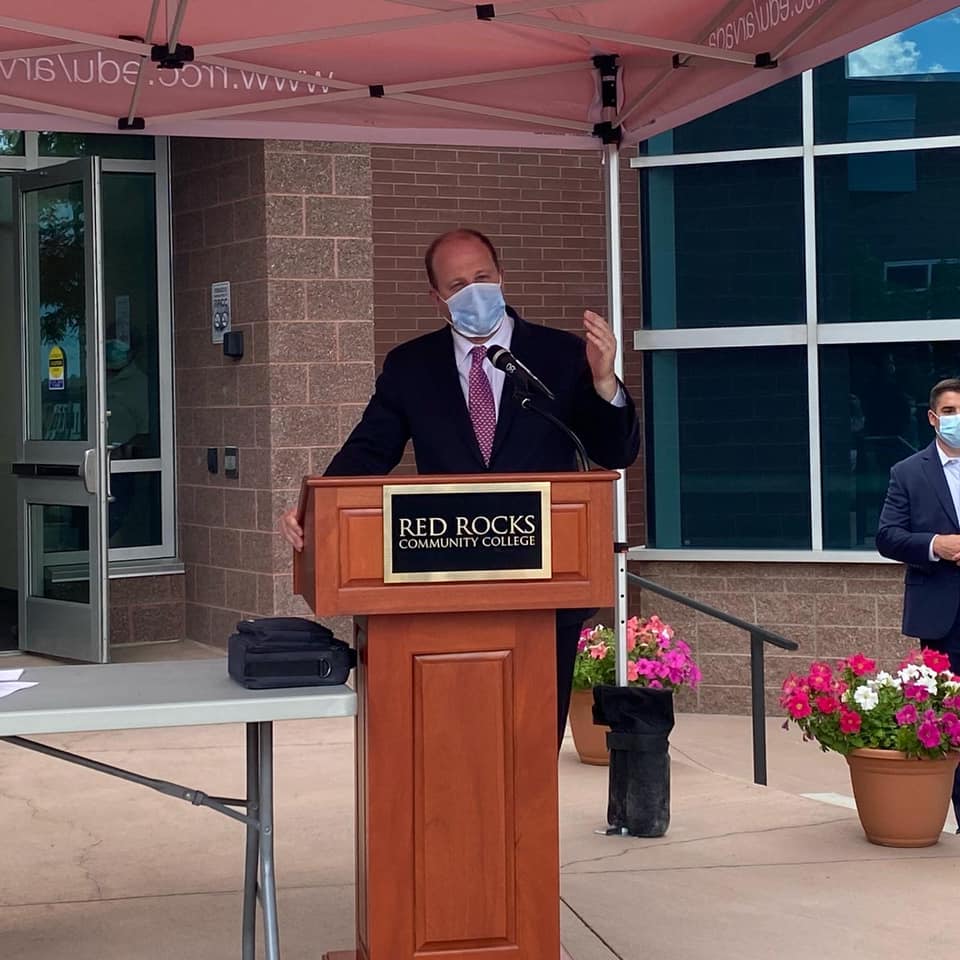 Governor Signs Education Bills at RRCC Arvada Campus
On July 8, 2020 Red Rocks Community College hosted Governor Jared Polis in a bill-signing event for several education higher education and mental health bills. You can watch the signing here: https://youtu.be/3-0Q2h6kaqs
The bills being signed here include:
SB20-009: Expand Adult Education Grant Program
HB20-1407, College Admission Use of National Test Score
HB20-1002, College Credit for Work Experience
SB20-175, Assessment Score on A Student's Transcript
SB20-183, Definition of State Agency for SIPA Statewide Internet Portal Authority Services
HB20-1312, Behavioral Health Training Requirements Educator License
HB20-1113, Mental Health Educational Resources

Coordinator Revising Outdoor Programming Post COVID-19
Ben Wygant, Intramural and Adventure Coordinator for the Student Recreation Center, shares aspiring plans for the future of outdoor programs with Campus Rec Magazine. Ben, alongside other outdoor professionals, discusses ways in which students may continue to engage in outdoor and adventure programs, while also being cognizant of CDC and state COVID-19 regulations and guidelines. Read more about it here: https://campusrecmag.com/outdoor-programming-post-covid
The RRCC fall semester will consist of remote, online and hybrid course options and the recreation center will be closed. Without face-to-face instruction, the Red Rocks Adventure Program will be minimal and heavily adapted based on CDC/state/college and outdoor industry guidelines. However, several local day trips that follow social distancing, mask and hand washing protocols, and minimized use of shared equipment are planned to allow the recreation center to continue serving students this fall.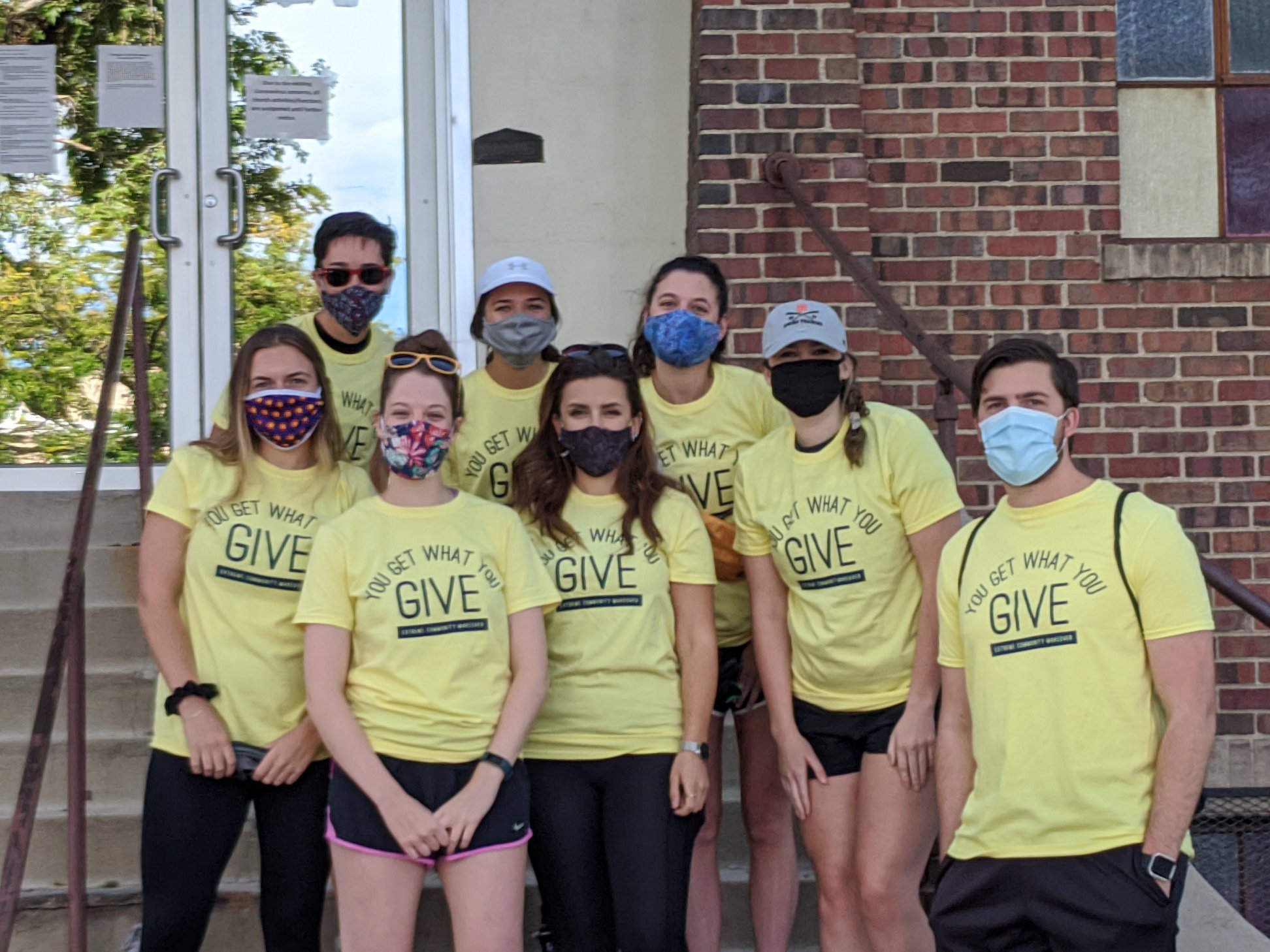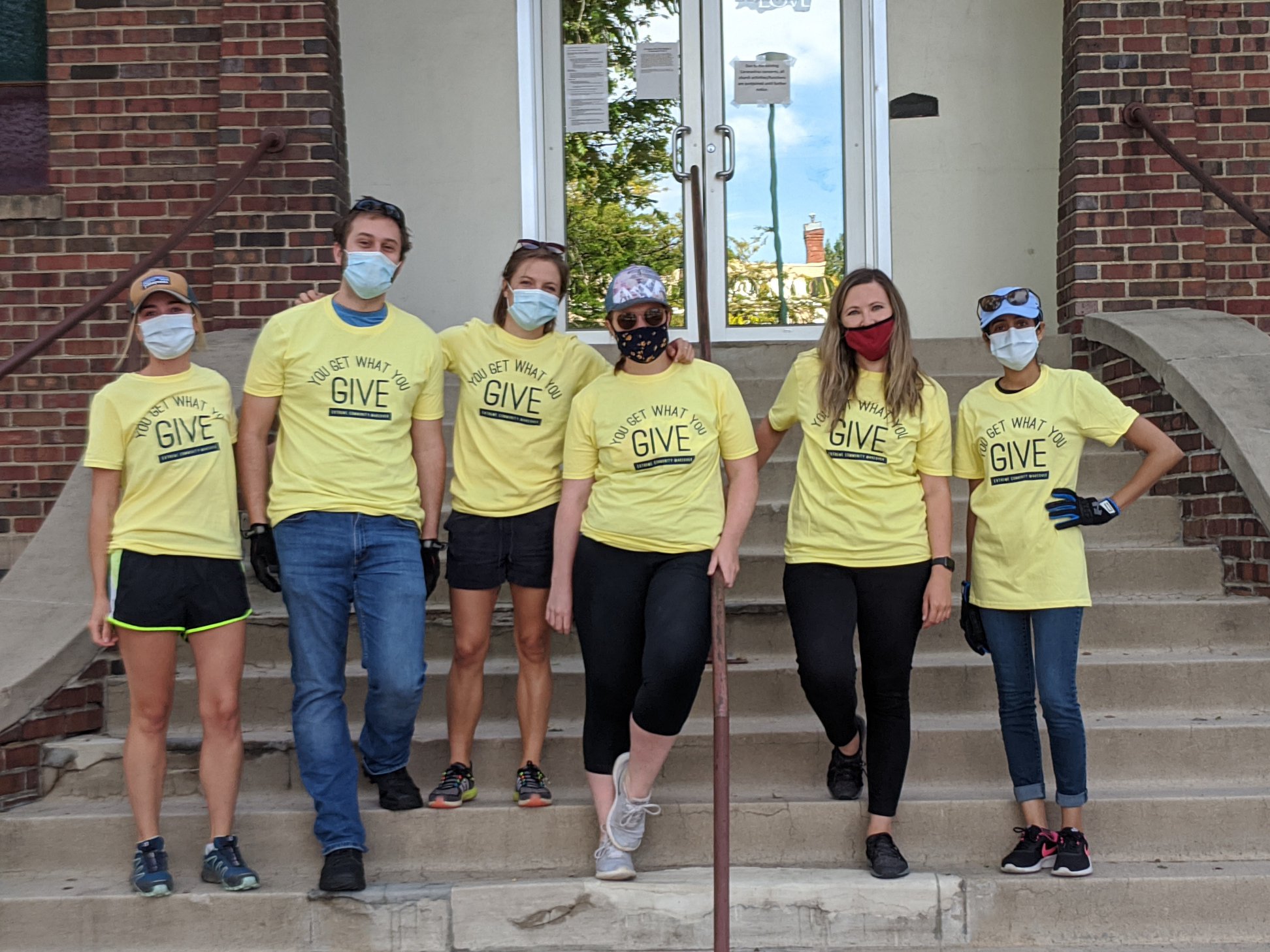 PA Program Volunteer Group
Extreme Community Makeover is known for helping our volunteers enjoy their experience by making sure all the details of the volunteer days are organized and efficient. In the era of COVID-19, volunteering looks a little different, but volunteering can still happen in a safe way. Our Physician Assistant Program was the first volunteer group for 2020!
Read more about it here: https://www.extremecommunitymakeover.org/uncategorized/ separated-but-together-volunteering-in-the-era-of-covid-19
June 2020

New Virtual Space for Artists
The Theatre Arts and Dance Department is working on a creating a virtual community this summer. An idea developed by students over the past few months, Ghost Light Theatre is a new virtual space for artists. This online community is open to all who wish to join and is a place for experimentation, creation, honing skills, and breaking down barriers.

2020 Instructors of the Year
Every year Red Rocks Student Government sponsors an annual vote of the student body to honor instructors for their efforts in providing outstanding instruction to our students and their contributions to the RRCC community. This year the winners are: Marcey Kern, Biology, Valerie Paulson, PA Program, and Brandon English, Chemistry.

Virtual Law Enforcement Academy Graduation Ceremony
Red Rocks held a virtual ceremony for the Law Enforcement Academy Graduation Class of 2020. This ceremony included remarks by President Haney and other Red Rocks staff, faculty and students.

2020 Foothills Art Show
Visual Audio and Media Arts presents a gallery of art produced by their students and juried by Howard Paul, Rachael Byland, Jim Reiman, Christopher Riggs, Ben Lafalce and Travis Schuett at the Foothills Art Center! .

Grant Provides Critical Funding to Support STEM Education During Pandemic Crisis
The Red Rocks Community College Foundation announced that it has received $10,000 from the Xcel Energy Foundation to support STEM education through the college's IDEA Lab. The IDEA Lab plays an important role in the STEM talent pipeline, as many students will transfer from RRCC to the Colorado School of Mines or enter the workforce. The Xcel Energy Foundation has been a significant community partner to STEM education at Red Rocks, contributing $65,000 between 2015-2019 to support programming for firsthand STEM engagement, innovation challenges, and engineering skill development.
May 2020

2020 Virtual Commencement Ceremony
Despite the pandemic, the annual spring graduation ceremony was adapted into a virtual commencement on May 16. Approximately 1,300 degrees and certificates were awarded to the class of 2020 commemorating the 50th anniversary ceremony. Arvada campus students graduated in several health care areas of study including Registered Nurse (RN) Refresher, Nurse Aide, Phlebotomy, Medical Assisting, Medical Billing and Coding, Radiology Technology and Sonography. Many of these new graduates are already assisting with medical and health care efforts related to the pandemic. Specifically, the Physician Assistant program has sent students to assist in rural areas of Colorado.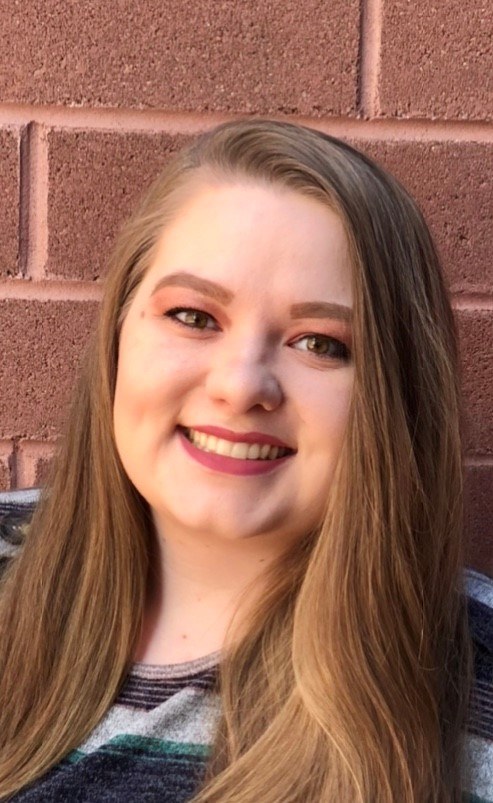 Rachel Smith

Congratulating Red Rocks Community College's Student Honorees
With the spring event cancelled due to COVID-19, the Colorado Community College System staff were able to organize and deliver over eighty packages directly to student awardees that included a medallion, certificate, and backpack full of goodies. Through sponsorship from the Credit Union of Colorado, four Red Rocks Community College students; Dina Gilmore, Michaela Howard, Connor Johnson, and Rachel Smith, were honored at the event and received their "ceremony in a box."
Connor Johnson
Connor Johnson earned the Rising Star Award. Connor is a Student Government member and a leader in the Computer Programming program at the Lakewood Campus. Rachel Smith received both the Phi Theta Kappa All-Colorado Academic Team Award and the Rising Star Award. Rachel is Vice President of the RRCC Alpha Kappa Sigma chapter of PTK. She aspires to be a Nurse Practitioner and is currently a Medical Assisting student at the Arvada Campus. These two students have facilitated meaningful engagement by either broadening the scope of student engagement or by deepening the engagement of other students around a particular issue or initiative.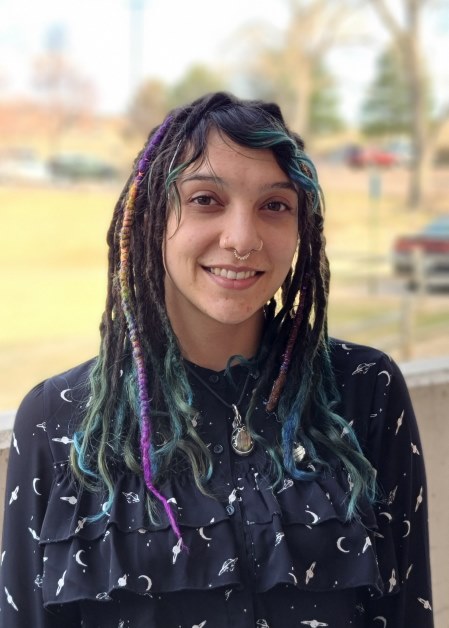 Michaela Howard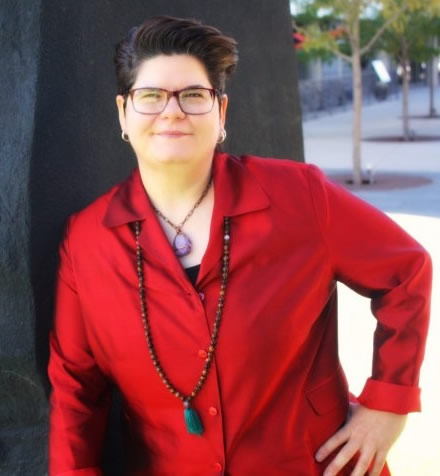 Dina F. Gilmore
Michaela Howard and Dina Gilmore earned the Phi Theta Kappa All-Colorado Academic Team Award. Dina is one of two hosts for the RRCC podcast called Radio Red Rocks. She is a Photographer, Director, Filmmaker, Playwriter, Screenwriter and four-time best-selling author. Dina is currently a Digital Media Journalist student and aspires to be a phenomenal storyteller in all thing's digital media. Michaela is a National Society of Leadership and Success (NSLS) member. She enjoys reading to elementary school students and is currently an Early Childhood Education student who aspires to positively influence young children and their families by providing the most developmentally appropriate practices within the classroom and educating families on the importance of early childhood.

2020 US Census Partnership with RRCC
Pictured above: 2020 US Census Partnership Specialist Joie Ha and RRCC Student Chelsea Sandoval as they talk about some important topics regarding the 2020 US Census during their first Facebook Live video.

Rock the Mask Project
RRCC is committed to combating the spread of COVID-19 and keeping its community safe. In an effort to make sure we are doing all we can for the students, faculty and staff at RRCC, Trefny Honors partnered with our Theater Arts Department to launch the Rock the Mask for RRCC Project. The project has some funding support from donors and the RRCC Foundation to help us reach our goal of sewing 5,000 masks for our campus community by August 1.

Announcing the Bridge to Bachelor's Degree Program – An Innovative Pathway to a Four-year Degree.
Red Rocks Community College (RRCC) in partnership with the Colorado Community College System (CCCS) are changing the way Colorado goes to college by making it more affordable for students to earn a high-quality college degree. The new Bridge to Bachelor's Degree program ensures first-time students attending RRCC or any of CCCS's 13 colleges are guaranteed admission to a participating Colorado four-year college or university upon completion of an Associate degree. Now may be the time when the smart, strategic choice for many students is to stay at home, or closer to home, and get ahead by pursuing their college degree, while saving money by starting at RRCC. Students who enroll in the program can save as much as $10,000 on their path to a Bachelor's degree, and receive additional support such as one-on-one college counseling, support with transfer to a four-year institution, and even scholarship opportunities! This program joins several other pathways programs that are helping RRCC students in achieving their desired educational goals.
April 2020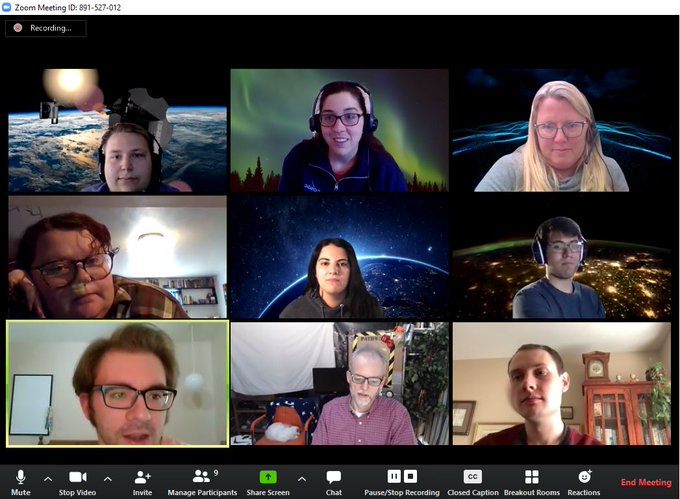 Colorado Space Grant Virtual Undergraduate Research Symposium Winner
Social distancing didn't stop the CC of CO RockSat Team from getting some work done. They came up with a plan to move forward and on April 18th they presented at the CO Space Grant Virtual Undergraduate Research Symposium. RRCC student Tiffany A. Lovett's poster session on Viability Testing for Serratia Marcescens in Space (Sponsored by CU CEAS) was one of the winners!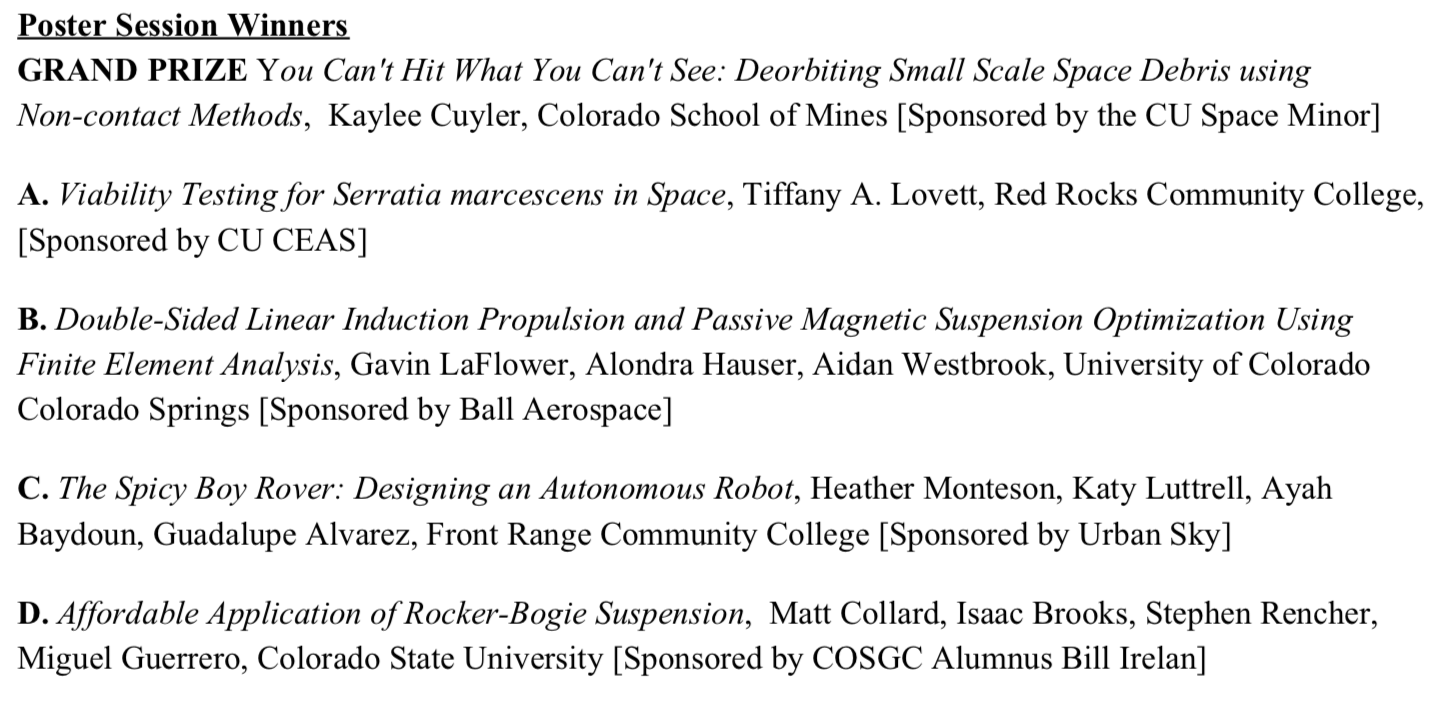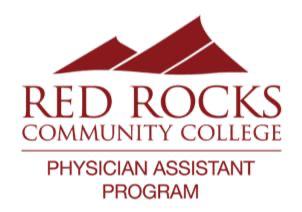 RRCC Physician Assistant Students Lending a Helping Hand
Our Physician Assistant (PA) students are doing remarkable things. Currently, four of our PA students are assisting the town of Eads (located in eastern Colorado) in preparation for an anticipated strain on their health care system. With only one PA and one nurse practitioner in town, our students quickly jumped in to help. We also have three (and soon to be 5) PA students at Sunrise Community Health Center in Greeley. These students are also helping to supplement their health care provider needs during these challenging times.  In both locations, students are learning telehealth and honing their skills as future physician assistants by providing care to patients with the supervision of licensed providers. Students are not directly treating COVID-19 patients but helping to see all of the other patients with health care needs. Thank you to these students for all of the great work they're doing!

RRCC Joins National Recreation Movement Challenge
The Student Recreation Center (SRC) and RRCC joined the National Recreation Movement 2020 challenge. This platform allows RRCC students to take fitness classes from Red Rocks and 80 other colleges across the nation. Also, the platform allows students to log their active minutes and allows RRCC to compete with all of the participating colleges. RRCC is currently ranked 12th in the nation!

CBS4 and Red Rocks Community College Honor Colorado's Class of 2020
High school graduation is just one of the few milestones that Colorado seniors will miss out on this year. In an effort to recognize and celebrate their outstanding work and achievements, RRCC has teamed up with CBS4 for the Salute to Colorado Class of 2020 campaign. This campaign allows viewers to submit a senior picture with the senior's name and high school and give that student public recognition for graduating. While it won't make up for a traditional graduation, hopefully, it will show them that they are not alone and we are here for them.
March 2020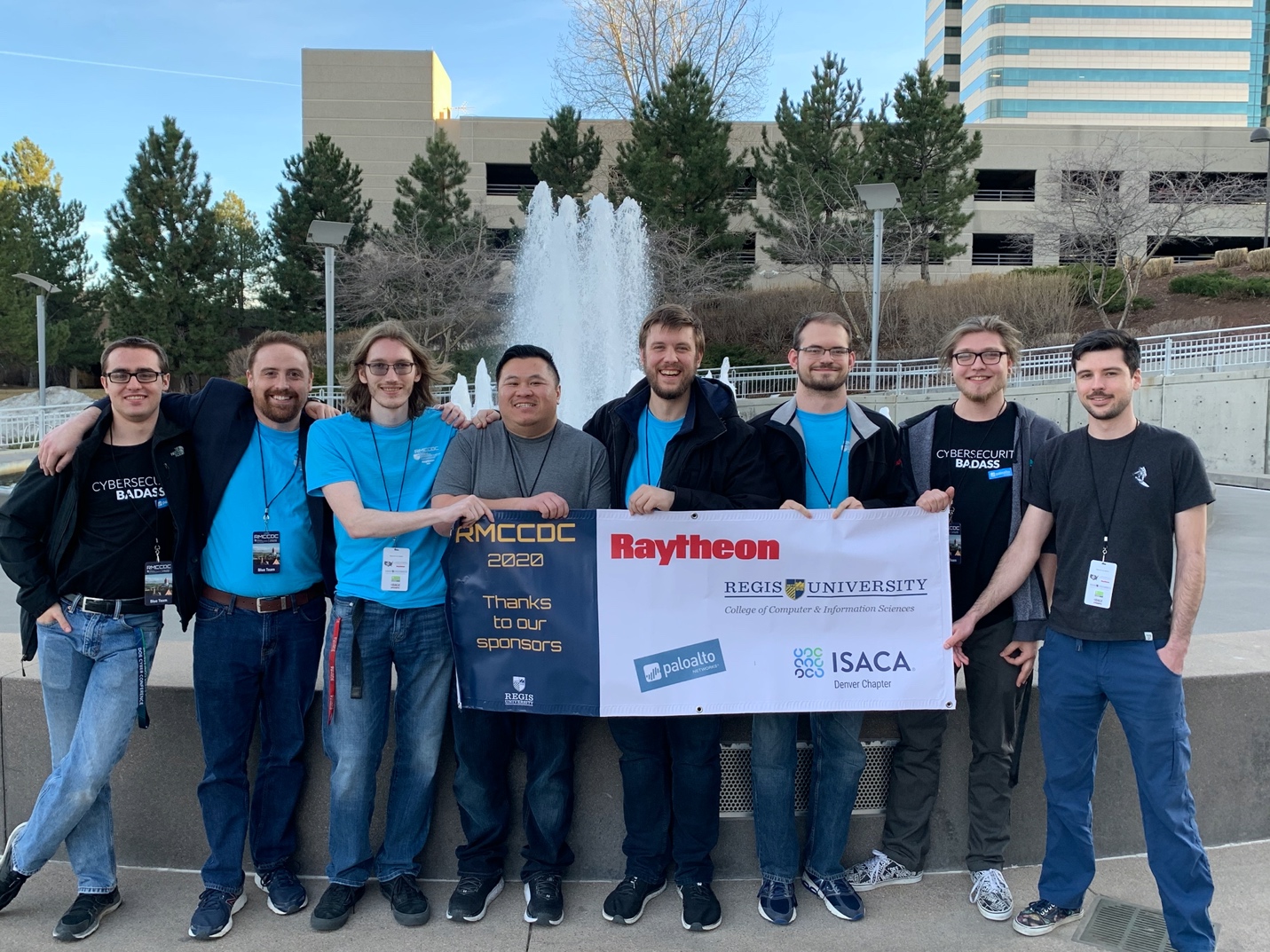 Cyber Security Regional Competition
RRCC Cyber Defense Team took 1st place in the region at the Rocky Mountain Collegiate Cyber Defense Competition (RMCCDC). With this win they will be competing remotely (due to recent CDC guidelines) in the National Competition out of Orlando, Florida, April 16-18. This national competition will be comprised of over 235 national colleges and universities.

Honors in Action Regional Competition
Red Rocks Community College PTK Chapter, Alpha Kappa Sigma won 1st place in the 2019-2020 Colorado/Wyoming (COWY) regional competition for their Honors in Action project. The COWY region consists of 20 community colleges throughout Colorado and Wyoming. President Chelsea Sandoval and Vice President Rachel Smith spearheaded the project with their Honors in Action class of fellow PTK members. This year's project was conducted based on current issues impacting community college students.

IDEA Lab Helping Doctor's during COVID-19 Pandemic
IDEA Lab staff Jeremy Beard, Lead Academic and Tyler LeClear, Manager, and alumni Shelby Ryan are providing their expertise to address the shortage of medical equipment and parts in urgent need in our community. An email was sent by a CU Anschutz doctor with a plea for help and an idea to use 3D printers to make a shared ventilator connection.  This plea has turned in to a full-blown effort as the newly formed taskforce, Make4Covid, including doctors, hospitals, medical businesses, engineers, other Colorado universities, members of the general public,
and our IDEA Lab are now sharing ideas and finding solutions to create 3D ventilator parts and face masks.

RRCC Law Enforcement Academy Paving the Way
Thanks to our innovative and dedicated Law Enforcement Director Mark Beluscak, our academy does not ONLY continue to run, but since March 17th, Red Rocks LEA has been conducting virtual classroom training in compliance with the Colorado Department of Higher Education, Higher Learning Commission, CDC, and Colorado P.O.S.T. recommendations. This academy is the FIRST in Colorado to make this successful transition, applying academic rigor in an online environment based on training and experience and applying Quality Matter (QM) standards and practices for the online environment.

STEAM Girls and Science
RRCC partnered with the Denver Museum of Nature and Science to bring alive the Girls & Science event. This event was aimed at thousands of girls of all ages around Colorado, in hopes of igniting their interest and passion in the STEAM (Science, Technology, Engineering, Arts, and Mathematics) areas of study. Red Rocks Community College's very own Soomin Chun-Hess (Political Science Faculty and Chair) and Barbra Sobhani (Science Department Chair and Director of Trefny Honors Program) were two of the guest speakers for Stories with Scientists. Janet Stomberg (STEM Alliance Navigator) and Shireen Shikak (Biology/Pathology Major and Women in STEM club member) assisted with exciting STEM activities at the RRCC table.
February 2020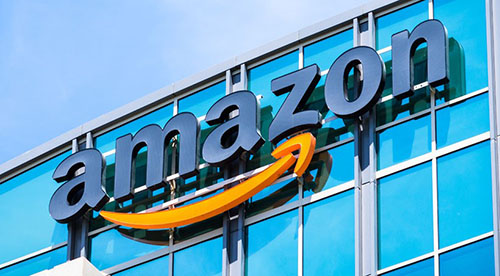 RRCC Selected as Lead School for Amazon's Small Business Academy
"Amazon's latest educational project is a combination of in-person classes and seminars, community college courses, and online webinars. It includes several programs intended to help small businesses to reach more customers, build their brand, and grow sales. The initiative, announced last week, is called Small Business Academy.
The Amazon Small Business Academy program also includes a grant to the National Association for Community College Entrepreneurship (NACCE) to help fund curriculum development and instruction of digital business courses in community college classrooms around the country.
The classes will cover the fundamentals of online business strategies, marketing, merchandising, and inventory management."
We are so pleased that Red Rocks Community College has been selected as one of lead schools for this wonderful new program. Classes begin this month!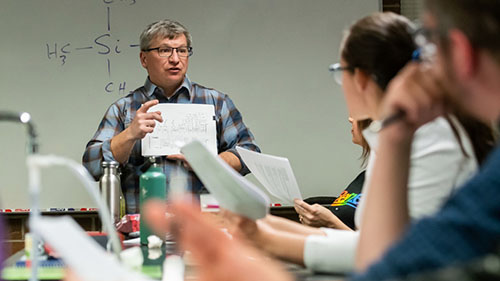 Books on a Budget
In an effort to make textbooks less expensive, colleges are using open education resources. We are leading the pack by developing degree paths that will require fewer textbooks, be the end of the spring semester, our students will be able to complete an associate's degree with 95% of their classes using OER. (open education resources)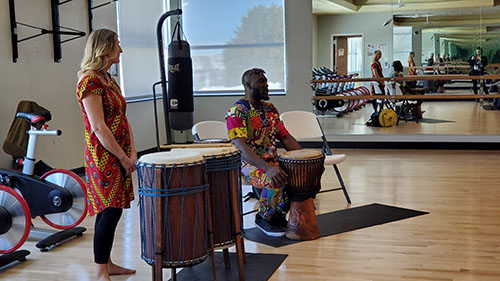 Rhythm and Motion
In observation of Black History Month, the SRC, the Black and Brown Student Association (BBSA), and our Inclusion and Diversity department celebrated the African and African American cultures through the sharing of African inspired dishes and through cultural dance. We were accompanied by Ghana Emmanuel Nii Bortey Annang, the founder of Soul Rhythm African Drumming, a Colorado based company specializing in traditional West African drumming and dance.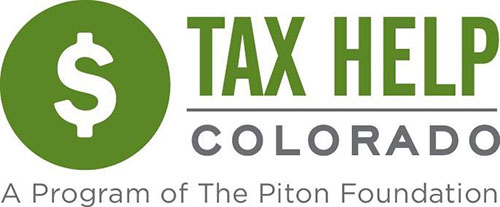 Tax Help Colorado
Red Rocks Community College is partnering with the Denver-based Piton Foundation for the 15th annual Tax Help Colorado program. This program is to help hard-working families become more financially secure by providing free tax preparation services. Beginning February 8, IRS-certified Red Rocks Community College students are preparing and filing tax returns free of charge for individuals with household incomes of less than $56,000 in 2019.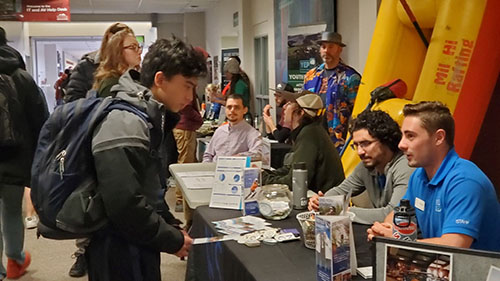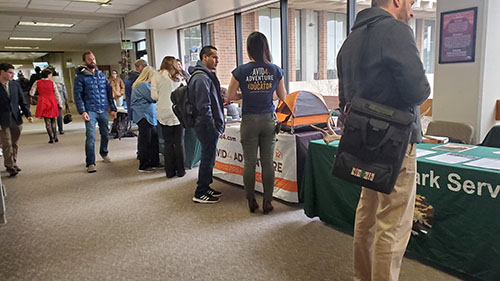 Outdoor Education and Park Ranger Career Fair
Red Rocks Community College hosted its 5th Annual RRCC Outdoor Education and Park Ranger Career Fair on Wednesday, January 29. The event included 38 employers seeking qualified employees for full time and seasonal positions. The career fair provided students with an opportunity to connect with companies within the Outdoor or Park Ranger industries.
January 2020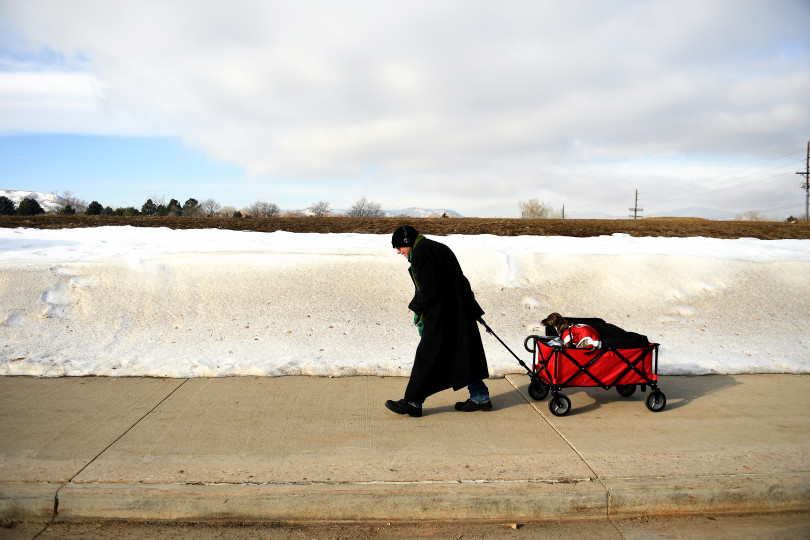 The Action Center
Red Rocks has partnered with The Action Center, a Jefferson County nonprofit organization that offers food, clothing and housing to those in need, to establish The Launch Pad to provide temporary housing for a dozen students.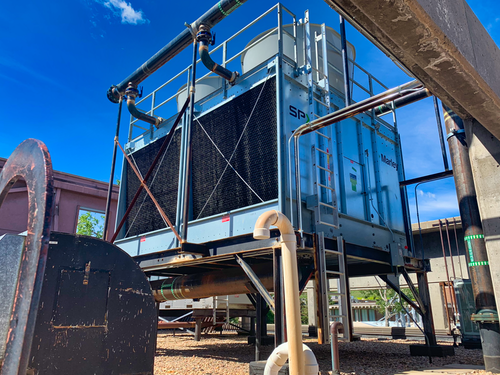 BOR Grant to Aid Water Purification and Desalination Pilot Study at Red Rocks Community College
Backed by a U.S. Bureau of Reclamation (BOR) grant, Garver's Water Technology Team, Mickley & Associates, and Red Rocks Community College are teaming up for an 18-month pilot study aimed at further protecting Colorado's valuable water supplies. Garver's water technology experts and RRCC staff and students will work alongside Dr. Mike Mickley, an internationally recognized brine-management expert.
RRCC Named One of the 13 Best Electrician Trade Schools in the World
As ranked by study.com, our electrical program was named one of the best trade schools in the world.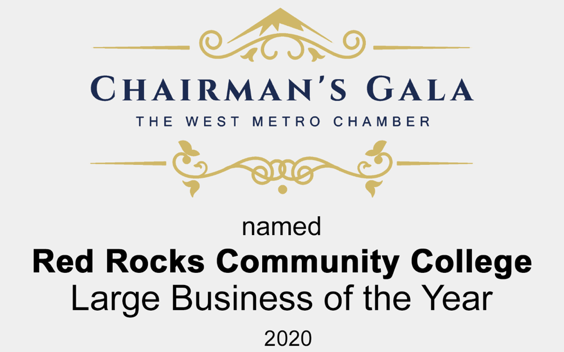 The West Metro Chamber selected RRCC as the 2019 Large Business of the Year
The Chairman's Gala was held on January 31 at the Marriott Denver West, where the award was presented to the college. We offer our gratitude to the West Metro Chamber for this wonderful honor.