News from the President

April 2022
FEATURED IN WESTWORD |
FINE ART IN FURNITURE: THE WOODWORKING OF LAURA KISHIMOTO 
Laura is an instructor in the woodshop at Red Rocks Community College, where she continues to teach today, and where she is able to use her position to empower her female students in a traditionally male-dominated discipline. "You often have to give them permission to take up space," she notes. "They'll be really nervous, doubting themselves and doubting their right to be there. You have to be like, 'No, you're supposed to be here! Go try that thing! I know it's scary, but just go try it.'"
One of her first spec pieces after she moved to Colorado was "Yumi Chair II," a second rendition of the original prototype that she created while at RISD. It went to a show in Philadelphia called Making a Seat at the Table: Women Transform Woodworking, which was the first women-only woodworking show since the 1970s
RRCC THEATRE AND DANCE DEPARTMENT PRESENT THE LIGHTNING THIEF: THE PERCY JACKSON MUSICAL
The Theatre Arts and Dance Department presented their production of The Lightning Thief: The Percy Jackson Musical, which ran April 7-9 and 21-23.
The Lightning Thief is a fast-paced adventure through the world of Greek mythology, told through the eyes of troubled teenager Percy Jackson and his gang of misfit demigods. Based on the young adult novel of the same name by Rick Riordan, this rock musical provides comedy and heart in equal parts.
RRCC VAMA DEPARTMENTS HAS THEIR SIXTH FOOTHILLS ART EXHIBIT
(4/1/2022 - 5/1/2022)
The VAMA Foothills Art Exhibition creates engaging opportunities within the community, empowerment in the workplace, and manifesting behaviors which align with RRCC and VAMA values. As an expression of their department, they pull together a collection of work created by our students. In collaboration with Foothills Art Center, they bring a multimedia experience to the community.
March 2022
Red Rocks Community College 2021 Employees Of The Year 
Congratulations to Martha Stevens, Jen Broadwater, and Jason Larez on being named 2021 Employees of the Year at RRCC. They will each be recognized at the upcoming Employee Excellence Awards. We are proud of their accomplishments, their inspiring dedication to the college, and for the outstanding work they do each day.
Red Rocks Community College Secures Federal Funding To Close Equity Gaps In Stem
Red Rocks Community College (RRCC) secured $300,000 in federal funding for a workforce development program that aims to diversify science, technology, engineering, and math (STEM) fields. Led by Congressman Ed Perlmutter, the investment is part of a $7.6 million package benefitting Jefferson and Arapahoe Counties that recently passed the U.S. House of Representatives. 
The funds will go towards RRCC's Reach, Reason, Connect and Create initiative that aims to recruit and retain more Coloradans of color in high tech industries, especially Latinx and Hispanic students who make up a growing share of the college's service area. With campuses in Lakewood and Arvada, RRCC partners with several top companies in aerospace, energy, cybersecurity, and other advanced fields that have significant demand for skilled workers
"We are grateful to Congressman Perlmutter for supporting this innovative program," said Dr. Michele Haney, president of RRCC. "With this funding, RRCC can positively increase the number of Coloradans of color who obtain a college degree and ultimately start their career in one of the many high-tech industries in our service area."
Read More here: https://www.cccs.edu/press-releases/red-rocks-community-college-secures-federal-funding-to-close-equity-gaps-in-stem/
CCCS Wins State Grant To Expand Open Educational Resources
The Colorado Community College System (CCCS) won a $130,907 grant from the Colorado Department of Higher Education (CDHE) to design business management courses using open educational resources (OER), free or low-cost textbooks and course materials that have saved CCCS students more than $13 million since 2018.
In addition to the CCCS system office's award, RRCC was one of several CCCS colleges that won a CDHE grant to fund OER-related projects.
Red Rocks Community College, $42,879
Read more here: https://www.cccs.edu/press-releases/red-rocks-community-college-secures-federal-funding-to-close-equity-gaps-in-stem/
RRCC Celebrates Womens History Month
The RRCC Department of Student Life in collaboration with Toni Nicholas's "Women in World History" students presented an exhibit of student-created posters honoring famous women throughout history. The exhibit was display for Women's History Month, from March 1st - 31st, in the Marvin Buckels Library on the Lakewood Campus. On March 15th Student Life held a trivia contest featuring questions about famous women throughout history, with many of the questions being pulled from information contained in posters. The contest awarded the Top 3 contestants with prizes.
Ravensbruck Concentration Camp For Women: A Story Of Courage And Hope
In honor of Women's History Month, Judy Winnick presented an extraordinary lecture about Ravensbruck, the only All Women's Concentration Camp established by the Nazis during WWII. Torn from over 20 countries, imprisoned under horrific conditions, these women defied SS Authority when they conspired at great risk to commit imaginative acts of resistance. Heroic bonds of friendship fostered hope for survival: a survival never assured.
February 2022
Red Rocks Community College Foundation Welcomes Alicia Disanti
Born and raised in Cleveland, Ohio, Alicia moved to Denver during the great recession in search of better opportunities. Here she founded her studio and began to work with credit unions, which led to her passion for helping companies who are making a difference. A firm believer in the power of education, Alicia understands first-hand the hardships students face and how community colleges can provide them with a lifetime of benefits.
Alicia is the Founder of 38th & Kip, a branding and design studio based in Denver, and Brand Manager of Aux, an organization who helps financial institutions stay strong. She is passionate about all things branding, like storytelling, values, and visuals. She specializes in helping purpose-driven organizations, the "people doing good," understand their importance and reach their audience.
"I am honored to serve on the Board of Directors for RRCC Foundation because of their tenacity and passion for helping students succeed against all odds," says Alicia. "I've never experienced a college so committed to their students' needs as Red Rocks. And as a former community college attendee, it feels natural to pay it forward and help students in the way my community college helped me."
 RRCC TO PRODUCE THE REVOLUTIONISTS BY LAUREN GUNDERSON
The Theatre Arts and Dance Department will present The Revolutionists, written by Lauren Gunderson, on February 17th, 18th at 7pm and the 19th at 2pm and 7pm) at the Red Rocks Community College Theatre, Lakewood campus. The Revolutionists is presented by special arrangement with Dramatists Play Service, Inc., New York.
The Revolutionists is described by Dramatists as a fantastically funny show about four beautiful, badass women who lose their heads during the French Revolution's Reign of Terror. It's irreverent, thought-provoking, and surprisingly relevant. Playwright Olympe de Gouges, assassin Charlotte Corday, former queen (and fan of ribbons) Marie Antoinette, and Haitian rebel Marianne Angelle hang out, murder Marat, and try to beat back the extremist insanity in 1793 Paris.
Director Kelly Jo Eldredge is thrilled to work with students on this production. "I love this show for its teaching opportunities. The characters are real historical figures, which is drawing many of our history students to the production, and it's very accessible to all audiences. The characters speak in 21st century language—swear words and all—but they wear period costumes, which is a great opportunity for our costuming students. Additionally, the whole play is filled with beautiful contradictions. It's funny yet deadly serious; dream-like but very real and very relevant; about the past and the present (and the future). Finally, it's theatrical and it's true."
RED ROCKS COMMUNITY COLLEGE IS PROUD TO HOST AN EXHIBIT OF THE ROCKY MOUNTAIN
The Department of Student Life was proud to host an exhibit by artists of the Rocky Mountain Wa Shonaji Quilt Guild in the Marvin Buckles Library on the Lakewood Campus for Black History Month for Black History Month.
The Rocky Mountain Wa Shonaji Quilt Guild was formed in February 1994 by Helen Kearney. The five African American women who came together were interested in perpetuating the heritage of quilting and promoting fellowship among those in quilting. The guild is committed to supporting and educating the community. To this end, the guild offers exhibits, quilting classes, lectures and quilt documentation through its various programs throughout the year. The name Wa Shonaji comes from the Swahili language and means literally - "people who sew". The guild's name reflects both our region of the United States and our cultural heritage. The members of RMWSQG, though predominately of African-American ancestry, celebrate ethnic diversity in membership as well as in the many different pattens displayed in their quilts. The objective of the guild is to embody a viable, professional organization representing an interest in quilt making and other fiber arts primarily from an African-American perspective.
BOB THOMAS: CELEBRATION OF LIFE & ART
Bobby Lee Thomas, known to friends as Bob, was born in 1942 in Donalson, Tennessee.  His family moved to Indianapolis when Bob was 6 years old. He was always an artist, completing his first oil painting at the age of 12.
Bob began his undergraduate studies in 1961 at the John Herron Art Institute of Indiana University.  A year later, he left the Art Institute to join the Marine Corp hoping to be eligible for the GI Bill so he could afford to continue his education.  After serving in Vietnam, Thomas was honorably discharged a few weeks early for him to return to school and finish his BFA, completed in 1969. After graduating from University of Denver Bob taught at the Colorado Women's College, Loretto Heights College and Rocky Mountain College of Art and Design.  In 2016, after 18 years, he retired from Red Rocks Community College as a full professor.
Bob's final series, began around 2010, was driven by his discovery of the Bristlecone pine while out hiking. He became mesmerized by these gnarled and weathered trees, believed to be the oldest living organism on the planet. Staying true to his passion and mastery of color, he painted these trees using intense color. He called these works a "visual Interpretation" of the Bristlecone pine. Despite being diagnosed with Parkinson's Disease in 2013, he continued to paint until he could no longer climb the steps to his studio or hold his brush steady.
January 2022
GATEWAY HOSTS TOY DRIVE FOR THE INDIAN CENTER INC.
The College Gateway program would like to thank the RRCC community for participating in the success of the toy drive for The Indian Center Inc. We are proud to say that the toy drive was a huge success. With the help from faculty, staff, and students coming together as a community, College Gateway was able to drop off two loads of toys, bring joy to children and helping families make the holiday a little more special. We would like to thank Dorothy Welty and the various departments contributing to our toy drive this holiday. College Gateway is appreciative and thankful for you all.
 RRCC ALUMN MANDY TROLINGER FEATURED IN AAPA ARTICLE
Mandy Trolinger brings real-life experience and built-in empathy to her Denver-area job as a PA at Rocky Mountain Kidney Care. Very real life, as in: having undergone two kidney transplants. While on a dietetic rotation during her master's-degree studies, Trolinger first learned of the PA profession. By the time her transplanted kidney began failing, Trolinger was working as a renal dietician. Twelve years after her first transplant, she underwent a second transplant, this time from a deceased donor. Three years later, she began studies at Colorado's Red Rocks Community College PA Program and has worked in nephrology ever since.
Read the full story here:
https://www.aapa.org/news-central/2021/12/on-the-job-stimulation-and-work-life-balance-draw-pas-to-nephrology/
ROCKSAT-X STUDENTS SHOW US A VIEW FROM SPACE!
RRCC was one of eight community college and university teams that saw their years' worth of effort take flight into space with the launch of Terrier-Improved Malemute sounding rocket from NASA's Wallops Flight Facility in Virginia on Aug. 19, 2021. This project developed by community college students provides the public with the opportunity to see the Earth from the perspective of a small rocket in flight.
More than 50 community college students participated in the project," said Chris Koehler, director of the Colorado Space Grant Consortium. "The project, which was developed over two years, provided students with many challenges, including how to move the camera away from the rocket and protect it from re-entry and sea impact."
Check out the view here: https://www.youtube.com/watch?v=MQGmEVEjYq4
FOX IN THE WILD: CHRISTOPHER THOMPSON SUCCESS STORY
While Chris was at RRCC he studied English, History, and Anthropology. He is now a graduate student in cultural anthropology at The New School for Social Research, in New York City. In the spring of 2021, Chris graduated summa cum laude with a BA in sociocultural anthropology from Columbia University, where he was awarded Departmental Honors, inducted into Phi Beta Kappa, and named the Valedictorian of the Class of 2021. He is working on his MA with a PhD to follow.
Read more about Chris here: https://www.rrcc.edu/career-services
November 2021
GRAND OPENINGS OF THE NEW STUDENT PANTRY AT RRCC
The Student Life department at Red Rocks Community College (RRCC) held an opening ceremony for the college's new Student Pantry. The pantry is located on the Lakewood campus, near the Student Life information desk (formerly the Game Room).
"The new RRCC Student Pantry is a key part to a bigger goal of reducing the food insecurities within our RRCC community," says Dr. Steven Zeeh, the Director of Campus Life. "Of course, our vision for a more inclusive and accessible pantry would not have been possible without the continued support from the RRCC Foundation, RRCC staff and faculty, the Food Bank of the Rockies, as well as other non-profit community partners. We still have a lot of work to do but we hope that the new RRCC Student Pantry is a symbol to the Lakewood community that we, as a college, are committed to holistically meeting the needs of our students and community."
Donations of non-perishable food and reusable shopping bags will be accepted at the event. For those interested in making a monetary donation to support the Student Pantry, donations can be made online at https://www.coloradogives.org/rrccfoundation. Please indicate you want the donated funds to be directed to the Lakewood Student Pantry.
Dia de los Muertos- Day of the Dead- Activities at Lakewood and Arvada campuses
Inclusion and Diversity expanded RRCC perspectives by teaching us about the history behind Dia de los Muertos. They set up altars at both campuses and invited everyone to celebrate and learn though different activities throughout the week. Dia de los Muertos is a celebration of life for our loved ones who have passed away. We honor and celebrate their memories and create beautiful altars with their favorite things to help their soul find their way home.
VETERANS DAY FLAG RAISING
Veteran's Services held a flag raising ceremony in recognition of Veteran's Day. You can watch the ceremony at the link below.
PHYSICIAN ASSISTANT PROGRAM GRADUATION!
The Physician Assistants program recently held their 2021 graduation ceremony. This is a rigorous 27-month state sponsored, national accredited program located on our Arvada campus.
RRCC STUDENT NAMED AIGA COLORADO STATE DESIGN SLAM CHALLENGE WINNER
Joseph Swaverly Wins 2021 Virtual Colorado Design Slam
Joseph Swaverly, a student at Red Rocks Community College (RRCC), was named the Colorado State Design Slam Challenge Winner by AIGA Colorado. Joseph was one of many students from 14 different schools who competed on October 29, 2021. After winning a first round challenge, Joseph moved into the final round. After 20 minutes of intense head-to head competition he was named the Grand Prize winner. For his award-winning design, Joseph received a Wacom One drawing tablet.
Design Slam is a creative problem-solving competition for art and design students. Design students from regional schools compete head-to-head to solve visual problems in front of a virtual and in-person audience. The competition consists of three four timed challenges and a final round before a grand prize winner is determined.
"It was really exciting to compete as a designer. Every Design Slam is like a test to see where I'm at so far, and I can't wait to come back next year as a better designer than last year," says Joseph. He is currently working towards an Associate of Applied Science degree in Graphic Design and Print Production. He is expected to graduate from RRCC in the spring of 2022.
"Design Slam is amazing opportunity for our graphic designers to test their skills in a highly competitive arena," says Paul Weinrauch, the Department Chair of the Visual, Audio, and Media Arts (VAMA) program at RRCC. "We are so thrilled to see one of our students thrive at this year's design slam and win the grand prize."
INAUGURAL FIRST-GENERATION CELEBRATION DAY
Red Rocks Community College hosted its Inaugural First-Generation Celebration Day on November 9, 2021.  Nationally, November 8th honors the anniversary of the signing of the Higher Education Act of 1965; the intention was to level the playing field for minority and low-income backgrounds.  Ultimately, the event marks the creation of federal grants and loan programs to help students finance their education and the opportunity for federal investments in institutions of higher education.  First-Generation are identified as students who are the first in their families to earn a baccalaureate degree. According to NASPA, "roughly 50% of students identify as first-gen."
Approximately 40 participants attended the RRCC event in person and remotely.   Attendees included students, staff, and faculty where a Q & A panel of staff/faculty shared their first-generation college experiences.  The celebration's theme of "I am First-Gen, Too" was designed to instill that RRCC First-Generation students are not alone in their college navigation endeavors.  To further this messaging, participating employees were provided laminated signs, t-shirts, and stickers to demonstrate they are a resource to our students. Participating students received t-shirts with the logo First-Generation Leader.
The First-Generation Celebration committee was a collaborative effort led by Dr. Armando "Mundy" Burciaga, TRiO SSS, Dana Kobold, First Year Experience, Sara Oviatt, Student Life, Gina Jimenez, Student Services Arvada Campus, Janet Stomberg, LSAMP, and Ellie Ponce, COSI.  The event was supported by multiple campus departments. Check for the door signs around campus with the slogan, "I Am First Generation Too", representing RRCC staff/faculty who are the first in their families to receive a college education.
October 2021

RRCC ESTABLISHES THE SHELBY AND CODY ALLEN MEMORIAL SCHOLARSHIP
RRCC has announced the Shelby and Cody Allen Memorial Scholarship to pay tribute to the firefighting couple that tragically lost their lives to carbon monoxide poisoning at their home in December 2020.
Shelby Allen, 27, and Cody Allen, 29, worked at the Central City, CO, Fire Department, where Cody served as a lieutenant and Shelby Allen volunteered as a firefighter. The annual scholarship will be awarded in the Fall of 2022 semester. A call for applications will open up mid-November via the RRCC Foundation.
The scholarship is being funded in its initial year by the Knox Company, a Phoenix-based company that specializes in rapid access solutions for first responders.
"Everything we design and manufacture at Knox has the purpose of increasing firefighter safety, so we were heartbroken to hear about Shelby and Cody," said Joni Trempala, President of the Knox Company. "We believe this scholarship is a great way to honor the loss of a young couple that were dedicated to serving their community. They deserve a legacy that commemorates their passions, contributions and commitment to help others."
The scholarship is for students enrolled in RRCC's Fire Science program. There is a preference for students who graduated from a high school in Gilpin or Clear Creek counties or from Nederland High School. Gifts to the fund can be made directly to the Red Rocks Community College Foundation or online at:
https://www.coloradogives.org/AllenMemorial.
Interested applicants can call Travis Ogburn at 303-914-6426 for additional information.
RRCC CHILDREN'S CENTER RECEIVES BUELL FOUNDATION GRANT
Children's Center Serves 70 Families a Year
A recent generous grant of $40,000.00 from the Buell Foundation will support the operations of the Children's Center at Red Rocks Community College (RRCC). Established in 1998, the Children's Center mission is to support children as they learn about and discover their own uniqueness in a rich, caring, loving, and safe environment. "The Children's Center staff and families are thrilled and grateful to be recipients of and be partnering with the Buell Foundation to provide the best possible early care and education to the diverse families that we serve," says Susan Padgett, Director of the Children's Center.
"The Buell Foundation clearly understands the important role that quality childcare plays in the success of students and in supporting area working families.  Quality early childhood education has a life-long positive impact on our children.  The Foundation is incredibly grateful for their on-going support of operations to keep quality childcare accessible for area families," says Angela King, the Executive Director of Institutional Advancement at RRCC.

RRCC TAKES HOME TOP HONORS IN THIS YEAR'S DISTRICT 4 MEDALLION AWARDS.
This year's Medallion Awards competition drew nearly 200 entries from over 100 member colleges across District 4, which includes Arkansas, Colorado, New Mexico, Oklahoma, Texas, and Wyoming. The Medallion Awards recognize outstanding achievement in design and communication exclusively among two-year community and technical colleges. Judging was done by NCMPR peers and industry experts in one of NCMPR's six other districts.
RRCC earned:
Silver for Mr. Fox Explores in the Video Shorts (series) Category

TWO PRODUCTIONS PRESENTED BY THE RRCC THEATRE DEPARTMENT
The Theatre Arts and Dance Department entertained us with two shows this semester. The Short Play Festival featuring plays created by RRCC students gave us a glimpse into the talent pool of our student playwrights. For Halloween, they went into the unnerving with Fear Harvesting, an immersive play where audience members were asked, "What are you afraid of?"
September 2021

GRADUATE NAMED TOP 10 FASHION PHOTOGRAPHERS IN DENVER
RRCC's Video, Audio, and Media Arts (VAMA) graduate Catarino Moreno has been recognized as one of the best fashion photographers in Denver. Moreno is a passionate photographer who says he is inspired by major fashion magazines and runway shows. He's driven to create beautiful images that will become "timeless works of fine art" and loves collaborating with creative teams.
"A style for every story" is one of his mottos and he makes a point of creating a safe and positive space on all of his shoots. Unsurprisingly, most of Catarino's work ends up in glossy magazines.
Click on the links below to read more.
https://www.instagram.com/catarino_moreno
https://www.linkedin.com/in/catarino-moreno-a6709a17b/

Paulo Cesar Tabares-Velasco, assistant professor of mechanical engineering at Mines talks to students in his Advanced Multiscale Building Energy Research (AMBER) lab.
RRCC RECEIVES FUNDING TO IMPROVE ENERGY EFFICIENCY
Red Rocks Community College (RRCC), together with the Colorado School of Mines, were selected as part of a $60 million investment by the U.S. Department of Energy (DOE) to fund its largest-ever cohort of university-based Industrial Assessment Centers (IAC) to assist small- and medium-sized manufacturers in reducing their carbon emissions and lowering energy costs, while also training the next generation of workers focused on energy efficiency.
The Rocky Mountain Industrial Assessment Center, the name of the new IAC being administered by Red Rocks and Mines, will result in shared courses where students from both institutions can learn about how to improve energy efficiency in the building and manufacturing industry. "We look forward to engaging our students in this unique hands-on learning opportunity in energy management," said Liz Cox, IDEA Institute Director.
https://www.minesnewsroom.com/news/mines-red-rocks-community-college-receive-funding-doe-improve-energy-efficiency-manufacturing

INSTRUCTORS OF THE YEAR - AS VOTED BY STUDENTS
RRCC students have voted Marcey Kern and Paul Le as their instructors of the year. Marcey Kern is an adjunct chemistry professor and has been with RRCC for over fifteen years. Part of her career was spent in clinical research of blood and bone cancer; however, her passion lies in education. Paul Le is a biology faculty member, teaching BIO 111 and BIO 112 and facilitating the Inclusive Teaching Professional Learning Community. He is a sci-fi and comic fan, enjoys spending time outdoors, and tries to visit a new National Park every year.
Adjunct of the Year - Marcey Kern - Chemistry
"She has been amazing! She has been very understanding when something comes up and is more than willing to work with you if you need the help! Her lectures are always fun and entertaining and she likes to keep us engaged by doing fun experiments on camera! Definitely a professor I will never forget! She has made my first semester at Red Rocks one to remember:)"
Faculty of the Year - Paul Le- Biology
"He truly cares about his students and wants them to succeed in his class and in life. He is very supportive and very involved in making sure his students are engaged and doing well mentally, physically, and emotionally inside and outside the classroom. He is also very prompt in grading, responding to emails, and posting material for the coming weeks. I've never had such a compassionate and dedicated teacher."

Passport Facility Open
Students, staff, and the public are once again able to apply for new U.S. passports at the Lakewood campus of Red Rocks Community College (RRCC). Appointments are available from 9 a.m. to 6:30 p.m., on Mondays, Tuesdays, Thursdays, and Fridays. To make an appointment, email international@rrcc.edu or call 303-914-6416.
"The International Student Services and Programs department of RRCC is determined to bring the world to Red Rocks and to send Red Rocks out into the world," says Linda Yazdani, Director of International Student Services and Programs. "The department has reopened its U.S. passport facility on the Lakewood campus, Room 1020, and welcomes appointments from the public."
August 2021

Fall Welcome Back Nights
The RRCC Student Life Department hosted two Welcome Back Nights for the Fall 2021 semester. The virtual night accommodated those students unable to attend the on-campus event. Students were invited to meet department representatives, get information about the school and our programs, and be entered in a drawing for great prizes such as tuition vouchers. The on-campus night offered similar opportunities with the addition of campus tours and food boxes for attendees.

RRCC Creative Community Exhibition
The Art Gallery at RRCC is pleased to announce an exhibition of creative work from the staff, faculty, and administration of the college from August 16th through October 28th. This show takes place in the college's new Art Gallery by the Main entrance on the Lakewood campus. Please come enjoy a wide variety of work from our diverse community. Everyone is welcome.

RRCC Ranked Best For Vets
At RRCC, we appreciate and value our military members and veterans service to us all, and we are committed to supporting their academic and career goals. Our Veteran Services Office is staffed entirely by veterans and helps students through the traditional college processes as well as provides a comprehensive overview of VA educational benefits. We are proud to have been named a "Best for Vet's College" for two years in row by the Military Times. Please click on the link below for more information.
https://colleges.militarytimes.com/school/H91093A96DE6256D53CAA697A7C5140B5

Lakewood Campus Student Recreation Center Now Open
The Student Recreation Center (SRC) on the Lakewood campus is now open Monday – Friday, 7am-6pm. For more information, visit: https://www.rrcc.edu/student-recreation-center.

New Main Entrance Sign
Have you seen the new sign identifying the Main Entrance on the Lakewood campus? If not, please check it out!
July 2021

DR. Beverly Clark Named New Vice President
Dr. Beverly Clark, III has been named the new Vice President of Academic Affairs/Chief Academic Officer at Red Rocks Community College. He has worked in higher education for eighteen years as an administrator, professor, and researcher. Beverly is an advocate for equality and has diligently worked to create and support diverse and inclusive educational environments.
"I am excited about joining the executive leadership team at Red Rocks Community College," says Beverly. "Red Rocks Community College is a leader in academic excellence and strives to help students meet their career and educational goals. The College understands the importance of diversity and inclusion and diligently works to create diverse and inclusive learning environments that enhance the student experience and provides innovative, educational opportunities. I look forward to working with students, faculty, staff, and the local community to uphold the mission, vision, and values of the College."

RRCC Makes Campus Pride's 2020 Best of the Best LGBTQ-Friendly Campuses
Campus Pride named Red Rocks Community College as one of the "Best of the Best" colleges and universities across the nation based on their overall ratings on the Campus Pride Index and specific LGBTQ-inclusive benchmark measures. In order to earn this recognition, an institution has to score the highest percentages in the LGBTQ-friendly factors for policies, programs, and practices.
The Campus Pride Index currently scores more than 400 campuses and is the premier national benchmarking tool which self-assesses LGBTQ-friendly inclusion. The tool is online at CampusPrideIndex.org and is supported by the Campus Pride Q Research Institute for Higher Education.
Click on this link for the specific details about RRCC.
Click on this link for the Colorado school search results.

Second Annual RRCC Employee Brunchnic
Red Rocks Community College faculty and staff celebrated the second annual "Brunchnic" this summer. The event included brunch, cake, a recognition of retirees, and several fun activities. More than ten teams completed in a single elimination bracket Cornhole Tournament. Frank Barnes and Jason Larez took first place with Lisa Rogers and Tena Harris as the runners up. For those who preferred a more artistic approach to competition, there was a Golf Ball Derby and Creativity Contest. Individuals or departments decorated a standard golf ball to be judged on creativity and to see how fast it would roll down the racing course. Linda Yazdani was the race winner and Ana Carolina Gutierrez's Minion ball won for most creative. Thank you to all the employees that planned, organized, and participated in the event!

Polis Signs Two Bills at Arvada Campus
In June, Governor Jared Polis signed six state stimulus bills in ceremonies around the Denver metro area, including two at the Red Rocks Community College's Arvada campus. The first – House Bill 1104 – extends the licensing period for educators from five to seven years. Polis also signed House Bill 1149, that directs a number of state agencies to develop career pathways for the energy sector. Governor Polis is pictured here with students from the Physician Assistant (PA) program.
Click here to read the full article: Polis signs six state stimulus bills.

RRCC to Present The Girl Who Swallowed a Cactus
The RRCC Theatre Arts and Dance Department will present The Girl Who Swallowed a Cactus at the outdoor pavilion at Red Rocks Community College, Lakewood Campus, on July 29, 30, 31 and August 5, 6, 7 at 6:30 p.m. This production is produced by special arrangement with THE DRAMATIC PUBLISHING COMPANY of Woodstock, Illinois. The script was written by Eric Coble.
Audience members may bring blankets, camp chairs, and picnics to join us on the beautiful lawn at the amphitheater pavilion for this 45-minute fantastical show for all ages. Puppets emerge from a real junkyard on stage to help our narrator, Dust Cloud, tell the story. All puppets in the show have been created from recycled materials by the innovative puppet artist Penny Benson and RRCC students.
Tickets are free (donations appreciated). Reservations may be made through this link: https://www.signupgenius.com/go/4090f4dadac22a1fa7-thegirl1.To read the full news release, click here for the Girl Who Swallowed A Cactus.
June 2021

EDsmart Ranks Red Rocks #12
According to Edsmart.org, Red Rocks Community College has earned a place in the top 20 best colleges and universities in Colorado for 2020-2021. EDsmart evaluates institutions based on cost, academic quality, student satisfaction, and salary after attending. All of these four data points are ranked with equal weight and come from the U.S. Department of Education websites - College Scorecard and College Navigator. Schools receive a weighted overall score with 100 being the highest score possible. The aim is to "help students assess the affordability and value of top colleges in Colorado so they can make informed decisions about which college to attend."
Here's how Red Rocks ranked:
Score: 93.8
Average Net Price: $16,204
Retention Rate: 64%
Salary After Attending: $66,200
Read the full article at Edsmart.org with the best colleges in Colorado here.

RRCC Employee Nominated for an Emmy Award
Congratulations to Red Rocks employee Polina Sarana for the nomination she received from the National Academy of Television Arts & Sciences (NATAS) for an Emmy Award. The award recognizes her work on a video profiling Denver artist Koko Bayer and her extraordinary artistry connected to COVID-19.
Polina started her journey at RRCC as an international student, eventually joining the Marketing and Communications staff as a part-time videographer and photographer. "She is an extraordinary artist with an exceptional ability to tell the human story in visual form. We are so fortunate that she is a member of our RRCC community," said Wren Barnes, Director of Marketing and Communications.
Read the article and watch the nomination video at: msmayhem.com/inside-the-art-of-koko-bayer/.

RRCC Named #1 Medical Assistant School
MedicalAssistantAdvice.com has awarded Red Rocks Community College the top spot on their list of "Best Medical Assistant Programs in Colorado for 2021." Medical Assistant Advice has been serving medical assisting students and professionals since 2012. As stated on their website, "Completing your medical assisting training from one of the top medical assistant schools in Colorado can help you graduate with the skills and knowledge that are currently in demand with local employers. Red Rocks Community College is committed to providing professional training that translates into suitable placements soon after graduation."
To read the full article, go to medicalassistantadvice.com/schools/colorado/.

Jenning Prevatte is the 2021 Student Voice Endowed Teaching Chair Winner
Jenning Prevatte, the Education Faculty Lead at Red Rocks Community College, will be awarded $22,500 over the next three years with salary enhancement and professional development funds as the Endowed Teaching Chair winner. Jenning is an advocate in Teacher Education focused on her belief that all students can succeed, as long as we address the barriers set before them. The Board was impressed with the rigor, timeliness, and vision that Ms. Prevatte brought to her Endowed Teaching Chair application process.
"I am very grateful for the opportunity and award and am excited to use my professional development money to expand current initiatives that I've been involved in to support teaching and learning. My goal is to continue to develop my excellence in teaching and coaching in a variety of ways that advocate and support quality teaching and learning for faculty, instructors, and students, as well as to have a positive impact on equity, inclusion, and access for all students. This summer I will begin working with colleagues to design a teaching and learning center at RRCC and expand the Professional Learning Community (PLC) pilot," said Prevatte.
 
May 2021

Congratulations Class of 2021!
Red Rocks Community College had a first-ever "hybrid" graduation celebration on Saturday, May 18, 2021. Graduates drove under balloon arches and were greeted by President Michele Haney, the executive leadership team, faculty, staff, and the Fox mascot on the Lakewood Campus. Once again, Team RRCC pulled together and showed our commitment to student success.
"Our graduation drive-through event was a huge success, as was the premiere of the video recording of the graduation ceremony. Even though it wasn't our traditional ceremony, our graduates came out in numbers with decorated cars and wearing their regalia with pride. Their families and friends were there to celebrate along, too. It was great to see so many happy students," Haney said.
Watch the Virtual Commencement here.

Student Excellence Award Winners
The State Student Advisory Council (SSAC), Colorado Community College System (CCCS), and Credit Union of Colorado hosted and sponsored the 2021 student award and recognition event in which five students in three award categories have been acknowledged for their contributions to Red Rocks Community College.
Alena Artemenko and Traci Thompson received the Phi Theta Kappa All-Colorado Academic Team Award. The award recognizes the academic accomplishments of high-achieving student members of the Phi Theta Kappa National Honor Society.
Chelsea Sandoval and Tristan Strayer were awarded the Rising Star Award. This award is sponsored by SSAC and recognizes students who have increased the level and quality of student engagement on their college campus.
Lisa Venette accepted the Inclusive Excellence Champions Award. Also sponsored by SSAC, this award recognizes students who have demonstrated a strong commitment to diversity, equity, and inclusion on their college campus.
Click here for more information about the Student Excellence Awards from Red Rocks Community College.

Theatre Arts and Dance Department Gets Creative
Red Rocks theatre students have once again gotten innovative during the pandemic. On April 22, 23 and 24, 2021, they presented a drive-through 'theater experience' of the classic Lope de Vega Play "Fuente Ovejuna," adapted and directed by Maru Garcia. Audience members experienced the performance from the comfort of their own cars while actors performed scenes around each car on the Lakewood campus.

Law Enforcement Academy Graduation
Red Rocks held a ceremony for the Law Enforcement Academy Graduating Class of 2021. The Red Rocks Law Enforcement Academy is an intensive instructional program that satisfies the Colorado Peace Officer Standards and Training Board (POST) certification requirements. Colorado law requires that candidates for peace officer and parole positions be POST certified before they work as a law enforcement officer. Our graduates have gone on to join police departments, sheriff's offices, and state agencies.
 

VAMA Foothills Art Exhibition
The Visual, Audio, and Media Arts (VAMA) department presented the VAMA Foothills Art Exhibition in collaboration with the Foothills Art Center from March 25 to May 2, 2021. The exhibit brought a multimedia experience to the community and featured a collection of dynamic new work created by our photography and videography students.
The Foothills Art Exhibition creates engaging opportunities within the community, empowerment in the workplace, and manifesting behaviors which align with RRCC and VAMA values. The relationship with the Foothills Art Center began over 5 years ago, when a group of ambitious students came together to present a plan of action for VAMA. They proposed a partnership that would present real world experiences for all students. This launched the beginning of the VAMA Foothills Art Exhibition.
April 2021

Metro Denver STEM Alliance Receives Community Award
Janet Stromberg, RRCC's LSAMP Navigator and member of the Metro Denver STEM Alliance has been acknowledged for her involvement with the 2021 Colorado Coalition for the Educational Advancement of Latinx (CoCEAL) through their Community Impact Practice Award. The Louis Stokes Alliance for Minority Participation (LSAMP) is a program that aims to support inclusion and diversity in science, technology, engineering and mathematics (STEM) and increase the numbers of minority students enrolling in and successfully completing high quality degree programs in STEM disciplines.
Red Rocks is part of the Metro Denver STEM Alliance (MDSA), which is one of several community college Alliances in the United States. Red Rocks works closely with four other community colleges in the Metro area to build upon existing STEM programs and support underrepresented minority STEM students through holistic academic, career, and transfer coaching, industry visits, STEM-focused transfer events, and more.
Dr. Stepheny Beauchamp, Project Director for LSAMP, Metro Denver STEM Alliance, Community College of Aurora, says, "I am so proud of the work our Alliance has done, particularly the very intentional and intrusive efforts from our Navigators, Janell, Janet, Julie, Nafeesa, and Jocelyn. You all are hands down deserving of this award, and the state-wide recognition of your work. I'm so humbled to work with you and appreciate all you have given to grow our program. Please join me in congratulating each other!"
Descriptions of the Awards and details about CoCEAL can be found at: CoCEAL Impact Awards. The RRCC LSAMP program is now accepting applications for Summer and Fall 2021. Visit the LSAMP webpage or email janet.stomberg@rrcc.edu for more information.

Red Rocks Ranks #7 for Best Motorcycle Mechanic School
RRCC earned a top spot on a list of motorcycle mechanic schools in the United States by MoneyInc.com. The program is offered in cooperation and taught at Warren Tech, the career and technical high school for Jeffco Public Schools. Anyone who has graduated from high school, received a GED, or is age 21 or older may attend Warren Tech by enrolling through Red Rocks and paying RRCC tuition. For additional details, visit the career and technical education webpage or contact Pam Packer, CTE Director/Associate Dean of Instruction at pamela.packer@rrcc.edu.
According to MoneyInc.com, "if you want to learn how to diagnose, repair, and service any motorcycle that crosses your path, you'd do well to consider Red Rocks Community College. Their Power Equipment and Sports Vehicle Technology AAS Degree equips students with two certifications, both of which will provide the perfect foundation to build a career in the industry. The educational environment is excellent, with just the right balance of self-guided study and supported learning."
Click here for the full MoneyInc.com article, written by Benjamin Smith.

Instructor Has Featured Photographic Series
RRCC's Photography Instructor Edie Winograde has work featured in Denver's Month of Photography at the Robischon Gallery. The Gallery website states, "focusing on the American West from an unexpected stance, artists Gary Emrich and Edie Winograde explore a range of impactful topics in three unique photographic series. Through their distinctive practices, the artists alter commonplace Western narratives and subjects through a direct observational lens—marrying prescribed historical imagery while illuminating complex contemporary realities."
The Gallery asks viewers to "consider each artist's novel and provocative view surrounding the claiming of the West. Through Emrich's uncommon visual language and process-driven alterations, and Winograde's re-examination of the country's sorted past through a present-day American subculture, the artists reveal both the absurdity and the gravity of their subjects all at once."

RRCC is New Testing Site for Registry of Interpreters for the Deaf
RRCC is New Testing Site for Registry of Interpreters for the Deaf
Red Rocks Community College is now an approved testing site for Registry of Interpreters for the Deaf (RID) through the Center for Assessment of Sign Language Interpretation (CASLI) and currently the only test site in Colorado! The need for qualified, American Sign Language interpreters in Colorado is rapidly growing and RRCC is pleased to be able to provide this service to the deaf and interpreting community.
Stacy Roe, RRCC's Interpreter Coordinator, is the Local Test Administrator (LTA), and is approved to administer the National Interpreter Certification (NIC) Interview and Performance Exam as well as the Deaf Interpreter Performance/Case Studies Exam (GAP test). According to CASLI, "these exams assess whether a candidate can demonstrate the minimum level of knowledge, skills, and abilities needed to competently interpret in typical settings and as required for national certification."
If you have questions about becoming an Interpreter and/or about taking these exams, please contact Stacy Roe at stacy.roe@rrcc.edu. For numerous resources to help prepare for the exams, visit the CASLI Exam Preparations website. For additional general information, visit the CASLI website.

Theatre Department Wins Award for Its Perseverance
Kelly Jo Eldredge, Department Chair of Theatre Arts and Dance, and Dorothy Welty, Dean of Instruction, pose with their Award and the dragons from a previous production. Eldredge says, "Our Theatre Arts and Dance Department is SO excited to receive the 2021 Bernice Joseph Award for 'Building Bridges in the Dark: Actions that Held Together a Theatre Department in a Pandemic' from the Western Alliance of Community College Academic Leaders. This award belongs to ALL our students and staff. You are an inspiration. Way to go!!"
Please read these three related articles:
March 2021
Red Rocks Community College Community Steps Up for Students
In February, our community crossed the finish line on the second leg of our 5K Food Pantry Challenge. Thank you to everyone that participated by making a gift and by helping us spread the campaign's message. Together, the gifts will provide just over $20,000 in funding to keep the shelves stocked at our campus food pantry.
 
We will continue to step up for our students to provide them with the wrap-around supports they need to be successful. If you would like to make a donation to our food bank, please contact Angela King at Angela.King@rrcc.edu or call 303-914-6417. If you are a student and want to make a food bank appointment, contact our Student Life department.
Theater Department Participates in Play in a Day Festival
The RRCC Theatre Arts and Dance Department took part in a Two Four Seven—Play in a Day Festival, hosted by New Mexico's Blackout Theatre Company on February 27, 2021. Seven teams were invited to the festival, and each team had 24 hours to put together a new virtual play. Teams received their rules the night beforehand, and then had a day to write, rehearse, and perform their exciting new virtual play. Performances were live streamed for free to the public.
 
The RRCC team included three Theatre students: Rachael Hogan, Liam Leiren, and Ammon Underhill; and three RRCC Theatre instructors: El Armstrong, Colette Mazunik, and Kelly Jo Eldredge. Cofounder of this festival, Leonard Madrid, is a former RRCC theater instructor. "I used to walk the halls (mostly the basement) of RRCC. I'm really excited to be able to collaborate with these wonderful theatre folks again," he said.
 
Read the full Westword article here.
2021 Commitment to Excellence Award Winners
RRCC, along with the Colorado Community College System (CCCS) recognize employees in four categories - Administrator, Classified, Faculty, and Adjunct-Instructor in their commitment to excellence. The employees represent the unique talents, skills, perspectives, and heart needed to deliver high-quality post-secondary education and workforce training, supportive services, and safe environments to thousands of students each and every day.
 
The 2021 Red Rocks Community College award recipients are:
• Jon Johnson, Administrator of the Year
• Bobby Asher, Classified Employee of the Year
• All Red Rocks Faculty, Faculty of the Year
• Marcey Kern, Adjunct Faculty of the Year
Click here to view the virtual presentation and the complete list of honorees
Fine Woodworking Faculty Offers Tips on Wood Cutting Boards
Jeremy Cox, full-time faculty in the Fine Woodworking Program at RRCC, shared his expertise on wood cutting boards with a staff writer on the kitchen team at Wirecutter. Cox provides advice on how to oil and wax a board, how to repair a damaged board, and what to do with a warped or cracked board.
 
Click here to read the full article.
Red Rocks Named as One of Best Colleges in Colorado
RRCC has been ranked #30 on a list of Top Colleges in Colorado for 2021 according to Intelligent.com, a trusted resource for online degree rankings and higher education planning. They assessed over 200 accredited colleges and universities in the nation, using comprehensive research methodology and evaluating institutions on curriculum quality, graduation rate, reputation, and post-graduate employment.
 
According to Intelligent.com, the "top picks for the best Colleges in Colorado program are affordable, respected, and flexible." Intelligent.com posted their research methodology and final ranking list on their best-colleges-in-colorado webpage. The PRNewswire headline states, "Degree holders gain increased earning potential with career opportunities upon graduation from these top ranked institutions." The PRNewswire published an article and alphabetical list on their website on Mar. 15, 2021.
 
February 2021

Photo of Juan Ocampo (Cliff Grassmick/Longmont Times-Call Staff Photographer)

RRCC Student First Boulder County Bilingual Ranger
As the first English and Spanish speaking Boulder County Parks and Open Space ranger, Red Rocks student Juan Ocampo hopes to be part of the effort to decrease some of the barriers he sees as preventing some of the Latinx community from visiting outdoor natural resources. "If you show up to the trailhead or parking lot and you can't read the rules and regulations or you don't feel comfortable asking the staff a question, then it doesn't seem like it's place for you," Ocampo said.
Ocampo grew up in California spending his time outdoors — from camping with his family in the summer to hunting with his father. In that time, Ocampo said that, to his knowledge, none of the rangers he interacted with spoke Spanish. Ocampo is training for his role as a ranger by attending the law enforcement academy on our Lakewood campus. He will complete the 18-week-long academy in mid-May.
Read the full article here.

Comcast Advertising Campaign
Comcast will launch an advertising campaign later this spring that will include the voices and faces of actual Colorado Community College System (CCCS) students, staff, and professors. Pictured above on camera is our FYE (First-Year Experience) Coordinator, Dana Kobold. Visual, Audio, and Media Arts Department Chair, Paul Weinrauch, was also filmed for the ads.
The videos created by Comcast are intended as marketing and recruitment tools to support the increase of enrollment and provide a cohesive message among all 13 CCCS campuses across a diverse geographic landscape and socioeconomic fabric of prospective students. The bold graphic treatments and clever copy will help counter the stigma of community college education.

RRCC Partners with Food Bank of the Rockies
Our Student Life Department is partnering with the Food Bank of the Rockies (FBotR) to make their mobile pantry available to RRCC students on the first Saturday of every month for the rest of the spring and summer semesters.
On February 6th, March 6th, April 3rd, May 1st, June 5th, July 3rd, and August 7th at 2pm, the FBotR mobile pantry will open its doors outside the Water Quality Management building just north of the main Lakewood campus. Students and eligible community members will receive up to 60 pounds of food per visit.

Photo of Chancellor Joe Garcia and Janet Tarase

RRCC Faculty Weighs in on Current Job Market Trends
RCC Faculty Weighs in on Current Job Market Trends
Lead Accounting Faculty/Accounting Department Chair, Janet Tarase, is featured on a panel of experts on Zippia, an online platform that helps job seekers find career opportunities. Zippia staff spoke to professors from several colleges and universities to get their opinions on where the job market for recent graduates is heading, as well as how young graduates entering the industry can be adequately prepared.
Tarase addresses three trends we will see given the pandemic: 1. Employers will be looking for individuals that have proven communication, organizational and time management skills that are able to work independently since telecommuting will be continuing in the future. 2. Applicants will also need to have technological and critical thinking skills to manage the challenges presented while working from home. 3. Employees will need to be flexible and resilient - you never know what the next job requirement will demand.

Cybersecurity Club Progresses to Regionals in Cyber Collegiate Defense Competition
Congratulations to the Red Rocks Cybersecurity Club for being one of only two community college teams to progress to the Rocky Mountain Regionals of the Cyber Collegiate Defense Competition. They will face seven other teams in this competition on March 5, 2021. Good luck, team!
January 2021
RRCC Articulation Agreement with RMCAD for a Seamless Transition to a BFA
On December 16, 2020, Red Rocks Community College (RRCC) and Rocky Mountain College of Art + Design (RMCAD) signed a transfer agreement. Now, students completing an Associate of Applied Science (AAS) degree in Professional Photography can easily transfer up to 60 credits and continue their education towards their Bachelor of Fine Arts (BFA) in Photography at RMCAD. Students with a minimum 2.0 cumulative grade point average (GPA), C, or better in liberal arts classes, and a B or better in studio arts classes will be guaranteed transfer admission to RMCAD.
"This transfer agreement allows more students the opportunity to receive the Bachelor of Fine Arts by attending RRCC first, and then seamlessly transferring their AAS in Professional Photography to RMCAD. Our Department strives to find ways to create equity in our community, hoping one day, that all have the same opportunities that I have had, to become a professional artist," says Paul Weinrauch, Department Chair of Visual, Audio, and Media Arts at RRCC. We are excited this partnership will maximize student resources and achieve students' educational goals that want to further their education.
Click here for more information about our Visual, Audio, and Media Arts Program.
Introducing the New RRCC Virtual Student Union
The RRCC Virtual Student Union is a new resource hub for students on our online Desire to Learn (D2L) instructional platform. It provides students with a learning community, need-to-know services and support, a calendar of events, and more all in one place! Students can even use a discussion board to share suggestions, thoughts, and ideas with their digital community.
To see how it works, watch this video: Virtual Student Union
RRCC Instructor Earns Denver7 Everyday Hero Award
Kim Gonsalves, an English as a Second Language (ESL) instructor and her husband, earned the Denver7 Everyday Hero Award for creating "Desks for Kids". Last fall, they started building desks for low-income students learning at home in the Metro area. Their goal was to build ten, thinking that would be enough to satisfy the local need. But, as they reached out to schools, they got lists of hundreds of student names.
So, they came up with a solution and established the Desks for Kids Facebook page. People started donating to their cause right away. "The desks actually cost $22 for us to make. They'll donate $22 and say, 'I want a kid to have a desk,'" says Gonsalves. "Personally, I got a great deal of hope and a really good feeling from the community who has reached out to complete strangers to help."
Click here to see the full story or visit the DeskForKids Facebook page.
CPR Highlights RRCC Childcare Development Specialist Apprenticeship
Colorado Public Radio (CPR) author Jenny Brudin writes, "Apprenticeships aren't just for the trades. It's also a way to bolster Colorado's early childhood workforce." In the article, Brudin goes on to feature our two-year Childcare Development Specialist Apprenticeship program, the only federally registered apprenticeship for early childhood education in Colorado.
According to Brudin, what makes this apprenticeship unique is: "It lets students earn while they learn because they're employed in child care centers. They get wage boosts throughout the program. That addresses a major barrier. Most entering the field can't afford to stop working to learn and move up the ranks. Secondly, apprentices get continual coaching at their workplace. Career support continues even after they complete the apprenticeship."
"It takes a village to help a teacher," says Julia Brink, Quality Improvement Coordinator of the Child Care Innovations Department at Red Rocks Community College. "It takes a village to become a well-rounded caregiver and provider." Read the full article on CPR here.

THE HUB IS NOW INNOVATION AND ENGAGEMENT
In response to the pandemic and economic crisis, the HUB: Center for Engagement and Innovation will pivot to Innovation and Engagement (I&E) to empower our students with skills and experiences in innovation, entrepreneurship and changemaking in order to prepare them to be successful in the future of work. I&E will grow an innovative talent pipeline that is diverse, inclusive, and sustainable for the economic vitality of the regions we serve.
I&E is an umbrella of innovative programming, including:
• RISE (Red Rocks Innovation in STEM Education)
• IDEA Lab
• Community Changemakers
• Entrepreneurship
By building community collaborations, facilitating new initiatives, and connecting faculty, staff and students with strategic partners, I&E expands the reach and impact of Red Rocks Community College's programs. Learn more
December 2020

English Faculty Member Writes Notable Essay
English faculty member Kevin Kelley's essay, "Po-tay-to Po-tah-to," is now a Best American Essays 2020 Notable Essay. It was also nominated for a Pushcart 2021 Prize. Kevin's writing can be found in The Massachusetts Review, Entropy, Potomac Review, High Country News, Eastern Iowa Review, Santa Ana River Review, and elsewhere. Read more here.
Kevin J. Kelley grew up in the high desert of Southwestern Idaho. He is often strolling his two dogs, exploring Colorado with his wife, hiking, and trying out new recipes in the kitchen. Kevin's frequent road-tripping has taken him coast-to-coast and to nearly every state. He arrived at Red Rocks in Fall 2018, and has loved it ever since. In addition to teaching English and Literature courses, Kevin is the Writing Across the Curriculum (WAC) director and a Radio Red Rocks morning producer.
Evolving to Meet Digital Educational Demands
Our Rocky Mountain Education Center (RMEC) continues to evolve digitally to meet our clients' demands for our Occupational Safety and Health Administration (OSHA) compliance and technical workplace training. Faced with a client that could not bring their participants together in groups due to pandemic controls, RMEC built a 16-week correspondence course, Leadership for A Diverse Workforce, in less than six weeks. The training program includes a student workbook and six hours of original video content. Within two weeks of program launch, RMEC has 145 registrations in the new course, with the client committing to 400 registrations.
In addition, RMEC's instructors have successfully built digital classrooms offering synchronously 21 different courses with more underway to reach the goal that all of RMEC's occupational safety and health course offerings will be available in a digital format in the near future. For a complete list of our classes, click here.
Red Rocks Alumni Update: Bill Inman
At the age of 23, in May 1981, Bill Inman had a critical, traumatic brain injury in a car accident while a physics major at CU Boulder. As a result of the accident, he was unable to walk because his whole right side and a few muscles on his left side were seriously or partially paralyzed, his short-term memory was severely impaired, and his soft palate was paralyzed, leaving him unable to speak. After almost four decades of slow, but steady progress, he can talk, feed and dress himself, and walk with a walker and a cane.
Bill started going to college again in 1984, taking only one course a semester because that was all the time he had for schooling with all of his therapy. His dad once told him, "you work as hard as an Olympic athlete." He earned an Associate of Science degree from Red Rocks Community College in 1992 and a Bachelor's degree in Social Sciences from Colorado Christian University in 2010. His short-term memory became much better during that time because he studied a lot.
Bill has inspired countless people within our learning community, including Tyler Casias, a Student Success Navigator at our Arvada campus. Tyler said, "Every day I get to meet amazing people from all walks of life but it isn't very often that you meet someone who makes you reflect on the blessings we take for granted. It's humbling to realize that even though Bill faced tremendous challenges, he still strived for and accomplished the goals he had set for himself, just like the rest of try to do, all while having to relearn how to live and function in the world. Way to go, Bill. Keep it up!"
Marketing & Communications Department Wins Three National Awards
Congratulations to our National Council of Marketing and Public Relations (NCMPR) Medallion Award Finalists for their outstanding work in our Marketing and Communications Department.
Lindsey Moulton won GOLD in Logo Design for the new Fox logo.
Polina Sarana won SILVER in the Short Video Series for our "You Are Welcome Here" and "We Are the Unity in Community" campaigns.
Laura Campbell won BRONZE in the Novelty Advertising for the 50th Anniversary calendar.
Watch the awards ceremony here
Plans for a Space, Cyber, and Engineering Talent Development Center
RRCC's Cybersecurity and Engineering programs were invited to present at the Colorado Space Coalition, part of the Metro Denver Economic Development Corporation. The presentation was around RRCC's plans to develop a Space, Cyber and Engineering Talent Development Center to support the growing aerospace economy in Colorado.
November 2020

Creating Connections Through the Pandemic
This semester, English department faculty Sara Fall and Amy Braziller have been recording a weekly radio show called Pandemic Tales. Each week, they interview a member of the RRCC community (faculty, staff, students) to learn a little bit more about them and how they are doing. "We have learned lots of cool things. Most importantly, this show has enabled us to feel a sense of community each week, realizing that we are all going through these times together and separately," said Amy.
If you are curious about how RRCC colleagues and students are surviving the pandemic, tune in live on Thursdays, from 12:30 - 1:00 p.m. here or check out the archives here. "We hope listening brings you the same sense of connection Sara and I get to experience each week," Amy said.

RRCC Employee Surprised with Furniture & Down-Payment Assistance
Crystal Jones, a Red Rocks Administrative Assistant in the Advising department, got the surprise of a lifetime thanks to the assistance of Habitat for Humanity of Metro Denver, Warrick Dunn, a former NFL player and founder of Warrick Dunn Charities, and Aaron's Furniture. At the surprise new home celebration, representatives for Aaron's announced the company had provided furnishings for the home and Dunn presented Crystal with a down-payment assistance check. "I wasn't expecting this at all," said Crystal. "Walking in I figured maybe there was a couple of things, but it's fully furnished."
The surprise event marked the 183rd home celebration nationwide by Warrick Dunn Charities, which aims to help single parents achieve first-time homeownership. Dunn, who played as a running back in the NFL between 1997 and 2003, started the charity in honor of his mother Betty Smothers, who was killed when he was 18-years-old. "Her dream was really to own her own home," Dunn said. "I've been living out this dream and this program now for 23 years and I've actually used it for therapy."
Click here to see the full story.

RRCC Presents Collaborative Production of New Play Ravening
The Red Rocks Community College (RRCC) Theatre Arts and Dance Department presented the virtual production of the new play Ravening, written by RRCC instructor Colette Mazunik. The original play touches on psychological connections to the pandemic and performances were live streamed on November 12, 13, and 14, 2020. You can watch the performance here.
Playwriting instructor Colette Mazunik was inspired to write the play after observing RRCC students over the course of a few weeks in the setting of improvised rehearsals. As a result, Ravening was developed collaboratively. In addition to Mazunik, the show was coordinated by a directing team comprised of El Armstrong, Leigh Miller, Penny Benson, and Kelly Jo Eldredge, who also serves as the department chair. Thematically, the play explores many connections that can be drawn to the current pandemic, through a depicted psychological experiment that goes terribly wrong.

RRCC Alumni Helps New York City Hospital
Nathan Cameron, RRCC Physician Assistant (PA) program graduate, Class of 2011, has been an emergency practicing PA in the Denver area for the last nine years. Upon hearing of the desperation and need in New York City during the early stages of the COVID-19 pandemic, Nathan left his family and community behind for three months to help. Working 12-hour shifts, six days a week, Nathan took care of some of the sickest patients in Harlem, truly making a difference. Beyond COVID patients, he states that he saw "some of the gnarliest trauma he'd ever seen," and notes that he's most happy to be home safe with his wife and four kids.

Students & Community Partners See Benefits of National Apprenticeship Week
Red Rocks Community College (RRCC), as demonstrated by our Childcare Development Specialist and Cyber Security federally registered programs, recognizes that robust apprenticeship programs provide tangible value to both job creators and apprentices, with the potential to increase productivity, improve diversity and inclusion, and reduce recruitment and training costs while providing a pathway to prosperous careers for job seekers.
For example, the partnership between Alliance for Kids' and Childcare Innovation's (CCI) Child Development Specialist Apprenticeship program at RRCC allows us to offer professional development opportunities and resources to support the early care and education workforce. "Through this program, apprentices continue to build the skills and knowledge in the implementation of developmentally appropriate practice and effective early care leadership," said Erica Evans, Professional Development Specialist, Alliance for Kids, El Paso County's Early Childhood Council.
While our Cybersecurity Apprenticeship Program is relatively new at RRCC, we are already seeing the benefits and focus it gives to our students. The resources associated with the program help them select an interesting and appropriate area of study in our Cyber and Computer Technology degree programs where they feel confident they will have employment opportunities once they finish. "That's super-important in today's climate," said MaryAnn Tillman, Cyber Security Apprenticeship Program Coordinator. For more information, click here.
October 2020

2020 Swede Johnson/Coors Endowed Teaching Chair
Congratulations to Sally Cirincione, this year's Endowed Teaching Chair winner! Sally is a faculty member and program lead in RRCC's Outdoor Education Program. She has been working in the field of leadership education for more than 15 years and is extremely passionate about helping people learn and grow through experiential activities. Her true passion is in facilitating participants through experiences that promote individual challenge and self-discovery.
Sally has worked in numerous areas within the outdoor recreation industry including as an instructor for the National Outdoor Leadership School (NOLS), a guide in wilderness therapy, ropes course director and facilitator, ski/snowboard instructor, outdoor education instructor, event coordinator for the cities/towns of Crested Butte and Gunnison, and executive educational consultant, among others. She has served as a volunteer for several different organizations including the Western State Mountain Search and Rescue Team, Safe Ride, Gunnison Trails, and the Rotary Club.
Click here to see Sally receive the award and give an acceptance speech.

Introducing the 2020 RMWQAA Scholarship Winner
Congratulations to Greg Ching, the RMWQAA Scholarship Winner of 2020. Greg is a non-traditional student midway through a Bachelors of Applied Science in Water Quality Management at Red Rocks Community College. He has both Colorado Wastewater "D" and Water "D" plant operator licenses. He was inspired to study water after his mountain home basement flooded in the 2013 Front Range flood.
Always curious about the environment, Greg took his first wastewater plant tour in Newark, California for a Boy Scout Environmental Science merit badge. Escaping Silicon Valley traffic in 1996, Greg began a 20-year solar electric & thermal, geothermal, and super-insulated retrofit of a 1976 home on well and septic. He worked on reducing his carbon footprint, even modifying a 2005 Prius to be a plug-in electric vehicle.
Greg is searching for an opening in the smart water field, preferably involving potable re-use. Greg served on the staff of MileHiGreen and Denver Green Streets online publications, contributing to the "Street Scene" column and other articles. Outside of his professional life, he has volunteered as a rural firefighter, participated in six Earthwatch Institute international expeditions, constructed haunted houses, hosted living room house concerts, and designed portable greenhouses.

Community Room Relocation Project Wins a Best Projects Award
The RRCC Community Room Relocation Project has won a Best Projects Award from ENR (Engineering News-Record) Mountain States in the Higher Education/Research category. The competition spanned across a seven-state region that includes Utah, Idaho, Montana, Colorado, Wyoming, North Dakota and South Dakota. A panel of 11 judges from all areas of the industry selected winners and merit awards from the 138 total entries this year.
Our project will be highlighted in the October 12/19th Best Projects issue of the ENR Mountain States publication. The Denver ENR Best Projects Awards Banquet and Ceremony on October 26th at 11:00 a.m. will be a virtual event due to COVID. RRCC is honored to celebrate these great award-winning projects and network with other attendees. Click here to see all of the 2020 Best Projects winners.

Law Enforcement Academies Launch Initiative to Re-think Police Training
Red Rocks Community College's Law Enforcement Academy along with other Colorado Community College System (CCCS) academies around Colorado are launching a new initiative to re-examine training and consider adding lessons on implicit bias and social justice. "We need to ask people from the community whether we are appropriately training and equipping the law enforcement officers who are going to work in their communities," said Joe Garcia, CCCS President.
A steering committee made up of government and community leaders will guide the discussion of what needs to change. Omar Montgomery is a Black community leader and a member of the committee. "We need to instill trust in our communities and this is a good start to making it happen," Montgomery said.
Garcia hopes that changes can be made to have a new law enforcement curriculum in place by next fall. He said it is important to move quickly. "But, we want to do it comprehensively," Garcia said. "We don't just want to tinker around the edges." Click here to view the full article on 9news.com.
September 2020
Student Life Food Banks are Open on Arvada and Lakewood Campuses
The Arvada location will allow both drop-in visits and appointments:
Mondays and Thursdays, 9:00 a.m. - 5:00 p.m.
The Lakewood location is accepting appointments utilizing Navigate, which is in student's "The Rock" dashboard. Please schedule appointments 24 hours prior to arrival to allow enough time for your order to be prepared. When arriving for your appointment, enter through the east pull-through lanes from Arbutus Drive; the food bank pick-up area will be clearly marked.
Appointments through Navigate are preferred, but drop-in appointments in Lakewood will be accepted as time allows. For questions or help scheduling an appointment for the food bank or any other Student Life Department services, contact mark.squire@rrcc.edu, sara.oviatt@rrcc.edu, or mika.matzen@rrcc.edu
The Lakewood location is open:
Thursdays: 10:00 a.m. - 4:00 p.m. and Fridays: 9:00 a.m. - 3:00 p.m.

MedAssistantEDU.com Editor's Pick Red Rocks Community College as One of the Best
Red Rocks Community College's (RRCC) Associate of Applied Science (AAS) degree in Medical Assisting has been selected as one the of best programs in the United States by the MedAssistantEDU.org team made up of healthcare industry professionals. RRCC easily earned our place on the list because we feature highly qualified faculty, flexible course schedules, one of the lowest tuitions in Colorado, and outstanding career and academic services for our students.
Click here to see the Top Picks for the Best Medical Assistant Programs of 2020-21!

Red Rocks Alumni Update: Jennie Fluerant
Jennie Fluerant began her journey to America with a dream to be a part of the change she would like to see for her community of Ouanaminth, and ultimately her country of Haiti. After graduating from Red Rocks Community College, she transferred to MSU. During her first year at MSU, Jennie pursued internship opportunities for her degree program and has been hired as an intern with Barr Milton Watershed Association. Her work includes hosting events with Colorado State Park, Barr Lake, and the Association which educate the public about the importance of protecting our water supply.
Jennie has trained in the importance of cleaning up after pets; performed a study of different brands of fertilizer, reporting which are phosphorus free; and is part of a team who performs some testing and maintenance at four lakes in the north area, including Barr Lake. This internship helps Jennie put into practice the things she is studying related to water quality and the environment. It also allows her to earn credits toward her degree.
Park Ranger and Manager of Barr Lake State Park, Michelle Seubert, has provided an incredible amount of guidance to Jennie. Michelle immediately recognized the value of Jennie's knowledge and supports Jennie in her pursuit to use her skills and passion for clean water and healthy environments. She is pictured above with Jennie on her first day at work at Barr Lake State Park. Watch Jennie's Interview here

National Council of Marketing and Public Relations Selects Three Red Rocks Finalists
Congratulations to our National Council of Marketing and Public Relations (NCMPR) Medallion Award Finalists for their outstanding work in our Marketing and Communications Department.
Laura Campbell's 50th anniversary calendar is a finalist in the Novelty Advertising category. Lindsey Moulton's new fox logo is a finalist in the Logo Design category. Polina Sarana's video series featuring our "You Are Welcome Here" and "We Are the Unity in Community" campaigns is also a finalist in the Video Shorts category. These awards recognize outstanding achievement in design and communication at community and technical colleges in each of NCMPR's seven districts. Gold, Silver and Bronze winners will be announced during the virtual awards ceremony to be held next month.

Student Life Produces New Cooking Show Series: "Modest Meals in Minutes"
RRCC's Student Life Department has launched "Modest Meals in Minutes", a cooking show using items that can be found in our non-need-based food bank with additional ingredients which can be purchased for less than $5 at a local grocery store. Upcoming recipes include Thai peanut noodles and bacon-wrapped mac-n-cheese cups. Watch the show's host, Student Life Specialist Matzen, make vegetarian black bean and corn chili in Episode 1: https://youtu.be/axfcA8lxaFM
Viewers can also find all the latest Student Life information in The Daily Dispatch. https://www.rrcc.edu/student-life)

RRCC Student at Work, Buck Adams is Co-Founder of Art for Redemption
Former Red Rocks student, Buck Adams, a veteran, social entrepreneur, and formerly incarcerated individual at the Arkansas Valley Correction Facility has established Art for Redemption™ to harnesses the talent, creativity, and human ingenuity of those inside the prison walls. While at the Correctional Facility, Adams began working with Defy Colorado, an independent nonprofit organization helping individuals with criminal histories create legal business ventures to bring his idea to life.
Adams created Art for Redemption™ with the vision to bridge the gap between prison culture and society, by allowing those behind prison walls to have a voice in the artistic community. The overall goal is to create a massive online community that can become the country's largest marketplace for artwork sourced from inside prisons where inmates are creating beautiful and unique pieces of art. Through this art, Art for Redemption™ is bridging the gap between incarcerated individuals and the world outside.
August 2020

RRCC Commitment to Excellence Award Recipients
The second annual Commitment to Excellence Awards celebrating community college professionals committed to improving the overall community college experience in our state was hosted on March 11, 2020 at the Governor's residence at the Boettcher Mansion. The awards were presented by the Colorado Community College System Chancellor Joe Garcia and RRCC President Michele Haney. Congratulations to the RRCC Commitment to Excellence Award recipients, Jeffrey Kaplan, Kelly Worden, Bob Miller, and Jennifer Eaves!

First-in-Nation Community College Collaboration Aligns Colorado & California Aerospace Hubs
First-in-Nation Community College Collaboration Aligns Colorado & California Aerospace Hubs It's a partnership that spans time zones — and will have students reaching for space. Red Rocks Community College and El Camino College in California have announced a first-in-the nation community college collaboration to create the "Space, Cyber & Supply Talent Development Center" (SCSTDC). The partnership bridges two different aerospace hubs and maximizes opportunities for partnerships with stakeholders that share economic and workforce development goals in STEM and the aerospace industry. Both colleges have shown strong results in aligning classes with jobs and helping people obtain workplace relevant experience. Read more here.

RRCC Awarded Grant to Help Low Income, First Generation, and Students with Disabilities Succeed in College
The U.S. Department of Education announced that Red Rocks Community College will receive a five-year federal Student Support Services grant of $261,888 annually to help more students succeed in and graduate from college. For more than 50 years, the TRiO Student Support Services program has made important contributions to individuals and society as a whole by providing a broad range of services to help students succeed. This vital program can and does make all the difference.
For more information, click here.

Out with the Old, In with the New - Mascot
The new and improved official fox mascot logo was recently revealed to the RRCC community. We hope you will start seeing our new mascot in more and more places this year. If you would like to help us share our new fox with the world, please submit a request via the FORMSTACK on the marketing-communications web page.

RRCC Collaborates on Documentary Because of George
A documentary film, "Because of George," is being developed in collaboration with the Red Rocks Community College Theatre Arts and Dance and Visual, Audio, and Media Arts Departments and Black, Indigenous and People of Color (BIPOC) artists. The aim of the collaboration is to inspire change, add voices to the conversion and learn from each other. RRCC students and staff are assisting filmmaker/director Dina Gilmore and producer/music director Magenta Freeman on the project

Knitting4Peace (K4P) Partners with RRCC to Deliver Handmade Blankets to RRCC Students Experiencing Housing Insecurity
Knitting4Peace (K4P) Partners with RRCC to Deliver Handmade Blankets to RRCC Students Experiencing Housing Insecurity. We asked for 15 blankets or quilts for a special need, and received 51! The joyful handoff of this donation took place at The Action Center, in Lakewood Colorado, with Kelly Jo Eldredge of Red Rocks Community College Peace Pod, K4P Board Chair Julie Meyers and K4P Executive Director Mary Ellen Garrett. Thank you to all who stepped forward to make and donate these beautiful items, which will warm and welcome college students as they move into a new shelter being opened for students experiencing housing insecurity. Read more here.
July 2020

Advisor Jenni Hadden Named Outstanding Educator
Each year, the University of Colorado Boulder recognizes hard-working community college professionals who go above and beyond to support transfer students in their educational advancement. The 2020 Red Rocks Community College (RRCC) Outstanding Educator Award winner is Jennifer (Jenni) Hadden. Hadden is the Science, Technology, Engineering, Math (STEM) Pathway Advisor on the RRCC Lakewood campus.

Angela King to Lead Red Rocks Community College Foundation
RRCC has found our new Executive Director of Institutional Advancement at Red Rocks Community College. Angela King succeeds Ron Slinger in overseeing the College's Foundation and championing the College's mission and its commitment to students, learning, and excellence. King has been working on behalf of community college students for the past 12 years, most recently as Associate Director at Front Range Community College's Foundation. We are proud to have her join our Fox Family!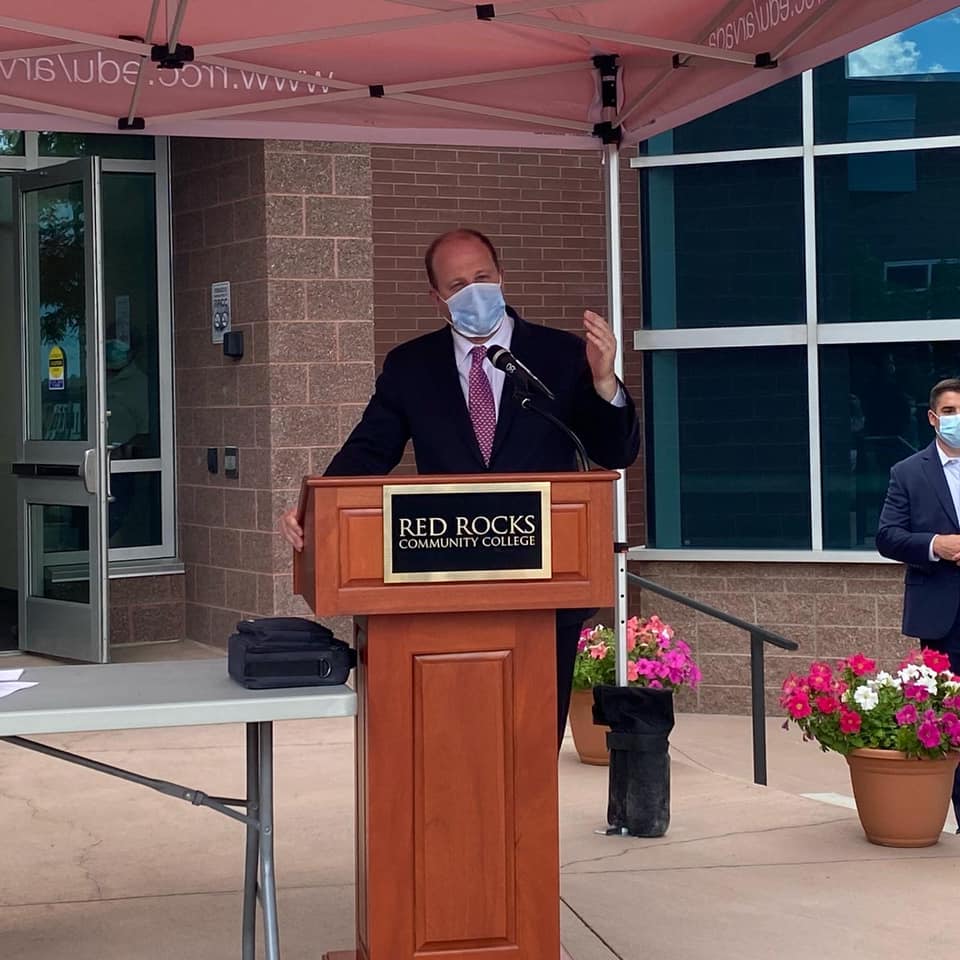 Governor Signs Education Bills at RRCC Arvada Campus
On July 8, 2020 Red Rocks Community College hosted Governor Jared Polis in a bill-signing event for several education higher education and mental health bills. You can watch the signing here: https://youtu.be/3-0Q2h6kaqs
The bills being signed here include:
SB20-009: Expand Adult Education Grant Program
HB20-1407, College Admission Use of National Test Score
HB20-1002, College Credit for Work Experience
SB20-175, Assessment Score on A Student's Transcript
SB20-183, Definition of State Agency for SIPA Statewide Internet Portal Authority Services
HB20-1312, Behavioral Health Training Requirements Educator License
HB20-1113, Mental Health Educational Resources

Coordinator Revising Outdoor Programming Post COVID-19
Ben Wygant, Intramural and Adventure Coordinator for the Student Recreation Center, shares aspiring plans for the future of outdoor programs with Campus Rec Magazine. Ben, alongside other outdoor professionals, discusses ways in which students may continue to engage in outdoor and adventure programs, while also being cognizant of CDC and state COVID-19 regulations and guidelines. Read more about it here: https://campusrecmag.com/outdoor-programming-post-covid
The RRCC fall semester will consist of remote, online and hybrid course options and the recreation center will be closed. Without face-to-face instruction, the Red Rocks Adventure Program will be minimal and heavily adapted based on CDC/state/college and outdoor industry guidelines. However, several local day trips that follow social distancing, mask and hand washing protocols, and minimized use of shared equipment are planned to allow the recreation center to continue serving students this fall.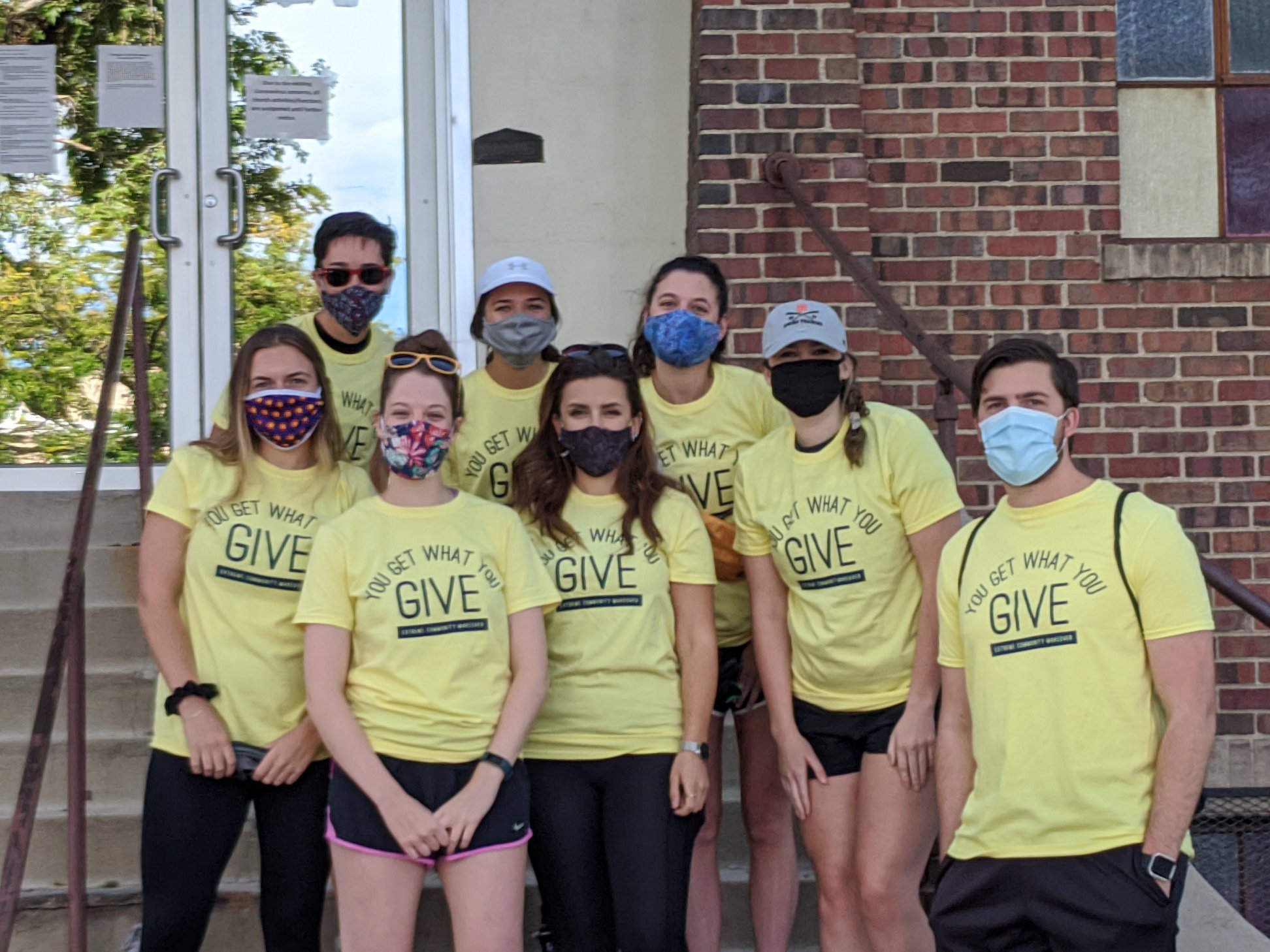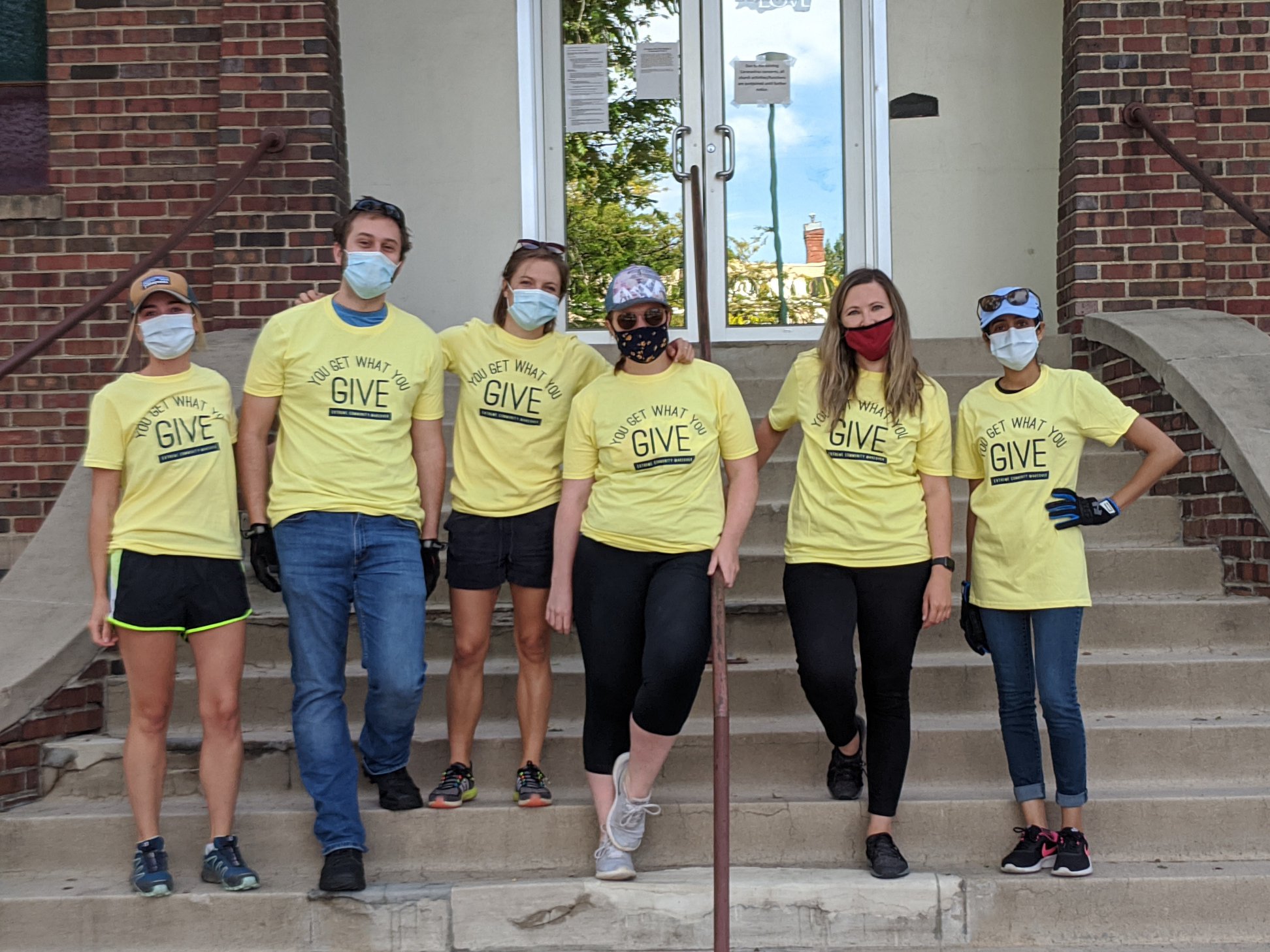 PA Program Volunteer Group
Extreme Community Makeover is known for helping our volunteers enjoy their experience by making sure all the details of the volunteer days are organized and efficient. In the era of COVID-19, volunteering looks a little different, but volunteering can still happen in a safe way. Our Physician Assistant Program was the first volunteer group for 2020!
Read more about it here: https://www.extremecommunitymakeover.org/uncategorized/ separated-but-together-volunteering-in-the-era-of-covid-19

PHYSICIAN ASSISTANT PROGRAM GRADUATION!
The Physician Assistants program recently held their 2021 graduation ceremony. This is a rigorous 27-month state sponsored, national accredited program located on our Arvada campus.
RRCC STUDENT NAMED AIGA COLORADO STATE DESIGN SLAM CHALLENGE WINNER
Joseph Swaverly Wins 2021 Virtual Colorado Design Slam
Joseph Swaverly, a student at Red Rocks Community College (RRCC), was named the Colorado State Design Slam Challenge Winner by AIGA Colorado. Joseph was one of many students from 14 different schools who competed on October 29, 2021. After winning a first round challenge, Joseph moved into the final round. After 20 minutes of intense head-to head competition he was named the Grand Prize winner. For his award-winning design, Joseph received a Wacom One drawing tablet.
Design Slam is a creative problem-solving competition for art and design students. Design students from regional schools compete head-to-head to solve visual problems in front of a virtual and in-person audience. The competition consists of three four timed challenges and a final round before a grand prize winner is determined.
"It was really exciting to compete as a designer. Every Design Slam is like a test to see where I'm at so far, and I can't wait to come back next year as a better designer than last year," says Joseph. He is currently working towards an Associate of Applied Science degree in Graphic Design and Print Production. He is expected to graduate from RRCC in the spring of 2022.
"Design Slam is amazing opportunity for our graphic designers to test their skills in a highly competitive arena," says Paul Weinrauch, the Department Chair of the Visual, Audio, and Media Arts (VAMA) program at RRCC. "We are so thrilled to see one of our students thrive at this year's design slam and win the grand prize."