News from the President

February 2020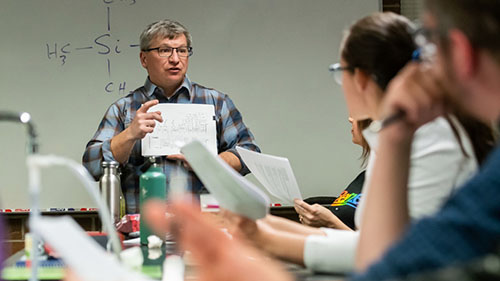 Books on a Budget
In an effort to make textbooks less expensive, colleges are using open education resources. We are leading the pack by developing degree paths that will require fewer textbooks, be the end of the spring semester, our students will be able to complete an associate's degree with 95% of their classes using OER. (open education resources)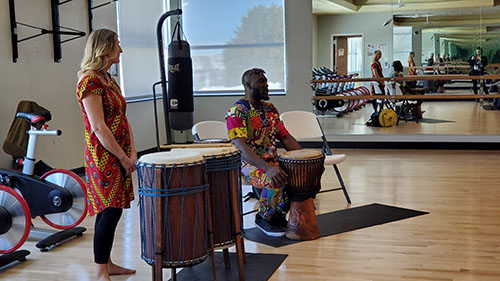 Rhythm and Motion
In observation of Black History Month, the SRC, the Black and Brown Student Association (BBSA), and our Inclusion and Diversity department celebrated the African and African American cultures through the sharing of African inspired dishes and through cultural dance. We were accompanied by Ghana Emmanuel Nii Bortey Annang, the founder of Soul Rhythm African Drumming, a Colorado based company specializing in traditional West African drumming and dance.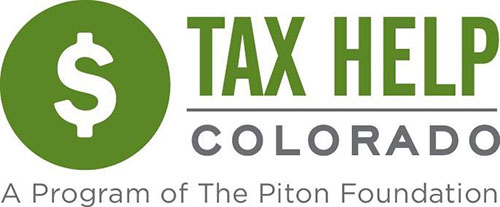 Tax Help Colorado
Red Rocks Community College is partnering with the Denver-based Piton Foundation for the 15th annual Tax Help Colorado program. This program is to help hard-working families become more financially secure by providing free tax preparation services. Beginning February 8, IRS-certified Red Rocks Community College students are preparing and filing tax returns free of charge for individuals with household incomes of less than $56,000 in 2019.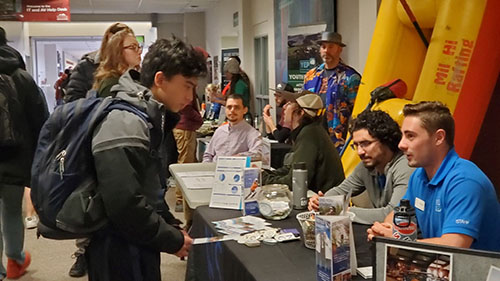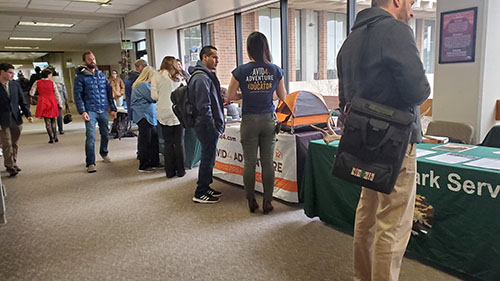 Outdoor Education and Park Ranger Career Fair
Red Rocks Community College hosted its 5th Annual RRCC Outdoor Education and Park Ranger Career Fair on Wednesday, January 29. The event included 38 employers seeking qualified employees for full time and seasonal positions. The career fair provided students with an opportunity to connect with companies within the Outdoor or Park Ranger industries.
January 2020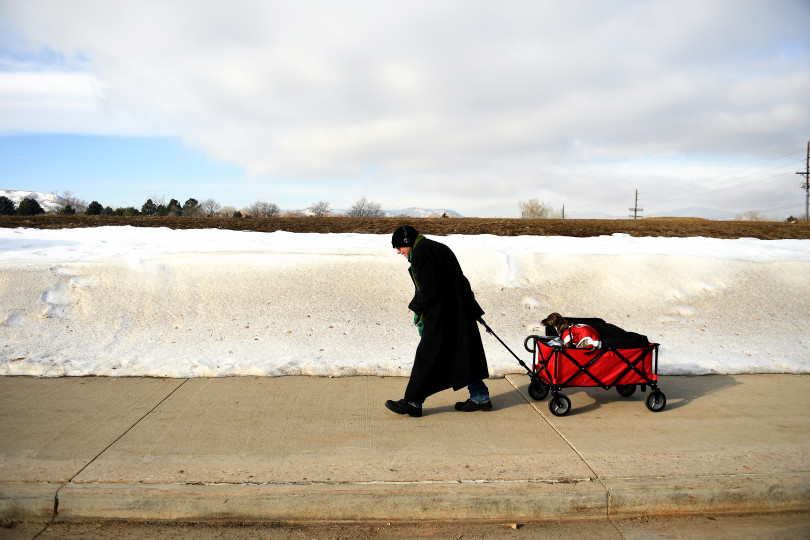 The Action Center
Red Rocks has partnered with The Action Center, a Jefferson County nonprofit organization that offers food, clothing and housing to those in need, to establish The Launch Pad to provide temporary housing for a dozen students.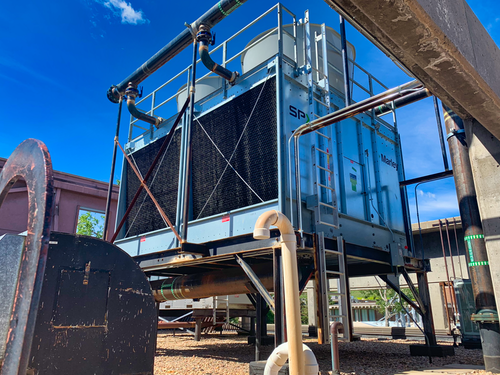 BOR Grant to Aid Water Purification and Desalination Pilot Study at Red Rocks Community College
Backed by a U.S. Bureau of Reclamation (BOR) grant, Garver's Water Technology Team, Mickley & Associates, and Red Rocks Community College are teaming up for an 18-month pilot study aimed at further protecting Colorado's valuable water supplies. Garver's water technology experts and RRCC staff and students will work alongside Dr. Mike Mickley, an internationally recognized brine-management expert.
RRCC Named One of the 13 Best Electrician Trade Schools in the World
As ranked by study.com, our electrical program was named one of the best trade schools in the world.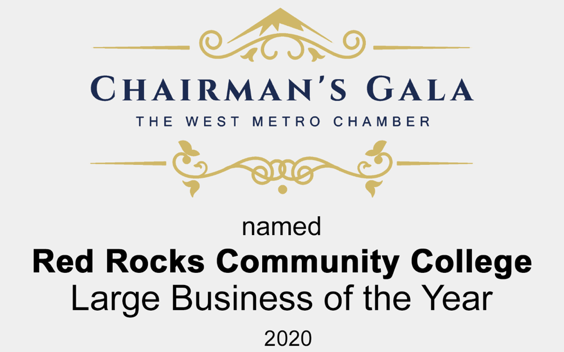 The West Metro Chamber selected RRCC as the 2019 Large Business of the Year
The Chairman's Gala was held on January 31 at the Marriott Denver West, where the award was presented to the college. We offer our gratitude to the West Metro Chamber for this wonderful honor.
December 2019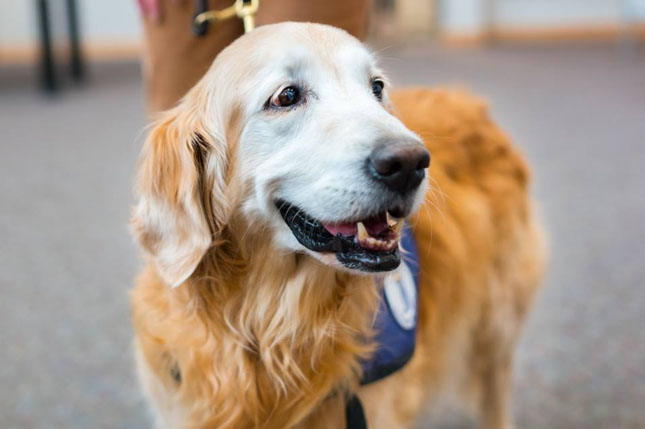 Pet Partners Visit
In collaboration with the RRCC Healthy Minds Resource Center which promotes student emotional well-being, Pet Partners brought therapy dogs to The Great Hall to help students de-stress during finals week.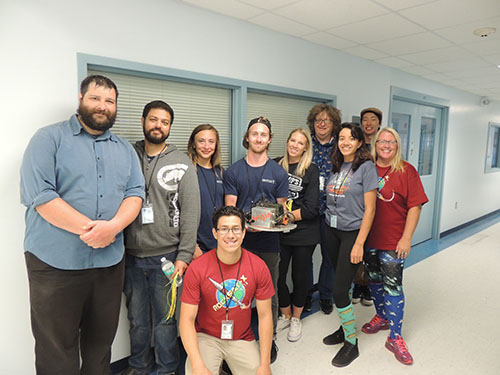 NASA RockSat-X Team
For the final Hot Topic Speaker of the fall semester, members of the NASA RockSat-X Team gave a presentation during the STEM Expo Event.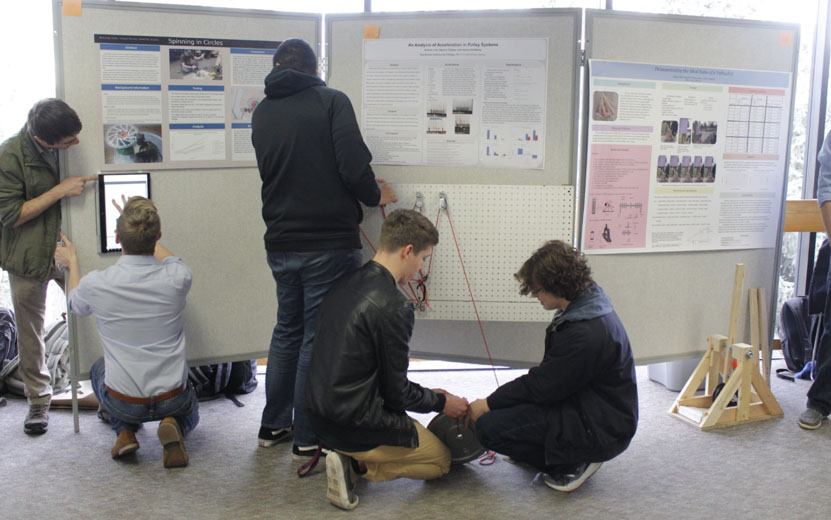 STEM Expo
Students had the opportunity to present their projects in the form of posters, artwork, and demonstrations, all of which were on display on The Bridge.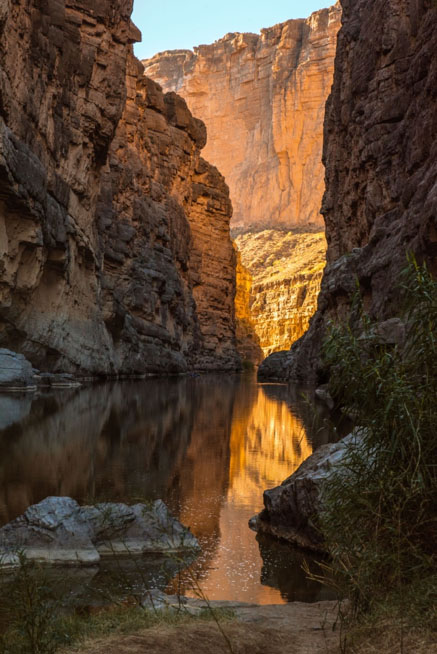 Big Bend National Park Adventure
To finish out their fall semester, several students were able to enjoy a float trip on the Rio Grande River through Big Bend National Park while also exploring Guadalupe Mountains and Carlsbad Caverns.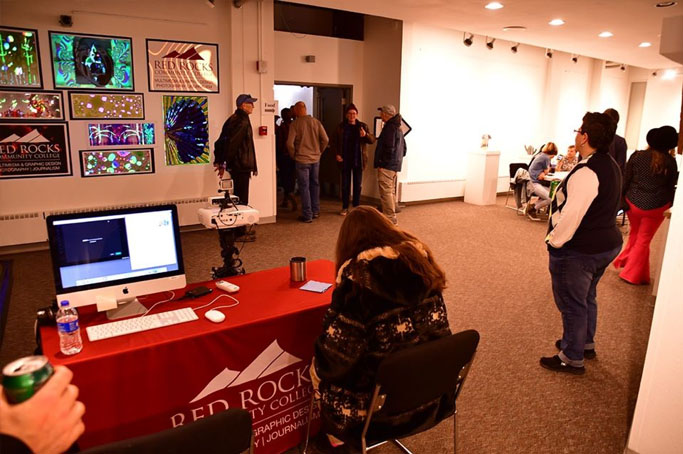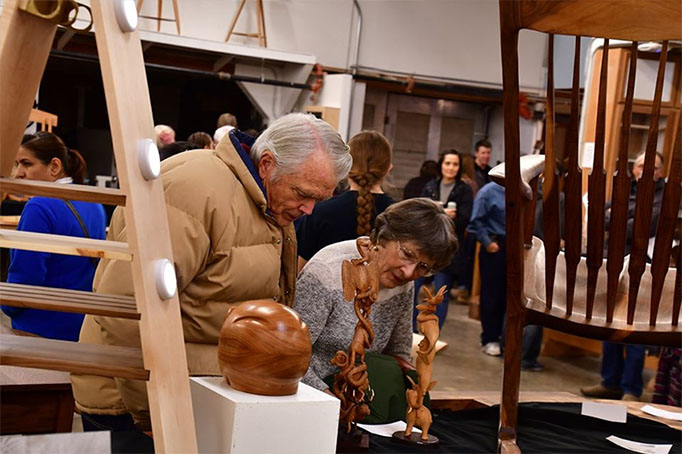 Visual and Performing Arts Student Exhibition
This exhibition was open to the public and featured art, photography, woodworks, live music, and theatrical performances from students in various RRCC Visual and Performing Arts Programs.
November 2019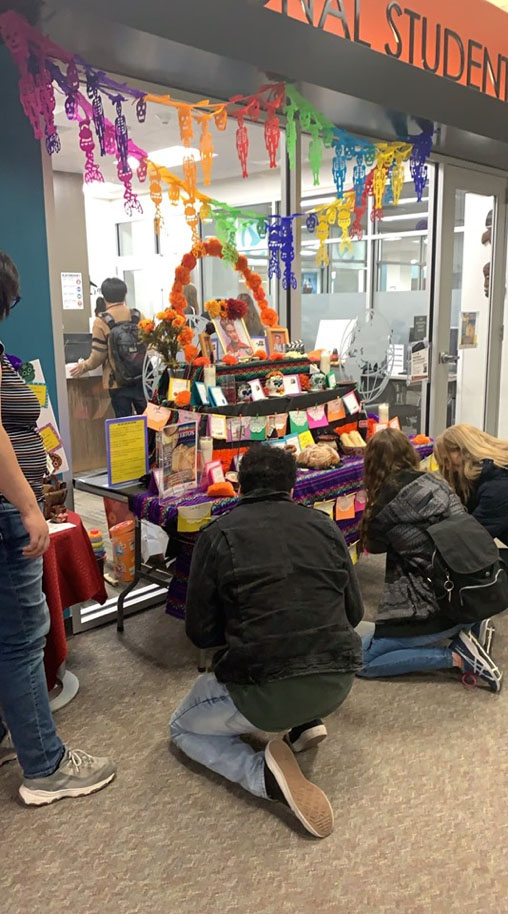 Dia de los Muertos
In celebration of Dia de los Muertos, the International Student Services Center provided a traditional, decorated altar, giving students the opportunity to honor loved ones.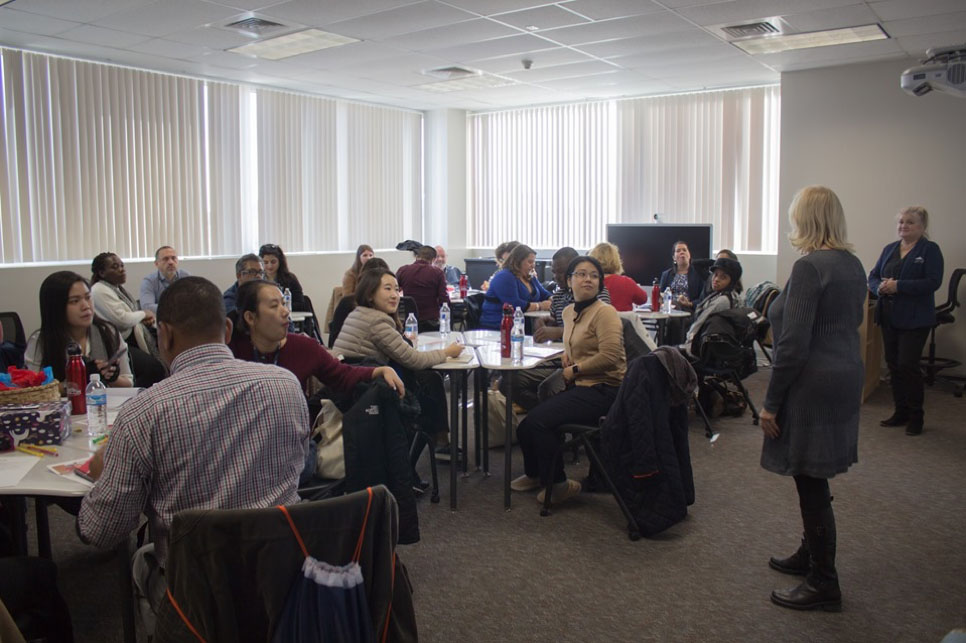 EducationUSA Visit
EducationUSA Advisors from 24 different countries visited RRCC to learn about the U.S. Community College System and higher education in Colorado. The advisors took a campus tour and checked out the International Student Services Center. Later, advisors were able to speak with both international students and professors.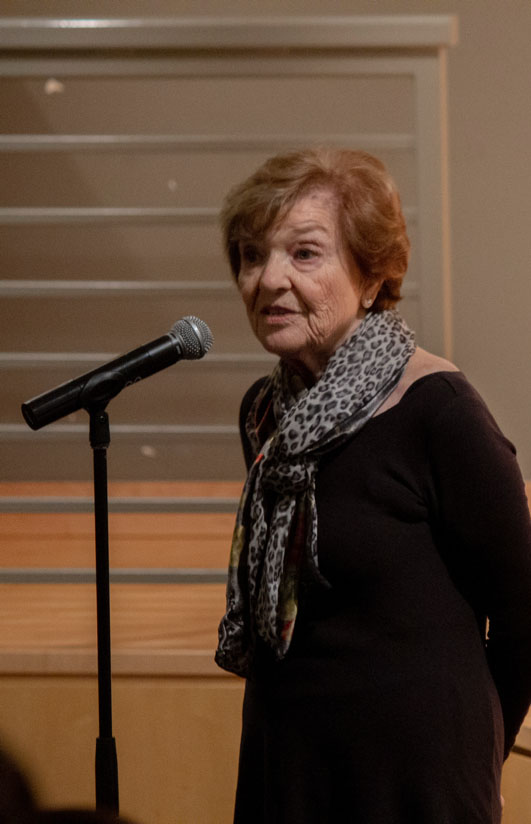 Remembering the Holocaust
Holocaust survivor, Estelle Nadel, shared her story with students, staff, and faculty in The Den on November 7th. Nadel was born in Poland, where she was a young child during the war. She hid in an attic with one of her brothers for two-years, until taken by Gestapo. She escaped from prison by squeezing through window bars and jumping a fence, and was helped to safety at an aunt's house, where they hid for two more years. She moved to America with her brothers after liberation, and was placed in foster care.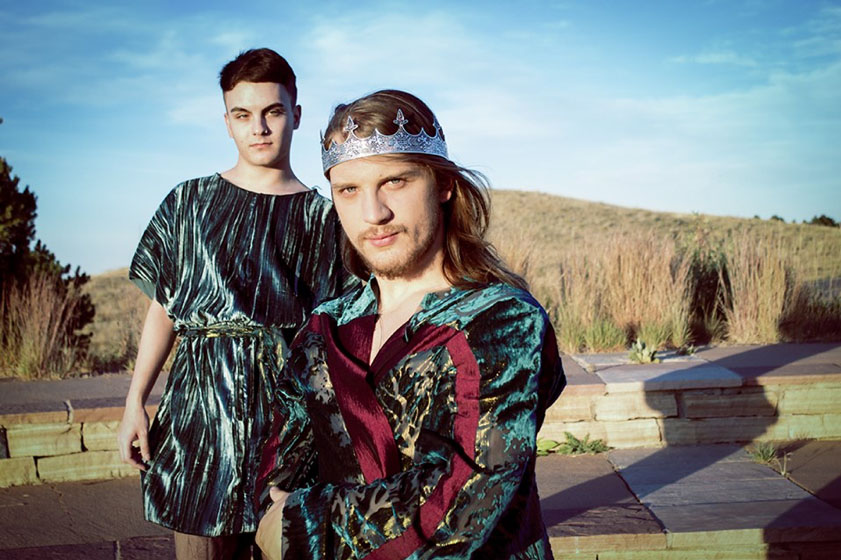 Macbeth
IRRCC Theatre Arts and Dance presented the iconic tragedy of Macbeth, written by William Shakespeare and directed by Wren Barnes. It was performed in the Red Rocks Community Theater on November 7th, 8th, and 9th. For this production of Macbeth, many roles in the show were performed by actors of the opposite gender than performed traditionally.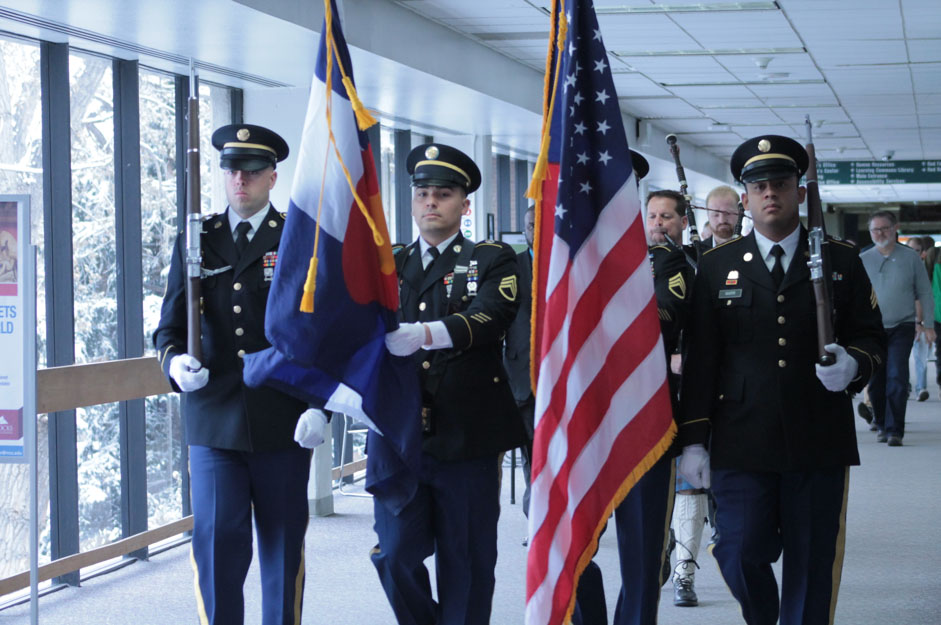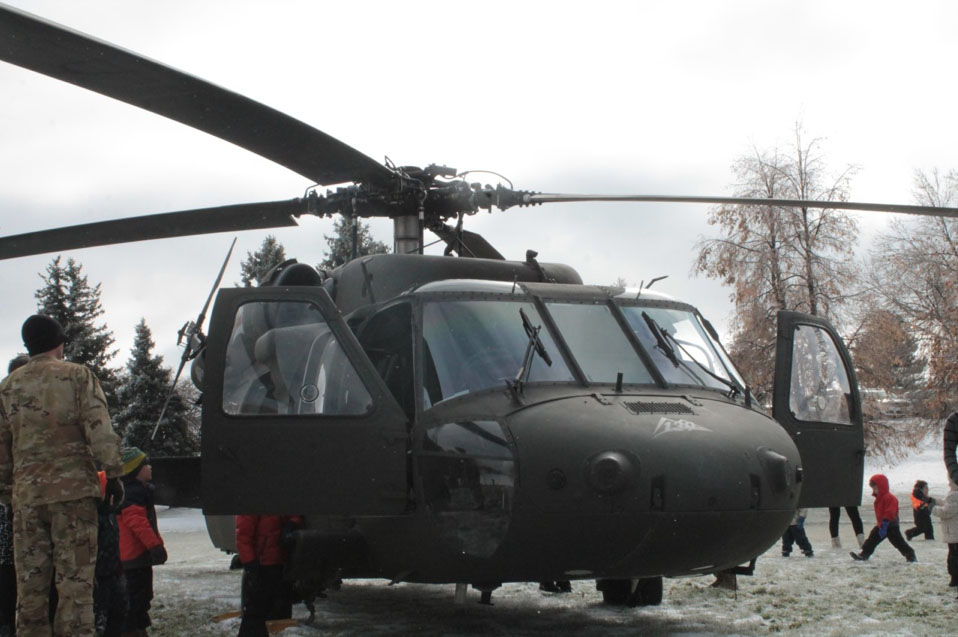 Veterans Day Celebration
ARRCC honored those who have served with several events including a flyover above campus, procession down the Great Hall with a bagpiper, POW/MIA Empty Table Ceremony, and a panel of poetry and passage reading hosted by the RRCC Student Veteran Association (SVA).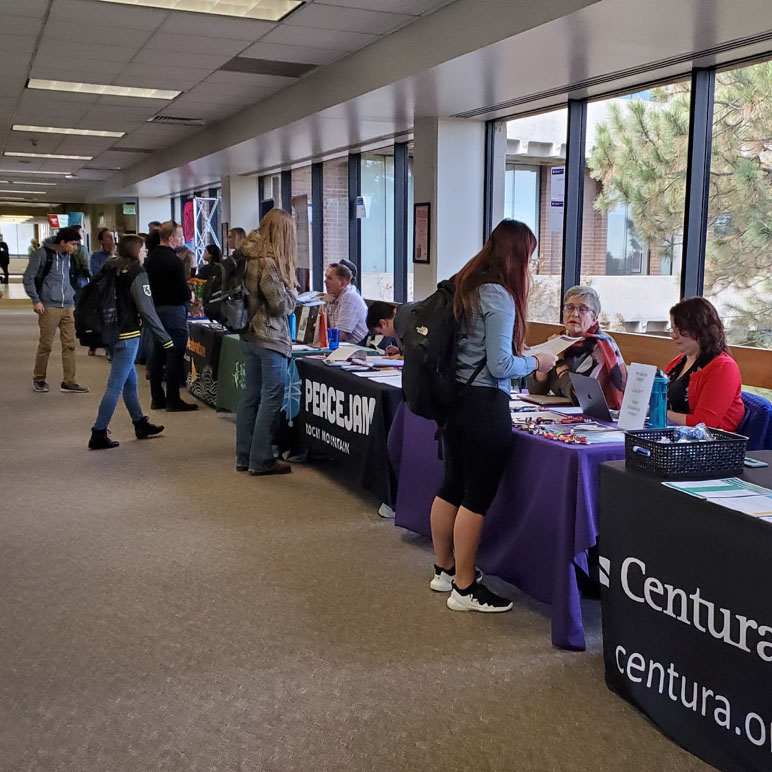 Internship Fair
In celebration of National Apprenticeship Week (Nov 11-17) and Colorado Apprenticeship Month, RRCC hosted an Internship Fair on The Bridge where students could engage with various employers offering internship opportunities. Some of the attending organizations were Colorado Parks and Wildlife, City of Denver, Martinez Associates, Museo de las Americas, and many more.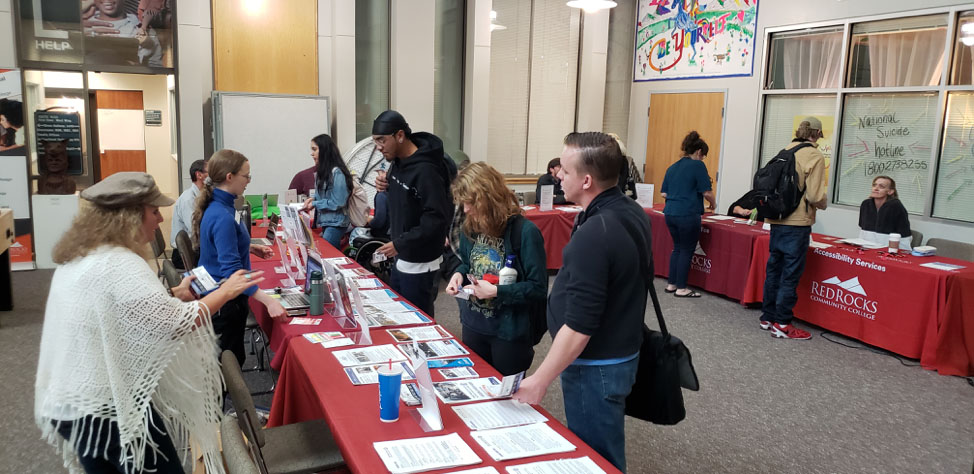 Money Matters Fair
Students had the opportunity to participate in an interactive fair in which they could learn more about planning for academic and financial success. The fair had a travel theme with the destination being academic and financial success and the trip itself serving as the academic and financial journey. Students picked up a Financial Boarding Pass and were entered into a drawing for a $500 tuition certificate if they correctly answered the 6 questions on the pass. Students also received assistance with 2020-21 FASFA completion and were able to meet RRCC's Work Study Coordinator for more information on available on-campus jobs.
October 2019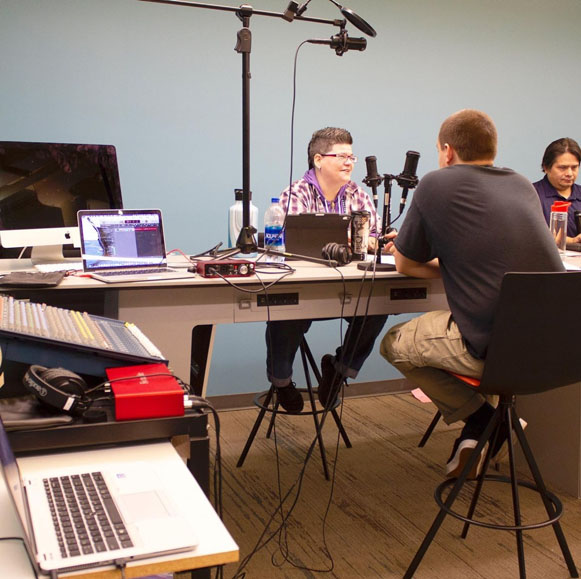 Radio Red Rocks
Radio Red Rocks, RRCC's new internet radio station, launched on Oct. 1st and is available for streaming at rrcc.edu/radio-red-rocks.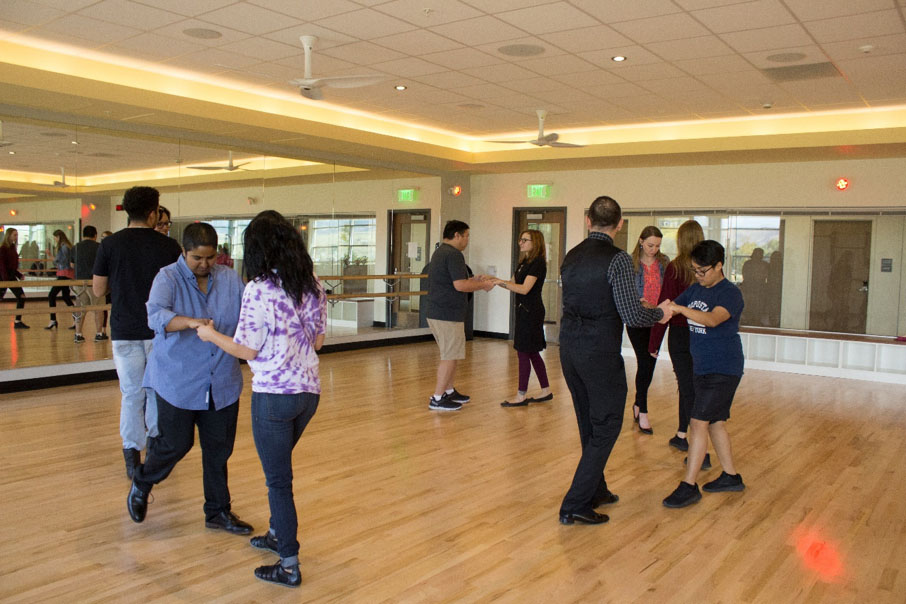 Salsa & Salsa Party
For the culminating event of Latinx Heritage Month, The Student Recreation Center (SRC) hosted a Salsa and Salsa Party. Students first enjoyed a delicious salsa bar before participating in a Salsa dance lesson led by a professional dance instructor from Arthur Murray Dance Studio.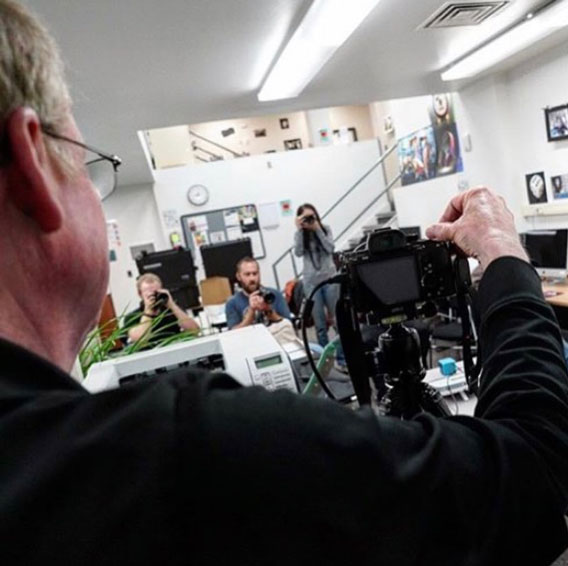 Veteran Art Initiative
Through a partnership with The American Society of Media Photographers, RRCC hosted a free 4-hour photography and printing workshop for veterans, providing instruction and hands-on experience. Their completed projects will be displayed in a Gallery at RRCC in November. For more information on the event or to register, click here.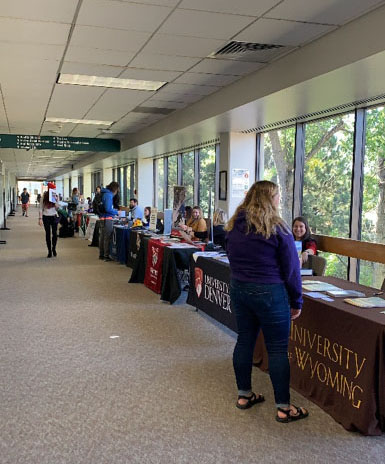 Transfer Fest
In celebration of Colorado Free Application day, RRCC held a Transfer Fest for students. This event offered an informative session on the transfer process from various transfer representatives and RRCC Alum. The representatives later provided assistance in completing transfer applications and personal statements.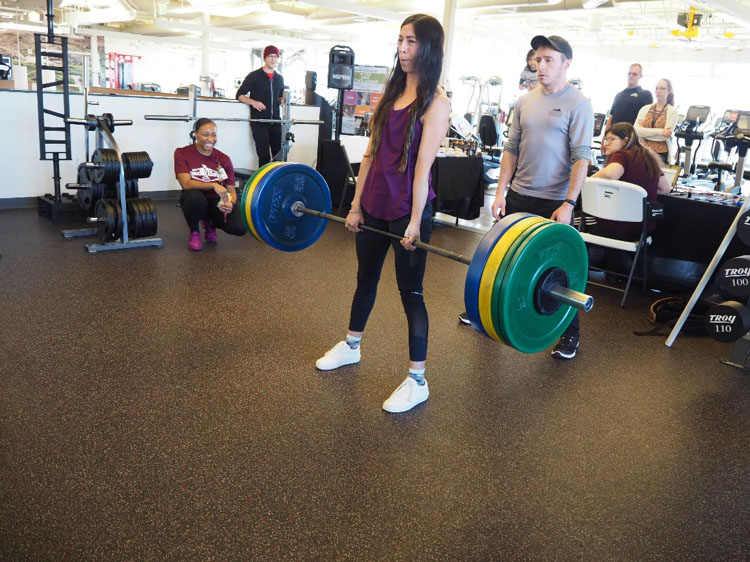 Strong as a Fox 1st Annual Deadlifting Competition
As part of their FIT-WELL Programs, the SRC hosted their 1st Annual Deadlifting Competition to allow students to test their strength. The competition offered both men and women weight divisions with each participant being judged on their best lift out of 3 attempts.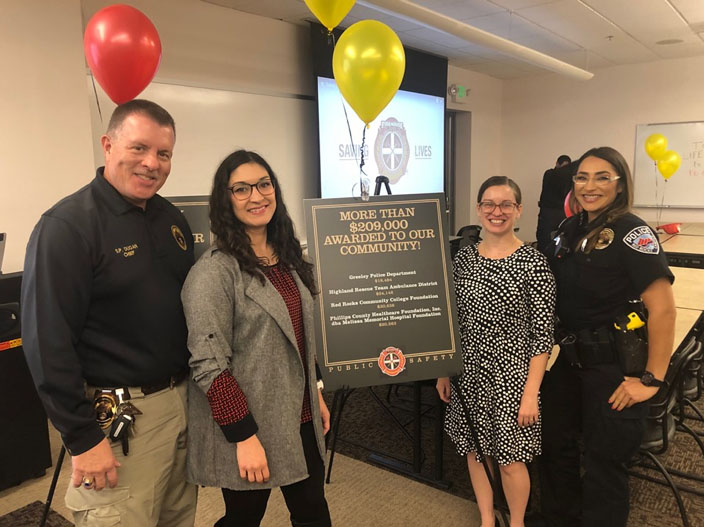 Grant from Firehouse Subs Public Safety Foundation
RRCC Foundation was awarded a $30,636 grant from Firehouse Subs Public Safety Foundation. These funds will be used to purchase new radio equipment for the RRCC Campus Police Department.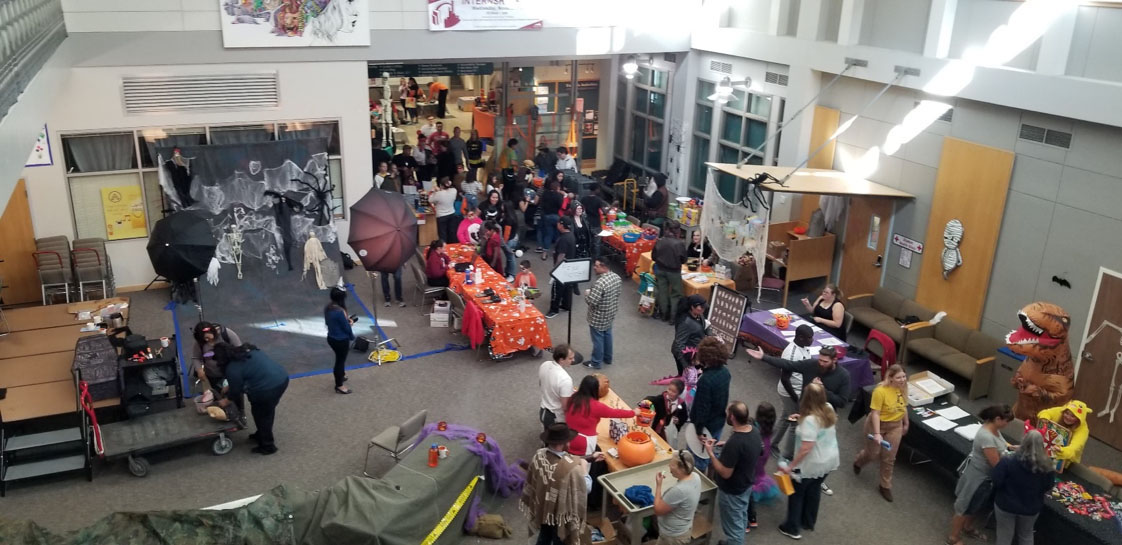 Trick or Treat Street
RRCC provided a haunted house, games, food, and candy for children (12 and under) of staff, students, and faculty. Approximately 300 individuals attended the event. The RRCC IDEA Institute provided Introduction to Engineering students with the opportunity to build the haunted house.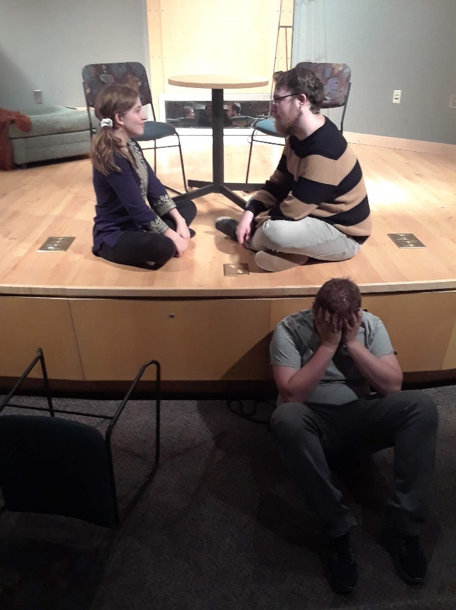 Shut Up and Let Me Talk
RRCC Theatre Arts and Dance presented the U.S. premiere of Shut Up and Let Me Talk, adaption by Maru Garcia, based on an original play by Humberto Leyva. The performances took place in the Den at RRCC.
September 2019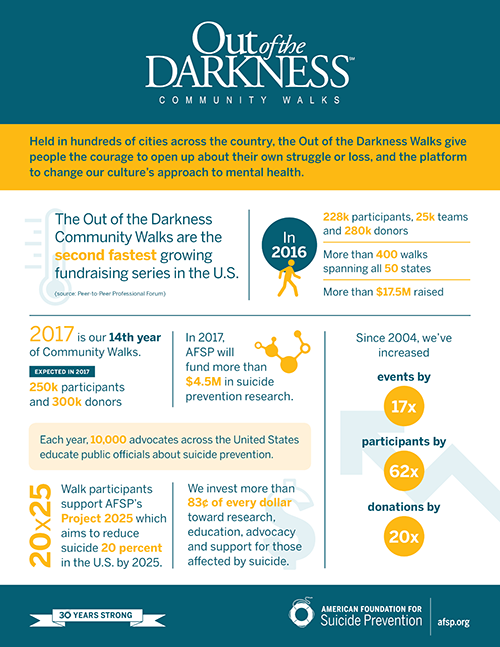 Out of the Darkness Denver Metro Walk at Coors Field
In support of the mission of the Red Rocks Community College (RRCC) Healthy Minds Resource Center, students were able to join over 4,000 individuals in a 3+ mile walk hosted by the American Foundation for Suicide Prevention (AFSP). This was the 5th annual Denver Metro Out of the Darkness Community Walk that serves to bring awareness and raise money (through donations) for AFSP which will be used to conduct research, develop beneficial programs and policies, and help those who have suffered the loss of a loved one. Attendees were also able to check out the accompanying Resource and Exhibitor Fair tables offering representatives from mental health organizations and other supportive businesses.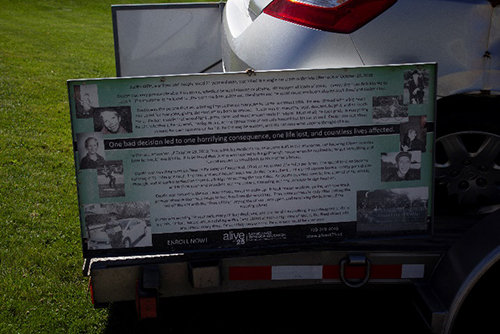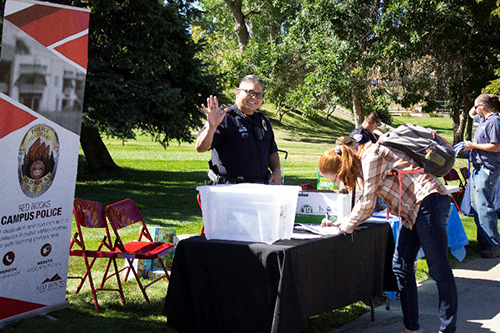 Safety Fair Lakewood Campus South Lawn
On Wednesday, September 25th RRCC Lakewood hosted a Campus Safety Fair on the South Lawn providing safety tips, demonstrations, giveaways, vendors, RRCC academy information, and the launch of the eBodyGuard app. The Fair ran from 11 am – 3 pm and was open to the public, as well as students and faculty. For more information about the RRCC Emergency and Public Safety Department visit https://www.rrcc.edu/emergency-public-safety. To learn more about the upcoming eBodyGuard app visit https://youtu.be/wFnYopQByxQ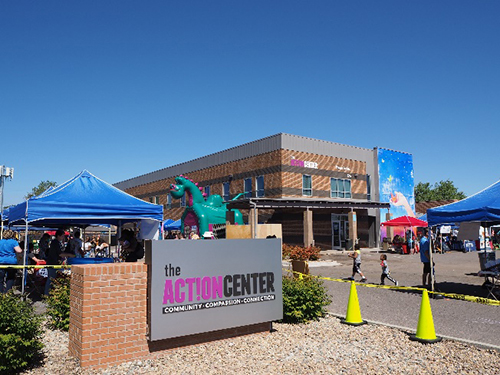 Action Center partnership with RRCC
Through a partnership with RRCC, The Action Center announced on September 14th that it will be reopening its overnight shelter, providing 6-12 students with housing each semester. Of all the stressors of college life, one of the most pressing for some students can be housing security. "By providing students a place to call home, we are helping them build a pathway to success, which will hopefully lead them to do bigger and better things" – Dr. Michele Haney.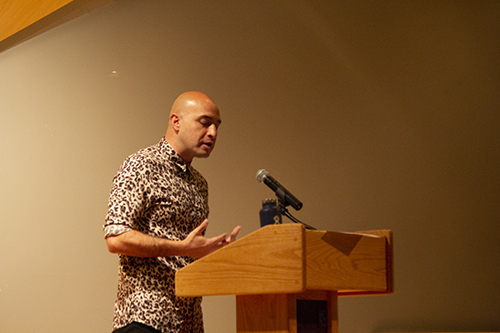 Latinx Heritage Month
RCC offered various events in celebration of Latinx Heritage Month which lasted from September 16th to October 15th. Colorado Poet Laureate, Bobby Lefebre gave a very powerful performance concerning topics of social justice in The Den on September 18th.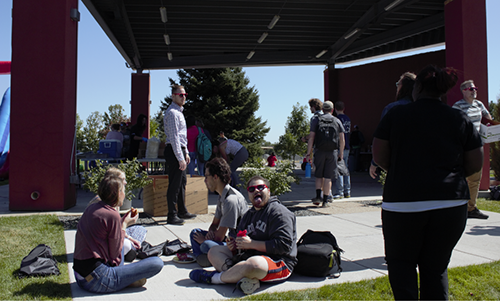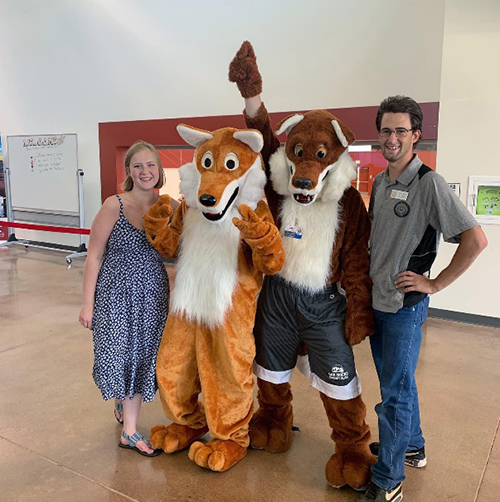 Party on the Rocks
On September 12, 2019, we threw a Party on the Rocks in celebration of Red Rocks Community College's 50th Anniversary. The event was open to students, staff and community members. Food, drinks and snacks were provided and tons of fun. There was a giant inflatable obstacle course, a huge game of beer pong played with 3 foot cups and soccer balls (no beer), Archery tag, music and much more.
August 2019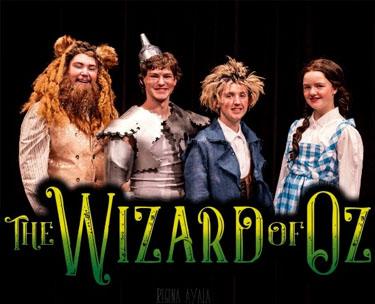 August 1-4 Wizard of OZ
Red Rocks Community College (RRCC) Theatre Arts and Dance in collaboration with Westminster Public Schools presented The Wizard of Oz. Audience members were treated to a unique combination of nostalgia for the classic movie and also a new twist for this production—steam punk Oz. A collaborative artistic team from RRCC, Westminster Public Schools, and the professional theatre community in Denver combined their talents over the summer to work with students and community members to create a memorable experience. RRCC engineering students in the IDEA Institute also contributed by creating the imposing Oz head, complete with robotic bells and whistles.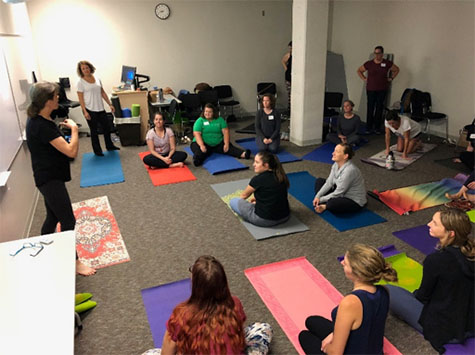 August 12 Core Interpreters
CORE Interpreters is launching here in Colorado! A team of sign language interpreters are collaborating to make the field a better place for all. CORE Interpreters exists to provide a space for sign language interpreters to grow their skills and develop a network among other interpreters through mentorship CORE is an innovative and dynamic mentorship program designed to give interpreters at various levels a chance to grow, network, and support each other in developing their skills.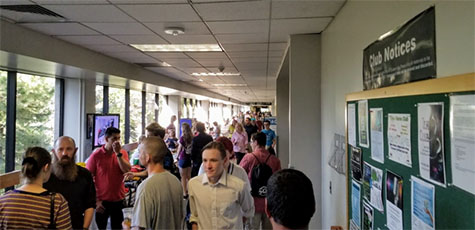 Aug 13 Welcome Night
RRCC Lakewood campus launched our 50th anniversary with the 2019-2020 school year at Welcome Night with lots of fun events for new students. With 1,000 people in attendance including friends and family, Student Life and the Rec Center had games, clubs, door prizes, swag, and snacks for attendees.

50th Anniversary
Established in 1969, Red Rocks Community College delivers high-quality, affordable education programs leading to two-year degrees or professional certificates. Red Rocks is the first Community College to offer a master degree in physician assisting as well as a bachelor degree in Water Quality. The College serves over 13,000 students per year online and at campus locations in Lakewood and Arvada. Help us celebrate our 50 years throughout the year with lots of events for students and the community. If you would like to know more about our 50 years visit our website at www.rrcc.edu/50
July 2019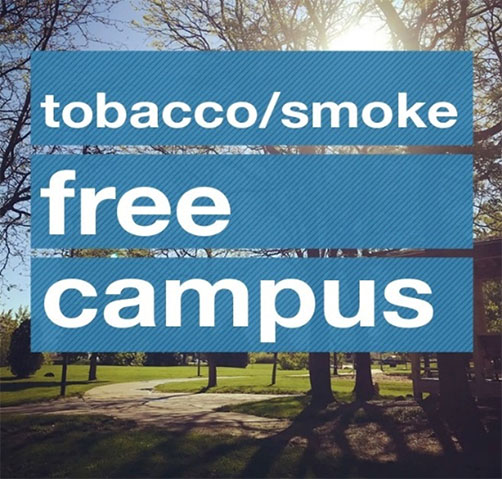 Smoke Free Campus Effective July 1st
On November 2, 2018 the Governor of Colorado enacted an Executive Order making all State owned or leased buildings and grounds 100% tobacco-free. The campuses of the Colorado Community College System are covered by this order. On July 1, 2019 the policy went into effect on the Red Rocks Community College (RRCC) campuses/properties. Smoking and vaping in any form (cigarettes, pipes, water pipes/hookah, electronic smoking devices, etc.) and all other forms of tobacco use (use of chew, snuff, snus, dip, etc.) is prohibited on all properties of RRCC, including in buildings, parking lots, recreational areas, and all areas currently designated for tobacco use. Use is permitted only in areas that are not State/RRCC property.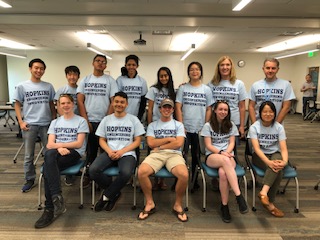 John Hopkins University Ceremony July 19th
RRCC partnered with Johns Hopkins University (JHU) to offer a summer program, Engineering Innovation, for high school students. Students learned to think and problem-solve like engineers as well as have the opportunity to earn JHU credit at RRCC. Over the course of the program, students completed lab activities in civil, chemical, electrical/computer, mechanical engineering, and materials science.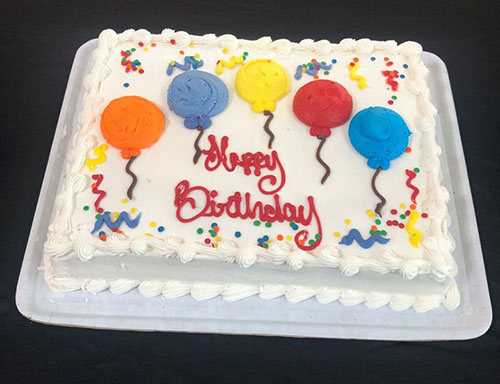 Student Rec Center Turns Two
Red Rocks Community College celebrated the Second Anniversary of the Student Rec Center. The Student Rec Center features cardio machines, weight training area, basketball courts, climbing walls, and fitness classes. This past year the Student Rec Center added personal trainers to their team, received massage chairs, and opened up a Rest and Relaxation room for all of the paid members. Red Rocks Community College believes that in order for students, faculty, and staff to succeed, they need to be happy and healthy.
Cyber Security Finishes in the Bronze Level
Congratulations to our Cyber Security Team! They did an awesome job at the competition in Singapore. Yoanna Akis, Matt Adrian, Collin Erickson, and Wesley Reeves finished in the bronze level! Many thanks to LogRhythm for making all of this possible.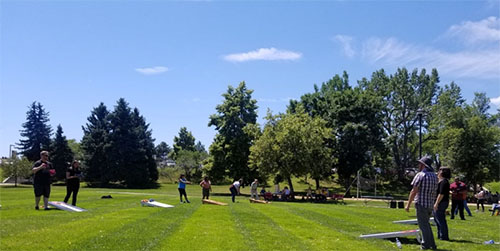 Employee Appreciation Picnic July 24th
Red Rocks Community College recognizes all of the hard work that the faculty, staff, and student workers put in to keeping the college running. In order to show their gratitude, Red Rocks Community College held an Employee Appreciation Picnic on July 24th. Employees got to play games while enjoying food provided by Food Services.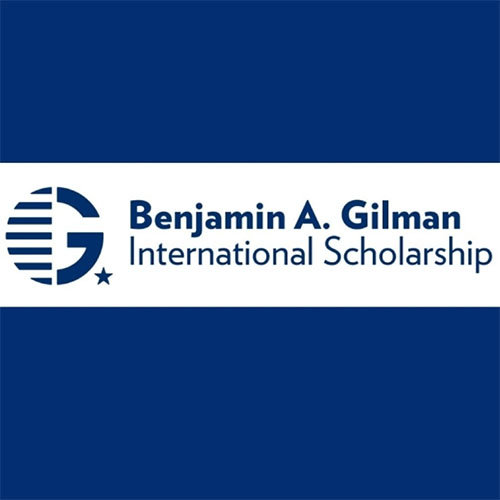 Gilman International Scholarship Award
Two of our students, Hunter Ambrose and Michael Tsarveski have been awarded the Gilman International Scholarship. Hunter Ambrose used her scholarship to study in India to complete her Anthropology of Religion and Buddhism (Philosophy) degree and Michael Tsarveski will be using his scholarship to study International Relations and Russian fluency at the National Research University in Moscow, Russia. Congratulations to them both!
June 2019

RRCC Cyber Security Team Travels to Singapore
Boulder, Co.-based cybersecurity company, LogRhythm, contacted Joe Murdock, the head of the Cybersecurity Team, to offer some generous support. Thanks to LogRhythm, the Red Rocks Community College Cybersecurity Team will be the only U.S. team traveling to Singapore in June to compete in the Cyber Defenders Discovery Camp (CDDC) hackathon. They will be competing against over 600 different teams from various countries. This is an amazing venture and opportunity for our team.

Camp Ember May 30th - June 2nd
Denver West Metro held Camp Ember for the third year in a row. Camp Ember is a partnership between West Metro, the Arvada Fire Department and Red Rocks Community College that is a 4 day, 3 night immersive introduction to the fire service for young women ages 16-18. The camp is located at the West Metro Training Center, where the young women can practice firefighter skills, including hose movement, and working with live fire.

PA Boot Camp June 3rd - 7th
Each year, the Red Rocks physician assistant students undergo an intensive weeklong, hands on learning experience. Throughout the week students learn procedural skills including suturing, airway management, lumbar puncture, casting and splinting, wound management, and ultrasound. Additionally, students have the opportunity to perform procedural skills on the cadavers including placing chest tubes, central lines, and joint injections. Students also learn about patient consent, how to speak with patients about the procedure in understandable terms, how to practice safe and sterile technique, and work in teams.

Welcome Day June 5th
The Lakewood Campus had their Welcome Day in the Great Hall, providing students the opportunity to speak to staff and faculty regarding which services are open for the summer, where they are currently located, and where they will be once the dust settles.  Students also received free pancakes courtesy of Student Life and were encouraged to participate in a scavenger hunt to enter to win a $500.00 tuition voucher.

Arvada Welcome Day June 5th
The Arvada Campus had their Welcome Day in the Main Hall. New students were able to ask staff and faculty about different services offered on campus, along with information about the different Health Science courses offered at Red Rocks Community College Arvada Campus. Student Life held a cookout for Welcome Day as well.

Launch Day of Roxon Workshop June 20th
Launch day is here! Arapahoe Community College, Community College of Aurora and Red Rocks Community College sent students to the Rockon workshop at Wallops to learn and train to be the core of our next RockSat-X project.  Students saw their experiments loaded into the sounding rocket after a week of testing and building at Wallops. Launch took place on June 20.

Kipling Sign in Arvada
Check out the new Red Rocks Community College Arvada Campus sign on Kipling!  It can be viewed by traffic on both north and southbound Kipling.  This coupled with the new lettering and lighting on the east side of the campus will be great for marketing our campus.
May 2019

Stem Expo and Spring Art Show
We had a great STEM Expo last week, with the largest participation to date. The expo featured 85 poster submissions and multiple talks. The STEM Expo is an undergraduate research symposium, held at the end of each semester. Students submit abstracts to present their work as either a poster or a talk. Students can present projects completed in a class or through grants, such as Honors or the NASA Space Grant program. Trefny Honors and the Science department host this event each semester to provide students with a professional presentation opportunity. More information and the full program with abstracts is available here: www.rrcc.edu/science

Awards
Dan Macy and Jeremy Beard were recognized with the University of Colorado Boulder's Outstanding Colorado Community College Educator Award.  "The program recognizes the top teachers, faculty and staff in the state of Colorado who go above and beyond to support students as they pursue their higher education dreams." Congratulations to Dan and Jeremy!

President's Award
At the spring 2019 student government meeting, we had the privilege of honoring the heroic acts of Meleia Harsch, an EMT student at RRCC, who saved the life of Leslie Maddox. Also recognized with a President's Award was Carol Von Michaelis, a member of the Physician Assistant's faculty, who was also on the scene of the April 25th horrific accident on I-70. Carol helped with triage and field mobilization before and during the first responders' arrival. Thank you both for your remarkable actions.

Frankie Hernandez
Award-winning film and television producer, Frankie Hernandez, held an open forum titled, The Entertainment Industry to share her story of growing up in East L.A. and how she found herself through the other side of heartbreak after learning to use writing as an outlet. After her open forum, Frankie Hernandez held a workshop to help students find their "brand" through writing and sharing experiences with each other.

Denver Metro and Aurora Youth Water Festivals
Our theatre arts students performed for over 3,000 6th graders over the course of two days as part of the Denver Metro Water Festival and Aurora Youth Water Festival. The festival offered engaging, hands-on lessons and activities to encourage students to take an active role in water conservation, provide students with the tools they need to bring wise water use to their communities, and complement classroom water units by addressing Colorado Academic Standards, particularly for science.

Law Enforcement Academy Graduation
Congratulations to the Spring Law Enforcement Academy Class of 2019! We are honored to have been a part of your education and wish you success and safety throughout your career in the law enforcement field. Thank you to all of the family, friends, loved ones, administration, and law enforcement agencies who came out to support our graduates! We couldn't do it without you!

Graduation 2019
Congratulations to the Red Rocks Community College Class of 2019! We commend you on your hard work and your dedication. We wish you luck and goodwill in your life outside of RRCC. This was the 49th class of Red Rocks Community College. We are honored that CCCS President Joe Garcia officiated graduation this year. We are also very proud to announce that 10 high school students graduated from our pilot AA/HS (Associate of Arts/High School). This program will allow high school students to earn their Associate degree and high school diploma at the same time.  Currently, the WT participating programs are: Welding, Precision Machining, and Power Equipment/Sports Vehicle Technology.  Other programs may be added in the upcoming semesters.
April 2019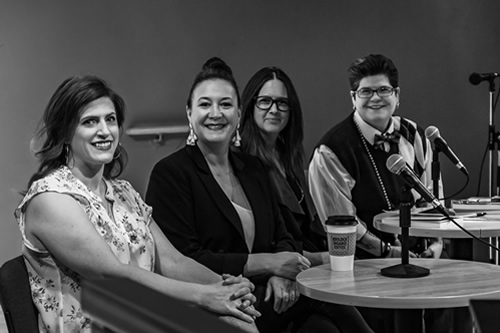 Photo credit: Alex Gladsjo - RRCC student photographer
When I Rise I Thrive Author Panel
On April 4, Red Rocks Community College hosted an author panel featuring five authors from the bestselling book, When I Rise I Thrive, including RRCC student Dina Gilmore. Each author shared their personal stories of struggle and healing, with hopes to inspire the audience to do the same. Following the reading, the authors participated in a Q&A session and a book signing.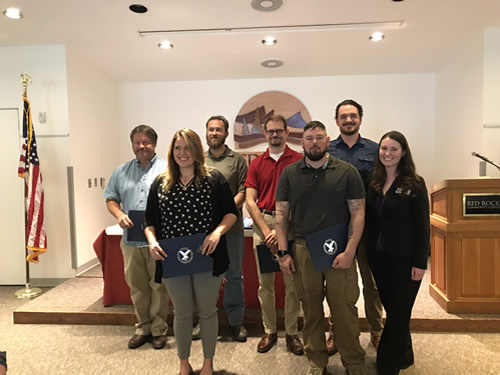 SALUTE National Veteran Honor Society Induction Ceremony
On April 5, the SALUTE Veterans National Honor Society held an induction ceremony for Red Rocks Community College students who are veterans enrolled in at least 12 credit hours and have maintained a 3.0 or higher GPA. The student veterans that are graduating also received red, white, and blue honor cords.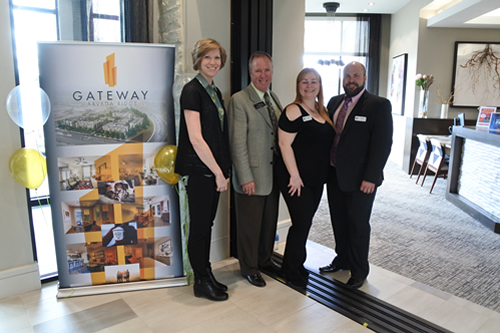 Gateway Arvada Ridge Ribbon Cutting
Gateway Arvada Ridge Apartments held a ribbon cutting ceremony on April 8 with Red Rocks Community College in attendance. The apartments are located across the street from the Arvada Campus and are offering application and move-in specials for all Red Rocks Community College students, faculty, and staff.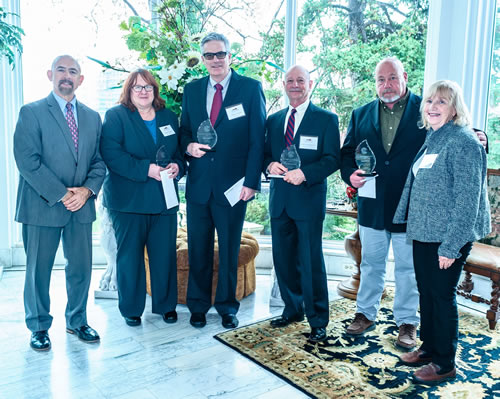 Awards
President of the Year and Rising Star Awards
The Colorado Community College System honored Dr. Michele Haney with the President of the Year award on April 9. The Colorado Community College System also honored James Cook and Sarah Kidder, two students of Red Rocks Community College,with the Rising Star award.
Commitment to Excellence Awards
The Colorado Community College System held the inaugural Commitment to Excellence Award Ceremony on April 10 at the Governors Residence. The four awarded RRCC recipients were Mike Coste, Janet Tarase, Greg Berry, and Walter Shreibman.
Theatre Fundraising Event
On April 12, the Red Rocks Community College Theatre and Dance Department hosted a fundraising event for the students selected to attend the Kennedy Center American College Theatre Festival in February. While at the competition, the students were selected to attend the prestigious Stella Adler Studio of Acting over the summer. All proceeds donated at the event were received by the Red Rocks Community College Foundation in support of the Theatre students. If you would like to donate, please visit https://www.coloradogives.org/rrccfoundation/. Please indicate in the notes section that your donation is for the Theatre Arts Department or the KCACTF Fundraiser.

The Amazing Race
Red Rocks Community College hosted 30 deaf and hard of hearing students who participated in "The Amazing Race" on March 12. This was an opportunity for students to become familiar with our campus. Students visited multiple departments such as Accessibility Services, Assessment, Bookstore, Campus Police, Learning Commons, Library, Admissions/Advising, The Hub, and Student Life. As part of the event, students visited each location on campus to collect information and received clues as to what the next stop might be.
Two deaf celebrities made appearances at the event: Kenny Walker, who played for the Denver Broncos from 1991-92, and Luke Adams, who was a contestant on the television show The Amazing Race 14.
March 2019

Peace Jam | Rigoberta Menchu Tum
Red Rocks Community College hosted the PeaceJam Rocky Mountain Youth Leadership Conference and Community Gathering March 16th – 18th called, "We Walk Together". Mentors taught youth participants to take action in making positive impacts on the world through fun workshops. It began on Friday with Nobel Prize Winner Rigoberta Menchu Tum as the honored guest speaker, who held a conference just for staff and RRCC students at the Lakewood Campus followed by a Q&A session. On Saturday, Rigoberta spoke to hundreds of students ranging from 3rd – 12th grade, college mentors, community leaders, and partners, in inviting the Colorado community to walk together to create a more unified approach to solving the problems we face. The weekend was filled with leadership training, a service project in partnership with The GrowHaus , a community gathering with local leaders, student, and Native American youth dance performances, and a world peace flag ceremony to begin the "We Walk Together" campaign for Colorado.
Visit | Dr. Ryan Ross
Dr. Ryan Ross, Associate Vice-Chancellor of Student Affairs, Equity and Inclusion, visited the Lakewood and Arvada campuses of Red Rocks Community College on March 20. While at Lakewood, he was given a tour that included the Idea Lab, Fine Woodworking workshop, the Hub Center for Engagement and Innovation, and the Student Rec Center He was able to meet with the Executive Team, the Director of Inclusion and Diversity, the Student Success Leadership Team, and the Food and Housing Insecurity Task Force at the Lakewood Campus. He then went on to the Arvada Campus for a tour and met with key campus administrators.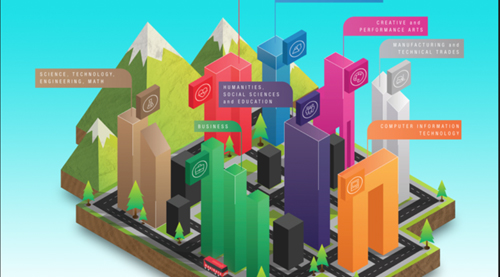 Navigate | First Phase Launch
On March 6, Red Rocks Community College launched Navigate in conjunction with Guided Pathways to help current and new students find the path that is right for them. Navigate is a tool students are able to use to explore different career options, meet with their program specific advisor, and set long term goals to help them graduate without wasting money or time on classes they don't need for their desired degree.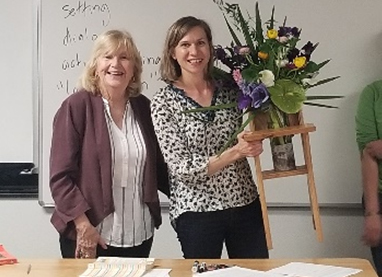 Awards | Endowed Teaching Chair
Congratulations to Elyse Marsh! On March 22, she was named the Red Rocks Community Colleges Endowed Teaching Chair. Elyse is the 25th recipient of the Mike Leprino Family Endowed Teaching Chair awarded by our Foundation office. At RRCC, we believe that student success is directly influenced by faculty excellence. We strive to deliver an exceptional educational experience to all students by recruiting, recognizing, and rewarding exceptional faculty. The RRCC Foundation Teaching Chair Program is the only multi-year faculty award in the Colorado Community College System. It is a meaningful way of recognizing and award outstanding faculty. The Mike Leprino Family and Coors Brewing Company endowed the first two chairs in 2001.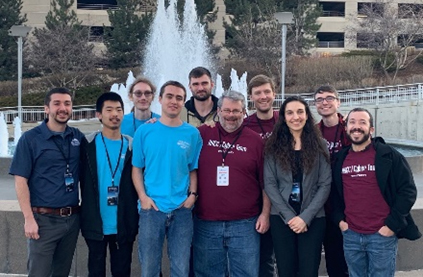 Awards | Cyber Security Regional Competition
Red Rocks Community College Cyber Team took 2nd place in the region at the Rocky Mountain Collegiate Cyber Defense Competition (RMCCDC). They represented the school with honor and integrity. The RRCC Cyber Team were the first ones in and last ones out of every meeting and proudly announced that they represented Red Rocks Community College. They fell short only to Utah Valley University (who took 1st), but beat University of Colorado Boulder, Colorado State University, University of New Mexico, Regis, Pikes Peak Community College, and LDS Business College. Making them the best team to come out of Colorado while other teams had graduate level students. The team trained very hard for months in the IDEA Lab and their hard work paid off. We are very proud of them. Congratulations to our Cyber Defense Team!

STEAM | Girls and Science
On March 2, Red Rocks Community College partnered with the Denver Museum of Nature and Science to support Girls and Science. This event was created to connect k-12 students with STEAM (science, technology, engineering, arts, and mathematics) areas of study. Red Rocks Community College educators Delia Ochoa and Barbra Sobhani were two of the guest speakers for Stories with Scientists at the event, attended by 7,400 Colorado residents.
February 2019
R&R Lounge | Student Rec Center
Red Rocks Community College is constantly exploring innovative ideas and solutions to help our students and staff grow and succeed. We know that college life can be exhausting, so the Student Rec Center and the Student Success team implemented a new service to help our students and staff feel recharged. On January 30th, the Rest & Relaxation (R&R) Lounge opened at our Lakewood Campus. It is located near the Student Rec Center. The R&R Lounge provides a dark, quiet atmosphere that offers foam mats and pillows, giant bean bag chairs, and lounge chairs.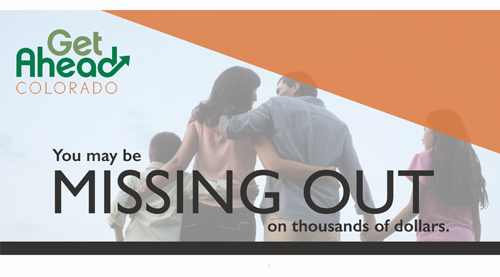 Get Ahead Colorado | Free Tax Preparation
Red Rocks Community College has partnered with Piton Foundation in aiding the community with Get Ahead Colorado. This free service provides tax preparation for families who make less than $55,000 a year. The Get Ahead Colorado Services will be offered every Saturday at Red Rocks Community College from 9:00 am – 3:00 pm March 16.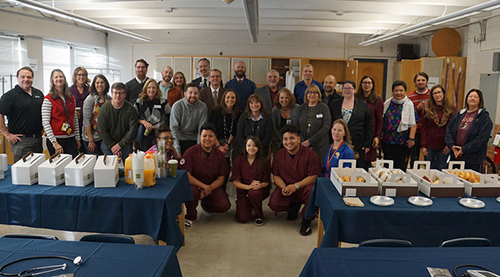 Ribbon Cutting | Wheat Ridge High School
Recently, Wheat Ridge High School and the Red Rocks Community College Nurse Aide program have partnered to offer the CNA program to Wheat Ridge High School students. These are concurrent enrollment students who will earn their CNA certificates from RRCC in May. Students are enrolled in both NUA 101 and NUA 170 and complete their clinical rotations at Vivage Senior Living, which provides dedicated service to individuals needing post-acute rehabilitation or long-term care. After completion, students are eligible to take the Colorado State Board of Nursing Nurse Aide certification exam.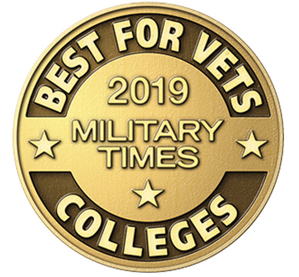 Military Times | Best for Vets College 2019
Military Times surveys hundreds of colleges across the country each year and ranks them in the areas of university culture, academic quality, outcomes, policies, student support, costs, and financial aid. This year, RRCC is ranked 16th among all two-year colleges in the United States.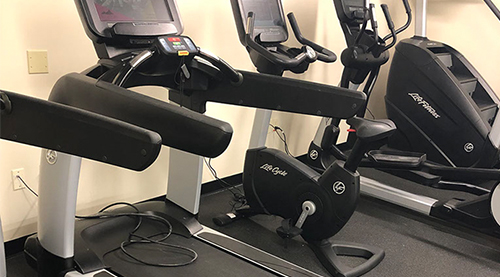 Arvada Campus | Fitness Center
The Arvada Campus Fitness Center opened on February 18. The Fitness Center is located in the 5400 Building. Amenities include resistance training, dumbbells, kettlebells, and cardio machines. The hours are from 7:00 am to 8:30 am, 11:00 am to 1:00 pm, and 4:00 pm to 7:00 pm Monday through Friday.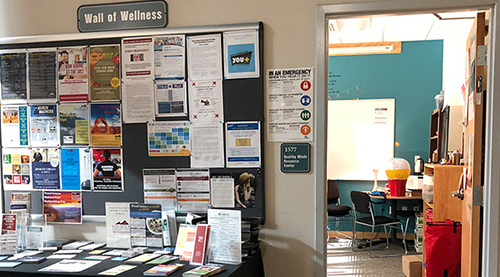 HMRC | Room 1577
The Healthy Minds Resource Center is the new home to the existing Peer Counseling Program. The Healthy Minds Resource Center promotes the emotional well-being of students by providing peer support through private peer-to-peer coaching, stress relief activities, campus and community resources, and a safe non-judgmental space that is focused on mental health and emotional well-being. The Healthy Minds Resource Center came about in response to student surveys and focus groups aimed at improving the Peer Counseling Program and the services it offers. The Peer Counseling Program will continue to perform the role it has in the past, but will now be housed within this Resource Center.
 
January 2019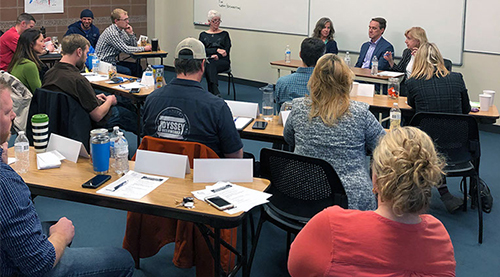 Bootcamp | Arvada Chamber
The Red Rocks Community College Arvada Campus is now hosting a management training program. Aimed at local business owners who want to become better leaders, the program is held One day a month for 10 months. They are from various disciplines: retail, real estate, commercial, non-profit and faith-based. On January 10, 2019, Dr. Michele Haney, was one of three speakers asked to be on a panel to talk about "Strategic thinking, planning, and leadership." To share her insight and mentorship for those local business owners.
 

Program | Cyber Security
Red Rocks Community College has a Cyber Security team whose mission is to advance learning with hands-on cyber security competitions. These competitions allow members to test their skills in real-world scenarios. On January 26, 2019, our Cyber Security team participated in the Rocky Mountain Collegiate Cyber Defense Competition (RMCCDC) qualifying event, where they finished in first play. They competed against, CU Boulder, CSU, Colorado School of Mines, University of New Mexico, US Air Force Academy, Pikes Peak Community College, LDS Business College (Salt Lake City), Utah Valley University, University of Wyoming, and Regis University. They move on to the regional event at Regis University in March!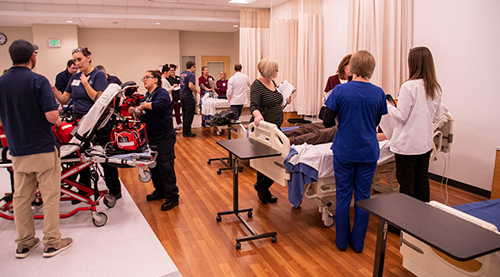 Collaborations | Across Campus
The Physicians Assistant Program and our Nursing Program team up throughout the semester for real-life scenario training, including well checks, sick visits, emergency room visits, and crisis situations. Law Enforcement and Emergency Medical Services team up for scenario training, including situations which may result in the use of pepper spray, accidents, assaults, and first responder training. Our Theatre and IDEA lab team up for performances. In preparation for the upcoming theatre production, She Kills Monsters, our theatre technology students and staff worked with members of the IDEA lab, to create the 3D printed dragon that will be used in the play.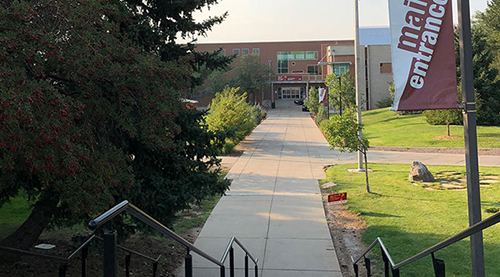 HLC | Update
In response to the recent HLC visit, we have received wonderful news that Red Rocks Community College met every core component and every criterion WITHOUT any concerns. Thank you to all of those that worked on the committee to prepare us for the visit.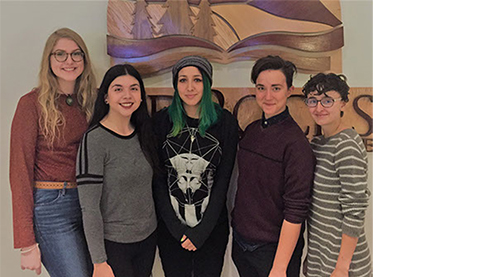 Theatre Arts | Regionals
A number of Theatre Arts and Dance students have been chosen to participate in the regional Kennedy Center American College Theatre Festival to be held at the University of Oregon in Eugene in February. The students were selected by festival respondents based on their performances and technical work connected to the fall production of The House of Yes, written by Wendy MacLeod and directed by David-Matthew Barnes.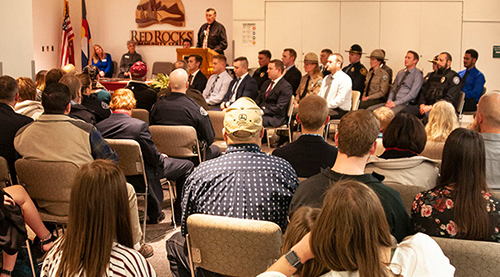 LEA | Graduation
The Law Enforcement Academy held a graduation ceremony on December 11. Congratulations to all of the cadets that went through the program were hired on to Colorado Law Enforcement agencies, and have begun their career protecting and serving the citizens of Colorado. The Red Rocks Community College Law Enforcement Academy is an intensive instructional program that satisfies the Colorado Peace Officer Standards and Training Board (POST) certification requirements.* Colorado Law requires that candidates for peace officer and parole positions be POST certified before they work as a law enforcement officer. Our graduates have gone on to join police departments, sheriff's offices, and state agencies.